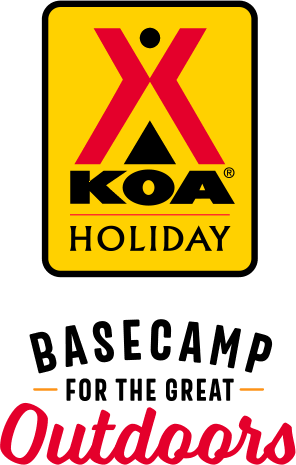 KOA Holiday Campgrounds
Whether you're exploring the local area or hanging out at the campground, KOA Holidays are an ideal place to relax and play. There's plenty to do, with amenities and services to make your stay memorable. Plus, you'll enjoy the outdoor experience with upgraded RV Sites with KOA Patio® and Deluxe Cabins with full baths for camping in comfort. Bring your family, bring your friends, or bring the whole group – there's plenty of ways to stay and explore.
KOA Holidays Feature:
RV Sites with a KOA Patio®
Deluxe Cabins with full baths
Premium Tent Sites
Group meeting facilities
Directions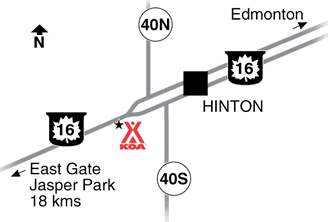 Hwy 16: 4 km west of Hinton, 18 km OUTSIDE of Jasper Park East Gate. GPS: N53.340713, W117.664948
PLEASE DO NOT RELY ON YOUR GPS SETTING TO DIRECT YOU TO THE CAMPGROUND ENTRANCE. WE ARE LOCATED ON HIGHWAY #16. PLEASE USE A MAP AND WATCH FOR THE SIGNS.
Get Google Directions
Jun 09, 2021
This is not my first stay. I return because it is a beautiful setting with a gorgeous cabin in a peaceful atmosphere.
Jun 09, 2021
My family and I have stayed at this particular KOA many times over the last 8 years. In the past 12 months or so, it seems - different. When I checked out, the gentleman behind the counter did not greet me. He looked at me and instead beckoned to an employee who had just come in from outside to assist me. It just seemed less friendly, less welcoming. Disappointed.
Jun 09, 2021
While the campground itself offered us everything we needed in terms of our campsite, it was a little pricey for the full hookup. It's over 75km to Jasper from the campsite so if you plan to visit with a rented camper consider the mileage to be AT LEAST 150 extra km each day and that's.not to mention adding the distances to Maligne lake or other popular spots.
Jun 09, 2021
I think the picnic tables could use some paint and new boards, the horse shoe pits were over grown and not useable, the Hanes room was closed and washrooms were not available during the week. It was extremely over priced for what you got.
Jun 09, 2021
Pit stop on the way to Jasper. Too bad the store closes at 6 PM. Many road weary folks needs are o ly apparent after they check in between 4:30 and 6.
Jun 08, 2021
Booked a pet friendly cabin which was very cozy.
Jun 03, 2021
Absolutely would recommend. The Hinton KOA is clean and quiet and the staff is friendly. My dog enjoys the K-9 dog park. I have already booked my return in 3 weeks.
Jun 03, 2021
The water at our site did not work. When I initially turned on the water, I got soaked. We had to run hose to an adjoining site. The picnic table had rotting boards on the top and desperately needed to be painted. At the prices charged I expect much better. The very next campground we stayed at a staff member brought us to our site and checked both water and power as we pulled in.
Jun 02, 2021
It worked great for an overnight. But it's crowded, no privacy, just an open field. picnic tables are in dire need of repair.
May 31, 2021
This is a beautiful campground but the care and maintenance is a little marginal. It would also be nice if there was a way to get campfires allowed at this campground.
May 31, 2021
Wonderful cabins and amazing scenery. It was an awesome weekend stay with family. We will visit again.
May 31, 2021
the site was nice but very windy. There were no personal fire pits only common area and with Covid cannot say I want to hang with stranger. False advertising when the website shows firepits and you get there, there are none. but still charging rates like there are all the luxuries of camping
May 30, 2021
Several campsites were combined groups having 15-30 people congregating contrary to COVID. Site 46 repeatedly had around 10-15 people with three vehicles parked on the grass. Staff did not survey the area during the dinner or later hours and no enforcement of group actions done during the day. The bathrooms were barely cleaned and heavily used. Water supply had heavy silt damaging trailer pipes.
May 30, 2021
-Douches et salles de bain sales. Fait 1x en 5 jours -Terrain sans arbre, sans végétation. -On nous fait sentir mal de prendre deux tables de pique-nique prétextant que plusieurs personnes pourraient arriver. Nous en voulions une pour se protéger du vent (afin d'attacher nos toiles) et une pour manger. -Camping loin des attraits touristiques de Jasper. -Point positif: proximité des mag
May 29, 2021
We had a great time at the KOA! It was very quiet and clean! We will come again!
May 27, 2021
Overall great but there were a couple issues: The hooks behind our door in the camping cabin were all missing. Having stayed here before I was expecting them to be there and as such we had nowhere to hang coats and towels etc! One of the ladies toilets was dirty and unusable for an entire day!
May 27, 2021
We're very happy with our 3 night stay in your cabin. It's very clean and well kept. The bed is very comfortable, and the bathroom is great. We'll come again I'm sure, and recommend it to friends.
May 26, 2021
It was great!
May 25, 2021
Great stay. Spent a couple days hiking in the park. Was nice to come back to a clean, well run camp. People were very respectful of the quiet hours. All in all a fantastic stay.
May 25, 2021
Staff very good. Grounds running down, torn flags, fence in need of repair and attention needed to flower gardens and boxes.
May 25, 2021
The water was brownish to yellow and has smell! The lady in the reception was confusing! Our cabins was supposedly close to each other ( 4 gros) on the day of checking in , she gave it to other people. Then one of my friend received a call why she did not check out the following day? Hello..we're booked for 2 nights!
May 25, 2021
Facilities in poor condition.
May 25, 2021
Always a nice place to stay. Clean, organized and mountain views.
May 25, 2021
Site was clean. Staff at check-in were friendly and helpful. This is our second time staying. The full hook-ups are great and the location between Hinton and Jasper is very handy. With Covid, swimming wouldn't have been an option, however, to make your location more of a destination and not just a launching campground, you folks should really consider putting in an in-ground pool with a hot tub!
May 24, 2021
Was better than expected. It's pretty crammed in there but we luckily had nobody on either side of us when we stayed. Nice area, clean bathrooms. Some trees in the K area and Tent area would go a long way.
May 22, 2021
Wonderful! A special thanks to Ed for all his help. Exceptional customer service!
May 22, 2021
This was our first stay at a KOA and it was at a bad time of year. We will have to try it again later in the season with no COVID restrictions.
May 17, 2021
COVID makes everything challenging for sure but thought the showers/washrooms , firepit-were were maintained etc. A nice set up and we will be back
May 17, 2021
Very nice and relaxing atmosphere.
Oct 09, 2020
We booked 3 nights on line for our stay. the day before we arrived we rec'd a email that the water is getting turned off. We should have been told this when we booked. We decided to stay an extra night and we were charged a higher rate than our first 3 nights. Not impressed. Will not be back. Thanks
Oct 06, 2020
Enjoyed our stay. Not much privacy but clean and well kept. Free showers!!
Oct 05, 2020
Very friendly and helpful staff
Sep 28, 2020
We had a very pleasant stay. We are glad to see that you are still open.
Sep 28, 2020
We always stay here when we go to Jasper. Spacious sites. Clean & friendly staff. Beautiful view of the mountains
Sep 28, 2020
Only stayed one night. Good service but a bit expensive.
Sep 28, 2020
Stay was nice ,check in was easy, only concern was no water at site but understand that have to shut in before freeze up. Wish was told this before booking site.
Sep 27, 2020
��ύ� ��� ��� ��������
Sep 27, 2020
Travelling stop over, grounds nicely laid out, clean, level, welcoming!
Sep 27, 2020
park was clean - bathrooms very clean but the site was a bit short. Water was a yellow color so did not feel comfortable to drink it - uncertain if this is a regular problem. Felt it was pretty expensive as there were not a lot of amenities.
Sep 26, 2020
Campground was extremely neat and tidy. Friendly staff. But very very windy. Trees need to be planted around each campsite as a windbreak and for some privacy