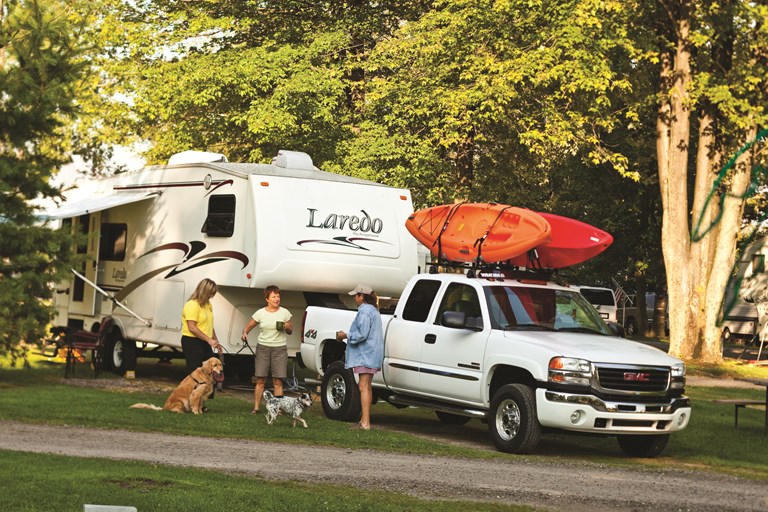 Harrison KOA Reviews
Directions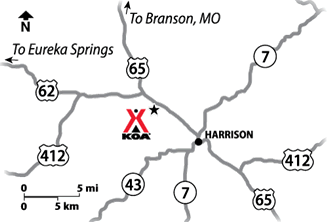 From US-65N: Follow signs onto US-412 W/US-62 W/US-65 N, 6.9 miles,, Right to stay on W/US-65 N,3.5 mi, (Arkansas Welcome Center will be on your left, from that point, our entrance is 500 feet on the left.) Left into KOA * From Branson Missouri: take W. Main St., turn left to merge onto US-65 S (entering Arkansas), 28.1 miles, Right turn into KOA ( Before you get to Arkansas Welcome Center) * From Eureka Springs Arkansas: Left onto US-62 E/E Van Buren, 35.5 mi, slight right onto US-412 E/US-62 E US-65 S,1.5 mi, Right into KOA.
Get Google Directions
Oct 19, 2020
Only spent one night, but a very nice campground with very friendly staff. A small campground a little tight for the bigger rigs, but they seem to make it work. Will stay there again if in the area!
Oct 19, 2020
We really enjoyed our stay appreciate how clean everything was the road noise was a little loud however we will stay in the back next time. Your staff was awesome
Oct 19, 2020
The campground was very clean, well organized and run. The owner/manager was excellent. I want thank her for helping us with all our needs.
Oct 17, 2020
Convenient location. Nice people running it. Good laundry facilities. Thank you.
Oct 17, 2020
Amazing staff, really beautiful park. Great location and again, very helpful, friendly staff.
Oct 13, 2020
The people are friendly helpful courteous overall wonderful place to stay. Minimal road noise. Site was perfect for my needs had a great time there.
Oct 13, 2020
These folks are doing a great job with the fact that they have a campground that has just earn KOA status. Their Wi-Fi needs to be improved especially when a lot of guests are staying. We had a site that was far away from the main building so our Wi-Fi was not good unless we walked closer to the main building. Also there is a lot of road noise. The campground itself is clean, safe and quiet.
Oct 13, 2020
Staff is very friendly and helpful. Very pretty campground. No problems. Everything was great!
Oct 12, 2020
Staff was very friendly and helpful.
Oct 11, 2020
Stayed at this park specifically because they said they had good internet. Evidently they do--in SOME lots. Ours had one bar, just enough that my cell could connect and check email, but not enough to do any work or check the news. Also I saw one staff member get a big bottle of whiskey out of his car and take it in his (I assume) trailer. But the staff was all very friendly.
Oct 10, 2020
This was a previously privately owned RV Park. New KOA now, and improvements are being made every day. Owner met us at the office and brought our paperwork to our site. She even wiped off the picnic table. She offered to deliver firewood, and delivered mail and packages to our site. Can't wait to see the new things planned for this KOA on our next trip. Traffic noise Is a bit bothersome.
Oct 06, 2020
1 night stay. The mother and daughter that own the campground were very nice. The campground was clean and easy to get in and out. There was one area to play games
Oct 04, 2020
Wonderful experience. Great place to stay...looking forward to seeing all the improvements when we return.
Oct 01, 2020
The camping experience was all that it should be. Clean and well lit bathroom and showers, Courteous helpful staff. The campground should add a slop sink. Tv and wi-fi worked good. Grounds were kept up nicely.
Sep 27, 2020
Very clean park. Excellent staff, very friendly.
Sep 27, 2020
The owners were awesome. Constantly asking if there was anything they could do for us. The grounds were exceptionally clean and there was someone always outside working to keep it so well maintained. We will definitely be staying with them again.
Sep 27, 2020
Very clean. Owners and super nice and helpful
Sep 27, 2020
We have stayed at over KOA all over the US and this one is by far the best. Place was great, and customer service was the best.
Sep 25, 2020
Great Host and very noticeable improvements to the park. I have stayed here over the year's and the new owners are making it even better.
Sep 22, 2020
Beautiful park, great people, we had a nice time.
Sep 21, 2020
We had a wonderful stay, and we plan to return again soon! Our hosts were so friendly and helpful. We felt like we were staying with family. They welcomed our pups, and we met some precious people at the campground during our stay. We highly recommend the Harrison KOA!
Sep 16, 2020
Excellent and friendly, courteous staff. Very clean facilities.
Sep 15, 2020
This is a new KOA that was converted from a private campground, they are in the midst of adding many amenities; pool, playground, cabins etc... So far the improvements they have made in only one month are beautifully done; thoughtful, clean, well organized. Bathrooms and grounds are very clean and neat, staff is super friendly and helpful. And right in the middle of the beautiful Ozarks!
Sep 13, 2020
Very nice employees
Sep 13, 2020
so friendly and helpful
Sep 12, 2020
This is by far the nicest KOA I have stayed in. It is under new ownership and has just become a KOA. It has been well taken care of and everyone makes you feel important and welcome. Just off the highway and close to Harrison Arkansas. Great facilities. sites and WiFi. We were looking for a place to set up winter camp and found a winner right off the bat.
Sep 11, 2020
Very nice, friendly personnel and if we are back in Harrison, you will see us again. Louis and Betty
Sep 10, 2020
The folks that run this campground are Very nice and helpful
Sep 09, 2020
Very nice and welcoming park staff. I would have rated it higher, however the highway access is blind on the North side and traffic moves at a high rate. Definitely worth a second visit in the future
Sep 09, 2020
Was great to stay at KOA . Lynda and her group helped make your feel at home and secure .
Sep 08, 2020
Great people the owners and staff were great!
Sep 08, 2020
The staff were great and the grounds were clean, neat and tidy.
Sep 06, 2020
A little to mush road noise. Other wise were nice park.
Aug 31, 2020
Wonderful hosts
Aug 24, 2020
such friendly accommodating people
Aug 22, 2020
Very helpful and friendly staff, we really enjoyed the stay.
Aug 19, 2020
We arrived at the KO A and was greeted with a smile. Both ladies were very helpful. It was a joy to stay there. Plan a trip back very soon
Aug 17, 2020
Very clean and quiet

Harrison KOA
Open All Year
3629 Highway 65N
Harrison, AR 72601
Check-In/Check-Out Times
All Sites
Check-in: 1:00 pm, Check-out: 11:00 am
Operating Hours
Sunday: Open 9:00 AM to 6:00 PM
Monday: Open 9:00 AM to 6:00 PM
Tuesday: Open 9:00 AM to 6:00 PM
Wednesday: Open 9:00 AM to 6:00 PM
Thursday: Open 9:00 AM to 6:00 PM
Friday: Open 9:00 AM to 6:00 PM
Saturday: Open 9:00 AM to 6:00 PM
Get Google Directions

© 2020 Kampgrounds of America, Inc.