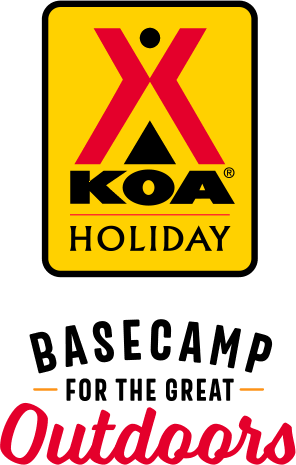 KOA Holiday Campgrounds
Whether you're exploring the local area or hanging out at the campground, KOA Holidays are an ideal place to relax and play. There's plenty to do, with amenities and services to make your stay memorable. Plus, you'll enjoy the outdoor experience with upgraded RV Sites with KOA Patio® and Deluxe Cabins with full baths for camping in comfort. Bring your family, bring your friends, or bring the whole group – there's plenty of ways to stay and explore.
KOA Holidays Feature:
RV Sites with a KOA Patio®
Deluxe Cabins with full baths
Premium Tent Sites
Group meeting facilities
Directions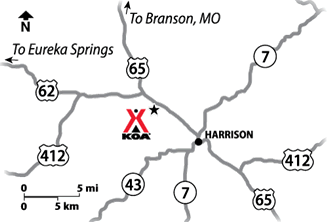 From US-65N: Follow signs onto US-412 W/US-62 W/US-65 N, 6.9 miles,, Right to stay on W/US-65 N,3.5 mi, (Arkansas Welcome Center will be on your left, from that point, our entrance is 500 feet on the left.) Left into KOA * From Branson Missouri: take W. Main St., turn left to merge onto US-65 S (entering Arkansas), 28.1 miles, Right turn into KOA ( Before you get to Arkansas Welcome Center) * From Eureka Springs Arkansas: Left onto US-62 E/E Van Buren, 35.5 mi, slight right onto US-412 E/US-62 E US-65 S,1.5 mi, Right into KOA.
Get Google Directions
Jun 14, 2021
Just an over night stay but enjoyed the stay fire pit pinic table very nice campground.
Jun 11, 2021
Awesome little place. The owners are super friendly and accommodating. The park is a laid out well with nice rv spaces. The grounds are impeccably kept and the bathhouse clean.
Jun 07, 2021
I had a great stay there. The pebble gravel was perfect for tent camping and the size of the pad was great! I had electricity, propane grill, and a fire ring. The bathrooms are clean also! Couldn't ask for anything more..
Jun 06, 2021
Great KOA. Very clean, nice people. Stayed 12 days over Memorial weekend and headed back for 11 more days on 7-1. Highly recommend this KOA. Good over night and great for long stay.
Jun 06, 2021
Exceptionally pleasant stay! The campground is well kept, with gravel RV sites and paved main road. The personnel are friendly and attentive. We had a small problem with our electrical hookup, but it was resolved within 15 minutes. The location is also excellent, with scenic drives to Eureka Springs Arkansas and Branson Missouri.
Jun 06, 2021
Nice clean Rv Park. Staff was very friendly and helpful. We will for sure be back someday. It was close enough to town and Branson. We rode motorcycles on all the great scenic roads in the area.
Jun 06, 2021
Very, very nice family run campground. Extremely clean and beautifully landscaped. The staff was wonderful! Highly recommend!!!
Jun 05, 2021
Friendly staff, very helpful. Campground was immaculate.
Jun 03, 2021
Check in was flawless, needed propane and the host not only filled my tank, but delivered it to my site. Awesome customer service.
May 29, 2021
campground is beautiful and clean with lots of trees we couldn't get cable one of the employees came with his tester campground reception was fine he took the time to figure out what was wrong with our trailer and fixed it definitely above and beyond customer service
May 29, 2021
Everything was perfect
May 28, 2021
Great hosts and wonderful park
May 28, 2021
The campground is one of the cleanest we've been in. The owners are very friendly and have great ideas to improve the campground even more if possible. Would recommend this campground to anyone. By the way it is only 30 minutes away from Branson.
May 26, 2021
Great Place to stay! Nice, well kept park! Very Nice! All Staff very helpful and Nice!
May 24, 2021
Is very friendly people nice and clean atmosphere in the campground always willing to help. Loved our stay it's a very beautiful place.
May 19, 2021
Clean. Staff was very friendly and helpful.
May 19, 2021
Linda was very courteous and accommodating from the reservation to checkout, everyone and everything was first rate. We will definitely stay here again.
May 18, 2021
Very nice host and beautiful grounds
May 18, 2021
Fantastic customer service. Called after hours. Message was returned promptly. Very friendly. Easy in, easy out.
May 17, 2021
The people were extremely friendly and helpful.
May 14, 2021
From the very first day of setting up the date to stay at the KOA to to sad goodbye and the hope to see you again was nothing but the best. Lynda was always there to make certain we were comfortable and informative when asked about the campsite. It was clean and kept up, the crew was always doing something to keep the grounds clean and tidy. I can easily say that I have a friend in Lynda.
May 14, 2021
Linda and her employees did a great job with everything. Super friendly and very hospitable. Facilities were always clean. Could not for more
May 14, 2021
The place was amazing, clean as can be. Staff was also amazing. I would recommend to everyone and will.
May 13, 2021
We were there for 5 months and LOVED it! The family that own it take such great care of the campground and are the hardest working group I have ever seen. We loved our time there!!!
May 12, 2021
We had a great overnight stay. Easy access. Lots of personal touches around the park.
May 11, 2021
Well maintained pull through lot. The park was decorated nicely for outdoors. Lynda was a very friendly and sociable host. The surrounding arae is beautiful wooded.
May 09, 2021
The owners are absolutely fabulous! The RV sites and overall property are well maintained. We are looking forward to visiting this KOA and surrounding area again.
May 08, 2021
If I could give it a 6, I would. The park was well taken care of. Bathrooms were cleaned regularly throughout the day. Linda and Kristine were ideal hosts, they treated us as family. I can't wait to stay here again
May 02, 2021
Everything was wonderful love the host and the grassy areas. Thank you again
Apr 28, 2021
The staff was great. The campground was clean and peaceful. Dog Park was well kept. The bathrooms were clean.
Apr 28, 2021
We think this was the nicest KOA we've stayed at since we started RVing in 2014! First off, all of the owners are on site and exceptionally friendly. The sites are level and spacious. Facilities are spotless. They're working on expanding offerings in the future. Top notch KOA!!
Apr 27, 2021
Nice new facility. For tent camping it's just too close to a very noisy and busy road.
Apr 26, 2021
Our host was very helpful and essentially welcomed us with open arms. The campground was clean and well cared for. It is nice to have a KOA close to where we live so if we want to have a quick get a way from the house, we don't have to travel a long distance to have a nice campground.
Apr 20, 2021
Christine and her mom were great hosts. Very friendly, kind and helpful. We will stop by again. Really enjoyed our stay.
Apr 19, 2021
Lots of new upgrades including gravel where your camper sits, truck is parked and picnic table/entrance area. Friendly and helpful staff. Neat and tidy campground.
Apr 19, 2021
Great stay, excellent customer service.
Apr 19, 2021
Very clean, and friendly! Will stay here every time we come to Harrison with our camper!
Apr 19, 2021
The camp hosts were wonderful. Super clean. Bathrooms were spotless. easy access to Harrison. Loved it.
Apr 19, 2021
Just an overnight stay on a longer trip. We did have time to go check out the city of Harrison. The campground is right off a main highway. Staff was friendly.
Apr 19, 2021
The park was one of the cleanest and definitely neatest we have ever stayed in a KOA. The owner and daughter was very helpful on any of our questions we had on events in Harrison. We would stay here again if in the area. Did not use laundry or shower house but I am sure it was clean also.
Apr 19, 2021
The staff was very friendly and helpful. The facilities were clean and we loved all the things that are available. The K 9 Kamp as well as the propane fill station were added bonus . We will highly recommend the KOA at Harrison Arkansas
Apr 18, 2021
very clean and well maintained campground with friendly staff. plenty of room to maneuver our vehicle and the laundry room was clean as well.
Apr 16, 2021
A great smaller campground Staff was very friendly and helpful. One of the better KOA's that we've stayed at!
Apr 13, 2021
The Harrison KOA is an excellent place to stay. The staff take pride in keeping everything clean and welcoming. I hope to stay there again in the future and recommend it to others as a great place to stay.
Apr 12, 2021
We had a great time and will be back.