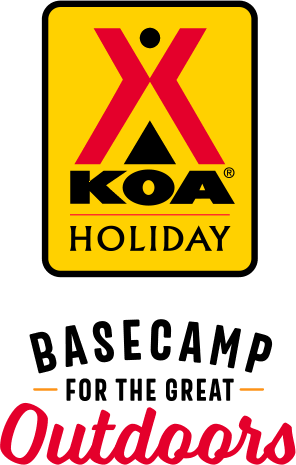 KOA Holiday Campgrounds
Whether you're exploring the local area or hanging out at the campground, KOA Holidays are an ideal place to relax and play. There's plenty to do, with amenities and services to make your stay memorable. Plus, you'll enjoy the outdoor experience with upgraded RV Sites with KOA Patio® and Deluxe Cabins with full baths for camping in comfort. Bring your family, bring your friends, or bring the whole group – there's plenty of ways to stay and explore.
KOA Holidays Feature:
RV Sites with a KOA Patio®
Deluxe Cabins with full baths
Premium Tent Sites
Group meeting facilities
Directions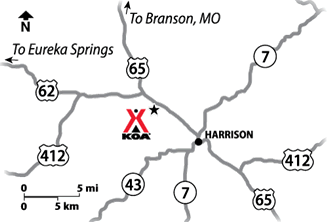 From US-65N: Follow signs onto US-412 W/US-62 W/US-65 N, 6.9 miles,, Right to stay on W/US-65 N,3.5 mi, (Arkansas Welcome Center will be on your left, from that point, our entrance is 500 feet on the left.) Left into KOA * From Branson Missouri: take W. Main St., turn left to merge onto US-65 S (entering Arkansas), 28.1 miles, Right turn into KOA ( Before you get to Arkansas Welcome Center) * From Eureka Springs Arkansas: Left onto US-62 E/E Van Buren, 35.5 mi, slight right onto US-412 E/US-62 E US-65 S,1.5 mi, Right into KOA.
Get Google Directions
Sep 14, 2021
The staff was so friendly and camp ground was so clean. They work really hard every day we were there.
Sep 14, 2021
The staff was wonderful as always
Sep 14, 2021
Lynda & Christine do a great job of maintaining, updating and keeping a very clean camp ground! They are super friendly, helpful and treat you like family! It is easy to get to with any size rig and large manicured sites. We would highly recommend this KOA!!
Sep 13, 2021
It was perfect! Lynda & her staff were SO friendly, going above and beyond, making sure our expectations were met and then some. ABSOLUTELY will be back to stay
Sep 13, 2021
Wonderful campground and owners. Our family will certainly visit again and highly recommend to others visiting the area.
Sep 13, 2021
perfect stay. we will be back soon.
Sep 13, 2021
Awesome campground. Everything was amazingly clean. The laundry room was really, really clean. All washers and dryers worked. The bathrooms were really, really clean. You could use the showers and not be grossed out. The campground is very well maintained and the owners were super friendly and helpful. This is by far one of the best KOA's we have ever stayed at.
Sep 10, 2021
Very nice pleasant people...would definitely stay there again.
Sep 10, 2021
Lynda Brown an family own an run a great KOA in Harrison, Arkansas. Excellent service and very clean. Great people to visit with an are available for any of your questions or needs. Would give it 6 stars if available.
Sep 09, 2021
Linda & Christin are phenomenal people!!! They are super friendly, always helpful, and strive to accommodate their guests and facilitate a more than enjoyable stay. I highly recommend the Harrison KOA to anyone traveling through that area of Arkansas
Sep 08, 2021
Nice as always, beautiful grounds excited to see the additional sites and the improvements to wifi. We will see you again soon.
Sep 06, 2021
Very friendly and helpful staff. Campground is clean , shady and nice. Will be back.
Sep 03, 2021
The hosts here are by far, THE BEST EVER! They are very kind, helpful, accommodating and just over all the nicest people - perfect for their job in customer service. The park is clean, beautiful and well-kept and site was very level. Wifi was fast and reliable. The park is just a short drive to the town. The only downside is it is close to the highway. But - I would definitely stay here again!
Sep 03, 2021
Linda and Christine were amazing. This was our first trip in our new RV and are first time RVers. Linda talked us thru the hookup process and disconnect process. There were both extremely helpful and cheerful. The park is amazing as well. Clean and maintained. The two maintenance folks were helpful as well. It was an amazing first experience and we now feel confident to begin our travels. Thanks!!
Sep 01, 2021
Good Rv park. Could use a pool
Aug 26, 2021
We LOVE this campground! Especially the staff! Our site was clean and ready to occupy! We were greeted and guided to our site. All out paperwork was easy and professionally done. We will be visiting this campsite many more times!!
Aug 26, 2021
Most wonderful stay at a campground imaginable. First rate owners and staff. Clean. Safe. Comfortable. Quiet. Thank you, Harrison KOA, for treating us with such kindness, respect, flexibility and generosity. Our stay was exceptional! Bless you! EJ & Simone
Aug 26, 2021
Lynda and the crew at the Harrison KOA are fantastic hosts. They are very attentive and make sure every day at this campground is a good one. We stayed 6 days in the cabin and we would love to return and stay there again. Lynda deserves more than just 5 stars.
Aug 25, 2021
Great Campground…I think that this is the place to stay when you go to Branson, MO.
Aug 24, 2021
Lynda is SO NICE and helpful!!
Aug 24, 2021
Small campground. Grounds very groomed and clean. laundry room clean. $2 each to wash and dry. Shower room very clean. Sites were gravel and level. The sewer hookup was a little high so I was unable to connect my forward tank. Had a lot of games and amenities for kids and adults to do and play. Camp store was reasonable. We had one small incident that the owner quickly took care of.
Aug 23, 2021
Clean, neat, very friendly and helpful. Will enjoy staying again whenever in the area.
Aug 23, 2021
Pleasant knowledgeable staff, nice campground with good facilities and location.
Aug 21, 2021
Excellent friendly helpful staff. RV park well maintained. One of the best parks that we have stayed at. Will want to stay there again.
Aug 16, 2021
Very nice family owned campground. Everything was very clean and spacious. For being so close to the highway it wasn't loud at all! I'm sure once they finish all of the renovations it will be a great destination campground.
Aug 14, 2021
Very friendly and pleasant people and nice clean campground.
Aug 12, 2021
Everyone was helpful , very kind and welcoming . This location was very clean , well groomed
Aug 05, 2021
We had a fantastic visit at your KOA, Lynda. Many thanks for taking such great care of the campground and us. Deb and I will see you again next year. Your KOA is convenient to my brother's home, Branson, and Eureka Springs. Cheers! John and Debby
Aug 04, 2021
I have been staying at KOA for 20 years. Theses were some of the nicest employees I have encountered at KOA's. Can't wait to see the new expansion!
Jul 31, 2021
Lynda was very friendly and helpful checking us in after hours. A very welcoming and well maintained campground.
Jul 30, 2021
The most kind and helpful staff. Couldn't do enough to accommodate us. Exceptionally clean and maintained RV sites. The whole campsite is new and up to date. If you're traveling that way I highly recommend staying there.
Jul 29, 2021
Awesome little nugget hiding in northern Arkansas. We had little expectations, but were very pleasantly surprised. About 1/2 hour south of Branson, Missouri and 1/2 hour from Eureka Springs, Arkansas and nestled in the heart of the Ozark Mountains. A perfect little spot for seeing the local sights. Staff is awesome!
Jul 29, 2021
Clean. Friendly Easy access
Jul 29, 2021
We were very hot and tired and when we got to this little oasis we were so pleased. The place is family run and they were like a breath of fresh air. They went out of their way to see that all our needs were met in the most delightful way. We will definitely stop there again
Jul 28, 2021
Amazing place! Super clean! Friendly staff. Lots of on-site indoor and outdoor recreation. They are expanding and will soon also have a pool! We recommend it to other travelers!
Jul 27, 2021
Linda and her daughter Christine are so friendly and helpful. They both work hard every day and it shows. The grounds are super clean and well maintained. Love that trash is picked up daily at your site!
Jul 27, 2021
Excellent spot. Excellent staff. Very clean with spacious spots. I highly recommend stopping here
Jul 26, 2021
Staff was great. Park was spotless. Showers and restrooms very clean!
Jul 25, 2021
We had a great 4 day stay!! We were pulling a motorcycle pop up tent and we were able to move to a different spot. They brought a grill to this site and made us feel very welcome. The bathrooms and showers were very clean, along with the laundry room. The property was very clean and quiet. Thank you for your hospitality!
Jul 25, 2021
I have stayed in their camping sites and also their Near Cabin. I love this KOA. It's right off the highway but very private. Lots of lush trees and grass. Lynda and Christine and all the staff are such sweet and helpful people. They work very hard to make sure you have everything you need. There is onsite store, laundry room, playground and it is immaculate! My favorite KOA!
Jul 24, 2021
The friendliest KOA I have stayed at in my 5 years of RVing around the USA. One problem with this site is it is small; but that may be the BEST thing about it. While I did not have a need, the staff told me multiple times that no matter what I needed, just call and someone would be there to help. I'll be back It does not have a swimming pool; my grandchildren were not with me so no proble