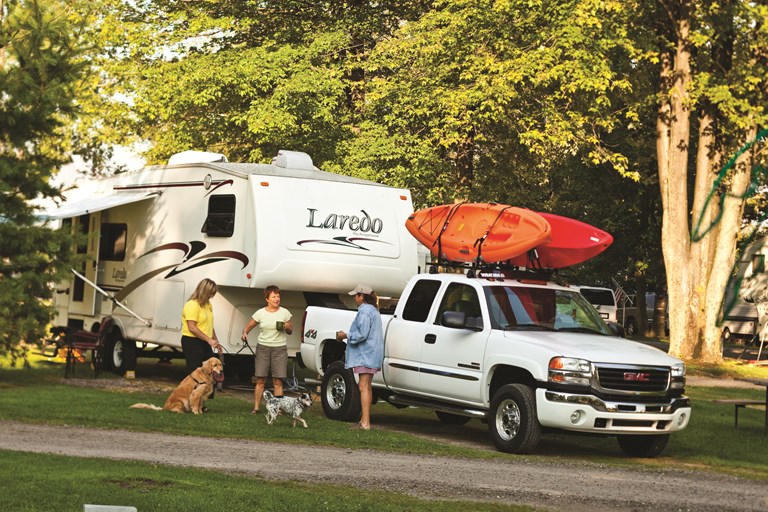 Harrison KOA Reviews
Directions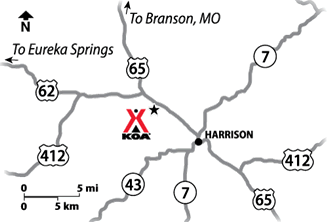 From US-65N: Follow signs onto US-412 W/US-62 W/US-65 N, 6.9 miles,, Right to stay on W/US-65 N,3.5 mi, (Arkansas Welcome Center will be on your left, from that point, our entrance is 500 feet on the left.) Left into KOA * From Branson Missouri: take W. Main St., turn left to merge onto US-65 S (entering Arkansas), 28.1 miles, Right turn into KOA ( Before you get to Arkansas Welcome Center) * From Eureka Springs Arkansas: Left onto US-62 E/E Van Buren, 35.5 mi, slight right onto US-412 E/US-62 E US-65 S,1.5 mi, Right into KOA.
Get Google Directions
Nov 22, 2020
We enjoyed our stay this week. The sites are large enough to accommodate our 45 foot Super C Motor home. We have been staying here for several years with the Parkers. The new owners have made some improvements so the park looks nice. Family came to visit and we really enjoyed the pavilion with all of the games, picnic table and fire pit. We will be back as soon as we can. Thanks for a great stay.
Nov 22, 2020
The hosts, Lynda Brown and her daughter, were extremely nice and helpful. The park was so clean and well kept. They even had fall decorations throughout the park. Bathrooms and showers were immaculate. It is also easy to find right on Hwy. 65 North in Harrison. Short drives to Eureka Springs, Branson, Ponca and Boxley Valley if you want to view the elk. We will stay there again when in the are
Nov 20, 2020
great location
Nov 18, 2020
10 day stay. Nice campground with friendly staff. Will return for sure.
Nov 18, 2020
the campground was like staying at a family home with well kept grass and beautiful gardens at each campsite and the host was very attentive and gracious in seeing to your needs
Nov 16, 2020
The hosts were very friendly and helpful and the Kampground was meticulously maintained. The Kampground is, however, right off a main highway with some road noise.
Nov 12, 2020
Very friendly staff , clean camp , good sites
Nov 10, 2020
Excellent customer service. Friendly staff!
Nov 10, 2020
The campground is very well kept, the owners are always available, very friendly, and do their very best to please. We will definitely be back.
Nov 10, 2020
Perfect site. Staff so friendly and helpful.
Nov 07, 2020
Very clean, friendly and attentive staff. Hook-ups were in great condition. Kids loved the playground and pavilion. Awesome fire pit at every site. A bit loud right off the highway but would definitely stay again!
Nov 06, 2020
It is very nice and clean the people there are AWSOME the only bad thing is all the hwy noise other then that it was great
Nov 04, 2020
Great quiet camp ground. Host and staff all helpful and friendly. Will definitely return for a longer stay.
Nov 03, 2020
Super clean! Awesome staff Great long sites
Nov 03, 2020
The Harrison AR KOA is a great campground. Lynda (owner) and her staff are all friendly, professional and helpful. They make everyone feel welcome and worked with us to place our party of three camping families together. The facility is well maintained and clean throughout. The site has easy access from US-65. When coming from the north there are not signs so watch your map closely.
Nov 02, 2020
Very friendly staff, clean facilities and easy to find! I definitely will be back!
Oct 30, 2020
great weekend away. staff was super nice. love the park. can't wait for upcoming park expansion and remodel that staff told us about.
Oct 30, 2020
Campground was nice and staff where great. Only problem oblem was the weather! LoL
Oct 27, 2020
We had difficulty with the sewer hookup. The owners were very helpful in solving the problem. We had a problem with our heater and again the owner suggested a repair man who came out and fixed the problem. We will definitely be camping at KOA campgrounds in the future.
Oct 27, 2020
This is a beautiful clean park and the people went above and beyond during our stay!! We plan on staying there again!
Oct 26, 2020
Linda was so friendly and accommodating!! We rented the pavilion. It was decorated beautifully and made it an enjoyable cookout with friends.
Oct 26, 2020
Beautiful campground, very nice and helpful hosts. Area has lots to do and weather is mild. Love staying here!
Oct 26, 2020
The owners of the Harrison KOA were professional from booking by phone to making sure our stay was perfect. They are friendly, helpful, and ensured our stay was perfect. They provided quarters needed for the big laundry room (grandma rolls them so you may get a bonus quarter!) the showers / bathrooms were large and spotless. Our shaded site was level gravel. A small park for KOA but perfect.
Oct 26, 2020
The campground is extremely well kept, the staff is most friendly and very accommodating. Beautiful campground. The location however, not so much. Very noisy next to the highway and especially so when the garbage truck arrives at 5a to pick up the dumpster right outside your front door. This could have been scheduled for a more appropriate time of day.
CAMPGROUND RESPONSE / COMMENTS:
Thank you for letting us know there was an issue with the dumpster being emptied so early in the morning. As a result, we have taken steps to ensure that the dumpster will be emptied at a latter hour. We appreciate your willingness to help us provide more enjoyable camping experiences.
Oct 25, 2020
Great place! Very friendly owners!....Could use more showers, only one in each restroom...also, the site #1 we were in was close to highway, so recommend sites further back in the park...
Oct 25, 2020
Nice little campground. As it is a new KOA, the owners are planning some exciting changes that will make it a very nice campground. Well located, easy drive to both Eureka Springs and Branson. Very friendly and available owners onsite.
Oct 24, 2020
Very friendly, very clean and helpful. Hopefully will be back next year. As my first choice this time.
Oct 22, 2020
Everyone was helpful, pleasant and it's a great place to stay! Thank You
Oct 21, 2020
Very friendly and helpful staff. We arrived after dark and they were very helpful to get us to our site. The showers and bathroom were freshly remodeled and clean. The park was peaceful and clean. My kids loved the Halloween decor at each site. We will be back!
Oct 21, 2020
Nice well taken care of
Oct 21, 2020
The Harrison KOA is a charming, clean facility with friendly, helpful staff! Thanks to all for a terrific stay. :)
Oct 20, 2020
Linda and daughter very warm and welcoming bathrooms clean well cared for our spot had some road noise but back rows would be fine excited about their expansion plans will check it out next time in area . Personal attention rare today but you felt it there made our stay great!
Oct 19, 2020
Only spent one night, but a very nice campground with very friendly staff. A small campground a little tight for the bigger rigs, but they seem to make it work. Will stay there again if in the area!
Oct 19, 2020
We really enjoyed our stay appreciate how clean everything was the road noise was a little loud however we will stay in the back next time. Your staff was awesome
Oct 19, 2020
The campground was very clean, well organized and run. The owner/manager was excellent. I want thank her for helping us with all our needs.
Oct 17, 2020
Convenient location. Nice people running it. Good laundry facilities. Thank you.
Oct 17, 2020
Amazing staff, really beautiful park. Great location and again, very helpful, friendly staff.
Oct 13, 2020
The people are friendly helpful courteous overall wonderful place to stay. Minimal road noise. Site was perfect for my needs had a great time there.
Oct 13, 2020
These folks are doing a great job with the fact that they have a campground that has just earn KOA status. Their Wi-Fi needs to be improved especially when a lot of guests are staying. We had a site that was far away from the main building so our Wi-Fi was not good unless we walked closer to the main building. Also there is a lot of road noise. The campground itself is clean, safe and quiet.
Oct 13, 2020
Staff is very friendly and helpful. Very pretty campground. No problems. Everything was great!
Oct 12, 2020
Staff was very friendly and helpful.
Oct 12, 2020
nice and very friendly bathrooms were very clean and room to move around hot showers laundry room
Oct 11, 2020
Stayed at this park specifically because they said they had good internet. Evidently they do--in SOME lots. Ours had one bar, just enough that my cell could connect and check email, but not enough to do any work or check the news. Also I saw one staff member get a big bottle of whiskey out of his car and take it in his (I assume) trailer. But the staff was all very friendly.

Harrison KOA
Open All Year
3629 Highway 65N
Harrison, AR 72601
Check-In/Check-Out Times
All Sites
Check-in: 1:00 pm, Check-out: 11:00 am
Operating Hours
Sunday: Open 9:00 AM to 6:00 PM
Monday: Open 9:00 AM to 6:00 PM
Tuesday: Open 9:00 AM to 6:00 PM
Wednesday: Open 9:00 AM to 6:00 PM
Thursday: Open 9:00 AM to 6:00 PM
Friday: Open 9:00 AM to 6:00 PM
Saturday: Open 9:00 AM to 6:00 PM
Get Google Directions

© 2020 Kampgrounds of America, Inc.