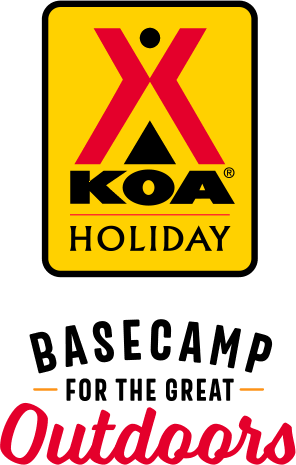 KOA Holiday Campgrounds
Whether you're exploring the local area or hanging out at the campground, KOA Holidays are an ideal place to relax and play. There's plenty to do, with amenities and services to make your stay memorable. Plus, you'll enjoy the outdoor experience with upgraded RV Sites with KOA Patio® and Deluxe Cabins with full baths for camping in comfort. Bring your family, bring your friends, or bring the whole group – there's plenty of ways to stay and explore.
KOA Holidays Feature:
RV Sites with a KOA Patio®
Deluxe Cabins with full baths
Premium Tent Sites
Group meeting facilities
Directions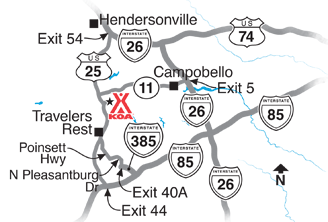 From Atlanta and SOUTH: Take I-85 north to Exit 44 (White Horse Road) which turns into Highway 25 (approximately 23 miles). KOA is on the right approx. 7 miles  past the town of Travelers Rest.  Do not let GPS take you off Hwy 25.
From NORTH: Take I-26 south to exit 54 (Near Hendersonville, NC) onto Highway 25 (Approximately 18 miles). KOA is on the left.  Take the 3rd U-turn past the KOA (The only one with a protected turn lane at the produce stand).   Do not let GPS take you off Hwy 25.
From EAST: I-95 to I-26 to exit 5 toward Campobello on Highway 11 which is Cherokee Foothills Scenic Highway approximately 19 miles to Highway 25. Go south approximately 2 miles. KOA is on the left. Take the 3rd U-turn past the KOA (The only one with a protected turn lane at the produce stand).  Do not let GPS take you off Hwy 25.
Get Google Directions
Jan 12, 2021
We have stayed at many KOA campgrounds and this is the by far the best one. A beautiful campground and the owners are so helpful and kind.
Jan 11, 2021
Great staff across the board. Excellent basecamp to explore the local area.
Jan 08, 2021
We stay at The TR KOA regularly when we visit family. Always cleans& well maintained. The Tubbs are wonderful hosts. Great little campground.
Jan 08, 2021
Outstanding stay! Great for families with kids. Private spot backed up to a stream, with plenty of hiking nearby. Owners are terrific and made us feel welcome.
Jan 07, 2021
Very Good People
Jan 07, 2021
Love the place !! Soo cute peaceful, the owner it's always willing to help, clean, for sure I will come back!!
Jan 05, 2021
Beautiful surrounding, Clean well organized layout and sites, friendly and helpful, . Need safer entrance and exit on hwy 25. Need better phone and internet service. We will be back and will bring friends.
Jan 05, 2021
So clean,safe and well managed! Close to Travelers Rest and the Swamp Rabbit Trail. Ride bikes, hike, enjoy a campfire by the river right next to your campsite. A favorite of ours!
Jan 05, 2021
The staff was so kind and very helpful! Everything was made so easy not to mention how clean the grounds were. Thank you for a wonderful visit!
Jan 04, 2021
Love this campground. The sites are just lovely.
Jan 04, 2021
We had a wonderful time n spite of rain. Our hosts, Rebecca and Jason, are great. Extremely responsive. A great place for RVs, travel trailers or non campers, as the cabins are fabulous! It would make a great reunion site. Thank you.
Jan 04, 2021
We thoroughly enjoy this location, it was our second time RVing here. The majority of the sites are located backed up to a creek. The sites are spacious, impeccably maintained, and clean. The owners are very accommodating and make every effort to make you feel welcome... from the moment of arrival through the duration of your stay.
Jan 04, 2021
Great little cabin in a prime location, close to hiking, Swamp Rabbit bike trail, city of Greenville. Our family of four stayed there over Christmas break and especially loved the fireplace and the huge covered porch overlooking the winding creek. Campground owner Jason was super helpful and the communication was really good throughout.
Jan 04, 2021
We love staying at This koa
Jan 04, 2021
One of our favorite KOAs. Friendly people and nice sites.
Jan 04, 2021
Cabin DC01 - clean, super cute, had all we needed. warm, dry, comfy bed. Futon - eh but all else is really great.
Jan 04, 2021
The cabin was clean and beautiful. The owners were on site and were very helpful and welcoming. It was our first time staying at a KOA and we are very impressed.
Jan 04, 2021
Peaceful campground. Sounds of the stream were great. Owners were very nice, knowledgeable, helpful, and just great to talk to. This was our first outing will definitely return.
Jan 03, 2021
We love staying at this Koa every time we come
Jan 03, 2021
Had a great relaxing Time. Great Super Nice people running the park.Very nice people indeed.Loved it.Cant say much more than that.Will be back for sure.
Jan 03, 2021
Everyone was very helpful and friendly. We told relatives about our stay, and we all plan to can back. Us in a RV them in a cabin.
Jan 03, 2021
Excellent staff and facilities!! Owners are always taking care of the campers!! We love this KOA!
Jan 01, 2021
We traveled with our RV for the holidays and this was one of the best spots hands down. Everything from the hostility, to the signage, to our site was spectacular. The tranquility here is out of this world. I can see where some of the spots are closer than others but that appears due to the fact spots were designed around the trees. Can't complain about that. We will be back.
Jan 01, 2021
Happy New Year! FYI...this is Laura Upton..while we were in Cabin 1 over Christmas we could never get the heater to work at all. . Were very cold . Had the fireplace going, and oven on stove on all night to warm up the place plus the space heater. We even had to put the eyes on the stove on when we first came in at night just to take the chill off each evening when we got back to cabin. 14 degrees
CAMPGROUND RESPONSE / COMMENTS:
To anyone reading this please understand that this was totally operator error. Yes it was 14 degrees outside but the heater does work. Please DO NOT leave the oven on all night for warmth. A simple call would have solved the issue. I can't fix a problem I don't know about. JST
Dec 30, 2020
We had a great experience. The owner and staff were great friendly and helpful. This was our first time camping and with the help of the staff we will have more camping trips.
Dec 30, 2020
The owner and staff are super. I would like to see a larger dog park for our doodle to run in. This is now our go to place in the Greenville area.
Dec 30, 2020
Wonderful as always. We love coming here.
Dec 29, 2020
Everything about this park was welcoming and inviting... Check-in was easy, the property is immaculate, and easily laid out... the only issue for us was poor internet access. Unfortunately, gone are the days when we would go camping to unplug. Instead, we rely upon great internet access for maintaining a connection with work, with family, and with friends. Everything else was perfect!
CAMPGROUND RESPONSE / COMMENTS:
So glad you enjoyed your stay.As for wifi we do have several Access Points and are in the process of adding another this winter.Our wifi is for basic use not streaming,zoom calls,etc.Sometimes a simple reset can improve service.Remember if I dont know you are having an issue I cant address it. JST
Dec 28, 2020
Very friendly most accommodating clean great place to stay
Dec 27, 2020
Super friendly and welcoming! They called us on the day we were headed in to find out when we'd be there and to give directions. The place is beautiful and the spot we had was great.
Dec 27, 2020
Unfortunately due to poor weather conditions driving up w our tiny camper on the night of Christmas Eve, our HipCamp Hostess suggested we hunker down for the night, recommending this KOA! As luck have it be we contacted the KOA TRAVELER'S REST and an angel =Rebecca answered our call! She was super kind, patient and assisted us every step of the way, providing simple instructions! Will stay Again
Dec 27, 2020
We were not at the campground very much, but the one time that I used the laundry facilities, I lost 1.50 and it was definitely a jammed dryer. I addressed the owner the next morning and the first words out of his mouth was it worked yesterday. It would of been nice to of been addressed with I'm sorry, which dryer was it. He assumed it was a dryer at another location in the park. So sad.
CAMPGROUND RESPONSE / COMMENTS:
Had no idea this camper was upset during our conversation. I did think she was talking about another dryer which was repaired the day before hence"it worked yesterday"which was not said in jest.She was refunded and foreign currency had jammed the dryer.JST
Dec 25, 2020
It was great
Dec 24, 2020
He had a wonderful stay by the every flowing creek We ll be back it the creek don't rise
Dec 23, 2020
Quiet time to reflect and be grateful, and to photograph in and around Greenville County. This KOA is well run, in a great location, and all the staff I met were so very helpful, courteous and kind. Rebecca is great to work with in arranging accommodations, and Jason is just a jewel - without knowing me, he loaned me a needed pressure gauge which was badly needed. I'll be back for sure.
Dec 22, 2020
The hosts are very friendly, accommodating, and knowledgeable. They know how to run a KOA. The grounds are well-maintained & gorgeous; you feel like you're staying at a national park! They're also close to lots of state attractions, like Poinsette Bridge & Campbell Covered Bridge. We booked a second stay before we had even checked out, & plan to hit Table Rock during that stay. Highly recommen
Dec 22, 2020
This is one of my favorite KOA Kampgrounds. Super nice folks from Texas made me feel at home snuggled against the hills and pines.
Dec 21, 2020
If it would not reflect negatively on the owners I would rate this KOA a 1 star just so I could simply keep this place to myself. I absolutely love it here and the owners are just so wonderful and warm who make the stay so pleasant. The grounds are beautiful and well kept. The facilities were clean.
Dec 17, 2020
It was wonderful. We had a great time. The owners were very nice.
Dec 30, 2020
Excellent hosts. Helped us back into the site. Nice sites. Pretty spacious. Will be very shady in the summer
- Fran Martin on Google
Dec 21, 2020
I would like to give them a 1 star just so i can keep this jewel to myself but I love the owners so much that I could never bring myself to dampen their business. It's such a lovely setting close to things to do but you feel removed from it all. We live close by and still choose to come here versus further attractions. Facilities are well kept and clean. We love coming here.
- Todd Glass on Google
Jan 03, 2021
(Translated by Google) Very pretty (Original) Muy bonito
- Mery Mejia on Google