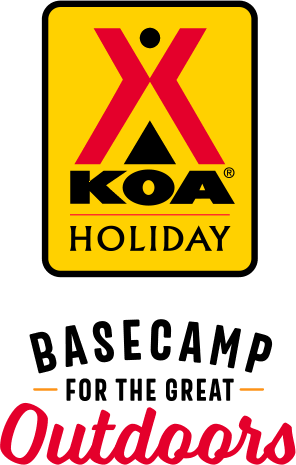 KOA Holiday Campgrounds
Whether you're exploring the local area or hanging out at the campground, KOA Holidays are an ideal place to relax and play. There's plenty to do, with amenities and services to make your stay memorable. Plus, you'll enjoy the outdoor experience with upgraded RV Sites with KOA Patio® and Deluxe Cabins with full baths for camping in comfort. Bring your family, bring your friends, or bring the whole group – there's plenty of ways to stay and explore.
KOA Holidays Feature:
RV Sites with a KOA Patio®
Deluxe Cabins with full baths
Premium Tent Sites
Group meeting facilities
Directions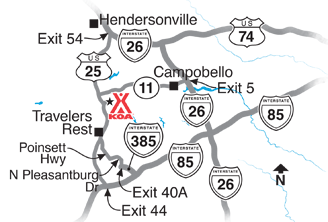 From Atlanta and SOUTH: Take I-85 north to Exit 44 (White Horse Road) which turns into Highway 25 (approximately 23 miles). KOA is on the right approx. 7 miles  past the town of Travelers Rest.  Do not let GPS take you off Hwy 25.
From NORTH: Take I-26 south to exit 54 (Near Hendersonville, NC) onto Highway 25 (Approximately 18 miles). KOA is on the left.  Take the 3rd U-turn past the KOA (The only one with a protected turn lane at the produce stand).   Do not let GPS take you off Hwy 25.
From EAST: I-95 to I-26 to exit 5 toward Campobello on Highway 11 which is Cherokee Foothills Scenic Highway approximately 19 miles to Highway 25. Go south approximately 2 miles. KOA is on the left. Take the 3rd U-turn past the KOA (The only one with a protected turn lane at the produce stand).  Do not let GPS take you off Hwy 25.
Get Google Directions
Jan 04, 2021
Love this campground. The sites are just lovely.
Jan 04, 2021
Great little cabin in a prime location, close to hiking, Swamp Rabbit bike trail, city of Greenville. Our family of four stayed there over Christmas break and especially loved the fireplace and the huge covered porch overlooking the winding creek. Campground owner Jason was super helpful and the communication was really good throughout.
Jan 04, 2021
Cabin DC01 - clean, super cute, had all we needed. warm, dry, comfy bed. Futon - eh but all else is really great.
Jan 04, 2021
The cabin was clean and beautiful. The owners were on site and were very helpful and welcoming. It was our first time staying at a KOA and we are very impressed.
Jan 01, 2021
Happy New Year! FYI...this is Laura Upton..while we were in Cabin 1 over Christmas we could never get the heater to work at all. . Were very cold . Had the fireplace going, and oven on stove on all night to warm up the place plus the space heater. We even had to put the eyes on the stove on when we first came in at night just to take the chill off each evening when we got back to cabin. 14 degrees
CAMPGROUND RESPONSE / COMMENTS:
To anyone reading this please understand that this was totally operator error. Yes it was 14 degrees outside but the heater does work. Please DO NOT leave the oven on all night for warmth. A simple call would have solved the issue. I can't fix a problem I don't know about. JST
Dec 28, 2020
Very friendly most accommodating clean great place to stay
Dec 14, 2020
We booked one of the cabins last minute. It was absolutely perfect! Had everything we needed for a night stay and was very clean. Owners are very involved and so nice.
Dec 12, 2020
The staff is very hospitable and kind. The games area and the playground were wonderful. The area s beautiful. We loved both the campsite and the cabins.
Dec 02, 2020
The owners are amazing and take so much pride in making their campground a beautiful, comfortable and fun place to stay!
Nov 29, 2020
We were warmly welcomed and escorted to our lovely cabin by the water. Explanations given by owner of all need to know items. Comfy bed, heat and clean linens. Well supplied and plenty of extras. Quiet and picture perfect area in the mountains. Will visit again.
Nov 27, 2020
We enjoyed our stay. The hosts were hospitable and helpful. The location was safe and quiet. There were enough things to do at the campground, and we really enjoyed visiting Poinsett Bridge and Campbells Covered Bridge.
Nov 23, 2020
It was perfect from start to finish. We booked all 4 cottages for a Glamping weekend and it was incredible. Well appointed and immaculate cabins, super friendly staff and a beautiful stream that winds around the cabins. Just beautiful. We will be back.
Nov 18, 2020
The cabins are amazing! Will go back again and again.
Nov 18, 2020
Wonderful campground, clean and organized cabin, and friendly people. My only complaint was the lack of a mask requirement indoors.
CAMPGROUND RESPONSE / COMMENTS:
So glad you enjoyed your stay and thanks for the compliments. As for "the lack of a mask requirement indoors", we leave mask discretion up to our campers. Per our website we practice social distancing, our store employees are behind glass, and curbside check-in is available at request. JST
Nov 11, 2020
Extremely clean cabins and facility even cleaner. This place is a must for staying in travelers rest for sure.
Nov 03, 2020
Super friendly staff made us feel welcome the second we got there
Nov 03, 2020
Cabins and Campground beautifully upkept. The owners are very friendly, a tropical storm went through during my stay and they went above and beyond as far as making sure my family was comfortable during a power outage. I would highly recommend a stay here!
Oct 31, 2020
We love it here hoping to get back up there in the near future you are the best!
Oct 16, 2020
Thank you again for an amazing stay! Our every need and expectation was beyond met, as always! This is no doubt our favorite KOA! Thank you for taking the time with the boys and providing fun experiences for them! Xoxo �
Oct 05, 2020
Very nice accommodations in the cabin where I stayed. Staff very helpful and friendly. Definitely plan to return.
Oct 05, 2020
We spent 5 nights in one of the deluxe cabins. Very nice accommodations! Very quiet campground. Very clean, and very friendly staff. Great stay!
Oct 05, 2020
Very well kept, friendly staff
Oct 04, 2020
The owner and staff are very friendly. The area is beautiful . The campground is near a lot of parks and towns.
Oct 02, 2020
Beautiful, clean, super equipped cabin with breathtaking setting.
Sep 21, 2020
Such a relaxing stay! Staff was great! Thank you!
Sep 20, 2020
Our stay at the KOA was absolutely fabulous. The setting is wonderful. The owners and staff are great. The accommodations were very clean. It could not have been any better. We will definitely stay there again when in the Greenville area. God blessed us so much with such a peaceful stay!
Sep 19, 2020
Everything was clean and the staff is so friendly.!!! This was my first stay at a KOA campground and I am certain I will visit this campground again
Sep 17, 2020
Wanted solitude & privacy. Left early as the neighbors in nearby cabins and campsites kept walking onto my cabin site, right in front of my porch and my open bedroom window. Not very private! I think campers should be aware of the "public" places to access the creek, and not use other people's areas to play with their kids, etc. I could not figure out how to use the TV regular channels.
CAMPGROUND RESPONSE / COMMENTS:
To anyone reading this review please let us know of any issues that you are experiencing during your stay (noisy neighbors, TV remote challenges, etc.)Remember we cant correct a problem if we a unaware of it. Both were easy fixes that could have been corrected. JST
Sep 14, 2020
Nice place Great customer service oriented owners! Very nice cabin setup. The bed was too soft for us and may have need to be looked at my husband
Sep 11, 2020
We stayed in the luxury cabin with our 4 small grandchildren. I do not have the vocabulary to express to you how AWESOME our time was at KOA, Travelers Rest, SC. During this time of COVID-19, the owners made us fill safe yet kept the activities open for families to enjoy. Great job! Thank you for an enjoyable weekend! Blessings, Lisa Ford
Sep 06, 2020
The campground and cabin was spotless. The sites felt secluded with trees between the sites. It wasn't over crowded like some Koas. The owners were very friendly.
Sep 03, 2020
Excellent time and its not if but when we will be back
Aug 28, 2020
Our cabin was clean, comfortable and roomy. The campground is located near Travel's Rest and Greenville. This is the first time an owner actually escorted us to the cabin and explained everything to us. He was very friendly and welcoming. The campground is clean and well maintained also.
Aug 25, 2020
Very clean, very cute cabin.
Aug 19, 2020
Great place to stay!! Great staff!! Beautiful campground!! Will stay again and again!!!!
Aug 17, 2020
Very nice and attentive staff. Clean campground nestled in the woods. Very private. Would highly recommend staying here.
Aug 17, 2020
Clean. Friendly. Affordable. Quiet. Close to mountains and downtown Traveler's Rest (which has great places to eat). This was our 3rd time staying there and we will definitely be back again.
Aug 15, 2020
We stayed in one of the cabins and it was awesome. The owners practiced social distancing and the cabin was very clean. Cabin had everything we needed and more. Loved the deck and quiet setting. Only down side (not holding that against the owners) is that I ended up leaving a charger for my computer and person I talked to would not send it to me even though I offered to pay to send it to me.
Aug 11, 2020
The owners were so nice and involved, you can tell they cared and worked to make your stay enjoyable!
Aug 10, 2020
Always a great place to stay. Our go to place for a few days of relaxing. Jason and crew are always great and he is a exceptional campground owner.
Aug 09, 2020
Very nice. Great setting. Cabin was awesome. And clean. Owner and staff were very nice people!!!
Aug 01, 2020
We thoroughly enjoyed our stay. The owners and staff were incredibly attentive. The property is just off the highway but no traffic could be heard. The campground is in a parklike setting with plenty of shade. The cabin we stayed in is by far the cleanest cabin in which we have stayed.
Dec 30, 2020
Excellent hosts. Helped us back into the site. Nice sites. Pretty spacious. Will be very shady in the summer
- Fran Martin on Google
Dec 21, 2020
I would like to give them a 1 star just so i can keep this jewel to myself but I love the owners so much that I could never bring myself to dampen their business. It's such a lovely setting close to things to do but you feel removed from it all. We live close by and still choose to come here versus further attractions. Facilities are well kept and clean. We love coming here.
- Todd Glass on Google
Jan 03, 2021
(Translated by Google) Very pretty (Original) Muy bonito
- Mery Mejia on Google