We're Sorry!
Internet reservations are currently not available for this KOA: Gaylord KOA Holiday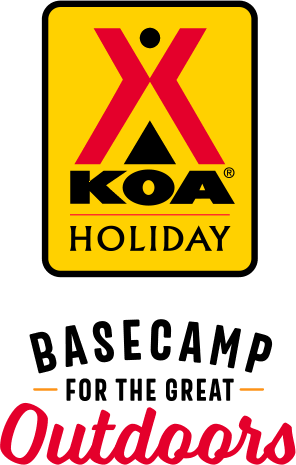 KOA Holiday Campgrounds
Whether you're exploring the local area or hanging out at the campground, KOA Holidays are an ideal place to relax and play. There's plenty to do, with amenities and services to make your stay memorable. Plus, you'll enjoy the outdoor experience with upgraded RV Sites with KOA Patio® and Deluxe Cabins with full baths for camping in comfort. Bring your family, bring your friends, or bring the whole group – there's plenty of ways to stay and explore.
KOA Holidays Feature:
RV Sites with a KOA Patio®
Deluxe Cabins with full baths
Premium Tent Sites
Group meeting facilities
Directions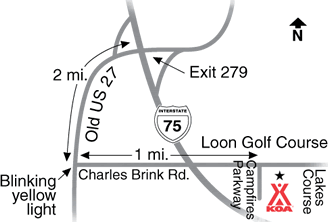 I-75 Exit 279: South on Old 27, 2 miles to blinker, left 1 mile on Charles Brink Road.
DO NOT TURN ON MICHAYWE DRIVE.  STAY ON CHARLES BRINK ROAD UNTIL YOU SEE OUR KOA SIGN.
Get Google Directions
Oct 19, 2021
David & Georgeann are top notch people. They run a clean well maintained camp ground with a no non sense policy for campers disturbing other campers. Many nights I set at my camp fire wondering if I was the only one there, it was that quite. I parked my RV there 167 nights with no issues of theft or vandalism as I travel and was away many weekends and nights. This is how camp ground should be ran.
Oct 17, 2021
Enjoy staying there. The owners and staff are very kind.
Oct 17, 2021
Friendly staff, everything very clean and tidy and lots to do in the area. A true destination!
Oct 17, 2021
By far the best run campground we have stayed at. The owners were extremely friendly, campground and the amenities were spotless, the campground was run very efficiently, and we had everything we needed at our disposal for a fantastic visit. We have stayed at this campground twice since the beginning of September, and look forward to many more visits there in the coming years. Outstanding!
Oct 16, 2021
Spent the entire summer and looking forward to summer 2022. Facilities are exceptional and kept spotlessly clean. Great destination for all ages whether for the weekend, a week or the entire summer. Staff is accommodating and give attention to detail.
Oct 16, 2021
We always love visiting the Gaylord KOA! Love the pool and our large lot! The owners are great!
Oct 16, 2021
closing day - camp was empty but checkin was a friendly ever
Oct 15, 2021
I've been camping at this KOA for approximately 14 years. The campground is quiet. The facilities are clean. And, the owners and staff are always friendly and helpful.
Oct 14, 2021
A really beautiful park. It has all the amenities we could want and very nice pull thru spots.
Oct 13, 2021
It is a beautiful campground and a great location. We were up for a color tour, so did not spend much at the campground.
Oct 13, 2021
This campground is beautiful! Although the pine needles are a bit of nuisance, that is part of its charm. Beautiful dog park and winding roads. The staff was very helpful and friendly.
Oct 13, 2021
We had wonderful, relaxing time, which was just what we were looking for. Th hosts, Dave and Georganne, are so friendly, and the camp is kept very neat and clean.
Oct 13, 2021
I have stayed here multiple times. The wood for fires is horrible. We have a serious time getting it started. It's wet. Very frustrating because that's a HUGE part of our trip especially because our meals are cooked on it. Might have to skip Gaylord next year because of it
Oct 13, 2021
We were there for overnight, but this is a beautiful campground- neat and well maintained. Owners are always helpful and friendly.
Oct 13, 2021
Nice campground
Oct 13, 2021
My stay was ok. I was surprised that the adult bed was a futon style with vinyl covering on a 6 inch thickness. Had to put a blanket under the sheet to not sweat. We slept ok but if you have trouble sleeping due to mattress conditions, I recommend taking a comfy foam pad to lay on top. The table surface was very sticky so I recommended taking a table cover Door window needs curtains
CAMPGROUND RESPONSE / COMMENTS:
I'm sorry you weren't happy with your stay. It does state on the website when you made your reservation what is included in the cabin. We have other deluxe cabins that have queen beds that you may want to try next time. Safe travels!
Oct 12, 2021
We've stayed here quite a few times and we still enjoy this park, it's very well kept and clean. Had the deluxe site and loved the patio especially with the rain we didn't have mud puddles too walk around. Most likely will be back next year, since we love fall camping in Gaylord.
Oct 12, 2021
They have done a lot of updates in the 8 or 9 years since we've been here. It was a great place to camp then and is an even better place to camp now!
Oct 12, 2021
VERY EASY CHECK IN AND CHECK OUT, NICE AREA CLOSE TO EVERTHING
Oct 12, 2021
This is a great campground! This was our 4th time staying with them in the last year! Well maintained and a friendly staff. Becoming one of our go-to campgrounds when we want to spent a long weekend in Michigan.
Oct 11, 2021
Easy in and out
Oct 11, 2021
we enjoy the area but most of all we havw become friends with the owners. they are very helpful and willing to work with the campers. they always have a smile and a friendly "Hi" for everyone
Oct 11, 2021
Thank you! Was a great weekend! Loved your KOA
Oct 11, 2021
good stay - park needs grading and maybe paving on the roads to make it first class
Oct 11, 2021
The campground was very well maintained, and everything at check in went extremely smooth. The bathrooms were very clean and so were the cabins we stayed in. However, quiet hours are at 10pm, and even though we obeyed the hours it just seemed that 10pm on Saturday is a bit too early. Maybe 11pm, but 10 just seemed early compared to other campgrounds. Everything else was great!
CAMPGROUND RESPONSE / COMMENTS:
Unfortunately we had noise complaints from other guests.
Oct 10, 2021
Our favorite KOA in the U.S.
Oct 10, 2021
Stay was good. Roads could be graded. I didn't care much for my site since it was on a curve, which made it a pie shape site. There are many nice sites that are very roomy however. I will stay in the future.
Oct 09, 2021
Great place to base your stay when traversing the Pigeon River State Forest looking for elk! The campground is clean and quiet. The dogs love having a dog run. Even when the campground is busy, it is so much quieter than state parks, which we really like. We come here every year and will be back.
Oct 06, 2021
The campground is neat and clean, conveniently located for highway access, and well laid out. The staff is helpful and friendly. The bath house is spic and span, with very nice shower facilities. We will stay there again!
Oct 05, 2021
Staff is friendly and helpful. Showers and restrooms are tired. In need of updates. Sand and dirt roadways make for a messy situation when it rains.
Oct 04, 2021
Always friendly, very comfortable campground.
Oct 04, 2021
Very friendly staff always willing to help. We will be back.
Oct 04, 2021
This is a nice campground, it was quiet and pleasant, the staff were all very helpful and friendly. we enjoyed our stay and would not hesitate to return or recommend this campground to others
Oct 04, 2021
We love this campground. The hosts are so friendly and it has that up north feel, being in the woods. The lots are also a nice size compared to other campgrounds.
Oct 04, 2021
Our stay in Gaylord was absolutely beautiful in the 1st days In October. This had to be one of the nicest can't go the nicest campgrounds we had been 2 in quite a while. It was clean there was plenty of room on each lot, Lots and lots of beautiful trees. It was clean And the people who ran this place were so nice.. This one is what is on my favorites list.
Oct 03, 2021
we had a good time, it's a nice park, big sites too
Sep 10, 2021
Georjean, Kristen and Stacy were awesome! They really accommodate my husband and I. I'm greatful for there wonderful service. The deluxe cabin was more than I anticipated. Very clean and modern, two decks, grill etc.. overall a great first time camping experience! Thank you KOA staff and be blessed!
- tanasha brookins on Google
Aug 28, 2021
It was awesome seeing Dave and georgeanne! And as always the park looked really nice and well maintained. The bathrooms and the showers were very clean. And I'm glad that you guys are still monitoring the park. I love the garbage pickup. I was really surprised about that there can not be no dog pens anymore but I understand.
- Linda Zeneberg on Google
Aug 21, 2021
The stuff is great and friendly this our first time here I would definitely come back we only stayed 2 days total
- Jessica Lynn Qualls on Google