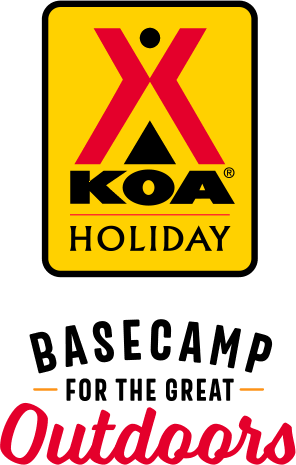 KOA Holiday Campgrounds
Whether you're exploring the local area or hanging out at the campground, KOA Holidays are an ideal place to relax and play. There's plenty to do, with amenities and services to make your stay memorable. Plus, you'll enjoy the outdoor experience with upgraded RV Sites with KOA Patio® and Deluxe Cabins with full baths for camping in comfort. Bring your family, bring your friends, or bring the whole group – there's plenty of ways to stay and explore.
KOA Holidays Feature:
RV Sites with a KOA Patio®
Deluxe Cabins with full baths
Premium Tent Sites
Group meeting facilities
Directions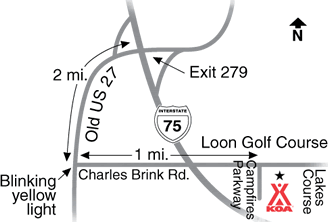 I-75 Exit 279: South on Old 27, 2 miles to blinker, left 1 mile on Charles Brink Road.
DO NOT TURN ON MICHAYWE DRIVE.  STAY ON CHARLES BRINK ROAD UNTIL YOU SEE OUR KOA SIGN.
Get Google Directions
Nov 21, 2020
we were a late arrival, they took us to the campsite with the golf cart, they were more than helpful.
Oct 19, 2020
This is a wonderful family friendly campground. Lots to do for the kids and super friendly workers and owners! Loved it here and hope to come back again!
Oct 18, 2020
Always have a great time, but mother nature had her way with wind and rain....but we still had a great stay in fact we stayed 6 days instead of 4 !!
Oct 18, 2020
have been comming here for 13 years.beautiful ,clean, friendly place.our happy place
Oct 16, 2020
Excellent experience!!!
Oct 16, 2020
Great facilities. The owners are the best.
Oct 16, 2020
We seasonal camp there and love it. The owners are great!!!
Oct 15, 2020
Very enjoyable time spent at this well-run KOA. The Wi-Fi is the best we have ever encountered. Great place for kids. Plenty of room between sites.
Oct 15, 2020
Very nice, quiet and clean accommodations. Ground very sandy - gets everywhere when it rains. Needs an additional restroom/shower.
Oct 15, 2020
Quiet weekend in a quaint, clean cabin. Clean bathrooms and a great hot shower. Staff was great and I love that firewood was delivered right to our site! Will go again.
Oct 14, 2020
everything was fine
Oct 13, 2020
Well kept park - clean, quiet, well maintained. Owners take pride in the campground. I like a park where the other campers are respectful neighbors, and this campground fosters that. Great WiFi. Like the proximity to the Pigeon River State Forest.
Oct 13, 2020
Nice kampground but the bathrooms need to be updated. Need separate shower stalls, so everyone's dirty water doesn't drain into the shower your in. Trees need to be trimmed in the path of pulling trailers in and out.
Oct 13, 2020
Very nice campground. Especially liked the trail by the creek. Beautiful in the fall.
Oct 13, 2020
Georgina and Dave were extremely helpful and very nice. Campground and bathroom/showers were kept clean.
Oct 12, 2020
Loved our week there, campground was very clean with good sized lots. Staff was very friendly, helpful and courteous. S. R. Edon, OH
Oct 12, 2020
Very impressed with the campsite especially when it was towards the end of the camping seaon
Oct 12, 2020
Nice, clean, spacious sites. Our kids absolutely love this campground. This is our first year as campers and we visited this location 3 times. With more planned for next summer.
Oct 12, 2020
It was o.k. Expensive for what we got. The equipment for rent was very dirty as well as the bounce pad. Would not use them. The people were very friendly. However, no one wore a mask in the store. Not sure why.
Oct 12, 2020
I would prefer to pay an extra $1 or $2 a day and get the activities for free than to be asked to pay an additional fee to use mini golf, jump pad, peddle carts etc
Oct 12, 2020
It was great, we would stay again !
Oct 12, 2020
Excellent place to camp, clean, safe and warm friendly people.
Oct 12, 2020
Clean, quiet and beautifully located. Staff was friendly. There were loads of activities for campers with children. I would DEFINITELY stay here again.
Oct 12, 2020
Great tent sites, friendly staff, and overall beautiful park. Throughly enjoyed our stay and will be coming back in the future.
Oct 11, 2020
It was a nice stop over for 1 night, Site was level and perfect for not having to unhook for the night.
Oct 11, 2020
Campground is well maintained. Sites are a good size and staff very pleasant.
Oct 10, 2020
One of the cleanest and well kept campgrounds we've been to. It's obvious you take great pride in what you do. Thanks for a great camping experience! We'll definitely be back!
Oct 10, 2020
Very clean facilities, great walking trails and nice sized campsites
Oct 10, 2020
We keep coming back.
Oct 10, 2020
It was alright
Oct 09, 2020
Very enjoyable week.
Oct 09, 2020
This is the most beautiful KOA I have ever stayed in. The trees and grounds are just beautiful. Everything is clean and neat. The owners are so nice! We had a wonderful 2 week stay!
Oct 09, 2020
We enjoyed our stay here. I love the way that every time a camper pulled in, they were escorted to their camp site or cabin. The personalization here is wonderful. The camp store was well stocked. We don't have small children, however there are a great many things for kids to do here. The grounds are very well kept. We are planning our return trip in 2021!
Oct 09, 2020
We had a nice wet stay. Lots of trees. Get a border site for more space and privacy. Facilities were very good and clean. We'll be back!
Oct 09, 2020
I was just passing through for one night late in the season. My pull through spot was level enough that I didn't have to unhook at all. Fast checkin and nice people. My walk around the campground showed it to be well kept. I'll go back!
Oct 08, 2020
Beautiful park with lots of trees and generous sites. It appears there are quite a few activities there for kids and there is lots to do in the general area. And Burt Lake is very close at hand.
Oct 08, 2020
The cabin we stayed in was very clean and nice except for the bed. It was in horrible shape , broken down and made terrible noise at the slightest movement. It was a sleepless and painful 2nights. The campground was very nice though.
Oct 07, 2020
The park was quite and clean. Staff was friendly and helpful. Will return
Oct 07, 2020
Gaylord KOA has beautiful, spacious RV sites. We will be back
Oct 06, 2020
Every time we stay at the Gaylord KOA we love it. The staff is always friendly and around if you need help. If you have never stayed at the Gaylord KOA I definitely recommend you do.
Oct 06, 2020
Great long weekend. Beautiful campground. Fall colors are peaking.
Oct 06, 2020
Even though it rained every day we stayed, the park drained well and the grounds were well kept. Bathrooms and laundry facilities were immaculate. Will stay here again when in the area.
Oct 26, 2020
It was beautiful and not noisy when we stayed in a cabin . Beautiful grounds. Bathroom was clean and cabin was also nice.
- Nicole Hikesalot on Google
Sep 25, 2020
Beautiful surrounding. Only wish is didn't have to pay extra for wrist bands for jump pad.
- Timothy Kelley on Google