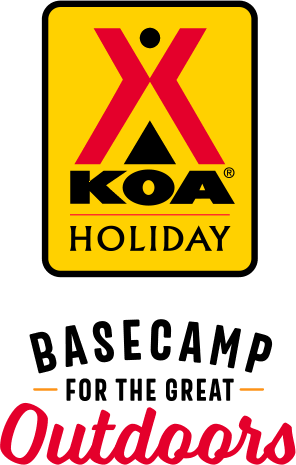 KOA Holiday Campgrounds
Whether you're exploring the local area or hanging out at the campground, KOA Holidays are an ideal place to relax and play. There's plenty to do, with amenities and services to make your stay memorable. Plus, you'll enjoy the outdoor experience with upgraded RV Sites with KOA Patio® and Deluxe Cabins with full baths for camping in comfort. Bring your family, bring your friends, or bring the whole group – there's plenty of ways to stay and explore.
KOA Holidays Feature:
RV Sites with a KOA Patio®
Deluxe Cabins with full baths
Premium Tent Sites
Group meeting facilities
Directions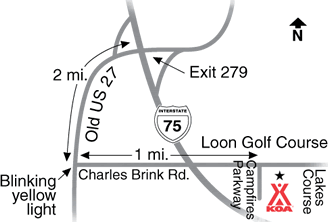 I-75 Exit 279: South on Old 27, 2 miles to blinker, left 1 mile on Charles Brink Road.
DO NOT TURN ON MICHAYWE DRIVE.  STAY ON CHARLES BRINK ROAD UNTIL YOU SEE OUR KOA SIGN.
Get Google Directions
Jun 20, 2021
This is a spacious, clean, quiet, high quality park. It's well maintained, and the help is fantastic. Work Kampers Rich and Jenny did a great job helping us with everything we needed. Highly recommend this park for everything from overnight to several weeks stays.
Jun 19, 2021
Great staff, nice, relaxing stay.
Jun 19, 2021
The restroom/shower rooms were clean but very old. The sites have nothing but dirt for a pad and little grass. There were nice tree sites. The staff was very friendly and courteous.
Jun 19, 2021
Very nice, staff were great. Thanks.
Jun 19, 2021
It is a great place to camp. They are centrally located to a lot of great places to visit.
Jun 18, 2021
It was awesome! Bathrooms were clean, staff very friendly, and was a wonderful place to camp!! We plan on camping there several more times this summer
Jun 18, 2021
Very nice campground nice people. Beautiful campground!!
Jun 16, 2021
As always a great stay in Gaylor KOA Holiday. Thank you Georganne and Dave!
Jun 16, 2021
Enjoyed my stay so much I have booked for a 3rd time. Great park and really nice staff.
Jun 16, 2021
Very friendly staff and the most beautiful KOA campground we've ever seen!
Jun 16, 2021
We stayed June 9-12 and had perfect weather! The site was clean and the park was quiet. The roads are a bit dusty, but that is because Michigan needs rain. It was a good stay and we would consider returning again when we are in the Gaylord area. Thank you!
Jun 16, 2021
Very nice campground you can't go wrong if you stay here! Staff is super nice.Facilities are very clean.
Jun 16, 2021
Too pricey for many campers. Well managed and maintained. Attractive
Jun 15, 2021
Great camp. Clean and well kept up. Employees are very helpful and friendly!!
Jun 15, 2021
We stay here every chance we get, always clean great people running camp and working there.
Jun 14, 2021
Very large sites, peaceful and quiet. Camped with 2 other couples who have been there before and highly recommended it. Week definitely come back. The staff are friendly and helpful too
Jun 14, 2021
Nice people, very nice pool and quiet campground. Maybe its normal for KOA but you need to pay for a wrist band to jump on the blow up pillow. I dont remember having to do this at other KOAs. The blow up pillow was also pretty dirty and looked to be covered with pollen, it could used a good power washing. The camp store is a short walk but not really central and this KOA is gated.
Jun 14, 2021
All of the was super friendly. The facility was very clean
Jun 14, 2021
Facility is nice. Camp ground itself is a little compact. Not a lot of space between campsites. Which leads to people walking through your site. They are also strict about the one car per site rule. We were asked to move our cars twice while we were unloading. Even though the site across from us had two cars the whole weekend.
Jun 14, 2021
A lot for kids to do and very quiet
Jun 13, 2021
Always a great and relaxing time! Staff is friendly and always accommodating.
Jun 13, 2021
Great friendly service with lots of amenities, very well stocked store, and lots of great advice available too. We enjoyed the pool a lot and meeting other families. Women's Bathrooms were not the cleanest and could use a little TLC.
Jun 13, 2021
Quiet and nice
Jun 12, 2021
One of the nicest rv parks we have visited! Beautiful place, great staff, nice pool. Our spot was spacious and the park is quiet. Very close to Otsego Lake State Park and an hour from machinaw and the ferry to Mackinac Island. Terrific KOA!
Jun 12, 2021
Very nice campground and helpful and friendly staff. Site was good size with patio and grill making it very pleasant. Would certainly return.
Jun 12, 2021
It was good I would stat again
Jun 12, 2021
Our site was exactly like the picture I saw on line. Staff was very friendly and accommodating when we arrived. Restrooms were spotless. Thanks for an enjoyable stay.
Jun 11, 2021
One the nicer kept campgrounds around. Friendly people, clean restrooms, Quiet!
Jun 11, 2021
They trimmed there pine trees and didn't warn us about the dripping sap that got all over everything including my dogs paws. Manager very unsympathetic and blew me off. Was just suggesting that you give people a heads up about it. I will not go back there mainly because of the managers response.
Jun 11, 2021
Very disappointing have rented from other koas that were way Better it is a bottom of the line joke in my opinion
Jun 10, 2021
The Gaylord KOA is an excellent campground in a beautiful setting.
Jun 10, 2021
Had a super time. We only stayed one night but enjoyed it very much. We want to stay longer next time. Super friendly staff
Jun 09, 2021
We had a great time camping with our friends. Very nice campground. There was lots of mosquitos and sand fleas. Spraying for bugs would be much appreciated.
Jun 09, 2021
absolutely perfect. will definitely stay there again.
Jun 09, 2021
Just a one nighter but everyone was pleasant
Jun 08, 2021
Gaylord KOA is my favorite place to camp. Great staff and a great campground.
Jun 08, 2021
We enjoyed our stay very much. The cabin was stocked with all the essentials we needed which was a pleasant surprise.
Jun 08, 2021
First time at this location and with our camper. Check in was like checking into a hotel. Great service and great people taking care of the sites. Saw one of them helping another family that was having problems getting their camper set up. What a good service, clean park, dog friendly. We will be back!
Jun 08, 2021
The guys on the golfcarts were rude but the ladies in the store were very friendly.
May 06, 2021
Very well managed and well kept. Friendly staff.
- Gwen Alim-Young on Google
Oct 26, 2020
It was beautiful and not noisy when we stayed in a cabin . Beautiful grounds. Bathroom was clean and cabin was also nice.
- Nicole Hikesalot on Google