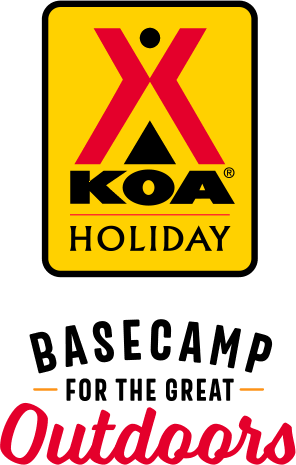 KOA Holiday Campgrounds
Whether you're exploring the local area or hanging out at the campground, KOA Holidays are an ideal place to relax and play. There's plenty to do, with amenities and services to make your stay memorable. Plus, you'll enjoy the outdoor experience with upgraded RV Sites with KOA Patio® and Deluxe Cabins with full baths for camping in comfort. Bring your family, bring your friends, or bring the whole group – there's plenty of ways to stay and explore.
KOA Holidays Feature:
RV Sites with a KOA Patio®
Deluxe Cabins with full baths
Premium Tent Sites
Group meeting facilities
Directions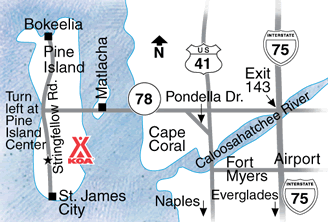 I-75 or Route 41 turn west Route 78. Turn left at Stringfellow Road.
Get Google Directions
Jul 12, 2021
Aside the cable being out, we had a perfect time! Staff was friendly a helpful. We asked for a umbrella for our patio table and George rapidly returned with one. Looking forward to going back!
Jul 06, 2021
Very clean and friendly environment, just wish it was closer to the beach.
Jul 06, 2021
One well maintained and clean campground. Two issues was the camp store had very limited hours. Lucky it was a short drive to Win Dixie. The second was wheelchair access due to the he gate lock was impossible. Anyone unable to stand or walk will not be able to reach the gate lock and pull up on said lock. Also there is no way to contact to operate the pool chairlift. Nice place just not ADA friend
Jul 06, 2021
Outstanding time! Awesome friendly staff and lots tp do there. Will be back soon.
Jul 06, 2021
Very nice host, very or i should say extremely clean everywhere especially bathrooms, love it
Jul 06, 2021
There is no quite time, every night the seasonals across from us were playing corn hole in the street and extremely noisy until 2AM.
Jul 05, 2021
Fabulous location on a quiet, coastal island with a grocery store a short drive away. Very clean park with extremely friendly personnel. We would definitely stay here again.
Jul 05, 2021
MUY MALA,ES EL PEOR CAMPING QU HE VISITADO,LA PLAGA DE MOSQUITOS Y JEJENES IMPOSIBILITA DISFRUTAR EL ATARDECER LA NOCHE Y EL AMANECER,LA CABANA CON MUY MALAS CONDICIONES,EL AC DEFECTUOSO, NO ME DEJO DORMIR,EL COLCHON ERA DE MADERA,MUY MALA DECISION IR A ESE LUGAR, LO UNICO BUENO FUE LA ATENCION DEL PERSONAL, MUY AMABLE Y PROFESIONAL, GRACIAS MARY,MUY LEJOS DE OTROS PARQUES DE KOA,GRACIAS
Jun 29, 2021
It was a 2 night stay on our way to The Keys, was very nice and clean KOA.
Jun 27, 2021
Great park!!
Jun 27, 2021
Very beautiful peaceful place to camp. Everyone was very nice. Lots of accommodations and the bathroom/shower room was very clean always. We loved it! Thanks
Jun 23, 2021
We had a very short stay because one of our dogs was ill, but we were very happy with everything we did experience. The easy booking and check in, the communication and help from Vickie and the great spot by the pond with some very welcoming turtles. Great place
Jun 22, 2021
Love KOA always clean and people are always nice.
Jun 21, 2021
Amazing KOA and staff!
Jun 19, 2021
Friendly. Helpful.
Jun 18, 2021
Disappointed at the campsite that was assigned to us. The concrete was really cracked and not level and the water hookup was damaged and had to move to another site in the middle of hooking up. The whole campground was nearly empty and could have been assigned a better site that was level as well as inspected utilities. Emergency phone number wasn't answered when late check in problem existed.
Jun 17, 2021
Best KOA we've stayed it yet.
Jun 16, 2021
Very friendly and had a great time
Jun 16, 2021
KOA always the best bang for you buck
Jun 15, 2021
well maintained sites, restrooms were super clean (looked like they were remodeled).
Jun 15, 2021
Pool, store and staff were great. Was a lot of permanent residences that were not maintained very well. A lot of junk around there lots.
Jun 14, 2021
Seemed run down. Picnic tables were terrible. Not sure I will stay here or recommend to anyone.
Jun 13, 2021
Nice sites. Great pool area.
Jun 07, 2021
This was the family's first stay in a deluxe cabin and we could not be happier. I think they spoiled us. The campground staff was helpful and accommodating even though it was off season. Probably the best stay at a KOA for the family ever.
Jun 02, 2021
Great campground, wish there was a beach close by. Everyone was extremely friendly.
Jun 02, 2021
We had a great time. The pool was clean and large. Young children should not be in the hot tub, but I don't know who the parents were. The bathrooms and showers were beautiful and clean. The staff was always nice. Thank you for a great wekend.
Jun 02, 2021
We have been returning for the last 9 years, wouldn't stay any where else.
Jun 02, 2021
I lived here at KOA pine island for the whole month of May and loved it. Facilities are clean and the staff was helpful. The campground was definitely more busy on the weekends. The campgrounds had all the Amenities anyone could need. I would recommend it!
Jun 01, 2021
Not well maintained. Picture on KOA site miss represents the actual park. No trees. Feels more like a trailer park
Jun 01, 2021
Fuí con mis hijos a pasar in momento de Paz. Vimos y estuvimos alrededor de mucha Gente borracha en una diversion nada Sana besandose mujeres con mujeres y hombre con hombres y despues resultando que eran parejas haciendo desmadre. Una total falta de respeto a la Gente alrededor. El uso de floatadores deberias ser restringido a cierto tamaño y no permitir un flotador tamaño de una cama full
Jun 01, 2021
We had a great time!!
Jun 01, 2021
The staff was commentating and friendly. Thank you. We will be back.
Jun 01, 2021
Everyone is friendly, It so nice to see all the children having fun as well as the adults. Our first time at a KOA (new member) The property is well maintained and the personnel were all so delightful. Our cottage was impeccable as if no one ever used it. It was a joy to have such a great first time experience at a KOA, we will definitely be back and also try other KOA locations as well.
Jun 01, 2021
The check in process was extremely easy and friendly. They have people escort you to your site and they actually help you get in your site. Very friendly. Nice and helpful. Picnic tables through were rough. I know lumber is expensive now, but most looked to warped to have been just from this year. Shower/restrooms were very clean at the time I checked them out.
Jun 01, 2021
We are brand new to RV camping. We wanted to do have a weekend getaway to learn our motorhome and be close to home. The check in people where Fantastic at the entry along with the escort to our site. The person verified we where all set before leaving us to set up. The grounds where very clean along with amenities. Pool and spa where clean and clear. We all learned a lot and nice stay!
May 31, 2021
Your maintenance guy Bob Very rude ! Needs to have a better attitude to work in a place Dealing with customers The rest very good Good and clean place Nice cabins