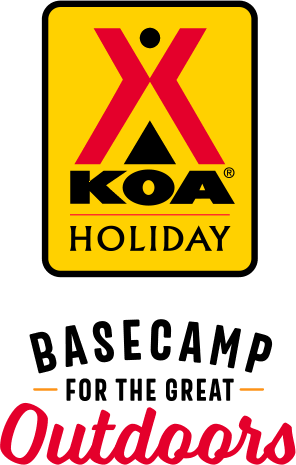 KOA Holiday Campgrounds
Whether you're exploring the local area or hanging out at the campground, KOA Holidays are an ideal place to relax and play. There's plenty to do, with amenities and services to make your stay memorable. Plus, you'll enjoy the outdoor experience with upgraded RV Sites with KOA Patio® and Deluxe Cabins with full baths for camping in comfort. Bring your family, bring your friends, or bring the whole group – there's plenty of ways to stay and explore.
KOA Holidays Feature:
RV Sites with a KOA Patio®
Deluxe Cabins with full baths
Premium Tent Sites
Group meeting facilities
Directions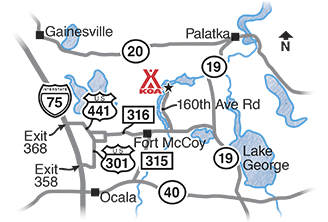 Driving south: I-75 to Exit 368 (CR 318), turn left (East) to Hwy 441 (2nd red light) turn right . Turn left on Old 301 (200A), turn left on CR 316, follow signs and go through Fort McCoy and Eureka on CR 316. Cross over tall bridge to first road on left (160th Ave Rd), go about 11 miles to Lake Oklawaha KOA, on left.
Driving north: I-75 to Exit 358, turn right (SR 326) to Hwy 441/301. Turn left, go to second light turn right onto SR 329. To Hwy 200A (old 301)  turn left (North) to CR 316. right on CR 316, go through Fort McCoy and Eureka. Cross over tall bridge to the first road on left (160th Ave Rd). Go about 11 miles to Lake Okalwaha KOA, on the left.
IF COMING FROM 95 NORTH PLEASE CALL FOR DIRECTION OR STAY ON HWY 19 SOUTH TO SALT SPRINGS. DO NOT TURN RIGHT (onto Rodman Dam Road) AFTER THE TALL CROSS CITY FLORIDA BARGE CANNAL BRIDGE!  YOU WILL TURN ONTO COUNTY ROAD 316 IN SALT SPRINGS. If you turn onto Rodman Dam Road that road will turn into a dirt road.
Get Google Directions
Oct 12, 2021
No a class a resort but great for taking the atv to ride the Ocala Nat forest trails . Pool was clean the better spot were taken up by owner that have purchased them . But for what we wanted to do was ride our side by side and atv in the forest nothing around better . One cool thing is we seen lots of bears in the area . Beautiful lake view.
Oct 06, 2021
On the map it looks like there's access to water around the camp. But , since it's so overgrown you can't get to it. Alot of permanent residents drive by and give their opinion on how we parked ( Apparently our small tow car was partly touching the EMPTY campsite next door
Oct 05, 2021
Very friendly staff, quiet and out in a remote area. Sites definitely need some updating but for our stay it was perfect. A little confused at first that you get to pick your spot but I'm sure that's just my inexperience
Oct 05, 2021
The campground was decent. Staff was friendly but there was not firings at our campsite we had to get one from another campsite and the clubhouse looked like it hadn't been cleaned in weeks in the women's bathroom trash wasn't changed it was full all weekend long so cleaning needs to be stepped up a little bit.
Sep 22, 2021
Muy acogedor el lugar, y la atencion al publico excelente. Los lotes tienen bastante espcacio entre ellos. Y la piscina una maravilla. Definitivamente vamos a volver. Gracias.
Sep 22, 2021
Ants galore, leaking water faucets, broke sewer hookups Sites not leveled, electrical box receptacle burned out and laying on the ground, wires hanging out not capped off. We were paid up for two nights but left in disgust after one. Worst KOA i have ever seen.
Sep 22, 2021
The people were varry friendly and nice! The cabin we stayed in was dirty, smelly, and outdated. The ATV adventure was amazing and the guide s were fantastic ! Some of the camper's living thare seemed on the verge of homelessness .
Sep 22, 2021
The campsite we had was a great one except for all of the ant beds. we returned home with quite the ant infestation in our pantry. There was no usable fire pit on the site. The restroom/shower room is in need of some repair as are the on site sewage hook ups. Sites are not clearly marked and are confusing as to what sewage and electrical hook ups go with each site. We enjoyed the peace and qui
Sep 16, 2021
Not up to K O A standards
Sep 10, 2021
Loved the location - a bit off the beaten path - would recommend cutting the grass - it was difficult to figure out where to park the rig. The sewer was on the opposite side of the utilities. A lot of pertinent folks. Beautiful pool. It worked for us -probably would not stay here again, as it is 11 miles away from small main road. Great spot if you have a 4 X 4
Sep 09, 2021
I feel that people that do long term leasing/purchasing, need to keep their lots clean of junk and stuff. Several places were an eye-sore that never was like that in the past. Other than that, we enjoyed our stay. Improvements to the office area and pool area are awesome. As usual, we will go back. Please, keep improving.
Sep 08, 2021
No WiFi, pool was in dire need of cleaning!. Interior roads in disrepair, dumpsters full of construction debris. For a KOA Holiday we expected a better quality park!
Sep 08, 2021
People were not as attentive as we are use to in other KOA.
Sep 08, 2021
Always a pleasure to stay. No issues at all.
Sep 08, 2021
Absolutely gorgeous place, management were extremely unprofessional and unhelpful from the time we arrived to the time we left. The managers in place have obviously never been in a power position before and it showed bigtime! Sad to say we probably won't be back anytime soon
Sep 08, 2021
A lot of people on atv's and one campsite had an atv that blared music so loud that it was heard through at least 1/3 of the campground. Facilities were clean but could use someone checking on them more frequently for toilet paper. Grounds were kept clean and I was glad to see security patrolling through towards the evening hours and up until quiet hours.
Sep 08, 2021
We arrived and the sight was over grown and the place was disgusting. I was shocked this was a KOA- we didn't stay and advised the gentleman that we were going elsewhere just charge the first night. They charged for all 3 days although I advised them that we were leaving and never sat up. I truly believe the place is a scam artist.
Sep 08, 2021
Absolutely gorgeous campground, very peaceful and a very friendly staff
CAMPGROUND RESPONSE / COMMENTS:
Thank you for your review!
Aug 18, 2021
Absolutely the worst KOA I have ever seen. We were greeted with several confederate flags being flown proudly above the American flag; absolutely disguting. I was so supprised; I expect more from a KOA. I would never stay here again or reccommend this KOA to anyone.
Aug 05, 2021
camp ground is on the DOWN TURN
Aug 03, 2021
Restrooms were not very clean.Only one working commode in the men's room out of 5. Ground maintenance could have been kept up a little better.
Aug 03, 2021
Checked in girl told us our site was 57 we drove around looking for 15 minutes, come to find out site was 102. Next morning stove didn't work went to report at office they said they would send someone in about 30 min. no one came our entire stay. The air conditioner froze up every night. Wasn't told the trail to water was straight down hill. Grass at site not mowed. Will not stay again.
Aug 03, 2021
facilities in need of repair and general maintenance. lot's of ants, bathrooms neglected, club house needs cleaning, entrance doors filthy. campground is not what it used to be, we have enjoyed many camp outs there in the past., used to be one of our favorites
Aug 03, 2021
Disappointed that the kitchen had been removed and the staff did not keep up with issues such as, kids running wild and adults not watching their children. Bathroom not keep clean and they had a major ant problem.
Jul 28, 2021
This Koa has a lot of potential if the time and money was put into it- A game room. A cafe. More info when you arrive on the area . Planned activities for the kids. Fix the fishing trails so guests can fish. The place has great views. We will only return based off the fact that it has direct access to the Ocala National Forest trails for ATV's.
Jul 27, 2021
showed up around 630 due to weather issues. Nobody at the gate and nobody answered the phones including "guard on duty".We did as the sign instructed and went to pick out a spot. The spots are not clearly marked and hadn't been mowed. We picked a random site and waited till morning to go to the office. They gave us a yellow tag for the window and sent us on our way.Didn't care what site w
Jul 27, 2021
We had a nice relaxing time. We would go riding the trails then come back and swim in the pool.
Jul 27, 2021
Great people and fishing. Saw alligators too
Jul 27, 2021
This is the first time I was able to pick my own spot which is great because I want to be isolated with my three dogs.
Jul 26, 2021
First time we ever visited Fort McCoy. The park was really nice and the workers there were even nicer. I'll definitely stay there again. We really enjoyed our stay. Thank you!
CAMPGROUND RESPONSE / COMMENTS:
Thank you for your review!
Jul 19, 2021
Enjoyed our stay and the clean facilities. I felt safe showering at the bathhouse because of the clean, individual rooms. We liked how spread out the sites were as it gave a more authentic camping/outdoors feeling. I would have liked to have seen a security guard or any personnel patrolling the resort and helping guests hook up. We will be bringing our family back!
Jul 19, 2021
Been going here for years, always been a nice get away from everything campground.lately has not been maintained, grass tall,sewer connections all broken. Too many long term campers there. Very run down .
Jul 19, 2021
Amazing staff clean bathhouses
Jul 19, 2021
Love this place! We have been coming every weekend for the past month. Almost like our home away from home. The staff is super friendly and helpful. We love that you can access the trail right outside the KOA.
CAMPGROUND RESPONSE / COMMENTS:
Thank you for your review!
Jul 17, 2021
This day was good I only have one complaint is they didn't know around our campsite we had everything picked up so all you had to do is mow around it and move the picnic table which is their picnic table and they didn't do it which caused us to have bugs ants talking about the ants they didn't put nothing out I put stuff out to make her stay more pleasurable don't mind helping but some things shou
Jul 13, 2021
awesome place bro loved it
Jul 12, 2021
There is no kind of service at all
Oct 13, 2021
Beautiful, small town.
- Sandii Wieczorekk on Google
Sep 25, 2021
I don't want to describe this paradise
- Larry Giglio on Google
Sep 19, 2021
Great
- matt meyers on Google