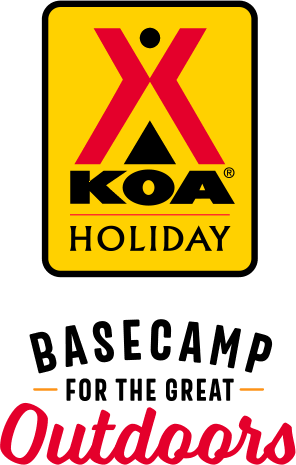 KOA Holiday Campgrounds
Whether you're exploring the local area or hanging out at the campground, KOA Holidays are an ideal place to relax and play. There's plenty to do, with amenities and services to make your stay memorable. Plus, you'll enjoy the outdoor experience with upgraded RV Sites with KOA Patio® and Deluxe Cabins with full baths for camping in comfort. Bring your family, bring your friends, or bring the whole group – there's plenty of ways to stay and explore.
KOA Holidays Feature:
RV Sites with a KOA Patio®
Deluxe Cabins with full baths
Premium Tent Sites
Group meeting facilities
Directions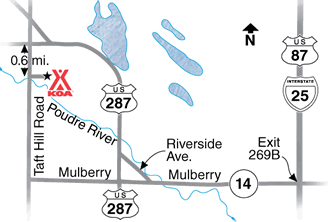 ***We recommend that you do not use a GPS system to find our KOA.*** Please follow our directions below:
From I-25: Take I-25 exit 269B (Highway 14/Mulberry Street) west.
Take Mulberry street west about 5 miles to Riverside. Turn right. Take Riverside to College Ave/Highway 287 and merge right/going north. Take Highway 287 to the roundabout. Follow the left lane and go through the roundabout towards the town of Laporte. At County Road 54G/Taft Hill Road, there is a stoplight. Turn left on Taft Hill Road. We are .6 miles south on the left. There is a left turning lane.
Get Google Directions
Oct 18, 2021
We will definitely be back, next time with the grandkids! Everyone was very friendly and helpful on places to go to around town!
Oct 18, 2021
Enjoyed the friendliness of the camp staff
Oct 18, 2021
We had a great time!!! Thank you all for everything :-) we look forward to visiting again soon!
Oct 18, 2021
The staff was great, friendly and accommodating. The park itself is packed with no room between sites etc. The trail around the lake is nice and it is conveniently located
Oct 18, 2021
Great campground, very nice sites. Loved the trail that went around the lake.
Oct 18, 2021
Lots of family amenities
Oct 17, 2021
The staff at the Fort Collins/Lakeside KOA are the best! While traveling our 14 year old Yellow Lab became ill and we were forced to make that decision we all hope to never have to make. Melissa, a staff member, stopped by to say hello to Chase and upon hearing of our situation, informed other team members. They all stopped by to give their condolences and even presented us with a sympathy card!
Oct 17, 2021
Absolutely beautiful walk around lake. Great friendly staff everywhere. Main showers and restroom was spotless and very nice. The one in the back really had a bad smell and was cold. Big difference between it and main ones. Lots of fun activities. If we can't put a mat of any kind on the "grass" then there should be grass! Otherwise it's dirt. Was not impressed with our site. We had site 107.
Oct 16, 2021
Very nice stay. Super clean bathroom and shower in main building. Staff very pleasant and accommodating. All level concrete pads and easy to maneuver. We backed in a 25' travel trailer and had plenty of space.
Oct 16, 2021
The staff communications with the guests is excellent.
Oct 16, 2021
Only wish was if they could raise the outdoor temperature. lol
Oct 16, 2021
Great as usual.
Oct 16, 2021
It is one of the most beautiful surroundings and very well managed. It is clean and organized. I would stay there anytime and recommend it highly. We travel and stay at many campgrounds. This site is very high on our list of favorites.
Oct 15, 2021
I was only at this KOA one night. I arrived after the office had closed (at 5:00 PM - really??) and left before 8:00 AM the next morning, so I had no personal interacti0n with the staff. However, the site I was given was a nice, level concrete pad, the hook-ups were quick and easy, and the site was very well maintained.
Oct 15, 2021
Great trail around the lake. Tons of things for kids to do. Very quiet. Not close to any freeways. We would definitely stay here again.
Oct 14, 2021
Really liked the amount of things to do there and the grounds. Very nice staff for the most part. Wifi didn't reach our cabin, so had to drive to office and sit outside to use it....wasn't most convenient. Overall a nice place.
Oct 14, 2021
Nice folks and a well-run facility.
Oct 14, 2021
My Husband and I love this KOA
Oct 13, 2021
KOA's are predictable we've learned, but that's why we choose them. Great staff, clean facilities and amenities that work as planned. Sites are a tad cozy but we were happy for 3 fun days. Just a few hundred yards away was the LOVELY Poudre River bike trail which took us downtown where we found fun stores & brew pubs. Odell's and the Welsh Rabbit (cheese shop) were favorites. Love Ft Collins!
Oct 13, 2021
Too dusty and noisy
Oct 12, 2021
Everything was great! good job!!
Oct 12, 2021
This KOA has become too expensive. They don't seem to reduce rates in the fall yet the pool is closed. At least the hot tub could remain open. This is the forth year we have stayed there. We will need to find another campground.
Oct 12, 2021
We love staying at this campground every year as we pass through headed to Wyoming. The staff is very helpful and KIND! This is a perfect place for families with kids.
Oct 12, 2021
Cable tv didn't work. The place didn't appear to be very well kept. Won't stay there again!
Oct 12, 2021
Good time, good location Will stay there again next year.
Oct 12, 2021
Perfect for our one night stay. The staff was very friendly and there is absolutely nothing we can complain about. Thank you Lakeside KOA
Oct 11, 2021
Great customer service at check in, store is nice and the site was great. Our 3rd time there.
Oct 11, 2021
This is a very nice park with a beautiful lake to walk around. We made our reservations in June and so glad of that because they had a huge rate increase. For that reason alone we probably would not stay here again.
Oct 11, 2021
Staff was so helpful. Did not know anything about electric water hose needed when temperature drops in Colorado. Thank you
Oct 11, 2021
I like the new amenities that are in the cabins. For the price, they need to compete with AirBnB/hotels, so I see them trying. Everyone is very friendly and helpful. Unfortunately, the dead grass is unappealing. I was told they lost water rights. Next year may bring Xeriscape. Concerned about what that means for pets. Can't beat the walk around the lake in the fall!! Absolutely beautiful.
Oct 11, 2021
Nice people very helpful, But too much dirt and no grass, had to pick up multiple piles of dog wast just to walk around back of camper.
Oct 11, 2021
For years we have stayed here a couple times a year with a Good Sam RV chapter- but no more! Price increase has run the cost out of our reach and we will not stay here at those rates again. The increased rates also brought about fewer amenities, no escort to the site, chuck-wagon not operating, train and other amenities only on weekends, etc. Smores and hot chocolate are not worth the extra $40!
Oct 11, 2021
My wife and I stayed at the Lakeside KOA from 2 nights and really enjoyed it. We had stayed once before back in 2014.
Oct 11, 2021
Our stay was good, we had a nice time. I was with the Sweetheart Sam's group, the room on the second floor was nice, we have used it in the past for many years. We did get the room for free this time but from now on we will have to pay $100.00. Your space rents have gone up quite a bit, so we probably will go somewhere else for our group campouts.
Oct 11, 2021
Would stay again
Oct 11, 2021
Always a fun time there
Oct 11, 2021
We had our grandson's 6th birthday party here - we camped along with mom and dad of birthday boy and it was truly a fabulous experience. What a little gem in Fort Collins, CO (we live 7 minutes from location and had no idea this was back there)
Oct 11, 2021
We stay here quite frequently - we had a good stay. It would be nice to have some grass at our campsite.
Oct 09, 2021
It's always nice . Camping club has been coming here for years .One of our annual stops
- Bill Roberts on Google
Oct 04, 2021
Very nice KOA. Easy access but feels out of the way. Nice scenery and lake. Great amenities and they do a lot of activities.
- Nick D on Google
Oct 04, 2021
Opted for a KOA Kabin rather than a hotel room for a much needed girls' night. This place is amazing! Our cabin was right on the lake, including a firepit and patio. Amenities were amazing. Kabin was fully stocked with soft towels, extra bedding, kitchenware (including pots, pans, dishes, silverware), shampoo, conditioner and gel soap dispenser in the shower. They also provided dog bowls and biscuits! We will definitely be returning!!!!
- Karen K on Google