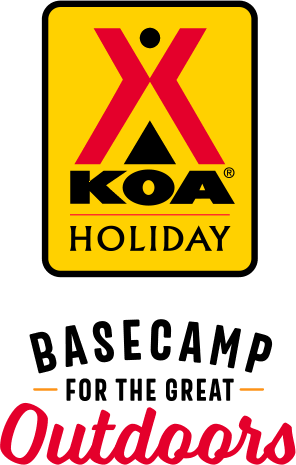 KOA Holiday Campgrounds
Whether you're exploring the local area or hanging out at the campground, KOA Holidays are an ideal place to relax and play. There's plenty to do, with amenities and services to make your stay memorable. Plus, you'll enjoy the outdoor experience with upgraded RV Sites with KOA Patio® and Deluxe Cabins with full baths for camping in comfort. Bring your family, bring your friends, or bring the whole group – there's plenty of ways to stay and explore.
KOA Holidays Feature:
RV Sites with a KOA Patio®
Deluxe Cabins with full baths
Premium Tent Sites
Group meeting facilities
Directions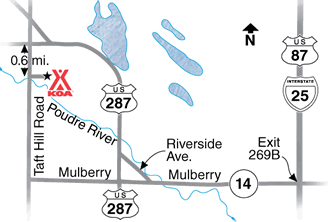 ***We recommend that you do not use a GPS system to find our KOA.*** Please follow our directions below:
From I-25: Take I-25 exit 269B (Highway 14/Mulberry Street) west.
Take Mulberry street west about 5 miles to Riverside. Turn right. Take Riverside to College Ave/Highway 287 and merge right/going north. Take Highway 287 to the roundabout. Follow the left lane and go through the roundabout towards the town of Laporte. At County Road 54G/Taft Hill Road, there is a stoplight. Turn left on Taft Hill Road. We are .6 miles south on the left. There is a left turning lane.
Get Google Directions
Jul 27, 2021
Very nice accommodations!
Jul 27, 2021
We absolutely love coming to Lakeside KOA. On this trip they helped us out a lot by letting us stay a couple more nights since we were without a place to stay with the floods up Poudre Canyon. We enjoy everything about this place because everyone goes out of their way to make us feel right at home.
Jul 27, 2021
Very nice place to stay. Clean and well kept. Very friendly staff. Easily located near the places of interest such as Estes Park and downtown.
Jul 27, 2021
Great place to spend the night. Lots of stuff to do and nice folks working there. A couple of detractors: the lake was moss filled. Maybe we had bad technique, but not much fish able water. WiFi was technically available, but don't count on downloading any web pages. I only found three cable channels, but a coax cable at the base of the pedestal was all crimped and exposed to the weather.
Jul 27, 2021
Another great KOA, in spite of barking dogs next door.
Jul 27, 2021
Clean site, clean showers, lots of children's activities.
Jul 27, 2021
Staff was so friendly and so helpful! We loved the pizza and was an added bonus after a long day of traveling!
Jul 26, 2021
Wonderful weekend and great place for a reunion! Bugs were really bad! Definitely need to spray!
Jul 26, 2021
The campground would be a lot nicer if the grass wasn't dead.
Jul 26, 2021
This koa was one of the best ones we have stayed at. Clean and staff is great and so many things to do
Jul 26, 2021
Lots of things to do. My kids forgot they had cell phones!
Jul 26, 2021
Fort Collins is a premier koa for a reason they are exactly that plenty to do for the whole family very helpful friendly staff no better yet have stayed here three times and plan to stay again in the future
Jul 26, 2021
Our favorite KOA South Dakota Mt Rushmore/ Palmer Gulch BUT !! This one is a VERY close second. For being a KOA Holiday it's about as close as you can get to a KOA Resort. Lots to do, super nice campground and the people are fantastic ! PLUS it's 6 hours closer to us lol. We will be coming here ALOT in the future.
Jul 26, 2021
Always enjoy our stay here. With that said, we were disappointed to see that the landscaping near the dog park and RV sites has been neglected and is dead or dying. Did not utilize our outdoor space as our site had very hard dirt or dead grass. We are hoping that will change.
Jul 25, 2021
Awesome staff!!! Great campground
Jul 25, 2021
To dusty. Also the man that worked the Rec center in the evening was not helpful when we requested the corn hole game. When we asked for it he said "it's in that building and they must not have taken it out today@ then walked away.
Jul 25, 2021
We only had 2 days, wish it was longer. Lots of activities for the whole family.
Jul 25, 2021
Great service, lots of things for kids to do. Camp ground was extremely clean and staff was very accommodating. My only compliant were the dirt roads inside the campground. When vehicles went down the road, dust was stored up and everything outside the RV was covered.
Jul 25, 2021
Great place! Friendly, clean, great staff! Lots of fun stuff to do!
Jul 25, 2021
We were disappointed in the maintenance of the park. I realize that it is a dusty season but the blowup slide and bouncy units were in dire need of a cleaning and the whole park needed to be maintained better. The rides were cleaned and acceptable and well run. All of the grassy areas were dead and dusty and had not been watered for quite a while. Probably due to drought conditions.
Jul 25, 2021
Staff was very helpful and courteous.
Jul 25, 2021
It was a very nice stay. First time to stay in a cabin. Staff was very nice. Only problem was finding the KOA, need a bigger sign at the road where the KOA is.
Jul 24, 2021
The staff was very friendly and helpful. The lake is a nice place to walk around. The activities for kids are the most extensive I be seen.
Jul 24, 2021
Staff was fantastic.....very helpful and friendly. Internet sketchy and worked only part of the time. Loved our campsite which was 009. Need bigger restrooms for the size of the campground. We will be back.
Jul 24, 2021
Fifth time we've stayed at this KOA. Bath houses are kept clean but there is no consistent cleaning schedule. Amenities that used to be included in the price now cost extra. Prices have gone up almost $30 per site in the past two years! Chuckwagon is decent on weekends. Encountered rude campers: walked through camp on our patio, dogs running loose, quite hours were not honored.
Jul 24, 2021
We sure miss Craig . Have been coming here since it opened . Many changes when corporate took over . Better this time than last . More friendly and helpful.
Jul 24, 2021
Disappointed that activities are no longer included Sure wish you would keep the grass green
Jul 24, 2021
We found KOA Lakeside to be a clean, well-managed full service park. We stayed one night.
Jul 24, 2021
Need to trim and clean
Jul 23, 2021
Wonderful place for families. Our grandchildren were busy every moment. Our cabin had everything we could possibly have needed.
Jul 23, 2021
I come here every year because it is a nice place. With the new ownership I dont like that there is not a person at the entrance checking everyone coming in . It gives you a sense of security when there is. I also dont like that we had to pay extra for the activitys. No one told me about this change at check in. The grass was always green but now you can tell they dont water it.
Jul 23, 2021
Park is amazing with activities, great store, exceptionally clean restrooms and showers. Staff is very friendly and helpful. Only down side was the condition of the grounds. There used to be great grassy sites but water is no longer available so grass is all dead and burnt from heat and trees are loosing leaves from lack of water. If the water is not restored the park will loose it's appeal.
Jul 23, 2021
We enjoyed our stay overall. The only reason it wasn't a 5 is because there were other RVs near us being washed and waxed. Maybe that's normal/typical and we just happened to be in the area? The constant sound of the power washer and buffing equipment all day made it hard to relax outside.
Jul 23, 2021
This was our 1st stay at this campground and it was great. It has beautiful views for the tent campers.nice bathrooms and showers. And so much for the entire family to do..the pool was nice and the staff was wonderful..we will definitely stay again.
Jul 23, 2021
Very nice place. Lots of fun activities for the whole family, although some with a fee. Sites are reasonably shaded, and good space between them. Very clean.
Jul 23, 2021
We were only there overnight, but Sue & Don were both very helpful to us. It was a very nice campground!
Jul 22, 2021
Great place for kids! Very Dusty Showers Outdated Very Quite place at night! Not nice neighbors the Grinch stepped on my Christmas decorations that were in my site. as she passed thru. Hum Bug!