Winter Activities in Fort Collins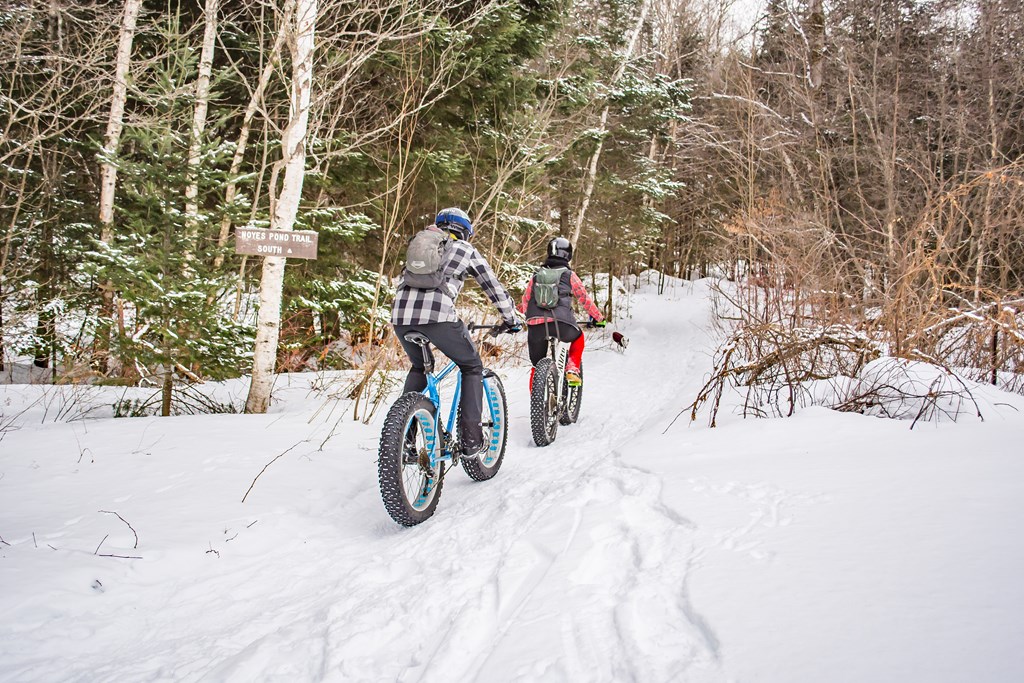 The temperatures may be dropping, but that doesn't mean the adventures stop on Colorado's Front Range. Winter is one of the best times to experience Fort Collins and the surrounding area; less people, crisp fresh air, changing landscapes and amazing food!
Not sure how to enjoy the chillier temperatures? We've compiled a list of some of our favorite things to do in Fort Collins this season.
Bike the Front Range on Fat Tires
Yep, mountain biking in the snow is a thing, and it's awesome! Fat Tire bikes grip the snow with their large tires, so you can enjoy the same great bike trails you spend time on in the summer. Check out how the changing seasons changes the scenery and trail dynamics. Added bonus, there won't be as many people on the trails, so it's a great way to truly get away!
Don't have a Fat Tire bike? No problem! You can rent some from Gearage Outdoor Sports.
Pro Tip: Stop by Alleycat Coffee House, to pick up some warm caffeine before you head out and try their tasty breakfast burritos to provide that much needed nourishment.
Snowshoe the Poudre Canyon
There are miles and miles of trails in the beautiful Poudre Canyon, just minutes from our campground. Best of all, there are trails for all levels and time commitments. Looking for a short hike? Try the Little Beaver Creek Trail. This trail is great for beginners or those who don't want to spend the whole day out. It's a stunning 2-mile out and back trail in the Roosevelt National Forest.
Want something a bit more challenging? Try the Blue Lake trail. This 4.75-mile one-way trail provides stunning views of Blue Lake and the surrounding mountain vistas. Information and direction of these to and more trails can be found here.
Forgot to pack the snowshoes? Stop by Jax Mercantile for rentals, gear and expert advice.
Pro Tip: Dress in layers! While it may start off chilly, snowshoeing is a great work out and we promise you'll work up some sweat! Bring layers to take off and put back on if you start to get chilly.
Throw a Line Out
Here's a secret, fishing is fantastic in Northern Colorado in the winter. And it's not just ice fishing either. Fly fishing in the winter months can hook some monster fish. There are many rivers and lakes to test your skill within a short drive. Head on up to the Poudre to fish shoreline or bring you waders to wade into the chilly mountain streams.
Pro Trip: Check out Colorado Parks and Wildlife's fishing report to help determine where you go and learn what fish are biting. Fishing reports are published online weekly.
Enjoy a Carriage Ride
Want something a bit less strenuous and a little more romantic? Bundle up and head down to Old Town for a magical horse and carriage ride through the holiday lights. Bring your favorite hot cocoa or apple cider and cozy up together as you enjoy the historic streets of Old Town Fort Collins.
Carriage rides depart from Old Town square from November through February.
Pro Trip: Take your ride early during your stay so you can map out the stores and restaurants you want to visit later!
Get a Taste of Fort Collins
Fort Collins has become known as a culinary scene and foodie destination. There are many restaurants and cafes to visit while staying with us. We recommend to at least start one morning off at the Silver Grill Café located in Old Town. Not only delicious, it stands as the oldest restaurant in Fort Collins, serving up breakfast since 1933. Order some of their famous cinnamon buns, but save some room for their breakfast plates.
Other fan favorites include The Regional and The Farmhouse at Jessup Farm for fresh, local farm-to-table meals. Or try JAWS Sushi, Waltzing Kangaroo or the Welsh Rabbit Cheese Bistro for more international fare. Coming back from snowshoeing, fishing or fat biking in the Poudre? Stop at Mishawaka, a local's favorite located in the canyon. Pub food, beautiful views and cozy décor help warm and fill you up after a day of winter recreation.
Winter is not only beautiful in Fort Collins, it can be full of adventure and fun too! Not sure how to plan or what to do? Stop by our front office and chat with our staff. Or, simply make a campfire, sit back and relax onsite with a steaming cup of hot cocoa. Whatever you choose, we are sure you'll love it here.