Our Favorite Fall Recipes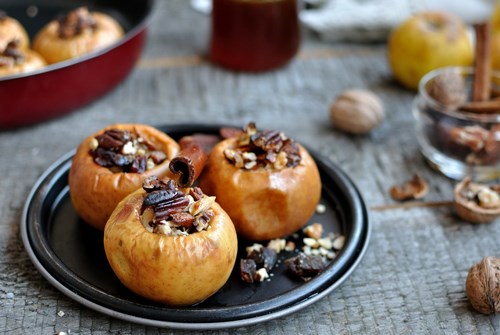 Do you smell that? It's the time of year when the air gets a bit crisper, leaves start changing and smells of spice, apples and pumpkins feel the air. Yep, it's Fall, and it's one of our favorite times of year.
While summer winds down, camping only gets better. Cooler temperatures promise comfortable days and nights spent warming up by a campfire. There's still time to make great memories together this year. To help, we've put together some of our favorite camping Fall recipes. Bon a Petit!
S'More So Basic
It wouldn't be Fall without pumpkin everything…even s'mores! This is a simple take on our favorite camping treat.
Ingredients Needed:
Pumpkin Pie
Marshmallows
Graham Crackers
Chocolate
Take a left-over pumpkin pie (or buy one if you are looking for ease!), cut pie into small squares, place square on graham cracker, stack roasted marshmallow and chocolate and top with graham cracker. It's that easy…and very tasty!
Campfire Chili Lasagna
Is there anything better than warming up to a heaping bowl of chili? This easy recipe is sure to warm you up without letting you down. Use your Dutch Oven to make this over the fire.
Ingredients Needed:
I can corn
1 can red beans
1 can hot chili beans (or mild)
1 can medium black olives halved
1 box Hamburger Helper Lasagna
1 ½ pounds hamburger meat or meat substitute
Diced onion
Grated cheese
Brown hamburger and drain. Drain all liquid from cans into a measuring cup, adding water to get to the amount called for to make Hamburger Helper. Add the Hamburger Helper spice packet and noodles, cook for 10 minutes in a slow boil. Add black olives, corn and red beans and cook covered for 5-7 minutes. Add chili beans and cook on low until noodles are done. Top with cheese and onions.
Baked Apples
While s'mores are the traditional go-to camping desert, this recipe may make you want to leave your marshmallows at home!
Ingredients Needed:
Granny Smith Apples
Butter
Brown Sugar
Caramels
Cinnamon candies
Core each apple leaving the bottom intact. In the core, add a pat of butter and a tablespoon of brown sugar. Top with caramels, cinnamon candies or other ingredients to taste. Wrap each apple in aluminum foil and place on coals, rolling every five-minutes. Cooking time varies with heat, typically takes about 20-minutes to bake.
Fall is fantastic for camping in Northern Colorado. These quick recipes will be a sure hit to make your stay with us even better. Enjoy!