Local Area Attractions Near Estes Park KOA Holiday
We are just 5 minutes from the town of Estes Park and 10 minutes from Rocky Mountain National Park. Use our campground as a base camp while you discover all the area has to offer.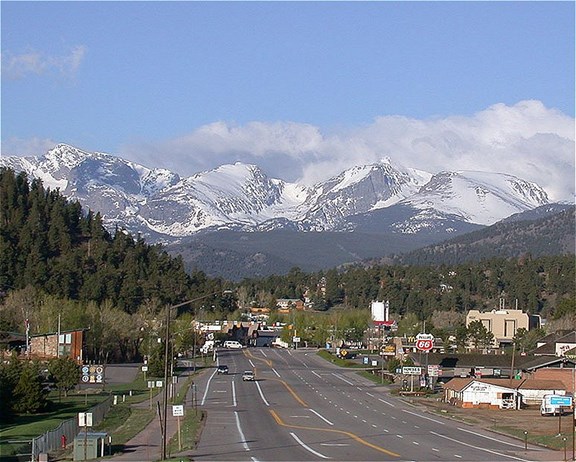 The town of Estes Park
Estes Park is considered the Gateway to RMNP. It has lots of shopping and great restaurants. The famous Stanley Hotel sits over top of the town in all it's glory. F.O. Stanley, famous for the Stanley Steamer, built this hotel in 1909. Our KOA is ONLY 1.5 MILES to downtown Estes Park.
500 Big Thompson Ave
Estes Park, CO 80517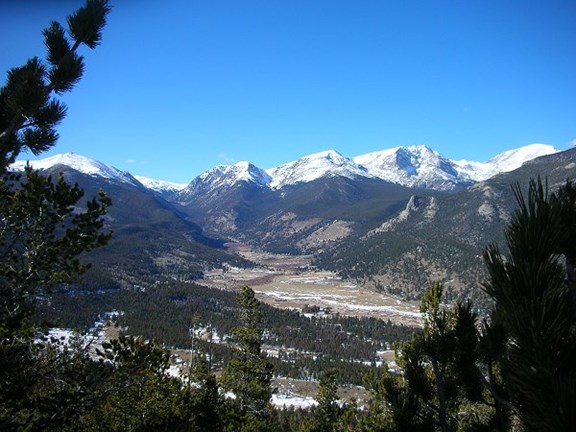 Rocky Mountain National Park
A 400 square mile preserve of forests, meadows, tundra and mountains. You can take a quick drive through or spend days exploring the many mountain lakes and ponds. Take along a picnic basket and sit and enjoy the serene settings. There are Elk, Deer, Big Horn Sheep, Moose and even the smaller creatures like fox, rabbits and the occasional bald eagle to watch for. Don't forget your camera! KOA is ONLY 5 MILES to an entrance of the park. For more information, visit Rocky Mountain National Park online.
1000 US Hwy 36
Estes Park, CO 80517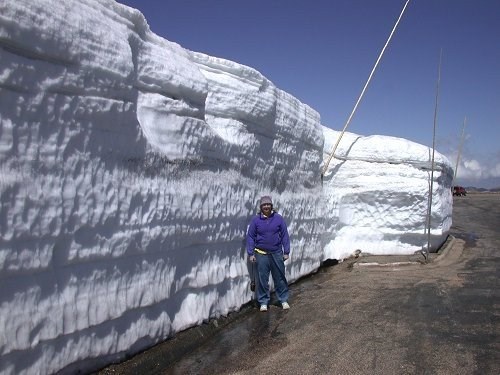 Trail Ridge Road
Visitors to our area will want to drive the highest national highway in the country.   As Hwy 34 winds itself over the top of our Rocky Mountain National Park just to the west, it becomes known as Trail Ridge Road.   Trail Ridge Road is the highest paved highway in the country as it passes over the top of Rocky Mountain National Park at more than 12,000.  It is typically open for traffic from Memorial Day weekend to late September each summer.   Early summer travelers will experience driving by walls of snow perhaps as high as 15'.   This is a must do when you are visiting us here in Estes Park.
Lake Estes
Fishing and boating are just some of the things to do. There is a marina on the lake where you can rent a fishing or a paddle boat. Also there are bike rentals and you can even rent a surrey for something different. If you like to walk or jog there is a path around the lake. Located ACROSS THE STREET from KOA.
1770 Big Thompson Avenue
Estes Park, CO 80517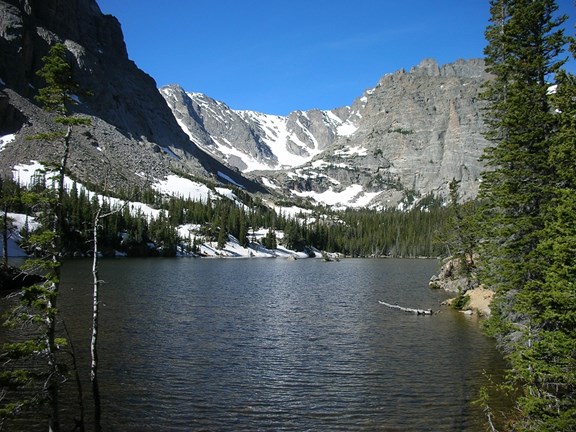 Hiking
RMNP has over 300 miles of hiking trails. You can just go for a casual hike or a whole day of vigorous climbing. The sights you will encounter are unsurpassed.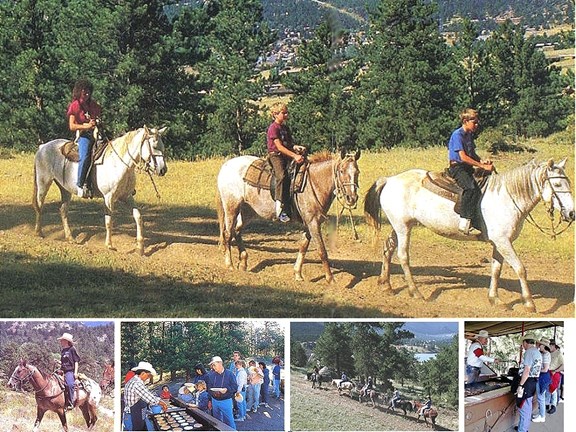 Horseback riding
Right next door at Sombero Stables you can go for a horseback ride into the hills of Estes Park. Enjoy a breakfast or a real cowboy steak fry. KOA is NEXT DOOR to horseback riding. Visit Sombrero Stables online for further information.
1895 Big Thompson
Estes Park, CO 80517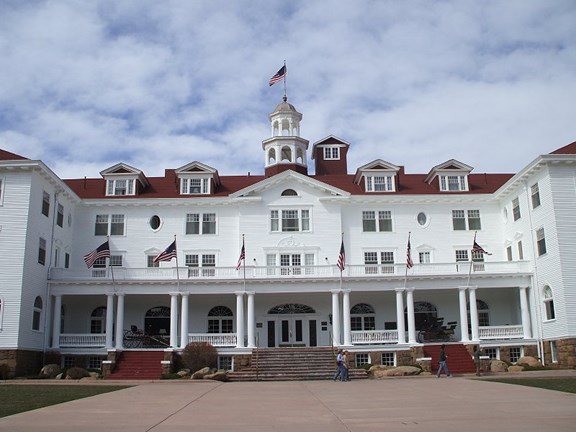 Stanley Hotel
We have a wide array of local attractions that continue to wow our visitors and keep them coming back time and again to our wonderful area.  While you are here you will want to visit our world famous Stanley Hotel.   Built in 1909 by F.O.Stanley of Stanley Steamer fame, to be the most modern 5 start hotel of it's day.   The hotel has drawn more recent notoriety from the fact that Stephen King got his idea to write his book "The Shinging" from the time he stayed at the Stanely.   You will want to be sure to include the ghost tour at the Stanley while you are here.
333 Wonderview Ave
Estes Park, CO 80517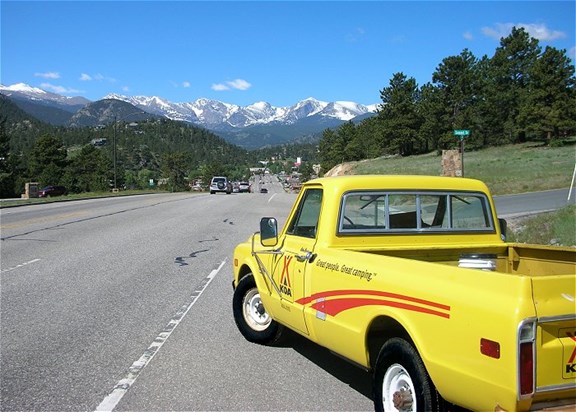 Convenient location -- 1.5 miles to downtown Estes Park, 5 miles to Rocky Mountain National Park
Our beautiful town of Estes Park is located in a high mountain valley at 7,500 feet elevation with breath taking views of surrounding 10,000 to 14,000 ft mountains.   Just to the west is our nationally renowned 400 square mile Rocky Mountain National Park.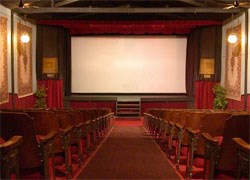 Historic Park Theatre & Cafe
The Historic Park Theatre hosts live music and events and is the oldest original operating movie house in the United States, bringing you film classics, documentaries, independent film, as well as first-run blockbusters in Dolby 3D and surround sound. You can be at home at the Park -- have lunch or dinner from the in-house Park Café, with soft drinks and a full bar, while you enjoy the show!
Built in 1913, the Park Theatre was placed on the National Register of Historic Places in 1984. We gratefully welcome any and all donations to help preserve the on-going operation and restoration of this unique historic site.
130 Moraine Ave
Estes Park, CO 80517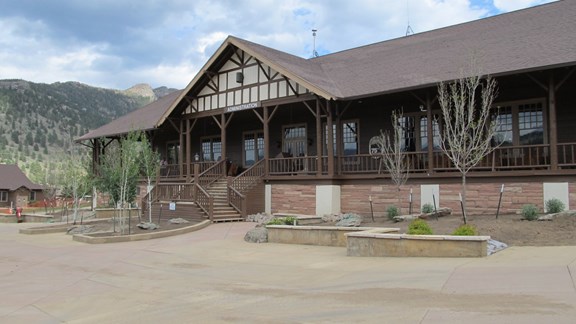 YMCA of the Rockies
Looking for beautiful and educational hikes in or near Rocky Mountain National Park? We have the guided hikes you're looking for! During the summer season, their expert Hikemasters lead hikes of varying difficulty to many different locations in the area. Guided hikes are currently offered everyday throughout the summer. The YMCA is located about 7 Miles west from the KOA.
2515 Tunnel Rd
Estes Park, CO 80517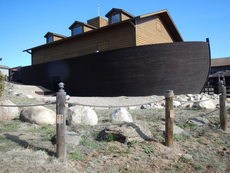 Estes Ark
A unique shopping experience and adventure for the whole family from Ark's to Zebras.  Slot Car Racing, Sluice Mining and more!
521 Lone Pine Drive
Estes Park, CO 80517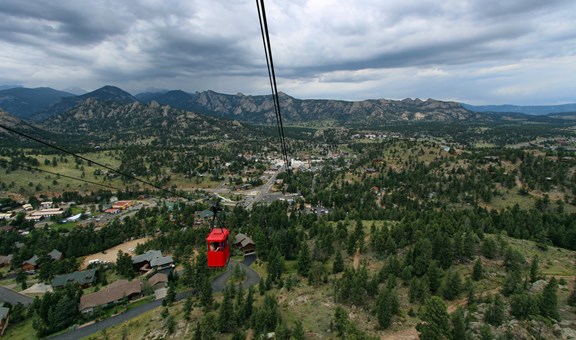 Estes Park Aerial Tramway
Whatever your plans, make the Estes Park Aerial Tramway your starting point! The tram will take you above the tree tops to the cool summit of Prospect Mountain where you can stay all day or return whenever you wish. From the observation platform you can plan your itinerary while being thrilled by the panoramic view of Longs Peak, the Continental Divide, Rocky Mountain National Park and the village of Estes Park.
420 East Riverside Drive
Estes Park, CO 80517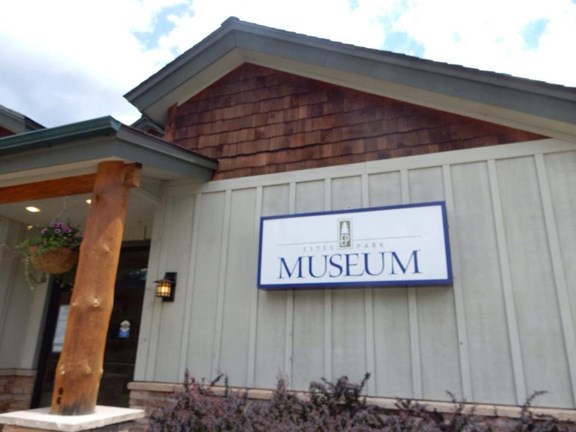 Estes Park Museum
The Museum presents exhibits and programs detailing the Estes Park area's history from the Ice Age to today. Step outside of the main building to explore two historical structures: the 1908 Cobb-Macdonald cabin and the National Park Service Headquarters Building. The cabin is typical of a turn-of-the-twentieth-century rustic home and displays modest furniture and decorations.
200 4th St
Estes Park, CO 80517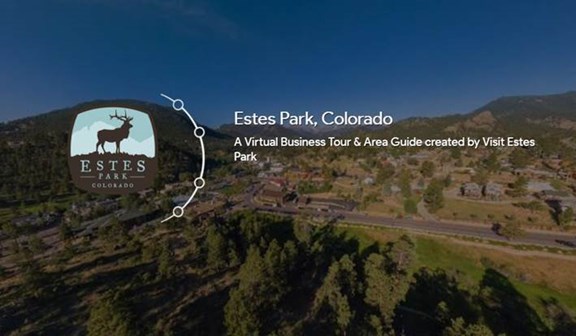 Estes Park Virtual Tour!
Want to get your bearings before you get here? Then look no further than the Estes park Virtual Tour! This tour will show you interactive panoramas of downtown Estes park, shops, and more!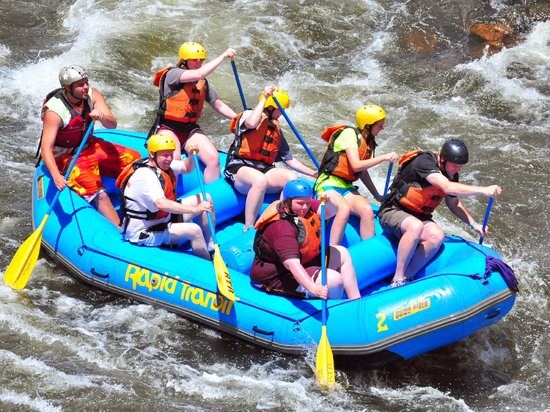 Rapid Transit Rafting
The only rafting company based in Estes Park providing TRANSPORTATION TO THE RIVERS FROM ESTES PARK for over 30 years! Our trips are designed for both first-time and experienced rafters, and are great for the whole family. Only 6 minutes from the KOA.
161 Virginia Drive
Estes Park, CO 80517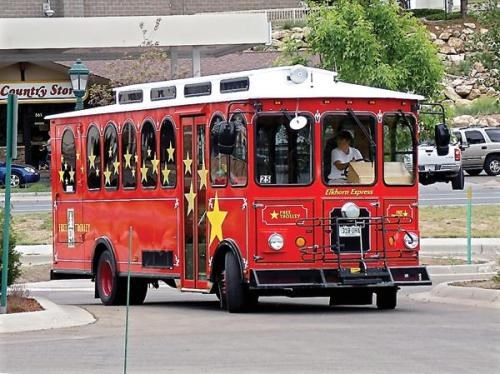 ESTES PARK SHUTTLE SERVICE
The Town of Estes Park has shuttles that run from the end of June until the second weekend in September. They stop at the KOA from 9am-9pm. We have maps of the Shuttle Routes in the main office.