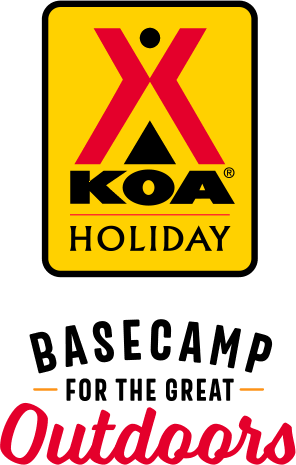 KOA Holiday Campgrounds
Whether you're exploring the local area or hanging out at the campground, KOA Holidays are an ideal place to relax and play. There's plenty to do, with amenities and services to make your stay memorable. Plus, you'll enjoy the outdoor experience with upgraded RV Sites with KOA Patio® and Deluxe Cabins with full baths for camping in comfort. Bring your family, bring your friends, or bring the whole group – there's plenty of ways to stay and explore.
KOA Holidays Feature:
RV Sites with a KOA Patio®
Deluxe Cabins with full baths
Premium Tent Sites
Group meeting facilities
Nov 29, 2022
Had problems with our rv . Staff was very friendly and very helpful at trying to help us out. Bent over backwards to accommodate us in extending our time there. Very friendly staff well clean and upkeep of the campground . Would HIGHLY recommend this campground and WILL return next time in the Denver area. I can't say enough about how great this campground was.
CAMPGROUND RESPONSE / COMMENTS:
Thank you. We do have awesome staff and they always will do what they can to assist our guests and keep the campground and bathrooms as clean as possible.
Nov 26, 2022
The stay was great, no problems at all. Just a one night stop for us, but all was really good!
Nov 24, 2022
Originally planned to car camp but got a rustic cabin due to very cold temperatures overnight. The cabin had one main room with a full bed, microwave, mini fridge, a wall heater and one space heater. The adjoining room had a wall heater and a set of bunk beds. As it was just me the space heater and wall heater in the main room was enough to keep warm. Shower house was clean and warm
CAMPGROUND RESPONSE / COMMENTS:
very glad you liked the cabin better than car camping. Sure was a lot warmer and you had more room to relax while you were here. Come back and see us anytime.
Nov 22, 2022
Love this campground.
Nov 19, 2022
It was a nice enough facility, but was pretty expensive for our short stay
Nov 15, 2022
I liked the attractiveness of East/Strasburg KOA. The Staff was welcoming, friendly, accommodating. I also loved being able to purchase a hot and flavorful Pizza when I arrived. It was a very comfy and pleasant stay. I would definitely stay at this location again.
Nov 14, 2022
The tent campsite and bathrooms were nice. We just didn't realize the breakfast/event season had ended already. Sadly I didn't feel like we got our money's worth.
Nov 14, 2022
Easy access; surprisingly quiet, despite being located between I-70 and the railroad tracks. It was extremely windy the night we stayed; could have done without that, but KOA can't control the weather
Nov 07, 2022
Stayed for two nights while visiting friends in Aurora. Right off the interstate, cool little restaurant across the street and the cabins were perfect. I have to try the Conestoga wagon next time. Very clean.
Nov 06, 2022
Great campground with wonderful patio sites!
Nov 03, 2022
The owner Scott and all his employees are so very nice and accommodating.
Nov 01, 2022
Park looks run down and sad. The grassy areas are dead and the dog park was mostly just dirt. Everything looked old and not well maintained. Lots of TLC needed at this park. Wouldn't stay here for more than 1 night and only if I couldn't find something better in the area. Also lots of road noise due to the proximity to I-70. On the plus side, the staff all seemed nice and helpful.
CAMPGROUND RESPONSE / COMMENTS:
Sorry you did not enjoy your stay in October. It has been very dry and hot in our area for the last 2 summers. With the lack of moisture and soils we have it does make it very hard to keep things green. We do plant beautiful flowers during the summer all over the campground. Fall freezes them.
Oct 30, 2022
This KOA is adjoining the freeway which makes finding it extremely easy. But being next to a busy highway doesn't lead to a restful night. If one is going to stay, request a site that is at the far side away from the highway. This was also among the most expensive KOAs we have stayed at. Staff is friendly!
Oct 28, 2022
Just as expected. The lodge was clean and warm for this cold weather coming their way. Very convenient to the things we had to do. We stay every time we go to Strasburg. Good job.
Oct 28, 2022
Nice park. Spacious stalls for your awnings and any gatherings.
Oct 27, 2022
Nice spacious pull through sites. Easy access to I 70. Friendly staff, nice big laundry mat, nice dog park. Stayed for a week while visiting family in Denver, will be back.
Oct 25, 2022
Super friendly and helpful staff. The bathrooms are immaculate. Lots of hot water for showers. Nice laundry. Thank you!
Oct 25, 2022
Loved it! Check in was easy, staff were nice , and park was clean.
Oct 23, 2022
It was a bit dusty and not a lot of grass but on the whole it was great.
Oct 23, 2022
Very loud being close to interstate. Low water pressure in showers.
Oct 23, 2022
Wonderful awesome. site very nice staff will return in Spring as we migrate back 2 home Thanx������
Oct 23, 2022
Efficient, helpful staff made check-in easy. Good info provided to support local businesses
Oct 21, 2022
The staff was super friendly and helpful, but the campground itself was horrible. It should be a "Journey", and definitely not a "holiday". The sites are crammed together and there is no landscaping at all. The whole campground is a dust bowl. This will probably fall on deaf ears, I have complained before at other KOA's, but the corporate office needs to step in and make standards and en
Oct 20, 2022
I have been going there for years. I really enjoyed talking to the people who work there. I'd like to visit the barbecue restaurant next-door my greatgrandkids come and visit us when you're there where we both enjoy the playground.
Oct 19, 2022
Clean and friendly place, far away from the noisy and congested big city streets and freeways.
Oct 19, 2022
Fantastic campground run by an amazing family a must stay.
Oct 18, 2022
Very clean and friendly service
Oct 18, 2022
Great park. The grounds are kept clean and the restroom are always clean. The staff are wonderful and friendly.
Oct 17, 2022
Conveniently located, the owners and staff are great! Facilities are clean and very nice. We have stayed here before several times and will be staying again this trip. This is our "go to " place when heading west.
Oct 17, 2022
Ppl were friendly
Oct 17, 2022
The hookups and facilities were very good. This was our first time taking our trailer to a KOA. The staff was very helpful. My water hose was not long enough, but they had one in the store that I was able to buy.
Oct 17, 2022
Clean restrooms and showers are the most important thing for us, since we don't have a restrooms in our van RV. They were clean and well maintained. We would stay here again. Nice place.
Oct 16, 2022
Many, many flies. Aside from that we had a great stay.
Oct 15, 2022
Scott, the manager, was super nice and handled any issues we had promptly. The KOA was pretty dumpy. Not the caliber of most of the KOA's we've been to in the past. Very pricey, but considering that there are no others closer to Denver, may be it is justified. Nothing in Strasburg so we will try to avoid it in the future.
Jan 30, 2023
Debbie took our reservation over the phone. She was helpful, amusing, & friendly. We pulled in, hooked our electricity, walked the dogs, & passed out! This place is right off I-70 outside Denver & next to the railroad tracks but it's amazingly quiet. The staff have been very helpful with my disability. There are all the facilities you'd expect at a KOA & it's clean, warm, & well lit. Restaurants, convenience store, & bars are well within a mile. And they fill propane tanks!! We'll be here for at least 90 days...so I'll update later. Well, it's been 91days! We've used the dog park daily-other dogs introduced themselves...only my dogs barked! Jerry has made the difference in this stay--I don't know exactly what he is except friendly,kind,& a good guy. They take your trash to the dumpster; pick up,fill,& return your propane tanks; bring our packages& mail to us; pass on info about good restaurants,closest hospitals,grocery stores,coffee,pizza,even car repair! Maybe they're doing this because of my disability...no,I think they're genuinely good folks & there's 4in of ice & 6in of snow & it's -5° outside in DENVER,y'all! The weather has limited our time outside-we left home because we wanted a warmer winter climate-not this year! Ungodly cold! But the drive is plowed,the roads thru the grounds are plowed & dragged, the office is open until 6pm most days,clean well lit laundry facilities,warm bathroom/shower areas, a dog walk/park, a game room,picnic tables,a pool, a kids playground, easy entrance to I-70,far enough away to feel like you're in the country but close enough to make the movies or a date in Denver. Stop in & take a tour or a look around. This place was worth the price.
- Audrey "Aydan" Williams on Google
Jan 12, 2023
The BBQ Food that they serve on weekends is Beyond Delicious! The Little Hostesses/Servers are Adorable & their parents are teaching them proper work skills
- Lisa Waldman on Google
Jan 03, 2023
Had a wonderful stay. Very clean. They have an awesome friendly and helpful staff.
- Larry Salter on Google