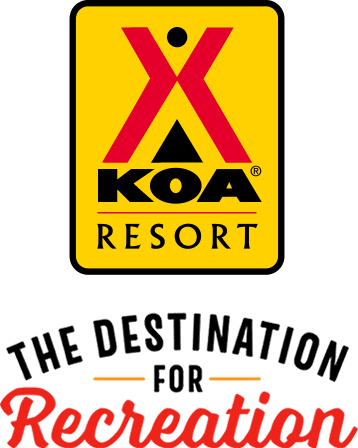 KOA Resort Campgrounds
KOA Resorts offer a carefree vacation in the great outdoors. Enjoy robust recreation and staff-led activities, kick back and relax by the resort-style pool, or grab a bite to eat, all while never leaving the campground. And with plenty of RV Sites with KOA Patios® and Deluxe Cabins with full baths to meet your needs, it's the ultimate camping getaway.
KOA Resorts Feature:
RV Sites with a KOA Patio®
Deluxe Cabins with full baths and linens
Premium Tent Sites
Resort-style pools
Indoor and outdoor group facilities
Directions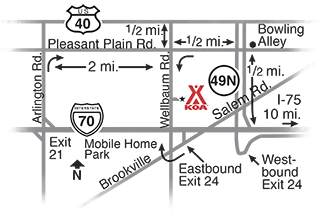 I-70 Westbound Exit 24: Left on Pleasant Plain Road, left on Wellbaum Road.
I-70 Eastbound Exit 24: Right off ramp, right on Wellbaum Road.
Get Google Directions
Nov 12, 2020
Love this campground. Been going there for 7 years now. Love the service and people.
Nov 03, 2020
Staff was very friendly our campsite was clean restrooms were super clean we had a great time
Nov 02, 2020
Rented 3 cabins. Tvs volume did not work in any of the cabins. No dish soap. 1/2 roll of toilet paper. Seriously ???? $230 per night I'd expect the bare necessities
Nov 02, 2020
I always give this campground a 5. We were staying for a long period. They put us in site 41. Way to tight for a forty foot trailer. Tore up my roof going in and leaving yesterday. Disappointed but I'll be back for only a pull through spot.
Nov 02, 2020
The actual campground was great. But our cabin was very dirty and in need of some new items. The window blinds are filthy and bent. There were bugs in the light fixtures and dust bunnies not only on the floor but also on window sills. The table and countertops were also not clean. Also, it would be helpful to have a floor lamp in living room and table lamp in bedroom.
Nov 02, 2020
Always have a great time and great service.
Nov 02, 2020
I made a one month reservation for a 50amp with full hook ups over the phone. When I arrived I was put in a 30amp spot and told all 50 amp spots were taken. I noticed there were a number of 50 amp spots available but they were used on the weekend only. Very disappointed in the manager at the location was unwilling to even extend me some kind of monetary credit for the inconvenience.
Nov 02, 2020
Awesome stay, the deluxe cabin was great. Covid had restricted some of what we could typically do, but our family had a great time none-the-less.
Nov 02, 2020
Great time! Very clean and accommodating! Thank you!
Nov 02, 2020
The bed was hard but everything else was nice. There space heater was very powerful. The bathroom was more than enough complete with a shower.
Nov 02, 2020
Was fun...loved the trick or treaters....loved the site we were in. 218 Thank you...see you in the spring
Nov 02, 2020
Beautiful camp ground.
Nov 02, 2020
The staff at the Dayton KOA are all so welcoming, friendly, and helpful. The park itself is clean and beautifully well-kept. The staff was timely about trash pick up and cleaning out the fire pits. We needed firewood on one day of our stay and all we had to do was call and ask. They charged it using the card we used at check in and delivered it directly to our site! Overall, a lovely stay!
Nov 02, 2020
We had a great stay at the Tall Timbers KOA. It was Halloween weekend and oh what fun for everyone. RV site decorating, campers dressing up, lots of candy. Great job done by all. Especially the well trained and hard working staff. They met all of our needs.
Nov 01, 2020
Great as always!! Love the staff! Everyone is so helpful, friendly, etc. Thank you!
Oct 30, 2020
Many of the sites are difficult to get into and almost all of the sites are VERY close.
Oct 30, 2020
It was absolutely beautiful the way the campground is maintained. Even during tough times the employees did their best to serve everyone.
Oct 30, 2020
A really very nice and clean park. This is a very minor complaint but your dish network is really very terrible during a storm when it is needed the most. Have stayed there a couple of times and will return.
Oct 30, 2020
The Dayton was one of the most beautiful KOA's we stayed at during our travels to date
Oct 29, 2020
Friendly outdoor check-in was nice. Some of the least level parking spots I've ever seen. Exceeded leveling capability of some top-end Class A's. Traffic noise all around made for a constant 24x7 roar.
Oct 27, 2020
Great bathrooms, very clean.
Oct 27, 2020
As usual, a beautiful place with lots of room to spread out.
Oct 27, 2020
Apart from the noisy campers playing loud music until midnight, this is a great camp site. The showers/restrooms were some of the best I have seen at a campsite.
Oct 27, 2020
love the park! The cabin was big enough but was disappointed in the condition of blinds, dirty stained carpet, Needs some attention. 2 nights over $500 was over rated for what it was
Oct 27, 2020
The heavy rain made it difficult to get the hydraulic leveling down due to uneven and low areas on pad that were under water. We enjoyed our stay and being close to Dayton U to visit our son
Oct 26, 2020
Great end to our camping season. Dayton KOA is our favorite weekend getaway and we've been coming here for over 15 years. Thanks to the staff for making it another successful year despite the restrictions �. See you next year!
Oct 26, 2020
Our family comes here every year. We love your campground! 1rst time staying in the cabin we were in we loved it. Older cabin so we understood the slow water filling up in toilet, hole in the wall, paint on cabinets, & Shower head issue. Not much water came out. Other than that it was very warm and the bed was so comfy. Having a bed that's comfy is what matters! Will stay again!
Oct 26, 2020
Always a wonderful time with family!! We love this KOA!! Clean, family/pet friendly & SO much to do!!!
Oct 26, 2020
Beautifully maintained campground. Clean facilities and friendly staff made this an excellent experience.
Oct 26, 2020
Very nice, loved the activities for the kids
Oct 26, 2020
Camp ground bathrooms were clean ,staff was friendly ,my campsite however was miserable, people walking through all hours of the day and night it was right next to the pool, almost like it was an afterthought campsite felt like I was camping in a parking lot
Oct 25, 2020
Very nice bathrooms / facilities, good full hookups, nice cable access, tons of pull thrus but a bit short and narrow, maneuverable but tight parking
Oct 25, 2020
We stayed in a cabin and the shower was extremely disgusting. I brought my own cleaning supplies and scrubbed the shower down. Buy some magic erasers and please clean the shower good. I've stayed in multiple KOA cabins and none were that disgusting. The shower curtain needs changed and the shower smells like cat pee.
Oct 24, 2020
The staff were very helpful with finding us a grocery store. The leaf removal crew were courteous in moving so we could back to our site. Sorry the store had to be closed but coved-19 is to blame and we should keep safe.
Oct 24, 2020
Very nice campground! We only stayed for a night while passing through, but will definitely return here to stay longer. Clean grounds, quiet atmosphere, helpful and friendly staff. Thank you!
Oct 23, 2020
Spots for nice not too close together
Oct 22, 2020
Sites very close and a challenge to level. Bathrooms nice and clean. Campfire ring was full of ash and trash from previous campers. Bits of Trash scattered around site. Good overnight stop.
Oct 21, 2020
I found a used hyperdermic needle and syringe on the kitchen floor, dirty underwear and socks in the closet and the floor was filthy!!!! I have been renting a cabin for several years with my family and sisters family, and this was the worse I've seen it. You would think with covid you would take extra precautions on cleanliness. Very disappointed. I will not be back.