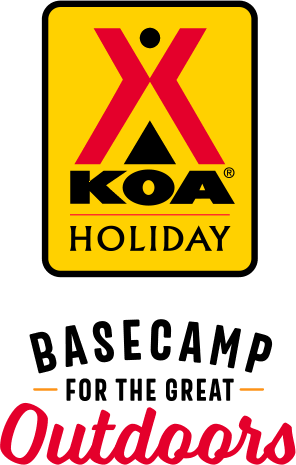 KOA Holiday Campgrounds
Whether you're exploring the local area or hanging out at the campground, KOA Holidays are an ideal place to relax and play. There's plenty to do, with amenities and services to make your stay memorable. Plus, you'll enjoy the outdoor experience with upgraded RV Sites with KOA Patio® and Deluxe Cabins with full baths for camping in comfort. Bring your family, bring your friends, or bring the whole group – there's plenty of ways to stay and explore.
KOA Holidays Feature:
RV Sites with a KOA Patio®
Deluxe Cabins with full baths
Premium Tent Sites
Group meeting facilities
Directions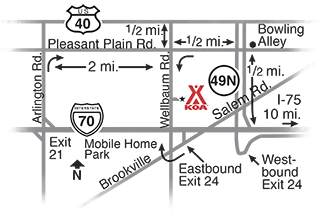 I-70 Westbound Exit 24: Left on Pleasant Plain Road, left on Wellbaum Road.
I-70 Eastbound Exit 24: Right off ramp, right on Wellbaum Road.
Get Google Directions
Sep 13, 2021
Friendly staff. A lot of fun activities for everyone. Enough space between sites.
Sep 13, 2021
Always have someone up our rear while we try to park camper. Dump station is right in entrance so you are under pressure for that too. People with big campers are left to park in a spot they will never get in
Sep 13, 2021
I've facilities. Clean
Sep 13, 2021
Sites were not long enough for big rigs. Tree branches needed to be trimmed. Staff was nice.
Sep 13, 2021
Had a beautiful weekend
Sep 13, 2021
The sites were decent. Plenty of activities throughout the weekend for all. My dog enjoyed the creek behind the dog park.
Sep 13, 2021
As always very nice!
Sep 13, 2021
We had a great time here. We will differently be coming back.
Sep 13, 2021
Sites were much too close together. It was a terrible stay with zero privacy. Bath houses located too far away, needs a 3rd one. Will never stay again & have spread the word on social media complete with pictures about how closely we were all crammed in. Disgraceful.
Sep 13, 2021
Very well maintained and super friendly staff. I liked the text messages for the activities throughout the stay. Very easy check-in - QUICK!
Sep 13, 2021
Great KOA! It is beautiful here, staff is very sweet and do whatever they can to help out. The only thing is the water in the area is brown and stains the RV toilet and shower unless you have a pretty sophisticated filter system.
Sep 13, 2021
Relaxing and enjoyed myself thanks to all the staff ur a team well done
Sep 13, 2021
Everything about it was relaxing. Clean, beautiful, nice staff.
Sep 13, 2021
I am disappointed because I asked that my son who has a jeep could stay on our lot since he has a tent specifically for the jeep bed and was told no so I reserved a 2nd lot. Driving around the campground I saw several campers with tents on the same lot. Why double standards and why should I have to pay extra? A response is appreciated. Thank you.
Sep 13, 2021
Friendly staff an well maintained, great bathrooms.
Sep 13, 2021
First time at a KOA and we absolutely loved it! Plenty of amenities and all facilities were well kept! Clean cabins and great atmosphere. We loved being able to bring the dogs with us. We will be staying regularly during our dog competitions at Splash Zone and telling the other competitors about your amazing facility.
Sep 13, 2021
Excellent location. The showers were very clean and the site was just what I needed. Best KOA park that I have visited lately.
Sep 13, 2021
Overnight stay but such a nice campground.
Sep 13, 2021
Service was great. However, bathroom and showers are way less than needed. Also most sites are not near level and packed in.
Sep 12, 2021
Clean, well maintained, pool was cold, expensive, we will not be returning.
Sep 12, 2021
Beautiful campground, nice staff.
Sep 12, 2021
I'm concerned about your water. It appeared to be dirt and stained my sink and toilet
Sep 12, 2021
Everyone was very polite and helpful!
Sep 11, 2021
Wish we had more time there.
Sep 11, 2021
Staff very nice. However we were put into a site that was too small for our rig plus towing.
Sep 11, 2021
We enjoyed a very pleasant stay with KOA. The staff members were friendly and helpful. The sites for the big rigs could be a little bigger. Some of these sites are very tight. The grounds are well groomed and the bath houses were immaculate.
Sep 11, 2021
Very good service, prompt trash pickup, and everyone always willing to help. Thank You!
Sep 11, 2021
Good place for a traveling night!
Sep 10, 2021
Beautiful grounds, well maintained facility.
Sep 10, 2021
What a gem! This campground is really wonderful. Clean, spacious, good Wi-Fi and friendly staff. Wish we stayed longer. We will next time!
Sep 09, 2021
Loved all the great family activities! Missed the pancakes but loved everything else!!!
Sep 09, 2021
Always a nice stay at Dayton KOA. Although full up for the holiday, things ran very smoothly. Will return in October.
Sep 09, 2021
One of the prettiest KOA's we have stayed at. Lots of trees and beautifully landscaped. We were there only overnight so didn't use much of the facilities but they offered all the things you look for. The rest room was amazing, fully tiled and very modern. The individual that let us to our site addressed me by my first name. I was impressed he took the effort to find that out before getting to
Sep 09, 2021
Very nice park and great amenities. However, when we got set up, we could not connect to WIFI. When we contacted office, they acted irritated and gave us a number to call. The problem was on their side but they asked us to solve it. Very poor customer service. We did as asked and the problem was solved next day. Need better office training.
Sep 09, 2021
When we arrived, other campers were encroaching on our site, but the staff offered us options, one of which worked out very well. Our stay was very positive until it was time to check out. My wife asked if we could still swim after vacating our site and was told no, then when we tried to get a picture of the kids under the KOA sign, a staff member came out and basically told us to leave. 9->7 5->4
Sep 09, 2021
It was great I really enjoyed myself and I look forward to staying again real soon
Sep 09, 2021
Nice facility - lack of dependable WiFi is an issue that needs to be addressed
Sep 09, 2021
Very friendly folks and nice campground convenient to the interstate, with no real road noise
Sep 08, 2021
There were a couple of glitches but they made them right. Loved it that we received text messages regularly letting us know what activities were taking place.
Sep 10, 2021
Beautiful place to camp or have a get together at.
- • SxnnyDahlia • (Tee) on Google
Sep 10, 2021
Very nice place to camp. Very clean and the hosts are very friendly and attentive.
- Gilbert Prado on Google
Sep 07, 2021
Loved this RV park. Will visit again in the future!!
- Emma Jean on Google