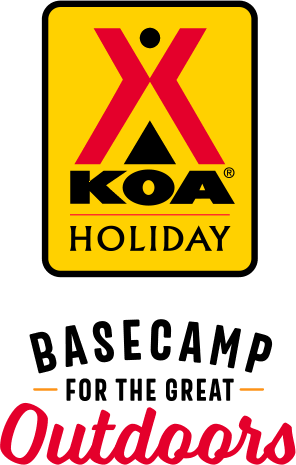 KOA Holiday Campgrounds
Whether you're exploring the local area or hanging out at the campground, KOA Holidays are an ideal place to relax and play. There's plenty to do, with amenities and services to make your stay memorable. Plus, you'll enjoy the outdoor experience with upgraded RV Sites with KOA Patio® and Deluxe Cabins with full baths for camping in comfort. Bring your family, bring your friends, or bring the whole group – there's plenty of ways to stay and explore.
KOA Holidays Feature:
RV Sites with a KOA Patio®
Deluxe Cabins with full baths
Premium Tent Sites
Group meeting facilities
Directions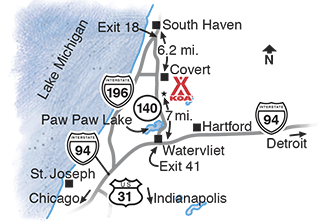 From I-94: Take Exit 41, then north on M-140 Hwy 7.3 miles.
From I-196: Take Exit 18, then south on M-140 Hwy 6.2 miles.
Get Google Directions
May 04, 2021
This place just keeps growing and adding more fun things for the family. The trees along the drive are in bloom granting a beautiful welcome, and the blueberry bushes are budding. It was so great to return after missing a year due to COVID.
May 03, 2021
Amazing as always!!!
May 03, 2021
Always friendly and helpful. The park is spotless. I love it there. They know me and even know my favorite spot.
May 03, 2021
Very friendly and helpful staff. Nice park lots to do. Would highly recommend.
May 03, 2021
It was very nice, just a lot of durt. more grass would be nice.
May 03, 2021
The camp in putting in several improvements. We haven't seen this large of a staff working in a long time. The high wind and exposed dirt created some dusty conditions but assume that won't be an issue when the work is done and grass takes hold. Loved the dog run. We plan on returning.
May 03, 2021
Great place. Owners are great.
May 03, 2021
This is one of the finest KOA's in the state of Michigan! The kindness and hospitality of the staff is one of a kind, simply the best. It's no wonder why this campground is always busy people know and want the best and Covert KOA has it.
May 03, 2021
It was absolutely wonderful! Sites were clean and spacious (tent site), great amenities at this campground, and the staff were so nice. Super quick delivery for firewood which is always a bonus! We loved staying at south haven Koa for the first time. Will definitely be back!
May 03, 2021
Very clean and organized...helpful and very accommodating....
May 01, 2021
Quiet location near points of interest. Owners were very helpful.
Apr 28, 2021
Love staying at this camp ground! Very clean. We have stayed at many KOA's throughout United States and this one is our favorite.
Apr 28, 2021
As always it was a great weekend!
Apr 27, 2021
We enjoyed the quiet family atmosphere and how clean the campground was.
Apr 27, 2021
Very relaxing, as usual, everyone friendly and helpful. Will be back.
Apr 27, 2021
Quiet, we were up by the main lodge so very convenient. We loved the concert patio and nice furniture. Met with one of the owners (the wife), she was very friendly. Nice store, my daughter and I both bought some of the cute souvenirs that they carry. We liked it so much we already have another trip booked there.
Apr 27, 2021
It was awesome!
Apr 26, 2021
It was opening weekend. Libby and her staff were ready with open arms. Covert KOA is by far one of the nicest camps we have ever stayed at.
Apr 26, 2021
Great opening weekend, can't wait to come back.
Apr 26, 2021
We had a very nice stay, particularly because the staff are so friendly and helpful. This is a huge campsite with very nice amenities. I was impressed by how attentive the staff were to maintaining the grounds. There weren't many guests there yet, so it felt almost like a private campsite. But, I imagine even when things are at full capacity it is well-managed and clean.
Apr 26, 2021
We loved our stay! Friendly people, so many activities for kids and very quiet at night. Will be back!
Apr 26, 2021
Awesome place to stay. Campground is being updated with awesome full patio sites. which is great let's me know the owners are thinking of the customer.
Dec 30, 2020
Even tho it was a short weekend it was very good.love all the new tepees and other accommodations.will be definitely coming back in the next 2021. Thank you
Nov 01, 2020
We stayed there for three months while looking for a home in the local area. They made it so we only had to move sites twice and then we were back at our original site; very very accommodating. The people that work there are hard workers and friendly. Some would stop by and chat and I even shared a pizza with Russell one evening. I love their pizza and chicken wings! We had a great stay!
Oct 31, 2020
In our 9000 mile journey from coast to coast and back again, we stayed at a lot of campgrounds. This was our favorite!!! The weather could have been better, so we could have enjoyed more of the amenities and the surrounding area. We WILL be back!
Oct 28, 2020
We had an incredibly wonderful time this year. Despite that was going on which we or the KOA Covert had no control, the things the campground could control were phenomenal. The staff was super efficient and always conscious of cleaning and keeping the campground amazingly clean. The facility was always customer friendly and ready. They staff always goes out of its way to make your stay great!
Oct 28, 2020
Another success weekend. The staff and the park are always there to make sure everything is perfect
Oct 28, 2020
Very clean. Friendly attendants. Beautiful views. Even had a gas grill with utensils!
Oct 27, 2020
Friendly, clean and always a lot to do! Our favorite campground!
Oct 27, 2020
Nice lot, no issues there. New looking concrete patio with fire ring. Only short coming was the drives being sand/gravel. When we arrived they were kind of muddy, but hey, we're camping.
Oct 27, 2020
Always have a great time when we come there. The Campground is always clean, lots to do for the kids. Its our favorite place to come. Can't wait to see you next year.
Oct 26, 2020
We love this place. It is our home away from home. Gorgeous grounds and well kept / clean.
Oct 26, 2020
Love this place! Very clean and well maintained. Staff is very friendly. Food is good specially the ice cream my favorite. Can't forget about the pool♥�� We can't wait until next year!
Oct 26, 2020
Home away from home.
Oct 26, 2020
We enjoyed your campground. Our kids weren't with us this time but the would love it too! Can't wait to come back in the summer!
Oct 26, 2020
Campground upgrades are looking good !
Oct 25, 2020
Impressive, clean, well kept up campground with plenty of activates for children. We've stayed at several KOA locations and was hesitant when booking this one, because of poor experiences with KOA in the past. We couldn't believe how incredible nice this KOA location was. We'll definitely be back next year!!
Oct 27, 2020
Had a great summer see everyone next year
- Dawn Strasser on Google
Oct 20, 2020
Awesome affordable fun
- june landers on Google
Oct 20, 2020
Great stay, again. Very kind and helpful crew.
- Ray Lee on Google