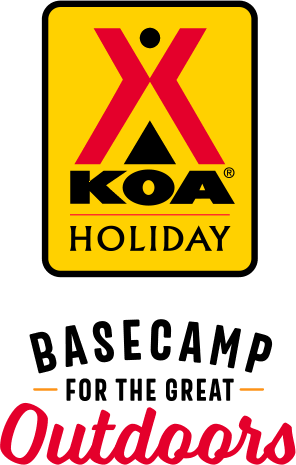 KOA Holiday Campgrounds
Whether you're exploring the local area or hanging out at the campground, KOA Holidays are an ideal place to relax and play. There's plenty to do, with amenities and services to make your stay memorable. Plus, you'll enjoy the outdoor experience with upgraded RV Sites with KOA Patio® and Deluxe Cabins with full baths for camping in comfort. Bring your family, bring your friends, or bring the whole group – there's plenty of ways to stay and explore.
KOA Holidays Feature:
RV Sites with a KOA Patio®
Deluxe Cabins with full baths
Premium Tent Sites
Group meeting facilities
Directions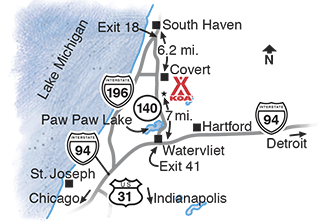 From I-94: Take Exit 41, then north on M-140 Hwy 7.3 miles.
From I-196: Take Exit 18, then south on M-140 Hwy 6.2 miles.
Get Google Directions
Dec 30, 2020
Even tho it was a short weekend it was very good.love all the new tepees and other accommodations.will be definitely coming back in the next 2021. Thank you
Nov 01, 2020
We stayed there for three months while looking for a home in the local area. They made it so we only had to move sites twice and then we were back at our original site; very very accommodating. The people that work there are hard workers and friendly. Some would stop by and chat and I even shared a pizza with Russell one evening. I love their pizza and chicken wings! We had a great stay!
Oct 31, 2020
In our 9000 mile journey from coast to coast and back again, we stayed at a lot of campgrounds. This was our favorite!!! The weather could have been better, so we could have enjoyed more of the amenities and the surrounding area. We WILL be back!
Oct 28, 2020
We had an incredibly wonderful time this year. Despite that was going on which we or the KOA Covert had no control, the things the campground could control were phenomenal. The staff was super efficient and always conscious of cleaning and keeping the campground amazingly clean. The facility was always customer friendly and ready. They staff always goes out of its way to make your stay great!
Oct 28, 2020
Another success weekend. The staff and the park are always there to make sure everything is perfect
Oct 28, 2020
Very clean. Friendly attendants. Beautiful views. Even had a gas grill with utensils!
Oct 27, 2020
Friendly, clean and always a lot to do! Our favorite campground!
Oct 27, 2020
Nice lot, no issues there. New looking concrete patio with fire ring. Only short coming was the drives being sand/gravel. When we arrived they were kind of muddy, but hey, we're camping.
Oct 27, 2020
Always have a great time when we come there. The Campground is always clean, lots to do for the kids. Its our favorite place to come. Can't wait to see you next year.
Oct 26, 2020
We love this place. It is our home away from home. Gorgeous grounds and well kept / clean.
Oct 26, 2020
Love this place! Very clean and well maintained. Staff is very friendly. Food is good specially the ice cream my favorite. Can't forget about the pool♥�� We can't wait until next year!
Oct 26, 2020
Home away from home.
Oct 26, 2020
We enjoyed your campground. Our kids weren't with us this time but the would love it too! Can't wait to come back in the summer!
Oct 26, 2020
Campground upgrades are looking good !
Oct 25, 2020
Impressive, clean, well kept up campground with plenty of activates for children. We've stayed at several KOA locations and was hesitant when booking this one, because of poor experiences with KOA in the past. We couldn't believe how incredible nice this KOA location was. We'll definitely be back next year!!
Oct 24, 2020
Overall good experience. Two mornings had loud construction work before "quiet time" hours were over. Woke us all up. Trash pickup didn't happen a couple times and we took ourselves. Our site specifically the serwer hookup was way too high. It was a pain to empty. The kids area was great.
Oct 24, 2020
Personable friendly staff. My granddaughters love it. We will visit again.
Oct 23, 2020
We had a deluxe site and it was great. Nice cement pad. Enjoyed evening fire. Not far from the lake. We'll be back!
Oct 23, 2020
2nd stay here. Very good stay and convenient to the shore towns, wineries, cideries, brewerys, distilleries, good restaurants, KalHaven bike and walk trail, and we hit peak tree colors. Great place to stay.
Oct 22, 2020
This was a great time. Covert Koa has some excellent staff. next year. We have already booked for next year. We love how they continually picked up the garbage and delivered the wood. It was clean and so well managed.
Oct 22, 2020
Our first time in an RV was amazing at KOA Covert/South Haven. The staff made us feel like family. The service was top notch, and the facilities were spotless! Thank you! You are highly recommended!
Oct 21, 2020
This is one of the nicest KOA's that we have stayed in. Everyone was so friendly and helpful, the sites were nice and level and large. All the different camping and cabin options was amazing. Enjoyed the walking trails also. We will for sure be back!
Oct 21, 2020
Always good love this place
Oct 21, 2020
It was a nice spot for a short fall stay. Convenient to South Haven and Lake Michigan.
Oct 21, 2020
We only stayed for one night, wish we could have stayed longer. The park is beautiful and the staff were so helpful and friendly. We will be back!
Oct 20, 2020
I love this quiet family friendly campground. I am always treated with respect and look forward to staying at this campground
Oct 20, 2020
This was our annual family camp weekend. The weather was not quite cooperating but we managed one good camp fire on Saturday night and even though outside time was limited the family had a a blast. Great campground
Oct 20, 2020
We loved our stay, beautiful location nice amenities
Oct 20, 2020
Great stay, again. Great people, very helpful and kind
Oct 20, 2020
Stayed in October and rent a cabin by the fishing pond. What a great time! No fish caught but still a great time. The activities for the kids were perfect (jumping pillow, playground, barrel train and gem mining to name a few). There was a walking trail right behind us. 15 min away from the lake. Staff hospitable in every way. Cabin super clean and totally adorable. Already planning for next year!
Oct 20, 2020
Our stay wasn't bad. They need more/different food options in the store.
Oct 20, 2020
Great peaceful, friendly place to stay
Oct 19, 2020
IT WAS A COLD WEEKEND, TYPICAL MICHIGAN WEATHER.. BUT A VERY RELAXING ONE!! was disappointed not to have the anual chili cookoff.. hopefully next year . We always have a great time there.. Thank you..I love all the new cabins, and teepees.. I would love to tour them next time!! 'Ruth Strahan"
Oct 19, 2020
We rented a small cabin. Was perfect for our stay. Had more sleeping room than expected. Even had a small tv. Would stay in the cabins again. Staff is friendly and the campground well maintained.
Oct 19, 2020
Favorite KOA. Can't wait to come back next summer. Love the store. And pizza was fantastic.
Oct 19, 2020
Great facility! We tent camped with young kids and had a blast!
Oct 27, 2020
Had a great summer see everyone next year
- Dawn Strasser on Google
Oct 20, 2020
Awesome affordable fun
- june landers on Google
Oct 20, 2020
Great stay, again. Very kind and helpful crew.
- Ray Lee on Google