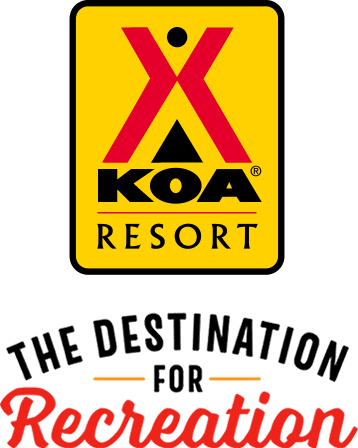 KOA Resort Campgrounds
KOA Resorts offer a carefree vacation in the great outdoors. Enjoy robust recreation and staff-led activities, kick back and relax by the resort-style pool, or grab a bite to eat, all while never leaving the campground. And with plenty of RV Sites with KOA Patios® and Deluxe Cabins with full baths to meet your needs, it's the ultimate camping getaway.
KOA Resorts Feature:
RV Sites with a KOA Patio®
Deluxe Cabins with full baths and linens
Premium Tent Sites
Resort-style pools
Indoor and outdoor group facilities
Directions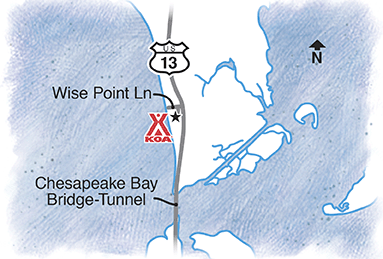 From North: Chesapeake Bay KOA Resort & Beach Club is located approximately 10 miles south of Cape Charles, VA. Traveling South on VA 13, turn right on Wise Point Lane and enter the parking lot to the left. Follow the registration signs. From South: Chesapeake Bay KOA Resort & Beach Club is located 1/4 mile north of the Chesapeake Bay Bridge Tunnel. Turn left on Wise Point Lane and enter the parking lot to the left. Follow the registration signs.  GPS: N37.138806, W75.967956
Get Google Directions
Dec 29, 2020
Tthe rate for month was a deal, but we were disappointed. Staff was great as usual,but the jack spot was not open every weekend as we were told. In fact it was only open the 1st 2 weekends. The maintenance during stay was very disruptive- cutting &chipping limbs of trees in the row next to us including thanksgiving was most annoying. This was our 3rd time there & would never come again in November
Dec 07, 2020
The grounds and beach are awesome. We stayed in a Safari Tent and the mice got into all of our food. That was the only negative about our stay. We ended up having to throw away probably $80 worth of groceries. Otherwise. our stay was wonderful. Probably will not rent a Safari tent again.
Dec 04, 2020
Nice beach. Abysmal customer service. No one answers the phone. No one returns calls or emails.
Dec 04, 2020
We bought our new 5th wheel in November of 2019. Not knowing anything about camping, we listened to some friends of ours who highly recommended getting a seasonal site at Sunset KOA. My wife and I are very glad that we did! We met a lot of great people, made new friends to last a lifetime and had a blast! As a matter of fact we enjoyed it so much that we are returning for the 2021 season :)
Dec 03, 2020
Sadly the Jackspot closed half way through the stay :-(
Dec 03, 2020
I loved it, my family loved it. The staff was excellent, the facilities were clean and we had activities and plenty of space. Thank you!! Tatiana T.
Dec 01, 2020
My stay at the Cape Charles KOA; We got a charge of $4.99 a night for amenities, well the Jack Spot was closed for the season and the pool was closed ,for the weather, but i was still charged these fees. The rates are high enough. On another subject, there was 2 or more drones flying around. In other parks , there is a policy against drones.
Nov 30, 2020
Given the status of covid-19 my husband and I had fun! We walked the beach and the dog park was huge for our dogs to stretch their legs. The downside was the size of the campsites. There was hardly any room for our truck and we had trouble backing into our site because of our neighbors vehicles were so close. Also make sure that all the fun is given at check in, I didn't know there was a paint d
Nov 29, 2020
This place is great a little expensive for this time of year but well worth it
Nov 23, 2020
Was our first trip very friendly and helpful. Will be back again.
Nov 23, 2020
Overpriced, small sites. Glad I didn't pay for patio site, we travel full time and what a disappointment compared to other koas. Price for pull through-129.00. We have stayed at Disney for less. No views.
Nov 21, 2020
Quiet and peaceful. Rode downtown area was interesting. Campsite nice and clean.
Nov 19, 2020
Cape Charles KOA is the best place for stopping for an overnight! Kos is the BEST!
Nov 18, 2020
The signage is all for the hotel. It is very confusing to be in a class A pulling a car to figure out where to go with 2 entrances and the KOA logo on the signs is smaller than a postcard. If you never saw the sign before you would think it's for the hotel and keep looking for the KOA campground entrance signs like the night registration sign on the koacampstore.com. Other than that I loved it!
Nov 18, 2020
This was our 2nd stay at this camp resort. It was great both times. Staff is very friendly and helpful. The first time we stayed by ourselves but this 2nd time we had some friends join us and took our grandson. Our RV, one other RV and 1 couple stayed at the hotel. Our grandson age 6 had a blast with Anna the activity director, while the other couples enjoyed relaxing. We can't wait to go back.
Nov 17, 2020
We really enjoyed our stay and hope to stay again soon!! Our kids enjoyed riding around on the golf cart!
Nov 16, 2020
The campground is beautiful and clean. Sites were level and well maintained. However, I am disappointed in the hidden amenity fee. At the time of booking, I saw no mention of this fee. However, after checking in, I noticed an amenity fee of $4.99 per night. During my stay, no park amenities were offered, none! Certain things, like golf carts, could be rented for an additional fee. Disappointed.
Nov 15, 2020
Very nice place and our dogs loved it
Nov 13, 2020
Will definitely be back!! registration ladies were awesome and we could not have asked for a better stay. Our lab ran for hours on the beach and the views were breath taking. our ONLY complaint was the guys that came in and were chainsawing down a tree at 10am on a Saturday morning.
Nov 12, 2020
Great campgrounds. Very Clean. Was disappointed the restaurant was closed on Sunday.
Nov 09, 2020
Not up the quality I would expect from a Holiday KOA
Nov 08, 2020
This KOA was extremely clean and well maintained. JacksSpot restaurant was delicious!
Nov 05, 2020
For an overnight stay on a Monday night In the month of November the price was outrageous. Had no choice my husband wasn't feeling well and needed to rest.
Nov 03, 2020
We went during the off season, but even without all of the amenities available, it is a beautiful location
Nov 02, 2020
Love the proximity to the beach. Nice, clean campground and shower house. Jack Spot bar has great food and service.
Nov 02, 2020
I would like to know the winner of the site contest for halloween weekend.It was supposed to be announced on Monday November 1st and nothing yet
Nov 02, 2020
Very nice sites helpful staff
Nov 01, 2020
Staff was nice enough and bathrooms were clean. But I guess due to rain, another mud pit!!
Oct 29, 2020
Cable went in and out and bathrooms were not being cleaned everything else was great
Oct 29, 2020
Good campground stayed many times this time not a good campsite way to sandy had a Motorhome full of sand
Oct 29, 2020
Our stay was perfect as always, only one problem is that the security people told us to turn off our music at 9pm and told us that quiet hours start at 9pm, we comply but another group has the music full blast and the guys never went to told them to turn off their music, we went to the office in the morning but nobody give us a good reason of why they did that to us
Oct 29, 2020
Friendly front desk. Good water and electric. Cable TV not so good. Good WiFi. Level site. Clean bathrooms. Nice amenities.
Oct 29, 2020
RVs too close for comfort. Uneven pavement. Too expensive for one night stay.
Oct 27, 2020
We had a great time as always and plan on returning same weekend next year and hopefully we'll have the Between the Waters Bike Ride
Oct 27, 2020
Why a Resort Fee? $5 that is not subject to discounts. And nothing for it. The pool was closed, the restaurant was closed, there was a wedding on the beach deck so no access to the beach for sunset. Wifi was HORRENDOUS - it dropped all the time. Campsites were jammed together & picnic tables had to be moved before we could back in. Used to be our favorite campground - not sure we will be back.
Oct 27, 2020
Loved it. Clean and well kept. Waitress at Jacks was awesome. Very friendly staff.
Oct 27, 2020
Thank You KOA Cape Charles! We had a great stay during the Halloween celebration weeks. There were kids dressed up and a cart parade decorated with all types of Halloween costumes. We also had a good time and meal down at Skipjacks at the beach. We look forward to our next stay. Thank You!
Oct 27, 2020
It was a great stay for our first time.
Nov 28, 2020
Very accommodating awesome Place friendly people badass sunset
- James Conklin on Google
Nov 05, 2020
Nice and clean facilities. Of course we are some of about 15 other campers here. Like a ghost town. It could be the time of year, but I feel the beach area could be kept up a little better. Sites are small but have everything we need. It would be tight if the place had more campers. Would come back a see what it's like in peak season.
- Frank Sigismondi on Google