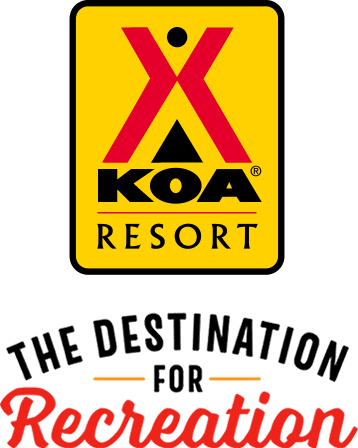 KOA Resort Campgrounds
KOA Resorts offer a carefree vacation in the great outdoors. Enjoy robust recreation and staff-led activities, kick back and relax by the resort-style pool, or grab a bite to eat, all while never leaving the campground. And with plenty of RV Sites with KOA Patios® and Deluxe Cabins with full baths to meet your needs, it's the ultimate camping getaway.
KOA Resorts Feature:
RV Sites with a KOA Patio®
Deluxe Cabins with full baths and linens
Premium Tent Sites
Resort-style pools
Indoor and outdoor group facilities
Directions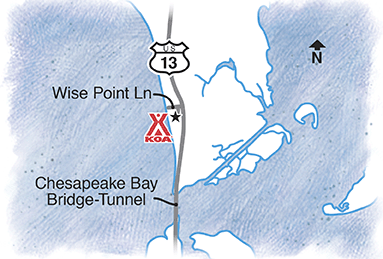 From North: Chesapeake Bay KOA Resort & Beach Club is located approximately 10 miles south of Cape Charles, VA. Traveling South on VA 13, turn right on Wise Point Lane and enter the parking lot to the left. Follow the registration signs. From South: Chesapeake Bay KOA Resort & Beach Club is located 1/4 mile north of the Chesapeake Bay Bridge Tunnel. Turn left on Wise Point Lane and enter the parking lot to the left. Follow the registration signs.  GPS: N37.138806, W75.967956
Get Google Directions
Sep 14, 2021
We love the campground, pool and beach. Campground staff was very friendly and helpful. Bathrooms kept very clean.
Sep 14, 2021
Loved the beach, the pool, the dog park. Friendly staff. Large, clean site. We liked it so much we extended our stay.
Sep 14, 2021
Had our usual great time. Site is just fine. Walk to pool and Jackspot. Went into CC and had fun. We lucked out with great weather. Will be back definitely.
Sep 14, 2021
We did not like the LOUD music in the bathrooms
Sep 14, 2021
The only thing my husband and I don't like is that you can't pick your own site. We come quite a bit to just Koa Cape Charles. We have favorites sites that we like and if they are available we would loce to reserve them.
Sep 14, 2021
We had an absolute blast! It was very first camper trip. First trip with the dogs. They had so much fun! Everyone was so friendly. Very clean resort. Perfect place to camp! The private beach was the best part along with theWe will most definitely be returning for future vacations.
Sep 14, 2021
Probably our favorite yet! Each time we stay at a sun development /blue water development property, we have so much fun! But this one was amazing! We didn't purposely book on pride weekend, but we will be back next year! The drag queens were the best! We love that there are activities for all ages! Not just the kids! We love doing the golf cart parade, the drag brunch and the dance!
Sep 14, 2021
Very nice resort
Sep 13, 2021
There was a slight mix up with our reservation. We reserved a pull thru site but when we got there we were changed to a back in site. They did the best they could on such a busy weekend. The site they moved us to did work for our toy hauler. They also gave us a credit on our account for part of our stay as an apology and that was greatly appreciated. This is our favorite camping location!
Sep 13, 2021
We love our time at Cape Charles / Chesapeake KOA. We have been coming every year since they opened and enjoying seeing all the updates/upgrades made each year. We visit every year and recommend to all our friends. The beach area is awesome and the facilities are new and always clean. The fun events the campground plans are appreciated. Especially the music. We will be back again next fall!
Sep 13, 2021
We had a fantastic weekend.
Sep 13, 2021
Overall the campground was very nice and clean. We really enjoyed the private beach and big pool area. The staff overall were nice but not extremely helpful. We had a leaky water connection that appeared to be an issue at the joint, I let the front desk know in person but nothing was done about it. The result was a very large puddle/swamp at our campsite near the power station.
Sep 13, 2021
We booked a skipjack site months and months and months ago and they wanted to put us and our 42 foot camper in site 321 right next to the bathhouse. We asked to be moved to a site closer to the pool and after looking for forever she put us in site 524, which was fine, except the entire time we were there we saw no one in any of the sites closer to the amenities. We just don't understand.
Sep 13, 2021
Beautiful weather weekend and enjoyed the pool
Sep 13, 2021
Awesome experience the beach was great and the pool was a bonus. The restaurant was a little backed up but they were understaffed which is normal right now.
Sep 13, 2021
This was our third visit to the campground ����, the weather was perfect and had a wonderful two days with family and friends. The people at the restaurant were wonderful as they were so short staffed. Five stars , and we even saw a wedding on the beach, and then there is the beach �������������������� Larry&ethel
Sep 13, 2021
While it is very difficult to maintain the resort feel with so many campers ... asking them upon check-in to respect others and help keep the place as clean as possible ... several campers decided not to flush toilets ... and staff was left with the waste removal. The campground was well maintained, and 95% of campers respectful of quiet times.
Sep 13, 2021
Enjoyed our stay at your campground. Nothing to complain about. Planning on coming back to stay with you in the very near future. Thanks again!
Sep 13, 2021
We were only here for one night however we plan to return in the near future.
Sep 11, 2021
I love this particular KOA. The beach is wonderful but I still cannot find the elusive sand dollar treasure pit, ill try again next season.. Bathrooms and both pools were very clean and well maintained this time. Staff was very on the ball. The upkeep was appreciated. Thank you for a very nice stay.
Sep 11, 2021
Our stay was AWESOME. Will be back next year. Deluxe pull thru site was great, with deck and furniture. Beautiful pool area and beach was wonderful. Clean bath houses. Only disappointment was that The Jackspot had limited hours. (after Labor Day) Wish they were open every day since there are not a lot of dinning options. Got to eat there one night...was very good. There is a Food Lion close by.
Sep 10, 2021
It was delightful to find the 5 mile bike trail as we biked daily, along with walking the beach, using the pool area and enjoying the live music along with the food at Jackspot!!!
Sep 10, 2021
It was fabulous as always. Definitely at the top of our list for campgrounds.
Sep 10, 2021
Your opinion of this campground will depend, depending on your expectations. Beach and pool were both nice, as were the bathrooms- all 3 being clean "enough" (moldy showers). Jackspot was a disaster 14.50 burgerTOGO ends up at 19.50 after fees and additional gratuity (34%). The advertised shuttle is also not running- not mentioned on website. Not much for kids. In town-10 mins very little todo/eat
Sep 09, 2021
Location is beautiful and facilities are nice and well-maintained. Staff was friendly and very helpful. We will be back (soon)!
Sep 09, 2021
Wish sites were a little bigger but will plan better next time for bigger site.
Sep 08, 2021
Should have a policy in place to remove stuff from beach..should not be able to leave stuff overnight..also beach needs to be cleaned..golf carts were ridiculous with kids driving way too fast! Please put stop signs in near pool and beach area. Laundry facilities are VERY POOR ..washers smell and are filthy ..no supplies in laundry room ..washers broken..I felt like this place was a free for all
Sep 08, 2021
During our stay the sideview mirror on our truck was shattered. After returning from the beach we found it broken. We reported it to the manager but nothing was done. There were a lot of underage teens flying around on golf carts. The day we left picnic tables were turned upside down & one of them was wedged in a tree. More supervision is definitely needed at this campground. Too much destruction.
Sep 08, 2021
I had a good stay will be back again
Sep 08, 2021
We were there for a short fishing trip. Met a friend there for 3 days. The campground is conveniently located right off the Bay Bridge. Easy access to all the areas we visited. Nice open sites. Very friendly staff in the office. I look forward to bringing my wife back to enjoy a long weekend soon.
Sep 08, 2021
Nice to see that you kill the poison ivy on the fence by the road to Jack's but
Sep 07, 2021
Love that you added more tables and loungers around the pool! Only complaint... way too many kids riding around recklessly on golf carts!
Sep 07, 2021
Great time !!
Sep 07, 2021
It was very nice . A bit crammed in the spaces in blue pearl. But I will be back. Loved the fact that we were close to the pool and the entertainment. Love Jackspot and the water
Sep 07, 2021
We love the activities and amenities at this campground and the staff are friendly. There seemed to be an issue with them knowing who paid for the full reservation and who only paid the deposit. We were approached to pay when we paid in full at booking. Also we reserved with 4 campers staying together. One of our group members was put in a site away instead of with us. I wish we could site lock.
Sep 07, 2021
We love it there!! You front desk staff is AMAZING… Mary took great care of us!!
Sep 07, 2021
Office staff were amazing, very friendly and very knowledgeable.
Sep 14, 2021
Great Getaway! Easy check-in and the staff was helpful. Campsite was a nice size. Loved the private beach. My dog felt welcomed and loved her beach. The staff at Jack's was very nice and the food/drinks were great.
- O S on Google
Sep 14, 2021
We really enjoyed this KOA, the beach and pool were great. Reasonably priced golf carts too, the only issue is you can't rent them in advance. The 600 sites were very cramped, we wanted a patio site but they were all booked. Super friendly staff at the front desk. Cape Charles was a nice little town with shops and amazing sunsets! We would definitely stay here again.
- Tracy Griffin on Google
Sep 12, 2021
Always something to do at this place.
- Anthony Reyes on Google