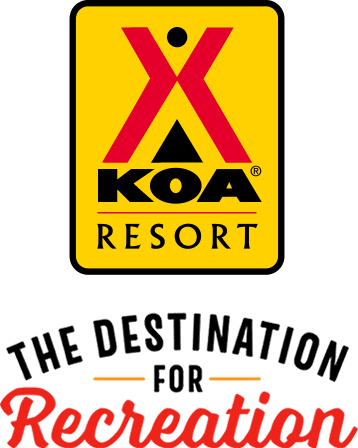 KOA Resort Campgrounds
KOA Resorts offer a carefree vacation in the great outdoors. Enjoy robust recreation and staff-led activities, kick back and relax by the resort-style pool, or grab a bite to eat, all while never leaving the campground. And with plenty of RV Sites with KOA Patios® and Deluxe Cabins with full baths to meet your needs, it's the ultimate camping getaway.
KOA Resorts Feature:
RV Sites with a KOA Patio®
Deluxe Cabins with full baths and linens
Premium Tent Sites
Resort-style pools
Indoor and outdoor group facilities
Directions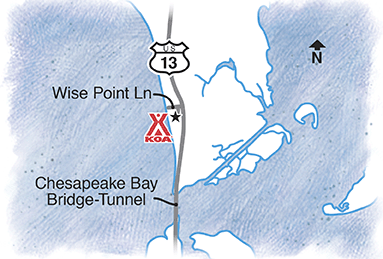 From North: Chesapeake Bay KOA Resort & Beach Club is located approximately 10 miles south of Cape Charles, VA. Traveling South on VA 13, turn right on Wise Point Lane and enter the parking lot to the left. Follow the registration signs. From South: Chesapeake Bay KOA Resort & Beach Club is located 1/4 mile north of the Chesapeake Bay Bridge Tunnel. Turn left on Wise Point Lane and enter the parking lot to the left. Follow the registration signs.  GPS: N37.138806, W75.967956
Get Google Directions
Sep 13, 2021
We really enjoyed our stay! The staff was very nice and helpful. We will definitely be coming back again soon.
Sep 13, 2021
RV was clean & everything supplied. Only Complaint I have is the beds need better mattresses. Other than that everything was Great!
Sep 11, 2021
Cabin was dirty (sandy and dirty floors, dirty feeling sheets, etc). Beds were unmade when we arrived with the sheets in garbage bags piled in one of the rooms. No dish soap or dish washing items such as a sponge in room even though guests are responsible for washing and drying dishes. Overall, the people were great but we may not return due to the below expected cleanliness. Great location.
Sep 10, 2021
First time staying in a cabin. Enjoyed the KOA and the surrounding area and only have 1 complaint. The cabins NEED to be cleaned much better. I had to clean it on arrival ��
Sep 10, 2021
The kitchen needs to be stocked up better. more dishes cups cutting board.
Sep 09, 2021
Loved it! Very clean and quiet!
Sep 09, 2021
We had quite a frustrating experience. We were unable to get clean towels during a 3-night stay. And we started with only two full sets for three people. The bedding was stained as were the walls. Based on the description, we expected a full set of kitchen tools. There wasn't a spatula, vegetable peeler, or tongs. The coffee pot was full of moldy coffee grounds and the pot was broken.
Sep 08, 2021
rented a deluxe cabin. not much for the price. walked in and the floors were not mopped, the dead bolt did not work. First night night got in bed to find sandy sheets. there is a need to update this unit, a little paint will go a long way. new mattresses in the kids room would be a must. very disgusting. opened the bed in the couch to find a mattress that so worn out and stained, closed it bac
Sep 08, 2021
We rented an RV and it was terrible. The air conditioner was covered in mold, taped open. The refrigerator handle was missing and was also leaking inside and made our food unusable. The window blind by the bunks was broken and missing pieces. There was a large gathering of people that rented all the cabins across from us. They were smoking marijuana 24 hours a day. We complained but nothing matter
Sep 07, 2021
Excellent, I hope will Back soon. Thanks
Sep 07, 2021
Not a clean place to stay, wasp problem, and the cabin had no cooking supplies.
Sep 06, 2021
We rented an RV. Blinds were broken, stove didn't work, knob to turn pilot on was broke, door lock going into RV was broke and would not lock, no toilet paper, no staff to replenish necessities daily.. had to call and wait every time needed something, staff had no care about anything, vaccination papers were not checked for dogs, Jackspot restaurant was way overpriced for food and drinks, no gri
Sep 05, 2021
Not use to RVs. Not shown or explained about camper. Address behind camper. Unpacked in wrong camper,had to pack up and move to correct camper Hard beds,unable to sleep Not stocked,no dish towel,trash bags,pot holders Stove didn't work,called 3 times left message,no call back Door lock broken,reported in calls friend saw workers finally got that fixed on 2nd day Jackspot 18.00 for 1 drink
Sep 03, 2021
Security officer rude; Jack Spot out of alot of items, ping pong and were originally told there was only one paddle yet the store sold paddles and that they could buy one if wanted to play - not cool. floors in cabin not mopped and biggest issue breaker kept going off and was told to just not plug golf cart in to remedy problem - again not cool.
Sep 03, 2021
We enjoyed our stay. Cabin was clean and good size. Jackspot was yummy. Beach needed a little cleanup. Front desk never picked up phone nor returned messages. Front desk seemed overwhelmed/stressed out.
Aug 31, 2021
Price quoted was different than price charged @ check-in but they did refund it. Mice droppings in all of the drawers in my Safari tent asked to clean they said they would immediately, never did and I had to ask again. No one answering phones, not as clean as it usually is. cups and bottles left behind in the lounge area 2 days. Cobwebs & bugs all over the nightstand by bed so room was not clean.
Aug 31, 2021
Really a great spot! Great beach - pool and employees- jack spot is great too! I want a seasonal spot We love it so much!
Aug 31, 2021
This was my wife and my second camping trip. The RV rental was so clean and had everything anyone would need for a weekend or week long get away. I have already shared with neighbor's that they should go camping and rent one of these VERY CLEAN and organized rentals. Plenty to do day and night, Pool or Beach Camper drink or Beach bar drink, walk or rent golf cart. Go home relaxed & talking.
Aug 30, 2021
Arriving to the campground check in was very unorganized and the staff were getting frustrated at one another in front of guests which created a uneasy atmosphere. The RV we rented was very dirty. I ended up having to wipe down surfaces, the toilet, the shower, dining table/seating, and the floors. The spectic tank was full. Limited supplies like trash bags and paper towels were given to us.
Aug 30, 2021
Deluxe cabin AC was terrible and the cabin was 88 degrees the front desk sent a repair man that said we were doing it wrong and 2 hours later it was still 88 degrees and we called and left a message at the front desk again and they called us after we checked out to fix it. Terrible front desk service very rude. Public Bathrooms are gross. Definitely to pricey for what we got
Aug 30, 2021
We had a great time, the place was beautiful.
Aug 29, 2021
Loved how close the beach and pool were from our cabin!
Aug 28, 2021
We had a group of 5 families and everyone had a great time!
Aug 28, 2021
Great area, friendly staff. Had a great time
Aug 28, 2021
We were given a filthy cabin @ first. Requested from front desk Charese to give us another cabin. Not only she's not helpful at all but dishonest & disrespectful. I understand the amount of work she does when there's a line of people checking in. But it's part of her job to solve issues like this. Thanks to staff America. She saw the filthy cabinShe helped us move to an acceptable & better cabin.
Aug 27, 2021
Kids had a great time, didn't want to leave the beach. Nice an shallow for for little kids to play.
Aug 27, 2021
The deluxe cottage that we're staying for 2 nights are not quite clean, lots of dirty finger prints on the walls and doors. No hot water on the next day. The kitchen sink gets clogged easily. All in all the cape charles KOA resort is a great place to take a family. Definitely we will come back to this resort. I'll give 4 star .
Aug 27, 2021
Nice place to stay. We rented a cottage as we had done at other KOA's. It was clean and everything was in working order. It did need a little touch-up as in paint but overall it served its purpose. The location was small which was okay wish their wer some more things to do on property after a few days it was little boring for my older kids. Overall for the 4 days we stayed, we had a good time
Aug 26, 2021
Prices were way too high at Jackspots. We had to pay a $7 gratuity for takeout. Why? Air conditioner vents were moldy. No spatulas to cook with. No colander. My husband had to fix the handles of 3 pots. Smelled sewage several days. The knats were atrocious. Bed wasn't made. Shower curtain held up by 2 hooks. Blinds were broken. RV 23 wasn't clean. Positive side is staff was very friendly.
Aug 26, 2021
Love the area itself, it's private and water was great. The customer service is the issue. They are short staffed so nobody answers the phones at front desk. Had to drive up there multiple times to request the same things as it wouldn't happen. AC stopped working and they don't have maintenance after 6pm so was without it all day and night.
Aug 26, 2021
Enjoyed the area but was disappointed with being able to get in touch with someone when needing assistance, example, the smoke alarm started going off for no reason and couldn't get it to stop, had a fellow neighbor try to help, called the number to front desk area and went to voice mail, called the security line and left vm, never got a call back. too much to type apparently. other issues too.
Aug 24, 2021
Our cottage was very dirty and run down. For the price, the upkeep should have been better. There was ducktape to repair things, stains on mattresses and the couch and the cabin smelled like smoke.
Aug 23, 2021
it went really well,
Aug 23, 2021
It was our first glamping experience and we really enjoyed it. We loved the grounds, the Jackspot was very accomodating as was the front desk. We loved the cottage. Our only concern was how unbridled the children were in the pool. As a former lifeguard it was hard to watch potentially dangerous horseplay which made enjoying the beautiful pool hard. We actually live on the Eastern Shore
Aug 23, 2021
Loved the campground. The staff was very nice. The campground had lots to do with the pool, live music, beach and camp store. My only complaint was the pet friendly delux cabin was not very clean upon our arrival. Requiring me to clean it up before we unpacked. Also I would like to recommend either shelves or hangers in the Closets as ther was not place to unpack your clothes.
Aug 22, 2021
- Front desk was very helpful and friendly. - Bathrooms were moderately clean, but could be better. - RV beds are horribly uncomfortable. - Jacks Spot is only open after 4:00 PM - inconvenient. - Recommendation: Put hedges or a fence around water plant to improve view and minimize smell.
Aug 22, 2021
My stay was awesome! My (RV rental) was nice/clean, my only complaint is that there was no hot water. I'm not sure if this is common for RVs, this was our first time experiencing RV life. Other than that, it was beautiful. Also I lost my iPhone on the beach, and a very nice family turned it into registration office, I was so elated and overwhelmed by their act of kindness. We will be back!
Aug 20, 2021
We enjoyed our stay. We rented a camper. What we didn't like is that ours was an older model and we would prefer more room
Aug 20, 2021
Wasnt impressed with thr cleanliness of cabin for almost 400 a night.. definitely need walls cleaned!! I left it better then we got it but will be back next year hopefully with a cleaner cabin
Aug 19, 2021
Despite the low rate reviews online, we had a wonderful experience at this establishment! We also took into consideration the staffing issues. We have 3 small children and between the beach, arcade, pool and golf cart rides they had a blast! We will definitely be back soon!
Aug 19, 2021
The RV was terrible. The blinds were all broken, the bed was incredibly uncomfortable, and the place looked not very clean. I would come back, but i would not stay in a parked RV again nor recommend one.
Sep 14, 2021
Great Getaway! Easy check-in and the staff was helpful. Campsite was a nice size. Loved the private beach. My dog felt welcomed and loved her beach. The staff at Jack's was very nice and the food/drinks were great.
- O S on Google
Sep 14, 2021
We really enjoyed this KOA, the beach and pool were great. Reasonably priced golf carts too, the only issue is you can't rent them in advance. The 600 sites were very cramped, we wanted a patio site but they were all booked. Super friendly staff at the front desk. Cape Charles was a nice little town with shops and amazing sunsets! We would definitely stay here again.
- Tracy Griffin on Google
Sep 12, 2021
Always something to do at this place.
- Anthony Reyes on Google