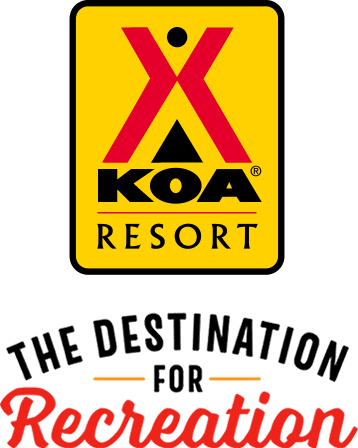 KOA Resort Campgrounds
KOA Resorts offer a carefree vacation in the great outdoors. Enjoy robust recreation and staff-led activities, kick back and relax by the resort-style pool, or grab a bite to eat, all while never leaving the campground. And with plenty of RV Sites with KOA Patios® and Deluxe Cabins with full baths to meet your needs, it's the ultimate camping getaway.
KOA Resorts Feature:
RV Sites with a KOA Patio®
Deluxe Cabins with full baths and linens
Premium Tent Sites
Resort-style pools
Indoor and outdoor group facilities
Directions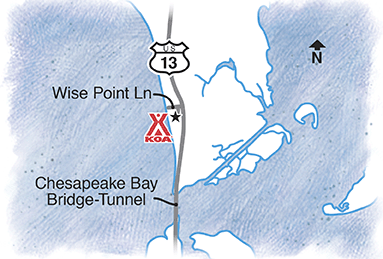 From North: Chesapeake Bay KOA Resort & Beach Club is located approximately 10 miles south of Cape Charles, VA. Traveling South on VA 13, turn right on Wise Point Lane and enter the parking lot to the left. Follow the registration signs. From South: Chesapeake Bay KOA Resort & Beach Club is located 1/4 mile north of the Chesapeake Bay Bridge Tunnel. Turn left on Wise Point Lane and enter the parking lot to the left. Follow the registration signs.  GPS: N37.138806, W75.967956
Get Google Directions
Dec 01, 2020
Family had a great time getting away for Thanksgiving. Even though things were closed down due to Covid, My family felt safe at the campsite and the Staff was very friendly and Helpful.
Nov 30, 2020
Nature around the cabin was the best part. My kids could walk to the beach and play for hours there. The most disappointed part was that we found the cabin dirty: sand on the kids beds and the ladder of the bunk bed so dirty. I cleaned myself before my kids run into the room. Under the sink we found a disgusting amount of mice poop, I called reception, nobody answer, I left a message. They cleaned
Nov 30, 2020
Very friendly staff. We stayed in a cabin. More attention should be put on cleaning the cabins.charging $249 per night for a cabin that is dirty is not ok. We had to change cabins because the first one was very very gross. The second one was better but we had to wipe the whole thing down in order to feel comfortable.
Nov 19, 2020
Our cabin was not very clean. The linens were not clean, there was something crusty on them. The pots and lids were not clean, there was old food particles on them. Same for some of the silverware. The shower was not very hot and didn't stay hot long enough for a decent shower. We informed the front desk.We ended up leaving a day early. We felt we should have been refunded for the last day. Than
Nov 18, 2020
The campground was beautiful. The rv's could have been updated and cleaned better. There was dirt on the ground in our campground and bugs in the coffee pot. Other than that it was great. We had our own space and it was right near the water. I wish the Jackspot cafe was open though...I was told it would be then they made the last day Friday and we got there Sunday.
Nov 16, 2020
Such a wonderful getaway. Amazing to have the entire beach to ourselves, our pup loved being able to swim!
Nov 11, 2020
The cabins weren't cleaned. They had dirt and hair all in the sheets. There was coffee grounds all in the drawers.
Nov 10, 2020
Nice amenities. Great location and view. Great place for dogs. Linens were dirty and had stains. Neighbors kids were running around our unit all night keeping us all awake.
Nov 09, 2020
We stayed in cabin 734. It was filthy. The walls were dirty, kitchen counters were not clean. Mold in the bathroom. Bedding was not changed. For what we paid for, I would have thought the cleaning would have been top notch since we are in a pandemic with COVID-19. Thankfully, I brought my own cleaning supplies and did what I could. Besides the cleaning, the rest of our trip was enjoyable.
Nov 03, 2020
Cabin heat didn't work sink leaked dirty nobody cared about complaints should be been offered something for all the problems mold on floor in shower
Nov 03, 2020
Was not impressed, our camper was beat up had to call maintenance 2 times they were great. Had no heat. Should of got some money back. Our family had 5 spots and sperd out as we asked to be close and don't think we will be back.
Oct 29, 2020
Loved it! Only suggestion is to replace mattresses in the RV's as they are very thin and very hard and uncomfortable. Everything else was good. Bring mattress toppers!!
Oct 27, 2020
I have been there 4 times. I've stayed in the hotel, rented RV and this time a cabin.. the setup and space in the cabin were great. The housekeeping leaves a lot to be desired. From all of the hair on a couple of pillowcases and sheets, there is no way they were changed. While we didn't use the dishes, the countertops had dried food on them. I left a message on the day we arrived.
Oct 26, 2020
The location is great. The service provided by registration personnel was good. We stayed in a cottage. A mattress cover and the comforter were both soiled and should have been cleaned. The fitted sheet on the bed in the larger bedroom was incorrectly placed on the mattress, with the long sides of the sheet across the short sides of the mattress. We had to remake the bed. No mattress cover.
Oct 26, 2020
We rented 3 RV's for 3 families. They all look the same except the one we got smells bad especially when toilet is flushed but when I called the front desk, they fixed it right away. The staff are truly friendly & accommodating. The place is superb & very relaxing. We'll definitely come back.
Oct 26, 2020
We had a great time! The cabin could have used a deep clean because there was a lot of dust but otherwise very nice all around.
Oct 22, 2020
I rented an RV to stay in and while it had most of what I needed but NO toilet paper, you got a complete roll of paper towel but how stupid not even a starter roll of toilet paper. The main bed was horrible, only a few inches thick and on a piece of plywood, oh my did my back hurt the next morning and the second night, my bones just ached! It was awful.
Oct 20, 2020
Loved the camper, loved the beach and water access. Halloween activities were fun. Only complaint was how poor the WiFi was. We all constantly had to reconnect and sign in.
Oct 19, 2020
Cabins heat was a mess, just saying. Security came to help, and he didnt wear a mask and seemed annoyed when I asked him to put a mask on in our cabin.
Oct 19, 2020
Enjoyed our stay in a rental camper except that the heat didnt workand our 2 year old did not sleep well because the camper got down to 59 degrees each night. Notified the desk when we realized the heat was not working. Maintenance was not available this time of night but staff came and verified we had no heat and offered more blankets. Stated maintenance would follow up next day but never did
Oct 19, 2020
The stay was great the first rv we got in the heat didnt work then the second one was great but had ants and the hot water goes out fast but over all it was good
Oct 19, 2020
Even though we got a rain day the stay was incredible! Stayed in the Safari tent and we will be back! Restrooms were very clean and staff was great! Wish there was a dishwashing station but it didn't limit our enjoyment.
Oct 18, 2020
I have stayed at KOA's across the country, and this is one of the best. We stayed in a deluxe patio site and rented a cabin for family. The patio site was huge with plenty of chairs, a table, firepit, and large patio. The property has a beach, a restaurant at the beach, a resort style pool with a children's shallow splash area, two playgrounds, a place to clean fish, and on and on. Great KOA!
Oct 16, 2020
The location is amazing. The employees are very helpful and friendly. The cabin was distrusting! The trash cans, linen, floors ect. I see a blow dryer touching a plunger. Mice under the house. Yuck! I think the place has tons of potential but I am really disappointed in the sanitary conditions. I won't be back. Hope this helps.
Oct 16, 2020
Lovely and quiet early week 3 night stay. Your cabins are in need of a coat of paint and the kitchen utensils could use some upgrades. Overall, a nice experience! We will be back. This area is easy to reach but still feels like a million miles out of the way. Thank you!
Oct 15, 2020
Everything was fine .we stayed in a cabin the wy fi was very week had to go outside to get internet. But all went well.
Oct 13, 2020
We understand that it was raining for most of the weekend. But there was nothing for the kids to do while they were at the KOA. Other than a pretty good haunted house, there were no golf carts available for renting even though there were tons of them sitting there. There was no activities scheduled or things to do for the kids like mini golf, mining or other activities.
Oct 13, 2020
Great staff and location. Activities kept our children occupied during rainy days.
Oct 12, 2020
Campground is amazing! Staff is very friendly. Cabin wasn't the nicest place we have ever stayed, especially for the money. Comforter had stains, floors were very dirty, lots of dirt and marks on the walls.
Oct 12, 2020
Beautiful view. Nice beach. Great staff. Campsites are tiny and too close together. The place was crowded like Disney Land. Cabins are not designed for comfort, but for maximum capacity. This place was literally designed for maximum profit, not for camper enjoyment.
Oct 12, 2020
the best pet friendly vacation place
Oct 09, 2020
Being located on the bay with beach access is the best feature of this KOA. Nice cabins with adequate space and amenities. We particularly enjoyed the enclosed deck. Biggest drawbacks: the lack of trees or landscaping (the campground is not very attractive); loud music being played from the pool area all day until 10 pm; expensive rates; and very few activity choices. Not sure we will be back.
Oct 06, 2020
It was a beautiful campground! The cabin was a bit shabby though— scuff marks all over the walls, light bulbs burned out and the Headboard has stains. Considering the cost, the staff was not very responsive— our friends' carbon monoxide alarm went off in the middle of the night but no one came out to check on it, There was only one roll of tp for 6 people and it took hours to get more.
Oct 06, 2020
The only reason why I am giving it a 2 is because the cabin we stayed in was absolutely disgusting. It wasn't clean and it smelled like rotten pee. Also there was a very old wash cloth left on the curtain rod. The blankets had sand UNDERNEATH them. The campgrounds were great but the golf carts are ridiculously over priced. Front desk staff were rude and didn't seem to know what they were doing.
Oct 06, 2020
The resort was absolutely beautiful. The only thing that could use some improvement is the spotty wifi service.
Oct 05, 2020
The bed was the hardest bed ever. I should have saved alot of money and just brought my tent. The ground would have been better. Felt like sleeping on concrete.
Oct 04, 2020
It was a great stay except the flies kept coming in the screen door with the hole in it, 1 large dish to eat off of,( had to get paper plates) broken handles , potato pleer broken tossed top cabinet. had to go to check in to get togs missing some items in kitchen! otherwise we would definitely come back. nice beach! employees were very helpful and polite,They new their job well!
Oct 02, 2020
Beautiful location, incredible friendly people. Endless sunsets.
Sep 30, 2020
This KOA is VERY nice. The offer a little bit of everything, even Glamping! The pool area is nice and it's easy to social distance!! Beach is lovely. Sunsets are gorgeous. All kinds of rentals - kayak, paddle board and golf carts! Pet friendly! The negative is we rented one of the RV's and it was NOT clean. We actually cleaned it upon arrival.
Sep 29, 2020
Wonderful experience! Stayed in the safari tent site number 5, super clean and near the bath house. Only complaint is the music is really loud at the pool and you can clearing hear it on this site! It didn't bother us because we love music but could see it bother other people. Loved the live band that night and the bathrooms where so clean!! Overall fabulous stay!
Sep 28, 2020
Very relaxing and dog friendly. Campers and staff were all friendly.
Sep 28, 2020
Great place to stay in VA!
Sep 28, 2020
First time with staying in an RV rental and I had a great time, A little bit of rain but can't complain as we had great food and company, Staff was great in assisting with minor problems and questions, My grand kids really had a fun time, Really looking forward to our next visit. Thanks for a great time,
Sep 28, 2020
Great campground with a wonderful beach and Jack's Spot was a great place with outdoor seating over looking the bay. Centrally located to so many great towns on the Eastern Shore
Sep 24, 2020
Cabin was not clean in some time. Spent my vacation cleaning the cabin. Maintenance had to come and fix items which should have been addressed before we arrived.
Sep 24, 2020
We stayed at one of the Prowler rental RV and had a great camping experience.
Nov 28, 2020
Very accommodating awesome Place friendly people badass sunset
- James Conklin on Google
Nov 05, 2020
Nice and clean facilities. Of course we are some of about 15 other campers here. Like a ghost town. It could be the time of year, but I feel the beach area could be kept up a little better. Sites are small but have everything we need. It would be tight if the place had more campers. Would come back a see what it's like in peak season.
- Frank Sigismondi on Google