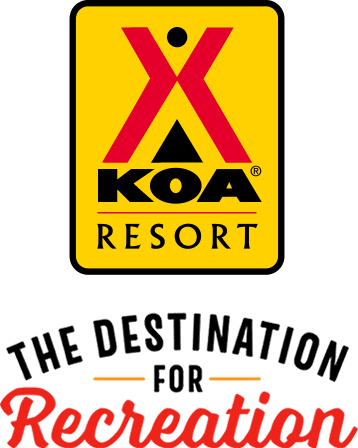 KOA Resort Campgrounds
KOA Resorts offer a carefree vacation in the great outdoors. Enjoy robust recreation and staff-led activities, kick back and relax by the resort-style pool, or grab a bite to eat, all while never leaving the campground. And with plenty of RV Sites with KOA Patios® and Deluxe Cabins with full baths to meet your needs, it's the ultimate camping getaway.
KOA Resorts Feature:
RV Sites with a KOA Patio®
Deluxe Cabins with full baths and linens
Premium Tent Sites
Resort-style pools
Indoor and outdoor group facilities
Directions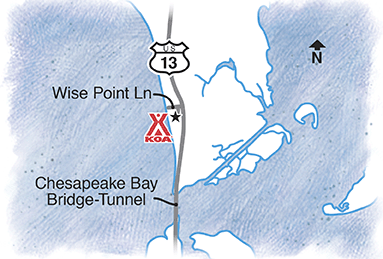 From North: Chesapeake Bay KOA Resort & Beach Club is located approximately 10 miles south of Cape Charles, VA. Traveling South on VA 13, turn right on Wise Point Lane and enter the parking lot to the left. Follow the registration signs. From South: Chesapeake Bay KOA Resort & Beach Club is located 1/4 mile north of the Chesapeake Bay Bridge Tunnel. Turn left on Wise Point Lane and enter the parking lot to the left. Follow the registration signs.  GPS: N37.138806, W75.967956
Get Google Directions
Aug 24, 2021
Our cottage was very dirty and run down. For the price, the upkeep should have been better. There was ducktape to repair things, stains on mattresses and the couch and the cabin smelled like smoke.
Aug 24, 2021
Staff was very friendly. The rv site was perfect for our 42ft fifth wheel. The restaurant on the propery had really good food. The beach was very nice. The band on Saturday night was great. The only negative was the grass needed to be cut.
Aug 24, 2021
Very overpriced for this party campground
Aug 23, 2021
Enjoyed our 2nd stay of the summer. The only improvement I would recommend would be to keep the beach/parking lot area cleaner. Very few trash cans around. Always seems to be left over items from the previous day laying around.
Aug 23, 2021
We always love Cape Charles KOA, even with this year being somewhat different it was still a wonderful stay! We looked forward to returning many times�
Aug 23, 2021
The maintenance staff and grounds were great. The front office and restaurant were terrible. Please hire some competent staff to work the front office. Only one person during our stay seemed to have knowledge of what she was doing.
Aug 23, 2021
it went really well,
Aug 23, 2021
Relaxing friendly
Aug 23, 2021
Wonderful place, great beach and pool
Aug 23, 2021
We had a wonderful week. Looking forward to coming back in the fall
Aug 23, 2021
Great location, bathrooms could have used more frequent help.
Aug 23, 2021
It was our first glamping experience and we really enjoyed it. We loved the grounds, the Jackspot was very accomodating as was the front desk. We loved the cottage. Our only concern was how unbridled the children were in the pool. As a former lifeguard it was hard to watch potentially dangerous horseplay which made enjoying the beautiful pool hard. We actually live on the Eastern Shore
Aug 23, 2021
Professional and very friendly staff, the campground is always spotlessly clean, well maintained and easy to maneuver, and Jackspot is the best place to get a bite and a cool drink!
Aug 23, 2021
Loved the campground. The staff was very nice. The campground had lots to do with the pool, live music, beach and camp store. My only complaint was the pet friendly delux cabin was not very clean upon our arrival. Requiring me to clean it up before we unpacked. Also I would like to recommend either shelves or hangers in the Closets as ther was not place to unpack your clothes.
Aug 22, 2021
This review has been removed by KOA due to profanity.
Aug 22, 2021
Very Clean, Beach and Restaurant were very nice
Aug 22, 2021
Loved the pool and over all atmosphere of the place. Security was very helpful. Only complaint was girl at front desk. Younger dirty blonde was always on phone , hollering at someone when In store wanting to be checked out. Also saw her outside fighting with a man in truck. Just not appropriate at work . She told us would he last time for ice when it was our first time that it was to much work
Aug 22, 2021
One bathhouse was out all week and we didn't like that customers marked their spots at the pool and were not there. Just left their belongings all day and night.
Aug 22, 2021
- Front desk was very helpful and friendly. - Bathrooms were moderately clean, but could be better. - RV beds are horribly uncomfortable. - Jacks Spot is only open after 4:00 PM - inconvenient. - Recommendation: Put hedges or a fence around water plant to improve view and minimize smell.
Aug 22, 2021
Staff are unfriendly. No activities for children. Jackspot not opened most of the time. Bathrooms not properly cleaned.
Aug 22, 2021
Great amenities a very well planned campsite. We love the proximity to the day and the extended hours for the pool. It was very easy to get around the campground with our two young girls and we appreciated that we could take our dogs to the beach and/or the dog park for some exercise. The only thing we found lacking was some kind of a rec center or community activities. However, we will be back!
Aug 22, 2021
My stay was awesome! My (RV rental) was nice/clean, my only complaint is that there was no hot water. I'm not sure if this is common for RVs, this was our first time experiencing RV life. Other than that, it was beautiful. Also I lost my iPhone on the beach, and a very nice family turned it into registration office, I was so elated and overwhelmed by their act of kindness. We will be back!
Aug 21, 2021
Staff friendly and helpful
Aug 21, 2021
Pool and Jackspot were great! The beach is very narrow, not what we expected. We picked the a higher-end skipjack site but the cable was not operational and the men's bathroom/showers were out of order for our entire stay, making it a long walk to another operational bathroom.
Aug 20, 2021
We had a wonderful visit to Cape Charles KOA. The pool and beach are amazing and the facilities are clean.
Aug 20, 2021
We enjoyed our stay. We rented a camper. What we didn't like is that ours was an older model and we would prefer more room
Aug 20, 2021
Wasnt impressed with thr cleanliness of cabin for almost 400 a night.. definitely need walls cleaned!! I left it better then we got it but will be back next year hopefully with a cleaner cabin
Aug 19, 2021
Cape Charles KOA is a very nice place, in a great location. Beach front on the bay is excellent. The Jackspot grill has really good food & service. The campground seem under staffed. & the camp store was poorly stocked. I would tell others to be very sure to bring provisions. The nearest food store is 12 0r 15 miles away. The bathroom cleanliness was outstanding. I will go there again.
Aug 19, 2021
Our Security Officer Mike did an outstanding job handling situations in the campground. Some people were trying to give him a hard time. Unfortunately, it was some of the campers that were out of line and they were trying to blame security on it. We love camping at Sunset and try and tell all of our friends out it. Thanks again for always being so accommodating.
Aug 19, 2021
Other than Check in - it was a wonderful stay. The "Check In" staff were very busy and did not have much patience with the people and process. We were suppose to be in a camping spot with 2 other families. It was on our reservation request along with on their reservation. We were 2 streets over from them! Also, it seemed to be a problem with paying with cash - they only wanted to do credit car
Aug 19, 2021
Despite the low rate reviews online, we had a wonderful experience at this establishment! We also took into consideration the staffing issues. We have 3 small children and between the beach, arcade, pool and golf cart rides they had a blast! We will definitely be back soon!
Aug 19, 2021
Men bathroom locked due to plumbing issues. Several were out if order. Beautiful place and Chesapeake bay was fabulous.
Aug 19, 2021
The RV was terrible. The blinds were all broken, the bed was incredibly uncomfortable, and the place looked not very clean. I would come back, but i would not stay in a parked RV again nor recommend one.
Aug 18, 2021
Nice campground and the staff deserve the credit as everywhere are operating short staff.
Aug 18, 2021
Great place to get on the beach. Clean resort. Only issue was with main lobby, not very much items in their store and all of their Milk were expired. We like ice cream; however, we were told they only do that on Thursday through the weekend. We were were there from Monday to Thursday so atleast we got one day.
Aug 18, 2021
We always loved coming to Cape Charles/Chesapeake Bay KOA. Our first time camping here. Only thing, which is a learning process, was the septic had to run uphill.
Aug 18, 2021
We stayed in a cottage, which was clean and convenient to the beach.
Oct 16, 2021
Great place to go for a relaxing weekend.
- Michael Anthony on Google
Oct 16, 2021
A great campground. Staff is friendly. The private beach is beautiful. The bathhouses are clean.
- Millie Rocklage on Google
Oct 14, 2021
We stayed at this KOA on our way further south. It was so nice, we stayed an additional night. Check in was easy and the front desk staff extremely friendly. We were escorted to our site and the gentleman helped us back in and explained the hookups. The sites are mostly grass, with 2 synthetic grass like pads for you to put your RV on. Our site was very level and they are quite spacious. WiFi and CATV were great. The bath houses were very clean and we always saw the cleaning crews making sure they were clean. We went to the on site beach and enjoyed a great afternoon relaxing and watching the boats in the distance. We did have dinner one evening, and although it was a tad pricey, the food was good and the sunsets even better. There was a lot of Halloween events while we were there. It was fun walking around checking out the decorations other RVers put up. We will definitely stop here in our future travels.
- Ron Axelson on Google