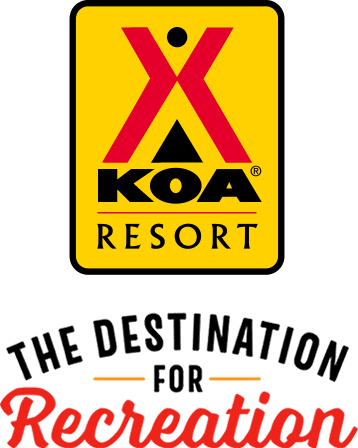 KOA Resort Campgrounds
KOA Resorts offer a carefree vacation in the great outdoors. Enjoy robust recreation and staff-led activities, kick back and relax by the resort-style pool, or grab a bite to eat, all while never leaving the campground. And with plenty of RV Sites with KOA Patios® and Deluxe Cabins with full baths to meet your needs, it's the ultimate camping getaway.
KOA Resorts Feature:
RV Sites with a KOA Patio®
Deluxe Cabins with full baths and linens
Premium Tent Sites
Resort-style pools
Indoor and outdoor group facilities
Directions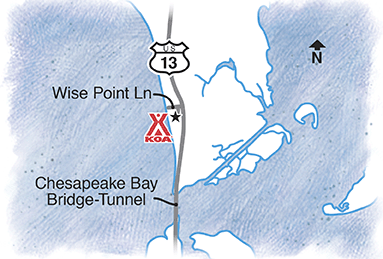 From North: Chesapeake Bay KOA Resort & Beach Club is located approximately 10 miles south of Cape Charles, VA. Traveling South on VA 13, turn right on Wise Point Lane and enter the parking lot to the left. Follow the registration signs. From South: Chesapeake Bay KOA Resort & Beach Club is located 1/4 mile north of the Chesapeake Bay Bridge Tunnel. Turn left on Wise Point Lane and enter the parking lot to the left. Follow the registration signs.  GPS: N37.138806, W75.967956
Get Google Directions
Aug 31, 2021
Great camp. We didn't rent a car because you advertise that you had shuttle service but when we got there it wasn't running. We have a motorhome and we were not able to visit the area.
Aug 31, 2021
They are short staffed at the moment but overall a great experience!
Aug 31, 2021
The best koa we have ever stayed at !! Love it
Aug 31, 2021
Could use better signage for RV's to direct them to the front office. First time staying here and it was a little confusing, wound up coming in through the wrong entrance because there wasn't a sign out @ the road that directed us to use the RV entrance.
Aug 31, 2021
Really a great spot! Great beach - pool and employees- jack spot is great too! I want a seasonal spot We love it so much!
Aug 31, 2021
This was my wife and my second camping trip. The RV rental was so clean and had everything anyone would need for a weekend or week long get away. I have already shared with neighbor's that they should go camping and rent one of these VERY CLEAN and organized rentals. Plenty to do day and night, Pool or Beach Camper drink or Beach bar drink, walk or rent golf cart. Go home relaxed & talking.
Aug 31, 2021
The signs on where to park and check in are almost invisible. You cant see them from the road and is very confusing. Luckily they have a lot of extra space to park in the back. This place is not guarded with a gate or anything so anyone can come in freely and they probably wouldn't even know it. Bathrooms were dirty and never cleaned. The pool was never checked and maintained by any staff.
Aug 31, 2021
Rhe stay was great the only thing I can say that u need to work on is flys. Lucky we were on the right side of the camp ground because I don't know the people on the left stayed over there from the smells. Looks like your septic tank treatment plant is over that way. Terrible smells
Aug 30, 2021
Arriving to the campground check in was very unorganized and the staff were getting frustrated at one another in front of guests which created a uneasy atmosphere. The RV we rented was very dirty. I ended up having to wipe down surfaces, the toilet, the shower, dining table/seating, and the floors. The spectic tank was full. Limited supplies like trash bags and paper towels were given to us.
Aug 30, 2021
Had a great long weekend. Loved Jackspots frozen margaritas, staff were friendly, pools and beaches were fabulous. We'll be back, without a doubt!
Aug 30, 2021
Deluxe cabin AC was terrible and the cabin was 88 degrees the front desk sent a repair man that said we were doing it wrong and 2 hours later it was still 88 degrees and we called and left a message at the front desk again and they called us after we checked out to fix it. Terrible front desk service very rude. Public Bathrooms are gross. Definitely to pricey for what we got
Aug 30, 2021
First time visiting. Really enjoyed our stay and look forward to returning.
Aug 30, 2021
We had a great time, the place was beautiful.
Aug 30, 2021
Nice but not really much to do. Location is a little desolate. We stayed for a week and had to go below the bridge tunnel a few of the days just to keep the kids occupied! That's a lot of money. Beach was ok, had to pay to rent paddle board or kayak, the stay was already a lot more than I normally pay for camping. Pool is OK, not really anything extravagant. Would be nice to see more fun things
Aug 30, 2021
We had a great time for our first family camping trip
Aug 30, 2021
The spots are very close together. For how much it is I expected more space. Ocean and pool were nice.
Aug 29, 2021
Loved how close the beach and pool were from our cabin!
Aug 29, 2021
We wanted a pull thru and was told the place was booked solid. It wasn't. Our spot was totally not level and almost impossible to level our RV. We had the loudest neighbors ever. They werent considerate of anyone. The pools in the back were extremely cold. The one in front was so much better. Would we go back? No.
Aug 29, 2021
This is a nice camp ground right on the bay. However, the sites are really close together. We were not given any info at check-in. Just a map and a list of activities. But no info as to Wi-Fi, that had no internet!! I still haven't figured out why Wi-Fi with no inrenet. If was another with a password but we not get anything about this. Also very little shade. Most sites are in the sun
Aug 29, 2021
We spent 4 nights there and had a wonderful time. Everyone very friendly and helpful! My only complaint would be about the restaurant behind the koa. The food was way to expensive!!
Aug 29, 2021
Good stay. Understaffed in the front office sometimes but so is everyone now. Thanks
Aug 29, 2021
Clean, friendly staff.
Aug 29, 2021
I wish I were able to select my own space. We were placed in a tiny spot when there were so many other spaces available. I don't think I will reserve, but instead, get to the place and choose the more convenient spot for us when we arrive. The beach was beautiful, the pools and all the other amenities KOA provides were great.
Aug 28, 2021
We had a group of 5 families and everyone had a great time!
Aug 28, 2021
Great area, friendly staff. Had a great time
Aug 28, 2021
The staff is not friendly and helpful
Aug 28, 2021
2nd time there and we really like it there. Disappointed with the grass this time, very weedy and high caused bugs.
Aug 28, 2021
We were given a filthy cabin @ first. Requested from front desk Charese to give us another cabin. Not only she's not helpful at all but dishonest & disrespectful. I understand the amount of work she does when there's a line of people checking in. But it's part of her job to solve issues like this. Thanks to staff America. She saw the filthy cabinShe helped us move to an acceptable & better cabin.
Aug 28, 2021
Paid for first-class facilities, did not receive them. Pool was not clean early Sat AM. Picked out a plastic cup, clumps of hair. Very disappointing. There is no way we would have put our head under the water. The beach area was not cleaned. There were a set of beach chairs and umbrella laying there for what looked to be a long time, lots of seaweed. Place could be a gem, did not fit the bill.
Aug 28, 2021
1.It is nearly impossible to reach the front desk by phone. When I had a issue, I had to drive to them to discuss it. 2. They don't really enforce camping etiquette. 3. WiFi is useless
Aug 27, 2021
Kids had a great time, didn't want to leave the beach. Nice an shallow for for little kids to play.
Aug 27, 2021
The deluxe cottage that we're staying for 2 nights are not quite clean, lots of dirty finger prints on the walls and doors. No hot water on the next day. The kitchen sink gets clogged easily. All in all the cape charles KOA resort is a great place to take a family. Definitely we will come back to this resort. I'll give 4 star .
Aug 27, 2021
Nice place to stay. We rented a cottage as we had done at other KOA's. It was clean and everything was in working order. It did need a little touch-up as in paint but overall it served its purpose. The location was small which was okay wish their wer some more things to do on property after a few days it was little boring for my older kids. Overall for the 4 days we stayed, we had a good time
Aug 27, 2021
Everything was great with one exception. The computers were down when we checked in. Long story short, we were overcharged when the system came back up. Still no response from customer service to correct it. Be aware and check your credit card statements. Also the Jackspot bar at the beach adds the tip into your bill automatically regardless of group size, so be aware of that as well.
Aug 26, 2021
Prices were way too high at Jackspots. We had to pay a $7 gratuity for takeout. Why? Air conditioner vents were moldy. No spatulas to cook with. No colander. My husband had to fix the handles of 3 pots. Smelled sewage several days. The knats were atrocious. Bed wasn't made. Shower curtain held up by 2 hooks. Blinds were broken. RV 23 wasn't clean. Positive side is staff was very friendly.
Aug 26, 2021
Friendly staff, very clean bathrooms on camp grounds.
Aug 26, 2021
Had a great time at the campground. Plenty of space between sites. Beach was a plus. Only thing we didn't like was the little black bugs that seemed to appear around sunset.
Aug 26, 2021
Staffing appears to be in short demand at the campground. I feel the campground camping sites should be mowed more often. Alot of sites we seen with campers on them had over a foot of grass on site. Some campers we talked with it stated the grass was high when they pulled onto site. The rule of thumb, first impressions are lasting impressions.
Aug 26, 2021
I was extremely disappointed with my experience at registration. My niece and I checked in at the same time, same type of sites and I paid $50 more the first night an $20 more for the next 2 nights. Then when I rented a golf cart I paid for 1 night only so I could check with my husban,I went back in 3 minutes later to get the 3 night deal and was told sorry you must pay full price. Never again!
Aug 26, 2021
Love the area itself, it's private and water was great. The customer service is the issue. They are short staffed so nobody answers the phones at front desk. Had to drive up there multiple times to request the same things as it wouldn't happen. AC stopped working and they don't have maintenance after 6pm so was without it all day and night.
Oct 19, 2021
Everything about it was fantastic. Highly recommend this place. Right on the bay.
- Steven Barron on Google
Oct 16, 2021
Great place to go for a relaxing weekend.
- Michael Anthony on Google
Oct 16, 2021
A great campground. Staff is friendly. The private beach is beautiful. The bathhouses are clean.
- Millie Rocklage on Google