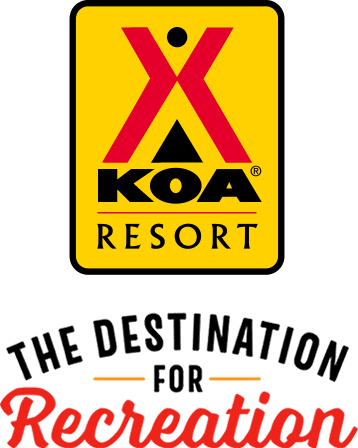 KOA Resort Campgrounds
KOA Resorts offer a carefree vacation in the great outdoors. Enjoy robust recreation and staff-led activities, kick back and relax by the resort-style pool, or grab a bite to eat, all while never leaving the campground. And with plenty of RV Sites with KOA Patios® and Deluxe Cabins with full baths to meet your needs, it's the ultimate camping getaway.
KOA Resorts Feature:
RV Sites with a KOA Patio®
Deluxe Cabins with full baths and linens
Premium Tent Sites
Resort-style pools
Indoor and outdoor group facilities
Directions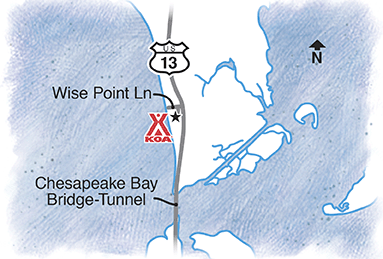 From North: Chesapeake Bay KOA Resort & Beach Club is located approximately 10 miles south of Cape Charles, VA. Traveling South on VA 13, turn right on Wise Point Lane and enter the parking lot to the left. Follow the registration signs. From South: Chesapeake Bay KOA Resort & Beach Club is located 1/4 mile north of the Chesapeake Bay Bridge Tunnel. Turn left on Wise Point Lane and enter the parking lot to the left. Follow the registration signs.  GPS: N37.138806, W75.967956
Get Google Directions
Sep 08, 2021
I had a good stay will be back again
Sep 08, 2021
We were there for a short fishing trip. Met a friend there for 3 days. The campground is conveniently located right off the Bay Bridge. Easy access to all the areas we visited. Nice open sites. Very friendly staff in the office. I look forward to bringing my wife back to enjoy a long weekend soon.
Sep 08, 2021
Nice to see that you kill the poison ivy on the fence by the road to Jack's but
Sep 08, 2021
rented a deluxe cabin. not much for the price. walked in and the floors were not mopped, the dead bolt did not work. First night night got in bed to find sandy sheets. there is a need to update this unit, a little paint will go a long way. new mattresses in the kids room would be a must. very disgusting. opened the bed in the couch to find a mattress that so worn out and stained, closed it bac
Sep 08, 2021
We rented an RV and it was terrible. The air conditioner was covered in mold, taped open. The refrigerator handle was missing and was also leaking inside and made our food unusable. The window blind by the bunks was broken and missing pieces. There was a large gathering of people that rented all the cabins across from us. They were smoking marijuana 24 hours a day. We complained but nothing matter
Sep 07, 2021
Love that you added more tables and loungers around the pool! Only complaint... way too many kids riding around recklessly on golf carts!
Sep 07, 2021
Great time !!
Sep 07, 2021
It was very nice . A bit crammed in the spaces in blue pearl. But I will be back. Loved the fact that we were close to the pool and the entertainment. Love Jackspot and the water
Sep 07, 2021
We love the activities and amenities at this campground and the staff are friendly. There seemed to be an issue with them knowing who paid for the full reservation and who only paid the deposit. We were approached to pay when we paid in full at booking. Also we reserved with 4 campers staying together. One of our group members was put in a site away instead of with us. I wish we could site lock.
Sep 07, 2021
We love it there!! You front desk staff is AMAZING… Mary took great care of us!!
Sep 07, 2021
Office staff were amazing, very friendly and very knowledgeable.
Sep 07, 2021
Fabulous time. We didn't want to leave. The only thing that was concerning… many golf carts flying.
Sep 07, 2021
For a whopping $185 a night for an unpaved spot, we were not at all impressed. There should also be a separate line for registering guest and quick ice cream purchases. Waited in line 15 mins to pay for ice cream. The most expensive campground we have stayed at yet, pool was overcrowded as it is shared with motel up front.
Sep 07, 2021
Excellent, I hope will Back soon. Thanks
Sep 07, 2021
Everything from start to finish was exceptional. I want to give a special shout out to Gary from security as he helped guide us to our site when we arrived late on Friday night. Gary continued that next level service each night by stopping by our site and ensuring our trip was going well! He checked out the availability of golf cart rentals and gave us a list of events. Such personalized service!
Sep 07, 2021
Fabulous stay! At first I was a bit worried as it looked crowded, but it's a well oiled machine with plenty of room & amenities to keep everyone happy!
Sep 07, 2021
Not a clean place to stay, wasp problem, and the cabin had no cooking supplies.
Sep 06, 2021
Extremely accommodating and always eager to please the customers. From the store to the maintenance that drive throughout the sites ALL day...definitely impressed. This is my family and mine second consecutive year since 2020 and will make it a tradition. Made probably some lifetime friends going forward as well...
Sep 06, 2021
We rented an RV. Blinds were broken, stove didn't work, knob to turn pilot on was broke, door lock going into RV was broke and would not lock, no toilet paper, no staff to replenish necessities daily.. had to call and wait every time needed something, staff had no care about anything, vaccination papers were not checked for dogs, Jackspot restaurant was way overpriced for food and drinks, no gri
Sep 06, 2021
View of the ocean are incredible. Campground is great. The bay water smells and the flies are horrible. Great people, you decide. Glad we went, just not our thing. �
Sep 05, 2021
Very underwhelming. The Jackspot was a huge dissappointment. Beach access is not convienent. Acccess to the playground is absurd causing most to cut through the glamping tents. There is truth to most of the negative reviews. On the plus side our granddaughter did thoroughly enjoyed spending time in the bay then transitioning to the pool.
Sep 05, 2021
Not use to RVs. Not shown or explained about camper. Address behind camper. Unpacked in wrong camper,had to pack up and move to correct camper Hard beds,unable to sleep Not stocked,no dish towel,trash bags,pot holders Stove didn't work,called 3 times left message,no call back Door lock broken,reported in calls friend saw workers finally got that fixed on 2nd day Jackspot 18.00 for 1 drink
Sep 05, 2021
easy check in guided to site received activities update
Sep 04, 2021
I always enjoy my stay here. The amenities are awesome especially the pool!! I wanted to stay a day longer but they were sold out!! I'll be back again!
Sep 04, 2021
Let me start saying that this campground has potential to be great if they hired people with better attitudes . Also maybe make it more kid friendly. Hot days and the kids couldn't have ice cream.Also their food prices are ridiculous,you would think that you were eating at a 5star restaurant.Hopefully they will improve and it would be great. Location is good and grounds are maintained. Thanks
Sep 03, 2021
Security officer rude; Jack Spot out of alot of items, ping pong and were originally told there was only one paddle yet the store sold paddles and that they could buy one if wanted to play - not cool. floors in cabin not mopped and biggest issue breaker kept going off and was told to just not plug golf cart in to remedy problem - again not cool.
Sep 03, 2021
We enjoyed our stay. Cabin was clean and good size. Jackspot was yummy. Beach needed a little cleanup. Front desk never picked up phone nor returned messages. Front desk seemed overwhelmed/stressed out.
Sep 03, 2021
Nice beach but the cable hookup did not work the water hook up the threads were crossed and some of the people working at the camp store were rude and would not honor the KOA gift card for in store purchases
Sep 02, 2021
The bathrooms were filthy, the hot food we ordered at the restaurant was colds due the campsite was on hill so bad many other campers including my self had to raise up the front end of the camper with blocks so our wheels on the front end were off the ground just to get somewhat level This is very dangerous
Sep 02, 2021
Very clean, very nice. Well stocked store, bar and grill on the beach was great. Will stay again.
Sep 02, 2021
All the people were pleasant. Golf carts every where. To many not driving safely. Pools nice and beach was very pleasant. Will go there again.
Sep 01, 2021
The staff was very nice and so was the young fellow that came and changed the circut box for us, he was really sweet explaining it to me. Then we had another man come and he was also very nice to me. A lovely pool with plenty of room for all that were there and nice seating arrangements around it.
Sep 01, 2021
it is a beautiful place and we have made reservations for next year The place was clean and well cared for. Only problem is tha there is not really that much to do if you do not have children We are retired but we managed to enjoy the pool and the beach.
Sep 01, 2021
Great front desk staff. Woman's bathroom behind our site was clean, but men's bathroom and laundry, and both bathrooms at the pool were disgusting. I requested upon check in for a different site location than the one assigned since our bedroom is in back and we were assigned right outside bathrooms. We were told no even though 3 other sites were open during our entire stay just a few sites away.
Sep 01, 2021
Camping great sites really good only one bad thing no hot water for my shower Monday night
Aug 31, 2021
Can't wait to back next year love this place …
Aug 31, 2021
Price quoted was different than price charged @ check-in but they did refund it. Mice droppings in all of the drawers in my Safari tent asked to clean they said they would immediately, never did and I had to ask again. No one answering phones, not as clean as it usually is. cups and bottles left behind in the lounge area 2 days. Cobwebs & bugs all over the nightstand by bed so room was not clean.
Aug 31, 2021
Campsites were far too crowed. Only 4 ft between RVs (back to back). Over 800 sites in an area where should have only been half that many. Too expensive -- excessive markup for weekend stays. Poor signage. Signs featured other Resort names without KOA logos. Routing into registration area not clearly marked; Exit route not clearly marked. Didn't use amenities, but had to pay an amenity fee.
Oct 19, 2021
Everything about it was fantastic. Highly recommend this place. Right on the bay.
- Steven Barron on Google
Oct 16, 2021
Great place to go for a relaxing weekend.
- Michael Anthony on Google
Oct 16, 2021
A great campground. Staff is friendly. The private beach is beautiful. The bathhouses are clean.
- Millie Rocklage on Google