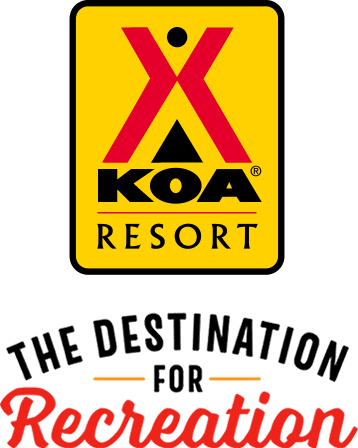 KOA Resort Campgrounds
KOA Resorts offer a carefree vacation in the great outdoors. Enjoy robust recreation and staff-led activities, kick back and relax by the resort-style pool, or grab a bite to eat, all while never leaving the campground. And with plenty of RV Sites with KOA Patios® and Deluxe Cabins with full baths to meet your needs, it's the ultimate camping getaway.
KOA Resorts Feature:
RV Sites with a KOA Patio®
Deluxe Cabins with full baths and linens
Premium Tent Sites
Resort-style pools
Indoor and outdoor group facilities
Directions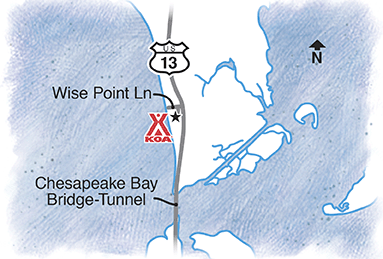 From North: Chesapeake Bay KOA Resort & Beach Club is located approximately 10 miles south of Cape Charles, VA. Traveling South on VA 13, turn right on Wise Point Lane and enter the parking lot to the left. Follow the registration signs. From South: Chesapeake Bay KOA Resort & Beach Club is located 1/4 mile north of the Chesapeake Bay Bridge Tunnel. Turn left on Wise Point Lane and enter the parking lot to the left. Follow the registration signs.  GPS: N37.138806, W75.967956
Get Google Directions
Jun 23, 2020
We really enjoyed our self the staff was great and the other camper's were very nice. I hope that the pool will be open when we come back. The only thing is that Jack's spot is a little expensive. We will be back!
Jun 23, 2020
Cstmr srv in office-not great. Asked about a golf cart when we arrived, was told they were out. Asked for a courtesy call when more were avail, were told they don't do that. Told to come back to the office to keep checking. Bought firewood, they were out. Had to come back in an hour to pick- deliver to campsite maybe? Asked for a late check out. Told they couldn't because another rv coming in.
Jun 23, 2020
the camp ground is aways clean and cut. restrooms and showers are very clean, check in way fast and simple ... i love the KOA cape charles and will keep going back
Jun 23, 2020
Sights are a little smaller than the norm. But that can be forgiven by all of the great amenities. Great sandy Beach, Jacksspot grille on site. Non camping Friend can stay at the hotel. Bring your kayaks or boat. The pups have their own beach. Beautiful sunsets
Jun 22, 2020
Great site, friendly neighbors! We love this campground
Jun 22, 2020
Stayed sevendays during covid-19 was really nice alittle crowed but normal new site this stay made it the best stay of two will return again for sure.
Jun 22, 2020
We always have a wonderful stay. Disappointed with the increase in prices since KOA purchased but we love coming every year.
Jun 22, 2020
This was our first stay in our new travel trailer/first camping experience. We enjoyed it, however, considering the pools and some other amenities were closed due to Covid19, it would have been nice to see the campground/corporate offer a reduced rate given the circumstances.
Jun 22, 2020
Always a peaceful getaway destination. Staff was very helpful and even helped us inflate our son's tube so he could float the day away in the bay.
Jun 22, 2020
Very nice campground & great friendly staff. The crafts were fun & Anna was awesome. The Jackspot had good food & drinks & the live band was great. Campground is super clean, sites are nice and spacious. Beach was very nice, and being able to have the dogs at the beach was a plus. We will definitely visit again. One of the best campgrounds we have been to.
Jun 22, 2020
Beautiful location. Great beach. Campground was very clean and the staff very friendly.
Jun 22, 2020
It was our first visit to cape charles & staying at a KOA! Could not have had a better experience. We loved everything!
Jun 22, 2020
It is a nice facility with some good amenities. Everything was very clean and the staff was friendly. Only negative I have is that we were RVing with friends and the campground did not put them beside us. This was requested when reservations were made and again before our friends arrived. Even though there were open spots of the exact same type the day prior, the staff said it was too difficult
Jun 22, 2020
Staff was wonderful and the kids rec staff my kids loved. With the limitations from covid the campground did their best to make a memorable trip. One thing my kids love that the campground doesnt have is a mini golf course that would be a great addition. We will definitely be back and have family that also want to join us next time.
Jun 22, 2020
We visited for a week in June 2020. Had bad wind and rain most days - not their fault of course. The beach is very nice, but the highlight for us was a meal at Jackspot, their beach bar/cafe. Food was great, and the mixed drinks were excellent. despite COVID-19 restrictions the staff made it a great experience.
Jun 22, 2020
This was my first time RV camping and I was expecting to get what I paid for. I totally understand that social distancing is a must but prices should reflect the amenities not available. I am a member and will see if I stay a member after my next stay. I will not book a stay at KOA if the amenities are not available. It was a little loud next to us till about 2:30am. Clean site and friendly staff.
Jun 22, 2020
It was awesome, so peaceful. See you soon.
Jun 22, 2020
Check in was fast, staff was friendly and helpful, resort was clean, very nice camping resort.already made our next reservation.
Jun 22, 2020
Our site (701) was fine, neighbors (702) were terrible. The beach needs a serious grooming to remove dried seaweed twigs. You also will want to consider a better beach access with steps. Liked the electrical pedestals, however your water and sewer hookups are backwards. The sewer is too high off the ground to drain properly, and the water a foot to 18-inches too low to hook up filter & regulator.
Jun 22, 2020
Awesome campground! Beautiful private beach. Paved roads for great bike riding.
Jun 22, 2020
We really enjoyed our stay. My only complaint would be that there is no fence or sign down on the beach marking the dog beach. A lot of people without dogs filled up that area so it was hard to get our dog down there to run and swim. Also, we had resident campers around us and the the one next to us decided to build a deck at 7:00am on Saturday which was not ideal. Overall, we had a great time!
Jun 21, 2020
Relaxing and without any drama. The way I like it!!
Jun 21, 2020
Great staff!! Everyone was friendly and helpful. I was able to book and be in my site at the campground within an hour the same day. Totally saved my trip when a last minute issue came up at the campground we were staying at. So happy we chose to come to the KOA!! We will be back.
Jun 20, 2020
One week stay in rv. Great place Great staff third year here and can't wait to come nsck
Jun 20, 2020
This is my third time staying at this campground and probably my most disappointing. First off the staff at check was very friendly and helpful. Secondly the bath houses weren't kept up as well as they had been in the past. And lastly the staff on the carts were not very friendly or out going. Seemed to be a struggle for them to wave, much less speak. Overall I enjoyed my stay and will try again!!
Jun 20, 2020
How do we get to select better camp sites, like those closest to the beach? Please increase the settings for the lights out feature. Lights go out way too soon.
Jun 20, 2020
This was our second year camping with you all and we couldn't have had a better trip. The campground is always clean and the hospitality is fantastic. This KOA is dear to our family and we are already looking forward to our next stay down by the bay.
Jun 20, 2020
Very clean campground and restrooms. Very friendly staff! We will definitely be back.
Jun 19, 2020
The stay was super! Weather was terrible, but had to & made the best of a bad situation �. Really love this place. Thanks
Jun 19, 2020
Location great, especially for seafood and craft beer fans. And fishermen; fishing opportunities are amazing. Do yourself a favor and wait for the Wuhan panic to be over, as many amenities are closed like the pool and on-site diner. The vibe is very impersonal; not nearly as welcoming and friendly as other KOA's. We won't be back but if you're a beach aficionado this place is probably for you.
Jun 19, 2020
Very nice CLEAN facility, nice beach. Highly disappointed pool wasn't available, concept: after 2 weeks hiking and saltwater beaches we looking forward to just simple down time at pool. I do recognize it's a government problem not a KOA creation.
Jun 18, 2020
Very nice staff. Beautiful view from dog cabin. It rained lots but we enjoyed the stay. Only item you may consider at things are more normal post covid are vacuum dog fur from porch area and check bathroom. It was clean but there was black stuff at base of bathtub.
Jun 18, 2020
The campground is always great. The weather was terrible this trip. Rain. Rain. Wind. And more rain. We'll be back next year!!!
Jun 17, 2020
Staff is good and welcoming, sites can be tite, ours was plenty for our 5th wheel easy walk to the beach and pool, we booked for June 2021
Jun 17, 2020
This was our 3rd time staying at this KOA. We already have reservations for next year. Campground is great and clean. Would have given 5 stars but Jackspot Restaurant is very pricey on food and drinks. Jackspot needs to have more affordable food menu and drinks for the campground guest.
Jun 17, 2020
Wonderful! Staff very friendly and helpful. Never stayed in a rv before but enjoyed it. Had a great time.
Jun 17, 2020
We had a great time! The staff was very friendly and helpful. We will definitely come again.
Jun 17, 2020
I was very pleased with the accomodations for our stay. The cottage was clean and fairly well stocked. It amazed me everytime I put a trashbag by the street and it was picked up five minutes later! Our golf cart had mechanical issues and it was immediately traded for another. Front desk folks were friendly and competent. If Mother Nature had cooperated, it would have been perfect!! Thank you, Sara
Jun 17, 2020
This was our 4th trip to the campground. As always, the staff were friendly and accommodating. If only the weather had cooperated so we could have enjoyed hanging out at the beach and Jackspot.
Jun 16, 2020
The stay was fine. My only complaint was that after 2 days of having 2 vehicles on our site with no complaint or word, we were rudely interrupted during our dinner by a KOA worker to stop everything and move the car immediately. No problem with moving the car just the way it was rudely addressed in the middle or dinner.
Nov 28, 2020
Very accommodating awesome Place friendly people badass sunset
- James Conklin on Google
Nov 05, 2020
Nice and clean facilities. Of course we are some of about 15 other campers here. Like a ghost town. It could be the time of year, but I feel the beach area could be kept up a little better. Sites are small but have everything we need. It would be tight if the place had more campers. Would come back a see what it's like in peak season.
- Frank Sigismondi on Google