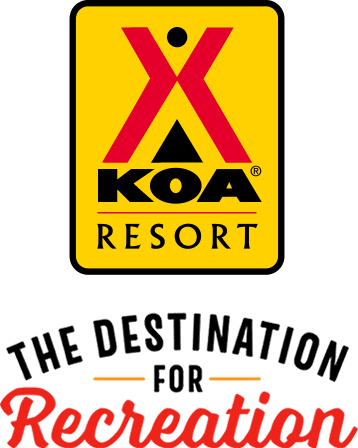 KOA Resort Campgrounds
KOA Resorts offer a carefree vacation in the great outdoors. Enjoy robust recreation and staff-led activities, kick back and relax by the resort-style pool, or grab a bite to eat, all while never leaving the campground. And with plenty of RV Sites with KOA Patios® and Deluxe Cabins with full baths to meet your needs, it's the ultimate camping getaway.
KOA Resorts Feature:
RV Sites with a KOA Patio®
Deluxe Cabins with full baths and linens
Premium Tent Sites
Resort-style pools
Indoor and outdoor group facilities
Directions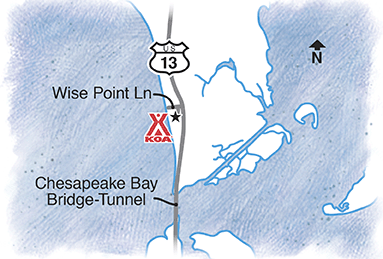 From North: Chesapeake Bay KOA Resort & Beach Club is located approximately 10 miles south of Cape Charles, VA. Traveling South on VA 13, turn right on Wise Point Lane and enter the parking lot to the left. Follow the registration signs. From South: Chesapeake Bay KOA Resort & Beach Club is located 1/4 mile north of the Chesapeake Bay Bridge Tunnel. Turn left on Wise Point Lane and enter the parking lot to the left. Follow the registration signs.  GPS: N37.138806, W75.967956
Get Google Directions
Jun 28, 2020
Would've been nice for them to either discount our stay due to some amenities not being available or waive the "Resort" fee.
Jun 28, 2020
This review has been removed by KOA due to profanity.
Jun 28, 2020
Charged resort fee when amenities not available. Lied and said they were renting kayaks when they weren't. Lied said they would put our 2 campsites together, when arrived told the computer picks sites they don't control it. Maintenance guy rude about our disabled friend not helping himself to get camper level. Never ever come here again.
Jun 28, 2020
We LOVED the campground - the staff were super friendly and the campground was well maintained. The Jackspot was intermittently open, which was awesome (and I totally understand the caution with which they operated with) and I highly recommend the pina coladas! The highlight of our evenings was going down to the beach to watch the INCREDIBLE sunsets! We'll be back for sure!
Jun 28, 2020
Camper didn't fit in the site recommend by staff ( 15" off camper behind, front 1' into the road). site covered in dog crap. Camp smelled of sewer, beach was the best part.
Jun 27, 2020
I was upset that no one was wearing face mask. There were large gatherings with no face mask.
Jun 27, 2020
We did not bring food as we planned to eat out nightly. Our jeep would not start and Ryan, employee, was most helpful but could not fix it. Consequently we had no food until Jackspot opened up on Wednesday (a day early).No shuttle service and store not open. The beach was wonderful and staff nice. We were not given any information when we checked in. Usually get that. We love Cape Charles KOA
Jun 27, 2020
The campground itself was good. Bathrooms were beautiful and very clean. Staff and Manager,Jeff Clark, were much less accommodating. Prior to our arrival, we received no less than 3 emails from the campground one even including sample checklists! None of the emails noted that most of the amenities, were closed! There was no additional discount either!
Jun 27, 2020
Given the restrictions from COVID-19 it was a nice week. I did not agree with charging an amnesties fee when they were all closed
Jun 27, 2020
Stay was great the only thing I didn't like was weak wifi and bad cell reception in the area
Jun 27, 2020
This campground is definitely geared toward RV camping. We were one of two tent campers during our stay, and the placement of the tent sites was poor. There was no shade whatsoever, so while the other RV campers were in their air-conditioned spaces we were having the sun beat down on us. There is a section in the campground that is lined with trees and would be better for tents.
Jun 27, 2020
Enjoyed the stay very, bathrooms extremely clean, will return for full experience, pools n Jackspot closed due to Covid-19. Only down side sites are tight. Locationof trees on sites difficult open side outs and awning, couldn't use our pop up canopy.
Jun 27, 2020
I would NEVER NEVER NEVER come back. Worst KOA in the WORLD!!!! Fireworks at night so bad my dog had to be drugged!!!!! Music, drugs and drinking until after midnight. No beach distancing with about three times the safe amount of kids and adults running around . Dogs on beach with no leach or clean-up. Hard to understand why this KOA has no safety or rules. Party hard and somebody will die...
Jun 27, 2020
Awesome place
Jun 26, 2020
Everything OK except left a phone message to the front desk and got no answer
Jun 26, 2020
I've stayed here the last three years it has been great. This Time started off with them putting me on the wrong sit. I was part of a group that was supposed to be together. I called two weeks prior to check on it and all was good. I Was told Tiffany was the only one who could help and she would not get up to talk to me. Was also over charged. I was able to move sites on Monday. No one ever apolog
Jun 26, 2020
We enjoyed the beach very much especially since we could bring our dog. The food was good at restaurants. Limited hours and pools and amenities closed I think a discount was appropriate but not provided. Bath rooms were hit or miss. I would come again when pool is open.
Jun 26, 2020
Even without the pool area, music and water sport rentals, we had a great time AS USUAL. The weather was great. The beach and water were perfect. Great bike ride trail across the street. The food and drinks were very good and the service didn't miss a beat. Just a typical awesome stay Thank you for helping us feel normal while still dealing with COVID-19!! Please allow site reservations
Jun 26, 2020
We were there for three days before Jeff comes by our site and tells us to move one vehicle from the site, when we checked in we were told where to park 2 vehicles on the site. Other sites had 2 vehicles at them but Jeff said nothing to them. Jeff was rude, irrogant and very disrespectful to us. He was telling us to leave for 2 days so we left 1 day early. As long as he is there we won't be back
Jun 26, 2020
Nice beach and beautiful sunsets. Paying full rate for limited amenities available was a downside.
Jun 26, 2020
We loved it here. Beautiful beach and swimming area. Sites were nice size.
Jun 26, 2020
Love this campground will comeback time after time.
Jun 26, 2020
The beach and trail had a lot of trash and no trashcan on the beach which would help prevent trash from going into the water. The few benches on the trail were broken as well as a lot of the fencing. It was nice that we were guided into the campsite after checking in. Trash was picked up from all campsites each morning.
Jun 26, 2020
Have had numerous people ask for the info on where I stayed I gave them all brochures Such an awesome hidden gem we found will definitely be back. If you have kids and dog this is the place to stay !
Jun 26, 2020
Great place to stay and relax!
Jun 25, 2020
Another great stay at Chesapeake KOA. Great facility, very well kept and friendly staff.
Jun 25, 2020
We rented a cabin & were very pleased with everything, but kind of surprised it didn't have a coffee pot. Very quiet and clean!!
Jun 25, 2020
Beach is wonderful, that's about it! Bathrooms are OK, but could be cleaned more often. Dryers were not working. We called the night before to see if we could get in and was told no, only to arrive the next day to a half empty campground. Office staff not very friendly. Store quite empty, not even essentials, which is somewhat understandable at this time, but the basics would've been nice!
Jun 25, 2020
Campground needs maintenance, quite a few broken things around campground. Bad storm lightning came in people still in the water no campground workers to warn people to get out of the water. Trash at the dog poop stations near beach not emptied.
Jun 25, 2020
Liked it well enough to reschedule from Myrtle Beach in August to come back to Cape Charles
Jun 24, 2020
We stayed in a tent and got flooded out by the winds and rain. KOA was wonderful in accommodating our switch to a camper, gave us a great deal. Not much going on related to quarantine, but still a lot of fun on the beach for the kids. ONLY complaint, no trash cans on the beach or anywhere off the beach. We had to carry our trash back to the site. We loved it there! Can't wait to come back!
Jun 24, 2020
Always a fantastic experience at this location!
Jun 23, 2020
great place! we come every year. The beach is wonderful, good food at the jackpot. Love the whole environment. couldn't be happier
Jun 23, 2020
Our annual Father's Day long-weekend trip to Chesapeake Bay KOA was great again this year. The staff was friendly and accommodating as they've always been, the attention to COVID-prevention measures were appreciably in place while really not creating much disruption from what we know as normal besides the swimming pool and beach rentals not being open. Can't wait to return!
Jun 23, 2020
My site was upgraded the staff was amazing. The trip was perfect.
Jun 23, 2020
Nice clean family park, nice private beach on the bay
Jun 23, 2020
Great place with great amenities. The staff was very friendly. Best sunset view. Level spots and easy in and out. Jackspot is a local boaters favorite spot and the sand bar at the beach is the best swimming area for kids.
Jun 23, 2020
We enjoyed our stay and felt welcomed by the staff. Few areas of improvement needed: better marking for where to go for registration and golf cart use. Some campers do not use golf carts with pedestrians in mind. I was cut off by golf cart a few times because the driver cut corners and/or rode through my campsite. In addition, I saw young children (clearly under 16 y/o) driving golf carts.
Jun 23, 2020
All was good, but it would have been better if the pool was open. It was our understanding that the COVID restrictions had been eased and pools could open at a reduced capacity. Otherwise, had a great stay!
Jun 23, 2020
We really enjoyed ourselves. The only downside was that the rv trailer we rented there always has a horrible stench due to the holding tanks for the black and grey water. We were told to empty it every couple of days, but I emptied it daily in hopes of it not smelling so bad inside the bathroom. We relied on using the bath house as a result so that we would have no reason to use our toilet.
Nov 28, 2020
Very accommodating awesome Place friendly people badass sunset
- James Conklin on Google
Nov 05, 2020
Nice and clean facilities. Of course we are some of about 15 other campers here. Like a ghost town. It could be the time of year, but I feel the beach area could be kept up a little better. Sites are small but have everything we need. It would be tight if the place had more campers. Would come back a see what it's like in peak season.
- Frank Sigismondi on Google