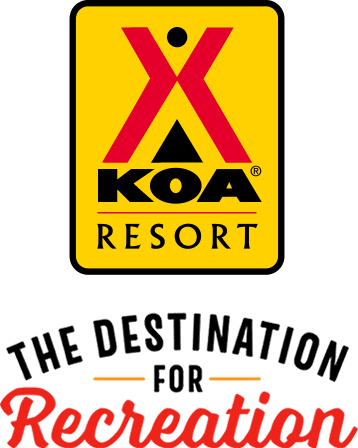 KOA Resort Campgrounds
KOA Resorts offer a carefree vacation in the great outdoors. Enjoy robust recreation and staff-led activities, kick back and relax by the resort-style pool, or grab a bite to eat, all while never leaving the campground. And with plenty of RV Sites with KOA Patios® and Deluxe Cabins with full baths to meet your needs, it's the ultimate camping getaway.
KOA Resorts Feature:
RV Sites with a KOA Patio®
Deluxe Cabins with full baths and linens
Premium Tent Sites
Resort-style pools
Indoor and outdoor group facilities
Directions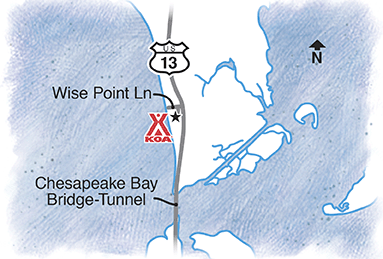 From North: Chesapeake Bay KOA Resort & Beach Club is located approximately 10 miles south of Cape Charles, VA. Traveling South on VA 13, turn right on Wise Point Lane and enter the parking lot to the left. Follow the registration signs. From South: Chesapeake Bay KOA Resort & Beach Club is located 1/4 mile north of the Chesapeake Bay Bridge Tunnel. Turn left on Wise Point Lane and enter the parking lot to the left. Follow the registration signs.  GPS: N37.138806, W75.967956
Get Google Directions
Jul 04, 2020
We had a great time with friends, booked for next year
Jul 04, 2020
Great concept, to allow a novice camper the RV experience by staying in one. Cute, convenient and eye-opening, sleeps 6 and is almost as easy as being at home. Drawbacks: a bit crowded if you have 6 people, bathroom separate, but small and its odor continually permeated the RV. Cannot get rid of flies w/o setting off alarms. In spite of that, I would do it again, just plan my stay differently.
Jul 03, 2020
Although we were disappointed about the pool being closed, we understood why and appreciated how the staff handled COVID safety issues. Thank you for a great stay!
Jul 03, 2020
Offered much. Delivered little. One laundry had some washers operational, all dryers dead. Best part was the sewage pond and accompanying stink 100 feet from our "Delux pull through" site. The Jackspot was not open and despite leaving a day early along with our complaints about the aforementioned they made no effort to accommodate us. Other campers were really nice and the beach is amazing.
Jul 03, 2020
Small crowded sites. They were putting 40 foot 5th wheels on sites next to me that my 26 foot travel trailer barely fit on. The beach and Jackspot food court was crowded with people not wearing masks and not social distancing. We made our reservations many months ago with three of our RVing friends and asked that we be put on adjoining sites. I was assured we were. We weren't.
Jul 03, 2020
The grounds and employees were great. The RV sites were less than impressive. They weren't supplied or kept up well.
Jul 03, 2020
Everything we needed in one place. We have two dogs that love the beach/ocean & having one they could enjoy with us right there on the property was the best ever. We will be back. I will be telling everyone how great your campground is. All the staff was very friendly & helpful. Everything was so clean & beautiful. Thank you for a great vacation!!! Your place is perfect.
Jul 03, 2020
We were in a middle section and it was really crowded on the weekend. During the week it cleared out and was much better. Our pups loved the huge dog park. The beach and very nice. Renting a golf cart is an added bonus.
Jul 02, 2020
This was our 2and trip we enjoyed both. Beach is wonderful. However, we did notice that's the bathroom's were not as clean as our prior visit. Considering COVID we would have thought there would be more effort. And the beach was left with trash from campers and boaters alike. Again last time the bathroom's and beach were immaculate. We will be back but do hope that these things are resolved.
Jul 02, 2020
All was well maintained. Staff was friendly and helpful .
Jul 02, 2020
The customer service was great but the smell from the sewage was nasty. The beach was nice and also the bathrooms were nice. I like to fish and crab from a pier and there wasn't one.
Jul 02, 2020
I rented a dirty RV with a broken table. When bringing this the manager Jeff's attention he asked if I felt it was unsafe, I responded that I did. He then threatened to cancel my reservation and stated he couldn't rent to me as I felt unsafe-horrible customer service and quite manipulative. So rather than driving home 5 hours with two kids, I begged to keep my dirty RV with a broken table.
Jul 02, 2020
Great stay and location. We enjoy the restaurant and staff are great. Thank you
Jul 02, 2020
Very nice campground with great amenities. We loved the Jackspot, the beach and every single one of the staff were super nice and helpful.
Jul 02, 2020
This is my favorite campground ever!!! Have been here twice and always very enjoyable.
Jul 01, 2020
Thoroughly enjoyed our stay. Sites, beach, Jackspot and bath houses are all excellent.
Jun 30, 2020
Even with COVID restrictions and not having the pool open, our family had a great time. The beach was wonderful and we loved our campsite along the shaded edge of the campground. The Jackspot deck is a great spot and we enjoyed heading down to the beach each night to watch the sunset. My kids loved the hammocks as well!
Jun 30, 2020
It was very nice there. The cabin was absolutely immaculate and well stocked with everything we needed. It would be nice if people were not working on the cabin during the stay. Also, you definitely need some shaded areas.
Jun 30, 2020
Tyler and Anna made our stay during Covid restrictions worth it all. They work so well as a team for recreation. We were bummed, but understood that many amenities ( ex. pool, kayak rentals etc) were closed. The pirate themed weekend was executed well by the recreation team. We love the beauty of the campground and the people are really nice. A pet friendly location with more fun things to nearby
Jun 30, 2020
Not impressed at all at this campground! Very dirty place, including the restaurant bathrooms and all the bathhouses constant odor of waste throughout the campground. Stood in line for 20 minutes to order food, and then was told, oh, it's past 8 o'clock. Now, we're not taking any orders when I was in line well before 8. One of the worst campgrounds that I've ever stayed at.
Jun 30, 2020
We stay here quite frequently! Staff is courteous, and sites are very accommodating! The beach is wonderful!
Jun 30, 2020
Not much security looking for violators. Young kids driving golf cart, loud cars and stereos at night, didn't honor our reservation that was given to me weeks ahead of time. Basically manipulated the sites to benefit them rather than the guests. In all honesty, they ruined our 4 night stay. I would get definite documentation before you go with a confirmation.
Jun 30, 2020
Beautiful campground and great beach! Staff friendly and helpful, definitely coming back!
Jun 30, 2020
We had a wonderful time there
Jun 30, 2020
Our Ford F350 Truck was hit by KOA employee RayShaun on Friday, 6/26 - and he drove off in the golf cart. Manager Jeff Clark treated us (and another camper couple who were eyewitnesses and took pictures of RayShaun examining our vehicle damage) as if we were liars. Manager was confrontational and handled the whole situation UNPROFESSIONALLY!
Jun 30, 2020
Clean and it was easy access to the water.
Jun 30, 2020
At times the bathrooms could have been cleaner. And what's with the resort fee, it's nice when someone charges you a resort fee that they have a resort, with a pool and gym. It's not your fault these are closed, but you are at fault for charging. Is 115 dollars a night not enough?
Jun 30, 2020
Awesome experience, great staff. Our new favorite spot, will definitely be back!
Jun 29, 2020
We stay there for a week and I had to complain that the bathrooms were not getting cleaned on a daily basis. In fact I only seen them get cleaned twice in one week. During coronavirus time and I felt they should have been done every single day. I also was not pleased being charged and amenities fee when there were no amenities open. With nothing else to do everybody would go to the beach and not s
Jun 29, 2020
The get ground was clean and well maintained a staff very attentive no problems enjoyed every day I was there
Jun 29, 2020
The managers were very rude and un accommodating
Jun 29, 2020
During the COVID 19, the stay was to be expected. I would have loved to see your camp sites sizes larger & planted tree locations a little better planned out. Also I would recommend a good phone # for direct communications to one of your staff , in an event of an emergency while in your camp grounds.
Jun 29, 2020
We had an amazing time! We booked the KOA patio site and loved having a pre-setup outdoor area to start enjoying right away. The beach was perfect four our 3 year old, especially at low tide. Staff was also friendly and helpful.
Jun 29, 2020
Manintance was helping to fixer water heater no problem thank you !!! Have a gooday
Jun 29, 2020
Smaller campground so it was quieter and only a quick walk to anywhere you wanted to go. Campsites were nice. The beach access was great and the beach itself was wonderful. The kids spent all day out there! We also watched the sunset over the bay and it was beautiful. We will definitely return in the future!
Jun 29, 2020
Too crowded and you allow young children to drive around there on golf carts like maniacs without pay parents somebody is going to definitely get hurt in that Park Plus Things foreclosed it doesn't offer much of anything other than the beach what you charge
Nov 28, 2020
Very accommodating awesome Place friendly people badass sunset
- James Conklin on Google
Nov 05, 2020
Nice and clean facilities. Of course we are some of about 15 other campers here. Like a ghost town. It could be the time of year, but I feel the beach area could be kept up a little better. Sites are small but have everything we need. It would be tight if the place had more campers. Would come back a see what it's like in peak season.
- Frank Sigismondi on Google