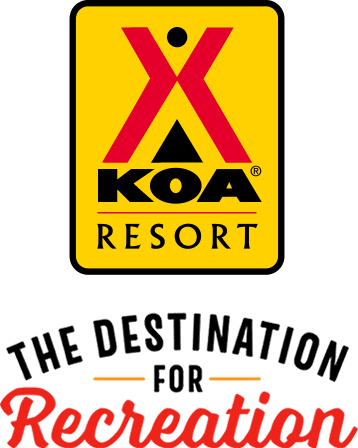 KOA Resort Campgrounds
KOA Resorts offer a carefree vacation in the great outdoors. Enjoy robust recreation and staff-led activities, kick back and relax by the resort-style pool, or grab a bite to eat, all while never leaving the campground. And with plenty of RV Sites with KOA Patios® and Deluxe Cabins with full baths to meet your needs, it's the ultimate camping getaway.
KOA Resorts Feature:
RV Sites with a KOA Patio®
Deluxe Cabins with full baths and linens
Premium Tent Sites
Resort-style pools
Indoor and outdoor group facilities
Directions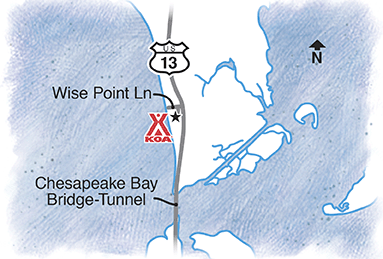 From North: Chesapeake Bay KOA Resort & Beach Club is located approximately 10 miles south of Cape Charles, VA. Traveling South on VA 13, turn right on Wise Point Lane and enter the parking lot to the left. Follow the registration signs. From South: Chesapeake Bay KOA Resort & Beach Club is located 1/4 mile north of the Chesapeake Bay Bridge Tunnel. Turn left on Wise Point Lane and enter the parking lot to the left. Follow the registration signs.  GPS: N37.138806, W75.967956
Get Google Directions
Jul 09, 2020
The staff was amazing and enjoyable. We just had 2 very loud nights with the visitors next to us. Singing, yelling, dog barking, cusing until 1 am and 2 am the next!
Jul 08, 2020
great location, wonderful and accommodating staff, spacious beach
Jul 08, 2020
Our stay was great, minus the mix up at check in. But the General Manager took care of everything and we actually ended up with a better spot.
Jul 08, 2020
Great campground! The only thing negative is you have rules, but if you don't have security to enforce them, why have rules? Very young kids driving golf cars and fireworks on campsites.
Jul 08, 2020
Beach and pool were nice but need more amenities like basketball and volleyball courts.
Jul 08, 2020
The beach area is great. The water is very calm, great for the floaters.
Jul 08, 2020
What a great place to recharge your batteries. Campground is spacious and the facilities are well maintained. The staff is courteous, shout out to Donnie who helped me with my son's bike tire, big thank you. I will definitely be booking for another stay.
Jul 07, 2020
We had a great experience as always. The only thing i would say is that maybe you should invest in having enough golf carts for your guests as this is a big thing for this facility. Having enough on hand to accommodate all guests would be great other than that I love this KOA and will always come every year. Staff is very kind and helpful always. The camp ground is always very clean.
Jul 07, 2020
Everything was very good again this year. Love the place! Only thing is the rates almost doubled now for 2021 and we may not be back for that reason alone. Tony
Jul 07, 2020
We had the best time. This is our second year staying for 4th of July and plan on making this a family tradition! The staff is so welcoming and accommodating. The facilities are well maintained and clean. We recommend your campground to anyone interested in camping.
Jul 07, 2020
Staff was very friendly and helpful. Site is amazing. Seemed a little understaffed while I was there over the 4th, but first holiday after the phase 3 opening, so it's to be understood. Sewer smell in the RV camper never went away (lot 410). Maybe that's just an RV thing though. It was my first time.
Jul 07, 2020
We loved the safari tent! RV was great for A/C. Bath/restroom facilities maintained WELL! Everyone SO NICE at check-in, but SLOW process waiting for someone to do check-in walk-thru of RV with us. Loved the golf cart rental and all the planned activities. We did tie-dye shirts----program was run SMOOTHLY! Beach rental was so convenient. 24-Camp Store was AWESOME.
Jul 07, 2020
Staff was very accommodating in getting several coaches grouped together. We enjoyed the beach and had a nice dinner at the Jack Spot.
Jul 07, 2020
Cabin was perfect. Request for additional towels was difficult. I know that COVID-19 may have impacted number of employees working, but trash at the beach and by the hammocks was disappointing. I even cleaned a few items didn't want to see them go in the bay. Had a bad experience W/Jackspot, waitress forgot to put our apps in and didn't even tell us. Came out w/dinner waitress disappeared.
Jul 07, 2020
The one issue that I had was the golf cart rental process. I was told that we could not reserve a cart; It was first come first serve, but every time I called or walked to the office, I was told there were none available. Even after seeing guest return carts, I was told that they had to be charged . Of course when I came back or called, I was told the carts were all booked. This went on for 4 days
Jul 07, 2020
I would give it a 5 because we really do like it there and have a great time with our group. A couple issues that we feel are important. The trash all around the campground, beach, trails, parking area is terrible. There should be more trash cans or trash bags for carry in/carry out to help. Young kids were driving around in golf carts, day and night. This should definitely inforced. Thanks.
Jul 07, 2020
All the staff are friendly and helpful. Facility is well cared for. One recommendation is to allow non-dog owning campers an area where dogs are not staying. It is not fair to be subject to a barking dog locked up in a trailer while their owners are not there or to have an intimidating dog tethered within feet of your camp that barks every time people walk past. Dog beach rules need to be enforced
Jul 07, 2020
Debbie in the Kampground Store is such an amazing asset to your KOA! Remembered us and it was only our 3rd trip to this KOA in 2 years!
Jul 07, 2020
We rented one of the Prowler Campers owned by KOA Sunset on the Eastern Shore and the Camper was not cleaned very well at all. The camper was also infested with flies (at least 50), I love the campground but they really do need to clean their rentals better.
Jul 07, 2020
We rented an RV for 4 nights. First time camping in an RV for a family of 5. The check in process was smooth. We got in the RV a few hours earlier then the regular check in time. RV was clean. Cable TV was working and didnt have a grill but maintenance quickly took care of us. Pool was nice a big. Jackspot food was good. Beach area was exceptional. Will be back soon!
Jul 07, 2020
Beautiful and clean Campground. Friendly Staff. Beautiful Sunsets!
Jul 07, 2020
Way too loud and noisy campers were out of control staying up till all hours yelling and screaming dogs barking
Jul 06, 2020
Beautiful location. A few issues, there are rules for noise, golfcarts, fireworks, etc., but the seasonal sites are not required to follow from my observation. Kids under 10, many as young as 7 regularly driving and we seen many near misses. This is extremely dangerous. The sewage plant was close and we were not told, stinky. Many amenities closed, not notification no cut in cost. DirtyBeach
Jul 06, 2020
It would have been nice if they had cut the grass on our site before we came. It was July 4 weekend - that was disappointing.
Jul 06, 2020
Beautiful property covered in trash. Dirty bath house. No trash cans in pool area caused bath house to be filled with trash. No staff to enforce rules or clean up. No rules enforced. Beach overcrowded with people being allowed to leave "place holders" over night. Beach covered in trash and parts of the deck and facility broken and laying on beach. Broke beach chairs, canopies, nets, bricks on
Jul 06, 2020
Fireworks were fabulous!
Jul 06, 2020
BEAUTIFUL PLACE... Great people to work with and we all really had a wonderful time. It felt so good to get out and enjoy LIFE... Pool and beach were amazing. We all will be back
Jul 06, 2020
EVEN THOUGH THE POOL WAS CLOSED WE HAD A GREAT TIME WE HAD 5 CAMPERS WITH US FIRST TIME FOOD GREAT AT JACKSPOT KEYLIME CORN GREAT BEACH VERY NICE AND BIG WILL COME BACK ANNA WAS ESPECIALLY NICE AND HELPFUL
Jul 06, 2020
We loved the campgrounds and will be coming back again. Our only issue was that the sites are really close together and it caused the people next to use to keep moving our fire ring to get out and also waking us up so they could pull there trailer out when they left.
Jul 06, 2020
Public area spaces, restrooms, showers and guest laundry needed attention. Toilets not clean, more than one days accumulation of hair in the shower drains. More than disgusting! Laundry stated $2 per load was charged $7 per load! Son rented an RV, was totally disgusting...food crumbs from previous guest, dirty linens on beds, extra linens had bugs in them. Hskp returned to clean....joke!!
Jul 06, 2020
We had a fabulous time staying the the safari tents. Sunset Beach was beautiful, and the pool was great. The activity staff, Anna and Tyler were so great with our kids! We loved every minute of our vacation and can't wait to come back.
Jul 06, 2020
Excellent!!!!
Jul 06, 2020
Great location w/dog friendly beach. Friendly staff who are present throughout the campground. Thank you for the fireworks! To improve on... Staff need to wear masks indoors, disclose the extra fees (resort fee and extra 5% COVID fee at restaurant), more trash cans, having RVs ready on time (checkin is at 4:00 and we couldn't get in until 4:45), and please include fly swatters with RV rentals.
Jul 06, 2020
It was one of our best camping experiences. I will be back several more times very soon. It was exactly what I was looking for with the bay right there and so enjoyable.
Jul 06, 2020
It was fine. Lots of loud music later into the night. Not good for kids. Lots of things to do! Fireworks, pool, beach
Jul 05, 2020
Great campground on the bay, had a wonderful time again this year.
Jul 05, 2020
We had some difficulty getting a golf cart the first day, but with patience and persistence e, we finally decided Iredell one. Jeff was very nice and helpful. We really enjoyed our stay and certainly don't regret booking this koa. The site was especially big and we had easy access to the beath house and store. The sunsets were indescribable!!! We were lucky enough to be there when the pool opene
Jul 05, 2020
We were a group of 17 with grandparents and parents and kids from 13-0. We have a fabulous time ! It went by too quickly!!!
Jul 04, 2020
Generally we were very happy. We rented an RV for the first time and the video you send us before suggested that there would be a grill and a TV. They weren't, so son (TV) and father (grill) were disappointed. Additional there were not enough plates, kitchen utensils and no salad bowl. We had three pans of the same size, which wasn't necessary. And: the pool was to full for Social distancing
Jul 04, 2020
We had a great time with friends, booked for next year
Jul 04, 2020
Great concept, to allow a novice camper the RV experience by staying in one. Cute, convenient and eye-opening, sleeps 6 and is almost as easy as being at home. Drawbacks: a bit crowded if you have 6 people, bathroom separate, but small and its odor continually permeated the RV. Cannot get rid of flies w/o setting off alarms. In spite of that, I would do it again, just plan my stay differently.
Jul 03, 2020
Although we were disappointed about the pool being closed, we understood why and appreciated how the staff handled COVID safety issues. Thank you for a great stay!
Jul 03, 2020
Offered much. Delivered little. One laundry had some washers operational, all dryers dead. Best part was the sewage pond and accompanying stink 100 feet from our "Delux pull through" site. The Jackspot was not open and despite leaving a day early along with our complaints about the aforementioned they made no effort to accommodate us. Other campers were really nice and the beach is amazing.
Jul 03, 2020
Small crowded sites. They were putting 40 foot 5th wheels on sites next to me that my 26 foot travel trailer barely fit on. The beach and Jackspot food court was crowded with people not wearing masks and not social distancing. We made our reservations many months ago with three of our RVing friends and asked that we be put on adjoining sites. I was assured we were. We weren't.
Nov 28, 2020
Very accommodating awesome Place friendly people badass sunset
- James Conklin on Google
Nov 05, 2020
Nice and clean facilities. Of course we are some of about 15 other campers here. Like a ghost town. It could be the time of year, but I feel the beach area could be kept up a little better. Sites are small but have everything we need. It would be tight if the place had more campers. Would come back a see what it's like in peak season.
- Frank Sigismondi on Google
Oct 27, 2020
Had a great time and the rain did not stop us from fishing😊
- MAINSTRIKE 6410 on Google