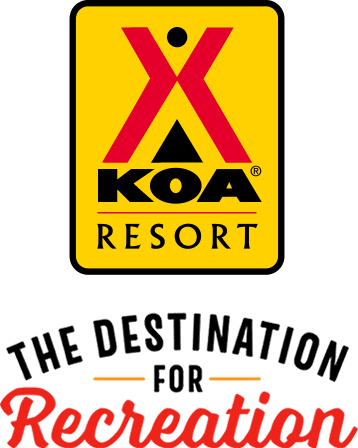 KOA Resort Campgrounds
KOA Resorts offer a carefree vacation in the great outdoors. Enjoy robust recreation and staff-led activities, kick back and relax by the resort-style pool, or grab a bite to eat, all while never leaving the campground. And with plenty of RV Sites with KOA Patios® and Deluxe Cabins with full baths to meet your needs, it's the ultimate camping getaway.
KOA Resorts Feature:
RV Sites with a KOA Patio®
Deluxe Cabins with full baths and linens
Premium Tent Sites
Resort-style pools
Indoor and outdoor group facilities
Directions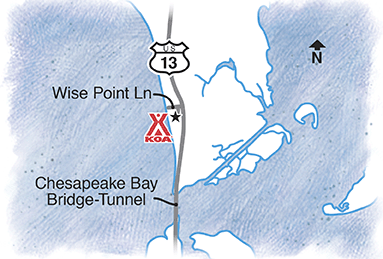 From North: Chesapeake Bay KOA Resort & Beach Club is located approximately 10 miles south of Cape Charles, VA. Traveling South on VA 13, turn right on Wise Point Lane and enter the parking lot to the left. Follow the registration signs. From South: Chesapeake Bay KOA Resort & Beach Club is located 1/4 mile north of the Chesapeake Bay Bridge Tunnel. Turn left on Wise Point Lane and enter the parking lot to the left. Follow the registration signs.  GPS: N37.138806, W75.967956
Get Google Directions
Jul 31, 2020
Great vacation! Wish the Jackspot had been open everyday but when it was open we enjoyed it very much. Can't wait to come back again!
Jul 31, 2020
Campground is clean, staff is friendly and the activities staff (Anna and Tyler) were amazing with the kids.
Jul 30, 2020
First we were put at the wrong site and had to take down and move to correct site. Our small cockapoo pup was attacked by two large bull dogs and received a puncher wound to his side. Your pet restrictions were not being enforced at KOA grounds. There were large aggressive dogs throughout the grounds. Area has completely gone down since our last stay.
Jul 30, 2020
We've stayed at the Chesapeake Bay KOA 6 times in the last two months. It's a fantastic place, but brace yourself for most of the interactions you'll have with the staff at the registration desk. They can be really abrasive both in person or on the phone. Don't let it discourage you though, the beach and pool are both gorgeous. We'll be back soon!
Jul 29, 2020
friendly staff, accommodations over the top, great pool, great food at Jake's spot nice beach and the deluxe cabin by far was the best we've stayed in and i've been to alot of koa's already booked for next year. very clean also andy o old bridge, n.j.
Jul 29, 2020
It would be nice if the cottages came with a charcoal grill. Website says they have grills however when we showed up there was no grill
Jul 29, 2020
Nice facility, everyone is packed in right on top of each other. Wouldn't hurt to rake beach a lot of debris in sand.
Jul 29, 2020
I wouldn't return. For the cost, it wasn't worth it. Campground was overcrowded, packed in like sardines, there was no shade at all and the pool was overcrowded and a little scuzzy. Allowing people to leave their popups on the beach overnight made it hard to get spot. That said, the check-in process was easy, the front staff were very friendly, and the bathhouses were clean with ice-cold AC.
Jul 28, 2020
It was a nice get away Really was a little too hot but we managed. We will come back maybe in cooler weather.
Jul 28, 2020
The location and amenities were very nice. The bath house was clean and new. The franchisee needs to spend some of their profits and plant trees and decrease the number of campsites...they were too crowded. The negative, the front desk/management were short, rude and angry. I have been in Human Resources for 40 years and I would recommend that they all be terminated. The workers were kind/nic
Jul 28, 2020
Very clean campground. Often saw campground staff on golf carts checking things out. Great to swim in the bay and the pool was very nice too. One suggestion...add some lights at the dog park as it was very dark there at night so it was hard to pick up after my dog.
Jul 28, 2020
There is not enough space in this section to describe what a mediocre campground this is. The campground itself is excellent. My total dissatisfaction is with the staff personnel. From check-in to needing basic supplies that were not in stock. Feel free to contact me for more information.
Jul 28, 2020
Grounds and walk throughs at the motel need a good cleaning. Didn't see inside rooms. Camp ground were ok.
Jul 28, 2020
The pool beach line wasn't vacuumed the entire 8 days we were at this campground, the bathrooms were disgust with huge human hair balls all over the showers and walls and the laundry facilities looked like dogs had a party in them. Absolutely the most disgusting place I've ever camped and I will never, ever return! I'd rather sleep in a ditch. The stay was extremely rude.
Jul 28, 2020
Over crowded for the current COVID climate. There was trash all over the beach area. The customer service was dismal. The glamping tents would have been better suited away from the fish cleaning station and the playground.
Jul 28, 2020
Normally we love your place, this past trip was not enjoyable. 37'trailer, crew cab Chevy, young black male was the escort, did nothing to assist when truck parked across prevented me from backing into 728. Dented my tailgate maneuvering. Guy in 729 had his truck backed parallel to his trailer in MY spot, escort did nothing, I finally flagged down an older guy next morning to address neighbors t
Jul 28, 2020
Clearly they focus on the bottom line and not the customer experience. Besides one of the highest fees they charge an additional amenities fee "really ?" The restaurant on site charged a surcharge to offset covid costs "really?" There was also an unpleasant sewerage odor most of the time, they didn't charge for that, The laundry was filthy. We love KOAs not this one.
Jul 28, 2020
Campground smelled like sewage in pool area. Cabin was dirty. Was not properly cleaned I.e. dirty blinds, floors, handles.
Jul 28, 2020
Very relaxing and the staff were all friendly. Great food down at Jackspot!
Jul 28, 2020
We stayed a Friday through a Monday. Our site was on the left side of the RV park (facing the water). We loved the park in general. Great waterview within a short walk. Amazing sunsets. Only complaints: the 3 or 4 rows on the left side of the park smelled like an outhouse. The water treatment area is on that side. I would not recommend that side. Also, get a deck or you will tracking tons of sand.
Jul 28, 2020
We had an amazing time. As usual the staff was very professional.
Jul 27, 2020
Fantastic!!! 7 days of sun and fun.. Looking forward to returning next year...
Jul 27, 2020
Great campground. WiFi service needs upgraded. All family members were constantly kicked off. We enjoyed our stay. Staff is very helpful. I would love to see staff and campers pick up trash- especially on beach area. Keep America Beautiful.
Jul 27, 2020
Very enjoyable...
Jul 27, 2020
Nice weekend get away. Staff - Karen and her husband were wonderful! Both very friendly and helpful. First visit for us and will probably be back (4 hour drive). Spent time in the water, lunch and drinks at Jackspot.
Jul 27, 2020
Stay was great Maybe pets can be in a certain area
Jul 27, 2020
Great place to vacation. wake up in morning, go to the beach. Then go to the pool. Restaurant is good. Everything you need is right there. It's like being in an all inclusive resort for tenth of the price. Plus your in your own RV. With your own bed and shower. Who could ask for more. �
Jul 27, 2020
It was a great stay we really enjoyed the camp ground and the staff. Kids loved it. We did have some issues getting a golf cart no one on the morning shift was willing to help us so we had to wait for the second shift who were amazing! The rv was great! Only suggestion is to get little better matress. Thanks for a great stay!
Jul 26, 2020
It was our first time staying in Cape Charles and we absolutely loved it!! You can never go wrong staying at a KOA, especially this one!! The kids loved the pool, the bay is breathtaking and having the Jackspot on-site is so convenient!! Oh yeah and the food is fabulous!!!! We booked our ten day 2021 vacation stay before we left!!! Can't wait to see you again!!! God Bless! Janet Omohundro
Jul 26, 2020
They could of done a better jod mowing the grass. The camp ground was nice. They where lacking kids things compared to other koa we have been too.
Jul 26, 2020
Was very disappointed in the fact that they had no rv toilet paper available from the middle of our stay to the end.
Jul 26, 2020
No WiFi was an issue for us. Trash on the beach was not good. I picked up a lot, some jagged aluminum cans. Other than that the beach was nice. We like that you accommodate dogs. Staff was very friendly and polite.
Jul 26, 2020
Had a great time! Facility was nice and clean. The restaurant and bar should be opened all week. Needs more gulf cart rentals with a reservation list. Employee lead group pool activities would be really fun (volleyball etc). The campground attendants were great! The front desk employees were rude and unhelpful. They are the first people you see when checking in. Great place!
Jul 26, 2020
Loved our time at the rental RV, So closed to the beach and very convenient stay for family with kids. I recommended this place maybe over 12 families. MY SUGGESTION if you want to stay in business KEEP THE BEACH CLEAN and COMMON AREAS MUST KEPT CLEAN CONSISTENTLY. Especially in the environment we live in these days. SO the staff being super friendly and helpful, (not enough staffed for campground
Jul 25, 2020
The gentleman that parked us was very cranky and rude. We loved the campground and the amenities as always! We appreciate everything being kept clean! I would recommend getting an alert system for power outages to help people with pets in their camper. The bush on our site needed trimmed back to out our awning out. We always enjoy the park just a few suggestions!
Jul 25, 2020
Great stay! Beautiful beach! My only complaint is I had broken my ankle just before coming to camp and the price of the golf carts is outrageous!! Made it a little difficult to get from point A to point B. Luckily it is a smaller campground.
Jul 25, 2020
Very satisfied except for one major issue. Both pools had cloudy water loaded with particulates. I seriously doubt they would pass a health inspection. This condition persisted for our entire stay
Jul 25, 2020
Only reason I gave it 4 stars is the sites are a little small. Not a deal breaker at all just expected a little bigger site. Staff was very friendly. Pool was awesome. And the beach was beautiful. The water was clean no shells no crabs awesome sandy bottom in the water. 1 suggestion though. Floating bar. That would be awesome for the beach. Restaurant had good food and the staff was amazing.
Jul 25, 2020
Staff at desk were rude. Told couldn't get a golf cart Even though about 25 were sitting outside and then when talked to Art outside, he took down our lot # and had a cart for me within 5 minutes. Jackspot wasn't open until last night of stay. WiFi signal kept dropping not allowing me to work as I planned.
Jul 25, 2020
Very disappointed in the price of our campsite. We wanted to camp next to our friends and we're told noting was open. All week long there were sites next to them. Power went out in the campground, nobody advised us of it. Thank goodness We heard someone In the water talking about it. We had animals in the RV. WAY To expensive for what little we got. Had to pay extra to bring our OWN golf car
Jul 25, 2020
Everything was great except one major detail. Our large glamping tent was right in front of the fish cleaning area. The smell was so bad that my roomie and I were dry heaving- we are both nurses, so it isn't that we have a weak stomach. We tried calling the front desk multiple times and no one would answer. What made it near unbearable was that it was really hot and we could not open the tent-
Jul 25, 2020
The picture on the advertisement has a large boardwalk leading to the beach area!That doesn't exist! A deck you have to walk through the restaurant area is only steps to beach!! The other Dog beach area and trail down to beach are steep and at 98'that sand is burning yours,your kids and your dogs feet.Kids and dogs crying that feet are burning even with flip flop-and won't walk up step hill.
Nov 28, 2020
Very accommodating awesome Place friendly people badass sunset
- James Conklin on Google
Nov 05, 2020
Nice and clean facilities. Of course we are some of about 15 other campers here. Like a ghost town. It could be the time of year, but I feel the beach area could be kept up a little better. Sites are small but have everything we need. It would be tight if the place had more campers. Would come back a see what it's like in peak season.
- Frank Sigismondi on Google