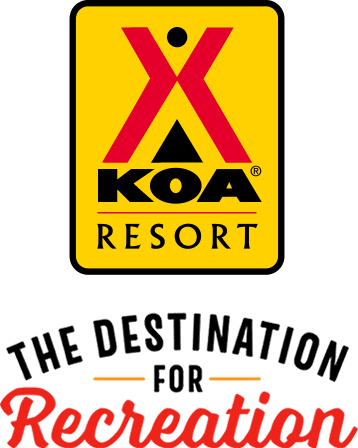 KOA Resort Campgrounds
KOA Resorts offer a carefree vacation in the great outdoors. Enjoy robust recreation and staff-led activities, kick back and relax by the resort-style pool, or grab a bite to eat, all while never leaving the campground. And with plenty of RV Sites with KOA Patios® and Deluxe Cabins with full baths to meet your needs, it's the ultimate camping getaway.
KOA Resorts Feature:
RV Sites with a KOA Patio®
Deluxe Cabins with full baths and linens
Premium Tent Sites
Resort-style pools
Indoor and outdoor group facilities
Directions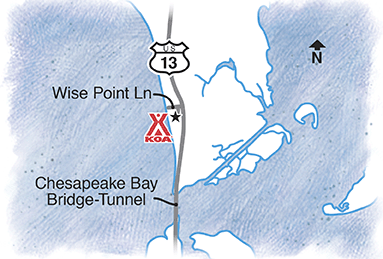 From North: Chesapeake Bay KOA Resort & Beach Club is located approximately 10 miles south of Cape Charles, VA. Traveling South on VA 13, turn right on Wise Point Lane and enter the parking lot to the left. Follow the registration signs. From South: Chesapeake Bay KOA Resort & Beach Club is located 1/4 mile north of the Chesapeake Bay Bridge Tunnel. Turn left on Wise Point Lane and enter the parking lot to the left. Follow the registration signs.  GPS: N37.138806, W75.967956
Get Google Directions
Aug 04, 2020
We loved it so much that we extended our stay. The beach was inviting and the grounds were clean. We will definitely come back!
Aug 04, 2020
Everything was outstanding. The campsite was clean, and everyone was friendly and helpful. We will be back soon.
Aug 04, 2020
We love the beach and the pool and camping here but the problem is the noise other campers make after 11:00 pm. I don't believe this campground has a quiet time. If it does, no one is there to enforce it. Also we tried to call the front desk sevel times with no answer, that's a problem when someone is supposed to be available at all times. Otherwise it's a great place.
Aug 04, 2020
Sites are very close. Golf carts were driven by children, and KOA staff drove very fast on them. Dog poop wasn't picked up.
Aug 03, 2020
We had a great time... we even stayed a extra day. I know the circumstances but the bathrooms in the front were not cleaned properly... but other than that it was wonderful!
Aug 03, 2020
Are stay was not what we expected for the outrageous price that we paid to stay. We called in November to reserve 3 deluxe pull through sites together. We were not placed close to each other. The sites were gravel and not level and the placement of the sewer had the front of our motor but up against the road. The young kids on the golf carts unsupervised is very dangerous. No trees No shade.
Aug 03, 2020
We loved it there ! Will be coming back next year
Aug 03, 2020
Very nice campground and store. Nice private beach but feel like dogs needs to on leashes and it made mandatory. Jackspot is nice but a bit pricey. They made their drinks strong and that was awesome. Public bathroom needs to be checked more often. The only reason we may not return is having to pay tolls going to and from VA beach where all the restaurants are.
Aug 03, 2020
Was probably one of the worst campgrounds we have ever stayed at. The campground had potential to be nice but it's ran terrible. They don't have enough help the help they do have don't do anything they are rude, drive the golf carts way to fast, office staff not friendly rude, it was dirty, pool was dirty, our electrical outlet didn't work took them a week to fix. Terrible experience
Aug 03, 2020
This KOA is so neglected. Almost no grass on the sites, just dirt with lots of weeds. Our sewer connector was also cracked/broken. Pool water always murky, not treated daily. Loud music with drunks on golf carts late into the night were the norm with no control from KOA management.
Aug 03, 2020
Very dirty. No one around picking up trash or cleaning laundry rooms/ bathrooms. Bath house by pool was out of order our whole stay with bo one fixing them
Aug 03, 2020
Our site had tall grass on it and I felt the campers were too close together. Just too many campers in a small space.
Aug 03, 2020
This review has been removed by KOA due to profanity.
Aug 03, 2020
We had high highs and low lows. We were promised a site with our fellow campers and were staggered at two COMPLETELY different areas. We were told a golf cart was available, it was not. We watched a woman pee into a potted plant at the pool then jump in the pool because both of the pool restrooms were closed. There was just so much trash everywhere. This KOA has such potential!!!
Aug 03, 2020
Bathrooms were out of order, pool was green and filthy. Campstore staff were exceptionally rude.
Aug 03, 2020
Positives: Relatively private site that backed up to a fence. Good Proximity to the beach. Negatives: Fence had tons of poison ivy, beach was dirty. Broken tents, trash in the sand, large wooden table/canopy structure knocked over/down for entire 5 day stay. We were told incorrect hours for the Jackspot by the front desk several times, some of the staff was incredibly nice, others were rude.
Aug 03, 2020
Very tight sites; e.g. neighbor's sewer pipe almost under your awning. A weekend party destination; the front desk's statement was security ends at midnight and everyone knows we can't do much about the noise after that. On the positive; the staff are friendly and the events are great. Great potential, but with blaring golf cart radios and loud campers at 1AM, it's just not our style of camping.
Aug 03, 2020
Great place! We had an awesome campsite and will definitely be back
Aug 03, 2020
We had a wonderful time . We love the private beach and pool. There was a one night we had a problem , we had no water but they handled it very well. Everyone at the front desk was very nice and extremely helpful when we needed something. We were there last year and came back . Although, last year my kids (ages 22+17) said the bathrooms ( showers) were kept much cleaner then this year.
Aug 03, 2020
Although we had a very good location(site), there were many things lacking. Bath houses were "out of order", we were packed in like sardines (not good with COVID-19 situation), Internet was non-existent, Beach an pool were severely crowded. Not up to KOA standards. I will go elsewhere on the Eastern Shore.
Aug 02, 2020
The atmosphere of the bay/beach/ campground is amazing! Go see Tyler & Anna at the kayak rental area. They are friendly, professional, and provided excellent customer service!
Aug 02, 2020
Location is great but facility really lacked in upkeep and maintenance. We came last year and we're happy with our stay but probably won't be back. During our week stay the beach/pool area wasn't cleaned and/or maintained. This would be a turn off at anytime but during a pandemic you would think more would be done, not less. Same trash/dog poop from day we arrived was there the day we left.
Aug 02, 2020
Great time at the beach! Bathrooms were clean on arrival, but not as maintained as we would have liked. Hair and debris around shower drains not cleaned thoroughly in bathhouse. Golf cart rental was a huge plus and our dog really enjoyed the dog park, although a fair amount of visitors did not pick up after their pooches. Great vacation overall with really beautiful sunsets.
Aug 02, 2020
We had a great stay as we did last year. I felt the place needed a little more maintenance this year. It wasn't as clean. Pool was a little murky this year. And I heard the bathrooms were really bad. We still had a fabulous time and couldn't love those amazing sunsets more!!
Aug 02, 2020
The trash around the campground was disheartening. The pool water was cloudy and smelled like urine. The beach was also filthy. The employees in the store were rude. No one said hello or were friendly, instead chided us on not standing in the proper line who's here are not marked or obvious. Water was turned off and we were not told for hours. We will not be returning or recommending this KOA.
Aug 02, 2020
Great campgrounds for sure. Would be nice if there was more grass for when it rains as there are too many muddy spots. Other then that, great location, level sites, friendly staff and fabulous views
Aug 02, 2020
The only thing that we were disappointed in was the laundry room. The trash was overflowing with laundry containers and the floor had dry sheets and dust bunnies all over the floor.
Aug 02, 2020
This was our first time here but will definitely be back. Staff were friendly and helpful facilities were clean but beach could have been cleaner but we still enjoyed the beach and the pool
Aug 02, 2020
Glass bottles allowed in pool area. Trash all over campsite. Grass and weeds growing all around cabins and grass not cut on site. We didn't receive any rules or info on campground upon arrival. Trash on beach and overall we felt the facilities were poorly managed. Very young children operating golf carts and lastly children riding bikes without any lights all hrs of the night
Aug 02, 2020
Suggest better signage at entrance, besides the RV arrow on pavement, to direct RVs. Place LARGE sign on side of that building directing RVs to the right. Suggest that KOA staff that lead RVs to their site make sure that the site has a picnic table present. We were at 520 and soon realized that people at 604 had taken our picnic table and ALSO table from site across rd from them (3 tables!!).
Aug 02, 2020
We enjoyed our stay. wish we could have rented a golf cart but they were all rented when we checked.
Aug 02, 2020
Sites are very small bathrooms at pool were out of order for 3 days so where do you think everyone peed? Security is lax. Anyone can access campground thru the exit gate that was always open very dirty campground overall. Trash cans overflowing Beautiful location it's a shame that campground is being let go.
Aug 01, 2020
The campground is beautiful; Clean. The lodgings were mediocre and there was a lot of miscommunication with the front through the stay that left us not wanting to return. At the end, the front desk manager (?) spoke with us and apologized over the issues, and would have rectified them sooner had she known & offered to refund some our money. It was a good convo and helped, & hopefully fixes things.
Aug 01, 2020
Really enjoyed the beach with my friends. I would loved to have had some grass on my site, it was pretty dusty.
Aug 01, 2020
Amazing location. Office staff was helpful in fixing a reservation issue. Could do a better job with communication about amenities and restaurant. We were given old menu for the Jackspot and rentals info not printed anywhere. Could provide info on trails in wildlife refuge. Sunset was amazing and Jackspot staff was very friendly. Appreciate paddle board rental.
Aug 01, 2020
The staff taking us to our rental RV was inexperienced. They did not know the operation of the things in there. They called up more experienced colleagues for help. Three of them all came in to RV without face masks tried explaining us the things that made us uncomfortable under COVID 19 circumstances. Some of the employees were riding electric cars were too fast. One was racing with another!
Jul 31, 2020
THE GOOD: location and Jackspot food THE BAD: water went out for a few hours, electricity went our for a few hours on a different day, and the campground was not maintained as well as in the past as both the pool bathroom and pool were very dirty THE UGLY: the new rental travel trailers next to us had folks in it that were terrible...noisy up to 1AM and then a fight broke out at 3:30AM. Sad...
Jul 31, 2020
My stay was good I am waiting to hear on a seasonal quote.
Jul 31, 2020
Beautiful place! Staff was extremely helpful and kind.
Jul 31, 2020
Great vacation! Wish the Jackspot had been open everyday but when it was open we enjoyed it very much. Can't wait to come back again!
Jul 31, 2020
Campground is clean, staff is friendly and the activities staff (Anna and Tyler) were amazing with the kids.
Jul 30, 2020
First we were put at the wrong site and had to take down and move to correct site. Our small cockapoo pup was attacked by two large bull dogs and received a puncher wound to his side. Your pet restrictions were not being enforced at KOA grounds. There were large aggressive dogs throughout the grounds. Area has completely gone down since our last stay.
Nov 28, 2020
Very accommodating awesome Place friendly people badass sunset
- James Conklin on Google
Nov 05, 2020
Nice and clean facilities. Of course we are some of about 15 other campers here. Like a ghost town. It could be the time of year, but I feel the beach area could be kept up a little better. Sites are small but have everything we need. It would be tight if the place had more campers. Would come back a see what it's like in peak season.
- Frank Sigismondi on Google
Oct 27, 2020
Had a great time and the rain did not stop us from fishing😊
- MAINSTRIKE 6410 on Google