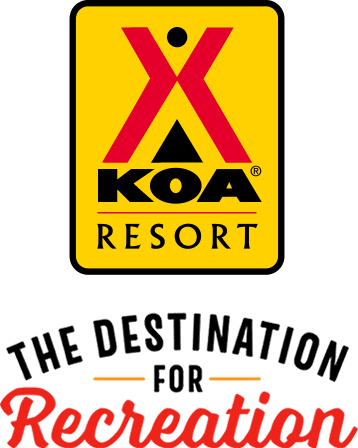 KOA Resort Campgrounds
KOA Resorts offer a carefree vacation in the great outdoors. Enjoy robust recreation and staff-led activities, kick back and relax by the resort-style pool, or grab a bite to eat, all while never leaving the campground. And with plenty of RV Sites with KOA Patios® and Deluxe Cabins with full baths to meet your needs, it's the ultimate camping getaway.
KOA Resorts Feature:
RV Sites with a KOA Patio®
Deluxe Cabins with full baths and linens
Premium Tent Sites
Resort-style pools
Indoor and outdoor group facilities
Directions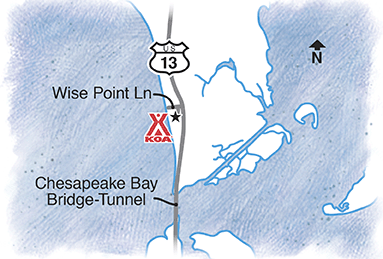 From North: Chesapeake Bay KOA Resort & Beach Club is located approximately 10 miles south of Cape Charles, VA. Traveling South on VA 13, turn right on Wise Point Lane and enter the parking lot to the left. Follow the registration signs. From South: Chesapeake Bay KOA Resort & Beach Club is located 1/4 mile north of the Chesapeake Bay Bridge Tunnel. Turn left on Wise Point Lane and enter the parking lot to the left. Follow the registration signs.  GPS: N37.138806, W75.967956
Get Google Directions
Sep 20, 2021
Worst campsite we have ever had . Holes were everywhere. We had 4 in our party and 3 of us fell with one sprain ankle. You couldn't even walk for holes . Site 307 . People next to us fell also . You need to fix the holes or you could have lawsuits. Reported it to security guard, he said it was from where they did construction and grass grew over the holes . Very disappointing stay
Sep 20, 2021
Our stay was a lot of fun. The only reason I didn't give you a 5 rating is our sight, 220, was very small. The tree on the sight made it hard to put our awning out, all else was great. Thank you
Sep 20, 2021
We have such a good time! Lots of stuff for the kids to do and the staff was very friendly. Definitely will be coming back.
Sep 20, 2021
I always enjoy coming to the Eastern shore and staying at your campground. everyone is very helpful and friendly. loved the concert series.
Sep 20, 2021
This review has been removed by KOA due to profanity.
Sep 20, 2021
The staff was very helpful, friendly and polite. We could watch sunsets at the bay every night. The Jackspot was great, but I really feel sorry for them, no help, no food. All of the hook ups worked fine and the crew placed us next to our travelling friends. Great Place , we hope to return soon.
Sep 20, 2021
Loved the Deloreans, our site was great, beach was amazing
Sep 20, 2021
Beautiful weekend, friendly staff and great facilities.
Sep 20, 2021
We had a party member hit by a flying umbrella at Jackspot. The resorts response was to ask if she was inebriated, not is she okay? We are all seniors, not drunk. A totally inappropriate response. No one from the KOA or Jackspot followed up to see if she was okay, other campers came by to check on her. This was totally unprofessional. First aid kit was empty, disappointing.
Sep 20, 2021
We loved the RV Park and enjoyed the Beach. Music was great and loved the restaurant on site. We will visit soon again. Everyone was helpful and friendly.
Sep 20, 2021
The stay overall was great. The particular site we were on (and all the sites in that area) were pretty unlevel from front to back and caused some initial issues with backing in to the site. Bathhouses and laundry facilities were fantastic along with the great lobby store and very friendly staff. Great stay for kids as it was close to the beach and had a great pool.
Sep 20, 2021
We were really impressed with the cleanliness of all facilities, variety of activities and hospitality of the staff.
Sep 19, 2021
Loved everything about the campground the beach the sunset and the friendliness of all the Staff but I do have an upset in regard to the bed mattress were Sooooo HARD had to sleep on the couch I just need to relay that to whom it may concern
Sep 19, 2021
We enjoy this site. We especially enjoy the beach. This visit it was upsetting that half of the beach was closed for a wedding. It would have been nice to have been informed. Jackpot was also unusable which was disappointing. It was very annoying that ice cream was not open especially when there were 2 people at the desk, one not doing anything. They said they did not have anyone who could scoop.
Sep 19, 2021
Our favorite campground in VA. Staff is always so friendly.
Sep 18, 2021
Great location. Friendly staff. Bath houses need some bleach but we're otherwise nice. Fantastic beach! Will definitely be back.
Sep 18, 2021
Dogs walking thru sites. Golf carts being driven by children. would only stay if no where else to go.
Sep 18, 2021
Staff was friendly, restrooms and showers were clean. Pool was fantastic. The only negative was our site was mostly dirt, with very little grass. This made it difficult to keep the dirt out of the camper.
Sep 17, 2021
I have stayed at Cape Charles KOA for the 3rd year in a row right before my kids start school in September. I must say this time though, my cabin was absolutely filthy. The blinds were destroyed from a previous dog. The bathroom was disgusting. I feel like my 9 year old could have cleaned that place better then it was cleaned. I was less then impressed this time and will probably NOT return again.
Sep 17, 2021
Fantastic and relaxing. Enjoyed the peace and beauty. Staff very friendly and courteous
Sep 17, 2021
Absolutely LOVE this resort!!! Come here every year, this year twice. That being said, the bathrooms by the beach should have been cleaned better. Doors were FILTHY! Stalls didn't always have TP. Shower drains had hair in them. The person sweeping the bathrooms left the pile of hair, sand and debris right outside the door! 3 more minutes on these bathrooms would have made all the differen
Sep 17, 2021
Quiet, clean, very relaxint
Sep 17, 2021
The cleaning of the cabin could have been better. Very Dirty Toilet! However the staff did come directly and cleaned up the issue. Tina at the front desk was very attentive. She listens to your needs and addresses them head on. Great employee you have working there.
Sep 17, 2021
Dog policy on beach needs to be redone. Upon check in told that all dogs to be leashed on beach. That was not the case every time down there. My wife was put in the middle of another becoming aggressive with our leashed dog twice upon arriving at beach. One morning dog poop bag just left on beach and near by someone let their dog poop in water as it was just floating about. Disappointing
Sep 17, 2021
The cabin was dirty, the top lock would not work, Found a cockroach in the bathroom, the screen door it was damaged, there were no chairs and sitting around the campfire as advertised, kitchen was not a full kitchen as advertised as many cups and plates were missing, the walls were scuffed up and there were stickers on the walls. I would not recommend any cabin rentals.
Sep 17, 2021
Very nice koa. One of the best we have stayed at. Awesome pool and beach area.
Sep 16, 2021
Enjoyed our stay at Cape Charles Chesapeake Bay KOA. Very clean park and friendly staff that are helpful. Plenty of things to do. Beautiful beach.
Sep 16, 2021
Check in was a disaster...I rented a safari tent which was still not ready at 400 pm check in time. I waited by the pool and they called and informed me it was ready. I went in and it was not cleaned, dirty towels and sheets crumpled up in the floor and obviously not cleaned. I went back to the front desk to complain and the girl at the desk had an Attitude!!! Next lady was nice! I moved/ dirty ag
Sep 16, 2021
Check in attendant was very helpful the evening we arrived
Sep 15, 2021
We had an amazing time. We loved the site we had. The only thing I would suggest is that whoever books the entertainment needs to think more carefully who will see it. I believe the drag queen show was inappropriate for a family Campground. Other than that we loved our stay!!
Sep 15, 2021
Very nice campground
Sep 15, 2021
Great spot to stay, friendly employees and campgrounds are clean.
Sep 15, 2021
Relaxing and very clean campground. The staff was very nice and helpful.
Sep 15, 2021
This was a slice of heaven!!! We will be back. Clean. Spacious. Such beach privacy. Thank you for all you do to make RV 's welcome!!!
Sep 15, 2021
Quick overnight stop. Was dumping rain. Site was under water. We were given option to move, but at a higher price. Since it was late, we decided not to pay additional fee. I would like to suggest. For folks arriving late to waive resort fee. Nothing is open. No fire wood being delivered, pool closed,
Sep 14, 2021
We love the campground, pool and beach. Campground staff was very friendly and helpful. Bathrooms kept very clean.
Sep 14, 2021
This KOA has something for everyone and the rec activities for the kids were fantastic! We had read other reviews about politically driven flags being displayed and that was evident throughout the campground. We will reconsider if this is a place to return to or not with our family and therefore not sure if we'd recommend to others.
Sep 14, 2021
Loved the beach, the pool, the dog park. Friendly staff. Large, clean site. We liked it so much we extended our stay.
Sep 14, 2021
Had our usual great time. Site is just fine. Walk to pool and Jackspot. Went into CC and had fun. We lucked out with great weather. Will be back definitely.
Sep 14, 2021
Great Getaway! Easy check-in and the staff was helpful. Campsite was a nice size. Loved the private beach. My dog felt welcomed and loved her beach. The staff at Jack's was very nice and the food/drinks were great.
- O S on Google
Sep 14, 2021
We really enjoyed this KOA, the beach and pool were great. Reasonably priced golf carts too, the only issue is you can't rent them in advance. The 600 sites were very cramped, we wanted a patio site but they were all booked. Super friendly staff at the front desk. Cape Charles was a nice little town with shops and amazing sunsets! We would definitely stay here again.
- Tracy Griffin on Google
Sep 12, 2021
Always something to do at this place.
- Anthony Reyes on Google