Day Tripping: Virginia Beach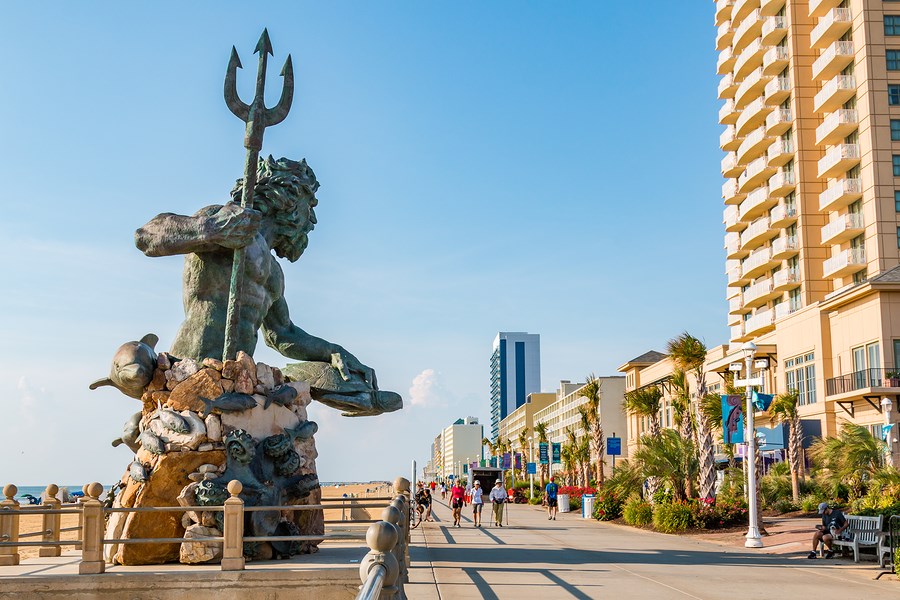 Chesapeake Bay KOA is a great place to camp because it has lots of amenities to keep you busy, but if you want to day trip it's also close to cities and towns with lots to do.
One of those cities is Virginia Beach. Just cruise across the Chesapeake Bay Bridge-Tunnel and explore everything this beach town has to offer. Here are just a few of the fun things you can do in Virginia Beach!
Virginia Aquarium and Marine Science Center
There's fun for all ages at this beautiful aquarium. You can watch harbor seals play, catch a glimpse of sea turtles or get hands-on in the touch pool.
If you want your learning with a side of adrenaline, explore the Adventure Park after your trip through the aquarium.
Ocean Breeze
There's no better place to cool off on a hot day than Oceanbreeze. You can kick back on the lazy river, ride slides and play in the wave pool. There's even an area just for little ones.
The Oceanfront
Spend a day exploring the heart of Virginia Beach. Walk the boardwalk, lounge on the beach or check out shops, attractions and dining.
First Landing State Park
This historic state park was the first place the English settlers landed as they were on their way to Jamestown. There are over nine miles of trails for hiking and biking in the park and a Chesapeake Bay beach. In addition to outdoor recreation, you can visit an interpretive Native American village or stop by the Chesapeake Bay Center to learn more about the park.
Cape Henry Lighthouse
Climb to the top of this lighthouse, which was America's first public works project, and enjoy breathtaking views of the Chesapeake Bay. The lighthouse sits within Joint Expeditionary Base Fort Story, so there are a few hoops to jump through before you can get to the lighthouse, but the view from the top is worth it.
Where to Eat
Taste
Taste has been a Virginia Beach tradition since 1973. They serve delicious salads, soups, sandwiches and desserts alongside grab and go options and a mouthwatering selection of gourmet prepared foods.
Mermaid Winery
Head over to the Shore Drive location of Mermaid Winery for an amazing selection of wines, cheeses and delicious sandwiches, salads and entrees.
Terrapin
Treat yourself to a nice dinner at this farm to table focused restaurant. They've got a great selection of cocktails, pasta, family-style main dishes and delicious entrees.
During your next stay at Chesapeake Bay KOA, take some time to head across the Chesapeake Bay Bridge-Tunnel and explore Virginia Beach!
You May Also Like:
The Ultimate Guide to Cape Charles