Chautauqua Lake KOA Recreation
Carpet Ball
What a great new game. Fun for all ages. Come challenge your skills. It is lots of fun.
GaGa ball pit
come play Ga Ga ball in our new Ga Ga ball pit. It is so much fun. Great for all ages. Very similar to dodge ball.
Themed Weekends
You will want to look at our event page to see what is happening the weekend that you are coming camping or look to see what weekend sounds like the most fun and plan to join us. We also have seasonal sites available so you can come and stay all summer long as not to miss a single thing. Remember, not all the events are listed on this page, we do lots of unplanned events like kids games, crafts, and even hay rides, fire truck rides, hiking adventures and more. Check the activity schedule when you check in or check the bulletin board out side the office. We have fun for the whole family.
Mini golf
what a great way to spend your afternoon!
Playground
we have a beautiful playground in the front of the park along with a sandbox, mini frisbee golf, teeter totters, 3 way basket ball hoop, baby swings and regular swings.
We also added some benches for mom's and dad's to rest on while the little ones are having a ball.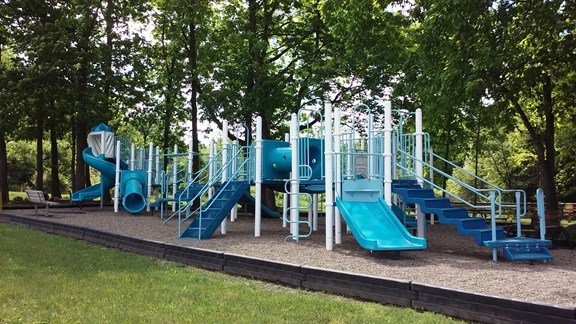 New Playground
WOW IS THAT BIG! Kids can spend hours and hours of fun on this playground. Come check it out.
Volleyball
Come play volleyball on this nice sand court, or your could do a little badminton instead.
Horseshoes
COME TRY YOUR SKILL AT HORSESHOES.
club house
The Club house is attached to the pavilion. A Great place for family reunions. We host our Sunday Morning Pancake Breakfast there along with other social gatherings. The Club house has a nice lounge area, with a library, big screen television, card tables, lots of games and puzzles. We also have a beautiful kitchen attached with appliances
Activity room
Come on in and play ping pong, matchbox cars or build with Lego's. A perfect place to have fun if it is raining out, or you just want to cool off from the summer sun.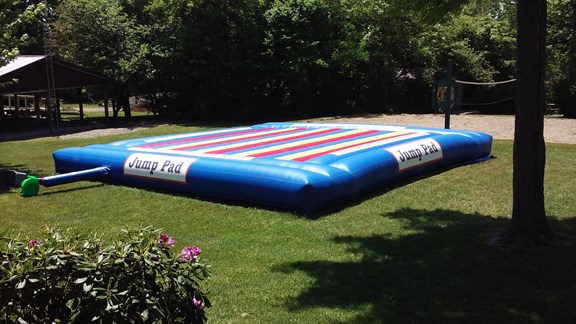 Jumping Pad
"I BET I CAN JUMP HIGHER THAN YOU"
Sand box
Every child loves to play in the sand box.  We have 2 - one in the front playground and one in the back playground.  No need to bring any sand toys.  Both sand boxes are equipped with many different types of sand toys. Come play!
Mini frisbee golf
This is a really challenging game because it is so much smaller than the "original Frisbee golf",  but so much fun!  Pick up extra small Frisbee's in the office.
3 way Basket Ball
This is a new way to play basket ball.  So much fun we have one hoop in each of the playgrounds.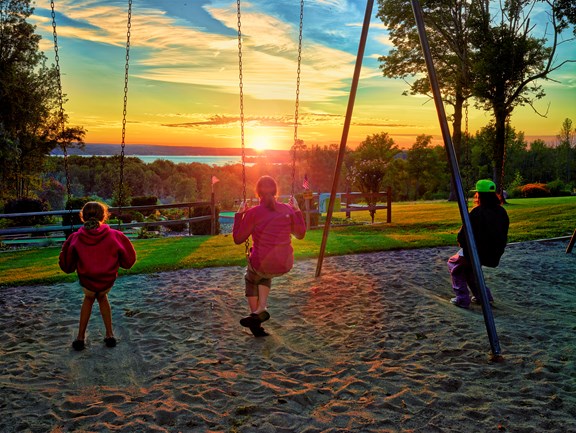 swing set
We have 2 different sets of swings .  One in the front playground and one in the back playground.