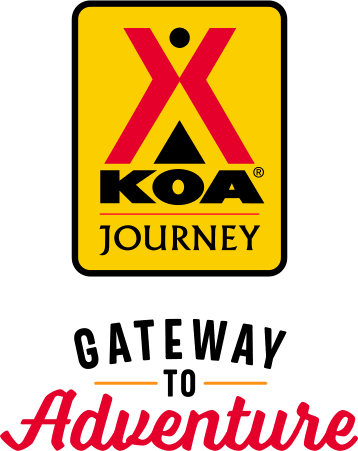 KOA Journey Campgrounds
KOA Journey campgrounds are the perfect oases after a day on the road. Whether it's along the way or a quick getaway, they've got you covered. Located near the highways and byways of North America with long Pull-thru RV Sites, they deliver convenience to the traveling camper. Pull in, ease back and take a load off.
KOA Journeys Feature:
Pull-through RV Sites with 50-amp service
Premium Tent Sites
Well lit after hours check-in service
Directions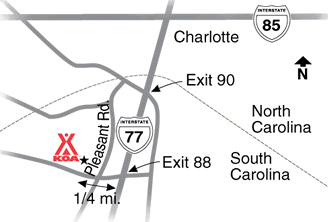 Exit 88 off I-77S. Go west 1/2 mile. Drive past the large KOA sign and turn right, go straight into the reservation parking area.
Get Google Directions
Apr 24, 2021
For being basically in the middle of a city, the atmosphere was campground, sites were clean & relatively large. My awning was not over my neighbors sewer. Most KOA's are tight fits. The only disappointing thing was were camping with another couple in their own camper, reservations were side by side. We were not. There was another site between us where several campers came & went. Disappointing!
Apr 24, 2021
Quiet place to spend a night
Apr 24, 2021
Near our route and provided quiet protected space.
Apr 23, 2021
Staff was friendly, the site was ok and bathrooms were clean. The price is way too high for where and what it is. It's a small campground sandwiched between a busy road and a development. Not much to do at the campground itself. There seem to be a lot of Long term campers that head out early to go to work.
Apr 23, 2021
Top notch as always!
Apr 23, 2021
Deluxe spot not worth the cost
Apr 23, 2021
The place is under construction. Bathrooms are GREAT. The lots are small but again the place is under construction. Fort Hill will be fantastic once the work is completed. Easy on/off the highway.
Apr 21, 2021
Very nice place. But you are in town so a little noisy and busy. Friendly staff and very accommodating.
Apr 21, 2021
Very nice. Clean. Friendly. Quiet . Level sites. Thank you for the garbage pickup!
Apr 21, 2021
We frequently stay here. This time things are under construction so I guess improvements are coming!
Apr 20, 2021
Very convenient to I 77, gas and grocery. Propane also very convenient. We had a great campsite. Will return again as we have in the past.
Apr 20, 2021
Very friendly staff and great amenities but the sites are very small. Campers are basically stacked on top of each other.
Apr 20, 2021
Had a flat tire and they were kind enough to allow me to stay on the site past checkout without a charge. Thanks!
Apr 19, 2021
Great stay overnight!!! Staff very accommodating!!!!
Apr 19, 2021
Ok for overnight Baths are VERY clean
Apr 18, 2021
I called and discussed past problems at othe KOAs with close neighbors and noise. John and staff listened. We stayed in a nice, quiet, and spacious location. Thanks for a good night's sleep, Charlotte/Fort Mill KOA.
Apr 18, 2021
Just our spring spot-over on the way home from Florida --- so convenient and easy to access
Apr 18, 2021
Very efficient check in. Escorted to site. Definitely stay again en route to and from Florida!
Apr 17, 2021
The bathhouse floors were never cleaned the entire time of our stay. Will not be coming back to this location.
Apr 17, 2021
Very good over night stay
Apr 17, 2021
Very clean and well kept!!
Apr 16, 2021
Good for a stay over for 1 night while traveling I77, that's about it, food and groceries within walking distance.
Apr 15, 2021
The people across from us were very loud doing karaoke in the late evening but others the place was great and facilities clean and comfortable.
Apr 14, 2021
very good place for an overnight stay.
Apr 13, 2021
Very friendly folks. Site level and clean; Thanks
Apr 13, 2021
Clean but not really any good views. The KOA cabin we stayed at in a different city better utilized the property to create a separation between campers and cabins and to afford a little view.
Apr 13, 2021
This is a great place for those traveling RT 77, for an overnight or a base campground for activities in the area. The bathhouse is amazing clean! The sites are large. There is a small playground for the children. There is some traffic noise, but not bad. We use a noise machine at night, so had no issue with it.
Apr 13, 2021
The cabin was nice, the location was quiet and the perfect place being at the halfway point to my destination.
Apr 13, 2021
It was so quiet for such a big park! Bathrooms were spotless!
Apr 12, 2021
Road to sites needs repair lot of road dust
Apr 12, 2021
Overnight stay on way south. Convenient to highway, groceries and gas. Very clean and modern showers.
Apr 12, 2021
The two young men that checked us in were totally outstanding and friendly and very helpful we need more people like them in our lives
Apr 11, 2021
Accommodating staff. Quite. Site could use some green space.
Apr 11, 2021
Very nice campground. Very friendly staff. Nice clean restropms.
Apr 10, 2021
Stopped there for a week to visit family in Charlotte while on our way from Florida to Michigan. Staff was friendly and helpful. Park was clean and well maintained. Our pull-thru site was amply sized and we didn't feel cramped with campers on each side of us. The only issue we had was when we arrived at approximately 10 pm. There was someone on our site. Once that was resolved, all was well. �
Apr 10, 2021
This KOA journey checked all our boxes: close to highway, far enough away from traffic noise, friendly workers.
Apr 09, 2021
One night stay was about half way to our destination.
Apr 08, 2021
I was shocked to see this campground and the shape it was in. KOA is noted for its setup for people camping for a short time not full time homes. If people are there for months they will trash the sites like they live in a home. They gave me a site for a 35' rig that had a bad angle to it. I almost had to park on the road to get it level. The employees were great but not the park.
Oct 14, 2021
Friendly staff with great campsites. We stay every year for the USDGC and will always go back
- Kyle Ledford on Google
Sep 23, 2021
Quick in and out, pleasant and fast check in. Plenty of space, near busy centrally located intersection. Plenty of POI.
- Maksym Lisovyi on Google
Oct 12, 2021
This KOA is a very decent campground. There are some minuses as listed in other reviews but the benefits outweigh them 1- clean and safe. 2- next to a new Publix (big grocery store) 3 - right off the Interstate (I77) 4- It is 20 minutes from Uptown Charlotte Many of the sites are not level. So make sure you have some extra blocking. I will stay here again. We were here for a total of three weeks and I really enjoyed the other campers I have met here. For being where it is, it is so quiet here and at night folks go to bed at quite hour. This place gets chewed up in the reviews- but if the four points above are important to you, then this KOA will do. Internet is decent Verizon Wireless and T-Mobile coverage is fantastic
- Jim Graham on Google