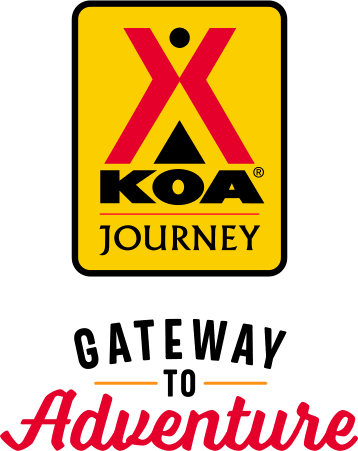 KOA Journey Campgrounds
KOA Journey campgrounds are the perfect oases after a day on the road. Whether it's along the way or a quick getaway, they've got you covered. Located near the highways and byways of North America with long Pull-thru RV Sites, they deliver convenience to the traveling camper. Pull in, ease back and take a load off.
KOA Journeys Feature:
Pull-through RV Sites with 50-amp service
Premium Tent Sites
Well lit after hours check-in service
Directions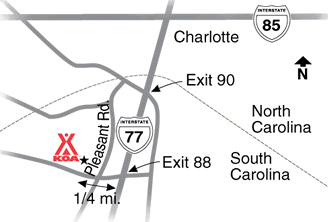 Exit 88 off I-77S. Go west 1/2 mile. Drive past the large KOA sign and turn right, go straight into the reservation parking area.
Get Google Directions
Sep 22, 2021
It was just a quick overnight stay but wish we could have been there longer. Great location, nice sites, clean bathroom/shower facilities.
Sep 21, 2021
No cable should let people know before coming
Sep 21, 2021
Staff was excellent! Friendly, accommodating, polite, knowledgeable and responsive. The facility was top notch. Organized, modern, efficient and spotlessly clean. Definitely will be returning here if our future tours bring us back this way!!!
Sep 21, 2021
Clean campground. Friendly staff. Lots of airplanes flying over. Some days every couple minutes. But we would stay again if we were back in the area for ZMax raceway. WiFi not so good. No cable.
Sep 21, 2021
Good for 1 night, lots of full time residence, the staff was nice And it's right underneath the main approach to the international airport
Sep 20, 2021
Very happy with staff and accommodations.
Sep 20, 2021
Nice Quiet weekend
Sep 20, 2021
Although we arrived late and weren't able to take advantage of all your amentities, we did enjoy the fact that you are within walking distance to a lot of businesses. We walked to John's Place and enjoyed live music and awesome food from the food truck. The campsite was clean and quiet and had really nice lawn furniture on our concrete pad for us to use. Also a plus that it is pet friendly!
Sep 19, 2021
We appreciate the convenience of this campground and its proximity to the Charlotte area. We also like the pull through campsites. The laundry was a helpful convenience, as well as the food truck next door.
Sep 19, 2021
Very easy off and on Interstate 77!
Sep 19, 2021
High marks on hospitality, from the office to site escort. A little more gravel on the sites than expected, but ok. Convenient to Charlotte and adjacent Publix shopping.
Sep 18, 2021
Great campground and the nicest bath house I've ever stayed! Many sites are shaded, spaced well, and staff was very helpful.
Sep 18, 2021
Friendly staff, nice level site. Check in process could have been smoother. The site originally assigned was still occupied 4 hours after check out. Getting into and especially out of the park can be a challenge due to heavy traffic
Sep 17, 2021
This campground is perfect for a traveler looking for an overnight or even a weekend rest. The Staff is super friendly and willing to do anything to help you enjoy your stay. The campground could use some improvements like the roads but you can tell the maintenance people are working hard to make it as reliable and comfortable as possible. Office staff are the best and will work till it's perfe
Sep 16, 2021
This campground had a great canopy of hardwood trees. The grounds were gravel and grass, asphalt for the main drives, and importantly, no mud. Most of the sites are pull thru/back-in type which I find awkard due to lack of privacy on your "front porch." The worst part of this campground is the noise. It is on a busy road, Charlotte airport flight path, and fire station around the corner.
Sep 16, 2021
Very friendly staff however was disappointed in our site. The sites were not full by any means and we got assigned a crappy unlevel first site. This is not our first time stopping here on our way north or south. I guess we were expecting a bit more care and appreciation for repeat customers on a low booking day.
Sep 15, 2021
Don't fill propane here. Spent $20.00 to fill 4 gallons of propane. Cost of propane is presently 2.99 per gallon. Which means I overpaid by $8... Not happy about this. I even specified that I only needed 4 gallons. When I prepaid.
Sep 15, 2021
onley there 1 night gould have ice at the office
Sep 15, 2021
Very nice and friendly employees. Always eager to help. The grounds were kept very clean.
Sep 14, 2021
Had to be in town for a swim meet for my son, and a Panther game so we tried KOA in the area. Nice staff, clean park, pool and playground. Neighbors were awesome and very helpful. Didn't get attacked my bugs+. Small park so had to unhook even though we had a drive-thru site. Food truck and bar next door, Definitely coming back.
Sep 13, 2021
Great place. Very convenient. Roads in the campground could be a little less bumpy. But all in all, great place! I will be back to stay again.
Sep 13, 2021
Gravel parking, no grass. Nice staff. Ok for one night.
Sep 13, 2021
Super nice camp host, very dusty park with gravel and dirt, not a lot of grass. Great shade with all the trees. Only did an overnight, Publix is super convenient, food truck in the gas station parking lot out front was way better than I expected. Bar type food, but nicely prepared and great taste.
Sep 13, 2021
The site we had was not level. It was a graveled site and had no sewer. We understand that we didn't have an early reservation and this was probably the only available site. However, we've seen better.
Sep 12, 2021
Very friendly and courteous. Escorted us to our site.
Sep 12, 2021
It was convenient to our travel route. Located close to shopping as we needed some groceries. Staff was friendly.
Sep 12, 2021
Great place, great facilities.
Sep 10, 2021
New large pull throughs with concrete pads and patios with nice grass. Too tight turn at the top of the hill but the new sites were very nice.
Sep 10, 2021
Great over nite stay, close to fuel and Publix, shady site, would definitely stay again.
Sep 07, 2021
Paid for pull through, was bumped up against 2 campers and multiple cars. Pull through actually had tent site directly behind as well. Was crammed into spot and was staring right at other people's front door. Was disappointed in what we paid for.
Sep 07, 2021
We had a water and electric site knowing they had a dump. On the way out in the morning the dump was locked. No one around to unlock it. Had to leave with tanks full. Sites extremely close together. The bathhouse was very nice and clean large showers. Nice smallish dog area. There were lots of dog bag poles to get dog litter bags and separate cans for dog poo to be placed into.
Sep 07, 2021
The staff was great the location of the campground's excellent The rate was too high for the condition of the campground itself
Sep 07, 2021
We stayed on camper site.. the staff was very helpful and friendly.. bathhouses were very clean and very nice clean spacious showers.. close to grocery store and many restaurants.. Quiet campground with nice clean pool.. very disappointed on the last night that something was stolen from our site..Stayed at many campgrounds and never had something stolen before.
Sep 07, 2021
No complaints here! Yes, it's a little tight when full. Yes, the roads need some work. The staff members were all a pleasure. Loved our pull through site. Convenient to Charlotte. Great restaurants nearby.
Sep 07, 2021
Check in was fine very nice staff. But it went downhill from there. 1st night a dog was whining all night long, spoke to management and they told me they were aware and that it even woke them up to the point that she drove around at 2 in the morning trying to find it. Said they would talk to them.. found out they left the dog unattended and allowed them to stay. So much more would not stay again
Sep 04, 2021
cable tv connect didn't work; traffic noise very noticeable. personnel working there were very helpful
Sep 03, 2021
Nothing fancy here as this isn't a resort KOA. But the people are nice, the sites pretty level and the area clean. Pricing is good as well. We've stayed there at least 4 times. No cable, but lots of local stations over the air.
Aug 26, 2021
Stayed in long term 4 months, met a lot of very nice people.
- Violet Sisk on Google
Aug 09, 2021
Love it Here. My good friend lives here and I love how quiet it is and how friendly people are.
- Lindsey Whitman on Google
Sep 06, 2021
Marlee in the office was very friendly over the phone when booking & on arrival. We were told that a key was needed for the dump station, which was fine. Our site had water & electric, which was sufficient, we were only staying the night. This morning office did not open until 10:00am (Web page gave office open time to be 8:00am; except Sundays-9am) we had to wait for office staff to arrive to open lock on dump station in order to use. Showers very clean, plenty of hooks, stool, good water pressure & temperature. Had plenty of room at our RV camp site. Grocery store an easy walk from KOA. Overall good.
- Susan W on Trip Advisor