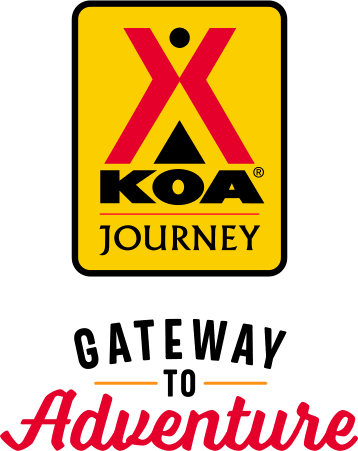 KOA Journey Campgrounds
KOA Journey campgrounds are the perfect oases after a day on the road. Whether it's along the way or a quick getaway, they've got you covered. Located near the highways and byways of North America with long Pull-thru RV Sites, they deliver convenience to the traveling camper. Pull in, ease back and take a load off.
KOA Journeys Feature:
Pull-through RV Sites with 50-amp service
Premium Tent Sites
Well lit after hours check-in service
Directions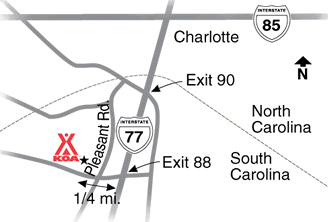 Exit 88 off I-77S. Go west 1/2 mile. Take first right after Exxon gas station, drive between the white fences and straight into the reservation parking area.
Get Google Directions
Feb 05, 2023
The park is close enough to I 95 but not so close you could hear it. It is clean and well kept. The staff is very friendly and helpful. We only stayed one night on our way to Florida, as we do every year. The location is close to stores and restaurants, all within walking distance.
Feb 04, 2023
There was no electrical at site had to run generator all night. They were supposed to send someone to check site never showed
Feb 04, 2023
Perfect hosts, from check in to check out.
Feb 02, 2023
The host escorted us to are spot and showed us ware to park. We got stuck, and when we finally got out and went to the office, he said well it is grass. Then even though the place was maybe 20% full, giving us another spot was a major ordeal. We agreed to pay 11 dollars more for another spot. They had a real attitude about the hole thing, will not be going back there ever!
Feb 01, 2023
great staff and very helpful. A credit to the campground !! Our site was muddy and needs gravel # 71
Jan 30, 2023
Good location. Nice campground, clean and well kept.
Jan 30, 2023
Very well maintained RV park. We stayed three nights and could not have been more pleased. When we got there we opted to upgrade our site and there no problem at all. The office lady and the grounds keeper were very nice and welcoming. The bathhouse, restrooms were immaculate well heated. We'll come back.
Jan 30, 2023
Very clean, nice hot showers, friendly staff, and a great location. Definitely will stay here again.
Jan 30, 2023
Very nice and helpful staff. Free breakfast. Narrow lanes and spots. You have to dispose of your own trash, but that's not a big deal for us. Beautiful park. Nice pool, dog park, and mini-golf course. The camp store does sell alcohol. However, they apparently rarely pick up the phone.
Jan 28, 2023
Clean well run park. According to my Garmin fitness watch it is 600 steps tp the Publix. There is a bar, liquor store and gas station on site.
Jan 24, 2023
So easy in and out, quiet and about 1/3 mile off of I-77.
Jan 24, 2023
Nice place and good people that help maneuver around.
Jan 23, 2023
Close to highway. Great price. Friendly staff. Very nice and clean campground
Jan 20, 2023
Over the phone check-in was super easy and our after hours map and pass was waiting when we got there. Bathroom and grounds where clean and maintained, The koa is convenient to grocery store and gas station. It's in town so expect to hear the hustle and bustle of city life in the background.
Jan 18, 2023
Jewel(?) in the office took the time to figure out a problem we were having redeeming reward points. She did it efficiently and cheerfully.
Jan 17, 2023
Clean campground, very nice restrooms/showers, grocery store nearby. We were there nearly a week and had no wi-fi. We 'work from home' most of the time we go RV'ing so having wi-fi is a consideration we consider when choosing a campground and one of the main reasons we stay at KOA's. Other than that this is a very nice campground!
Jan 12, 2023
Nor happy with no internet
Jan 11, 2023
The staff was amazing, and friendly! The campsites were very well kept. We will definitely be staying there again.
Jan 09, 2023
It's essentially a small lot adjacent to a grocery store, gas station, very busy road, and residential neighborhood. It was quite loud. Also, the roads and general grounds weren't kept as nice as other KOA's I've been to. Perhaps I caught them at a bad time, but judging by the potholes and general condition I'd say not. When I'm in Charlotte, I'll find a different spot, especially fo
Jan 07, 2023
We were only there overnight but check-in was easy and we felt welcome. The campground was clean and people were friendly. The roads inside the campground could use some repair. Getting out of the campground and back to the highway could be challenging if you left during rush hour but since we didn't leave until mid-morning we didn't have a problem.
Jan 06, 2023
One of the nicest KOAs I ever have been. Well kept great staff and you can't beat food delivery and free breakfast.
Jan 05, 2023
The cabin was clean and just the perfect space for what we needed.
Jan 05, 2023
Only stayed the one night but it was very easy to get into and lots of eating places close
Jan 04, 2023
Easy on and off interstate but super quiet. A great place to pop by and stay the night.
Jan 04, 2023
This KOA is right off 77 so it's convenient for overnighters. We have stayed 2 yrs in a row because friends moved to the area. People are friendly. Bathrooms and laundry are immaculate. Wi FI is non existent. Small dog park available. Publix is next door. QT is across the street.
Jan 04, 2023
Quick stay over to see the Grand babies and bring in the New Year! It's always a pleasure to visit the area and stay at this KOA. The Staff is warm, friendly and treat you as your family. Hadn't had the chance to meet the owner, however if he is any reflection of those hired I'm sure that he's as his staff. We are sure to return, not only because we have family in the area. It's in our t
Jan 04, 2023
Internet wasn't working because of a storm; our site was pretty muddy - needed to have gravel replaced or a cement pad put in. It appeared that many occupants were permanent or long-term renters and the areas around these campers were a conglomeration of equipment, automobiles, patio furniture, holiday decorations, etc.
Dec 31, 2022
They kindly refunded one day of our trip without us asking when we were delayed. Always saw staff in carts and they stopped to discuss things going on in park during the cold wave we were experiencing. Used bath houses which were clean and warm. Pulled up for propane and they came without me going to office for help. Thanks
Dec 31, 2022
water lines were frozen upon arrival and remained that way for awhile.
Dec 31, 2022
Excellent staff. Very nice folks. We enjoyed our stay very much.
Dec 30, 2022
Love it there easy in easy out
Dec 24, 2022
Come here a couple times a year. Wonderful people and great spots!
Dec 24, 2022
The staff was incredibly kind and helpful
Dec 20, 2022
Probably not our best stay, mostly because the lot wasn't very level and the rain didn't help when leveling the RV. In the future, we will be sure to ask for a cement pad. I still say the bathrooms are the cleanest we've ever stayed at before! We'll definitely be back!
Dec 20, 2022
Friendly staff and great for people on the move
Dec 19, 2022
Convenient location. But expensive
Dec 19, 2022
All staff were great!
Dec 19, 2022
Easy access from I77, close to local points of interest. Super clean restrooms and laundry.and well taken care of grounds.we will be staying with you again on our next trip through Charlotte.
Nov 14, 2022
Great place
- Chad Dube on Google
Nov 13, 2022
Staff is great. We had to change our plans and they were able to get is in a few days early. We have a rather large rig so this required a little flexibility on their part. Restrooms are recently redone and nice. They have a little bar and food truck walking distance with decent food. It's off season so not much going on at the campground but I have no complaints. All of the other campers were pleasant and friendly as well.
- Sara H on Google