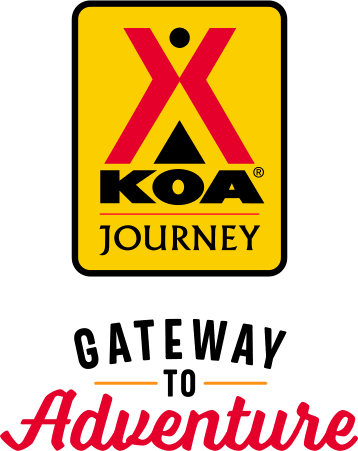 KOA Journey Campgrounds
KOA Journey campgrounds are the perfect oases after a day on the road. Whether it's along the way or a quick getaway, they've got you covered. Located near the highways and byways of North America with long Pull-thru RV Sites, they deliver convenience to the traveling camper. Pull in, ease back and take a load off.
KOA Journeys Feature:
Pull-through RV Sites with 50-amp service
Premium Tent Sites
Well lit after hours check-in service
Directions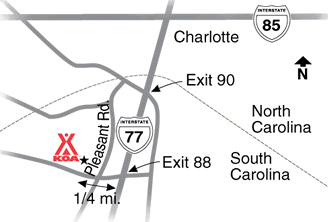 Exit 88 off I-77S. Go west 1/2 mile. Drive past the large KOA sign and turn right, go straight into the reservation parking area.
Get Google Directions
Sep 07, 2021
Check in was fine very nice staff. But it went downhill from there. 1st night a dog was whining all night long, spoke to management and they told me they were aware and that it even woke them up to the point that she drove around at 2 in the morning trying to find it. Said they would talk to them.. found out they left the dog unattended and allowed them to stay. So much more would not stay again
Aug 23, 2021
Friendly staff and clean facilities. The bathhouses were clean and shower stalls had plenty of room to get dressed. The campground is small, but close to many stores and has several recreational options to keep kids busy. Only 8 minutes from Carowinds!
Aug 18, 2021
The staff is fantastic! If your looking for a Disney type of experience this isn't it! This is a great location to base from for day trips to the lakes, mountains and restaurants. The facilities are clean. There are some site on the lower end that will remain wet during rains storms so ask your host before booking. I stayed in the rustic cabin while working in the area and loved it.
Aug 17, 2021
The cabin was extremely clean. The public restrooms & shower felt like hotel luxury. I liked that you needed a code to enter the bathrooms, made it more secure. I loved everything about this campground and the employees & camp hosts were very nice. The only minor issue I could come up with is that I wish checkout was at 11am not 10am. Will definitely stay at this campground again.
Aug 16, 2021
so easy to explore the National Whitewater Rafting Campus
Aug 11, 2021
Kids enjoyed there little getaway
Aug 11, 2021
It was very peaceful
Aug 09, 2021
The Deluxe Cabins were very clean and cute. We will definitely be using again and highly recommend to others.
Aug 08, 2021
Our Kabin was very nice and had a tv which was a bonus for the kids. Amenities were very nice, loved the pool area. Bathrooms were the nicest we have seen thus far. I would give a five star if there was better security. Being a city campground I didn't like that it had two open entries that anyone could enter. They had to have codes for restrooms and laundry facilities.
Aug 03, 2021
Cabin was clean & comfortable. We arrived around 11:45 pm and no late check in paperwork was there for us & gas station was closed. Bar was able to contact KOA staff & get us our cabin key, but we don't know what would have happened if we showed up after midnight when bar closed. Suggest leave check in brochure & leave cabin unlocked (can get key next day) & send text with that info. Kind staff.
Jul 27, 2021
Only issue is cabin 87B doesn't have any way to hold the door shut without locking it. Latches were broken.
Jul 23, 2021
Bathrooms were IMMACULATE I'm 6'8" and showers were very spacious and clean as the whole bathroom was as well. Room was clean and spacious for my party of four. The pool was also very clean and well kept very spacious too. This is a great deal for anyone looking to stay in the area! Will be back for sure in the future.
Jul 22, 2021
Was absolutely horrible the owner John which is his real name he drives a black Ford Expedition. is a terrible representative of your brand. very rude. Will not being staying at that KOA ever again. I hope this guy is talked to by somebody. That can put this guy in his place. I was discussed by the way he acted towards me. Whoever is reading this don't waist your time staying here was Terribl
Jul 21, 2021
Excellent restrooms clean ,nice ,well-kept.
Jul 19, 2021
On our way to myrtle beach and stopped here for two nights and the office worker's are very friendly and the facility is well maintained restrooms was clean and shower was clean as well the surrounding area had plenty to do and plenty of places to eat and shop
Jul 14, 2021
Was surprised to find out the Deluxe Cabins do not have a fire ring, even though the website says it does. Besides that, very quiet and clean campground. Very close to things.
Jul 14, 2021
Had a great stay! Cabin is clean, air was cool. Campground was clean, restroom/bath house was clean. We'll be back again!
Jul 08, 2021
Awesome management! The grounds were super clean and the area had a ton to do.
Jul 06, 2021
All the staff was very friendly! The grounds and pool area was very clean and well kept. The bathrooms were always clean and smelled clean. The whole time I was there the hand dryer never worked and there were no paper towels. Also, the water would not stay on at all, you had to hold it down. I know it is a water saving device, but in the past, it would stay on for like 30 seconds.
Jun 30, 2021
The cabin was great, camp ground was clean. Our neighbors were very strange and made my young daughter very uncomfortable. Not really sure if there was much KOA could have done, maybe I should have talked to the staff about it. Overall a good experience minus the creepy neighbors next to us.
Jun 28, 2021
Could not control A/C temp. Television did not work. Cabin was divided into two cabins and only one parking spot. Worse than tiny house living.
Jun 23, 2021
The cabin, restroom and shower area, and the campground as a whole were very well-kept and clean. It was perfect for my needs!
Jun 22, 2021
We loved our cabin and deck. The campground was so clean and unexpectedly quiet at night. We loved the planes landing in the distance too.
Jun 13, 2021
This was our first time at this KOA and it was awesome. Beautiful and clean. Special credit to Bob, Tom, and Valerie for their excellent customer service and attention to our needs. Personality and devotion is a quality that all three of these associates should be commended on. We could not have asked for a better stay! Thank you all for a wonderful experience.
Jun 11, 2021
We made a reservation for 4 adults. We got to the site and they showed us one small cabin, 1 room with a double bed and 2 bunk beds. This might have worked if it was 2 adults and two children but... so, it cost us another $30 per night to change sites. I felt like we were tricked. One staff member was extremely rude to us twice.
Jun 02, 2021
quite,peaceful,friendly,and the staff was polite and very helpful.
Jun 02, 2021
Check in was irritating. After a long day on the road we were ignored at the check- in desk while the clerk helped customers that were buying beer and cigarettes even though I was there before them. The dog park was disappointing, just a small fenced in area. Our deluxe cabin was just okay.
Jun 01, 2021
Nice campground. Nice cabin. I loved the rain showerhead.
May 30, 2021
I'm glad we got a cabin because back up a camper would be difficult here. It is close to a lot of stuff though, and staff was very friendly!
May 24, 2021
Booked a pet friendly cabin & hassled at check in despite my service dog.After checking in we were told that my dog couldn't walk anywhere but the pet walk due to pesticide spraying.cabin was next to a tent sight with an intoxicated male, making me & the other pregnant female in my group extremely uncomfortable.Refridgerator in cabin was broken & my $100 hasn't been released 3 days after we le
May 24, 2021
Clean and quiet. We will definitely return for another stay.
Apr 13, 2021
Clean but not really any good views. The KOA cabin we stayed at in a different city better utilized the property to create a separation between campers and cabins and to afford a little view.
Apr 13, 2021
The cabin was nice, the location was quiet and the perfect place being at the halfway point to my destination.
Apr 12, 2021
The two young men that checked us in were totally outstanding and friendly and very helpful we need more people like them in our lives
Apr 06, 2021
Was a great place to stay.. we stayed in a cabin.. they have been redone with nice electric fireplace and tv..bathrooms are clean, would come back again.. staff was very Pleasent and helpful. Close to anything we want to see..
Apr 06, 2021
Single night. Able to make a last minute reservation for a deluxe cabin. Shower did not drain well, but otherwise, clean and just what we needed.
Apr 03, 2021
Everyone was so kind and helpful.
Mar 18, 2021
First time ever, renting a deluxe cabin! My guests and I were extremely happy with it. I even slept in the loft, felt like a kid, reliving my summer camp days. Had a great time overall. Thanks KOA
Mar 13, 2021
I cannot say enough nice things about the staff at this campground, especially Shay and Bill in the office. We planned a one night stop in February 2021 on our way to Florida. Just as we pulled into our site, our motorhome broke down. It took 2 days to get it towed and another 5 days to get it repaired. Shay was able to get us into a beautiful cabin at a discounted price. Thank you so much!
Feb 21, 2021
Walking around it was a ruf feeling and didn't feel special like some others. We usually bring our camper but this time we were in a deluxe cabin. A few days ago we stayed at yemassee,SC and it was very nice and clean. This one was run down and the very basic "deluxe" cabin had a live cockroach in the pathetic mini fridge...The man in the tiny office(more of a half trailer) was nice though.
Feb 15, 2021
We stayed in a cabin and it was GREAT!
Jan 18, 2021
I was disappointed in this KOA since it was basically a gravel plot behind a gas station and right next to the highway. There was no greenery, no amenities, and check-in smelled of smoke. Our cabin (which cost upwards of $100/night in January), didn't even have a mini fridge or microwave. The "heater" available didn't provide much warmth; I think we would've been better off car camping.
Jan 11, 2021
My first stay here was much better. When I booked my cabin for this stay, I added a note that I would be arriving at 7:30, a late arrival as usual. I have stayed in KOA locations in Ohio, NC, Illinois and others and each one made sure that the cabin was WARM when the guest arrived. No one wants to arrive in the winter and sit in their CABIN freezing. Thanks for upgrading but next time...
Jan 08, 2021
Front desk (Shay) was so very helpful and stayed later to get my 85yr old father in his cabin which was so sweet of her. Thanks for everything
Aug 26, 2021
Stayed in long term 4 months, met a lot of very nice people.
- Violet Sisk on Google
Aug 09, 2021
Love it Here. My good friend lives here and I love how quiet it is and how friendly people are.
- Lindsey Whitman on Google
Sep 06, 2021
Marlee in the office was very friendly over the phone when booking & on arrival. We were told that a key was needed for the dump station, which was fine. Our site had water & electric, which was sufficient, we were only staying the night. This morning office did not open until 10:00am (Web page gave office open time to be 8:00am; except Sundays-9am) we had to wait for office staff to arrive to open lock on dump station in order to use. Showers very clean, plenty of hooks, stool, good water pressure & temperature. Had plenty of room at our RV camp site. Grocery store an easy walk from KOA. Overall good.
- Susan W on Trip Advisor