Local Area Attractions Near Carbondale / Crystal River KOA Holiday
We are located just 40 minutes from Aspen, 20 minutes from Glenwood Springs and in the very heart of the best of Colorado. Scenery is unsurpassed, the Crystal River Valley has so much to offer-take a short day trip to Marble, hike any number of trails into the high country, go four wheeling or go rafting on all the local rivers, including the Crystal River which runs through our property. You can ride your bicycle on the paved path right from our site to Aspen, Glenwood Springs or a short jaunt to Carbondale and lively shopping and great restaurants. We are the ideal base camp for all of the attractions in this magnificent part of Colorado. Historic Glenwood Springs
Historical Glenwood Springs is located at the confluence of the Roaring Fork River and Colorado River, offering vacationers diverse natural amenities, most particularly the hot springs; also offering various recreational activities including, white water rafting, kayaking, biking, jeeping and hiking trails, shopping, dining and visits to historical sites.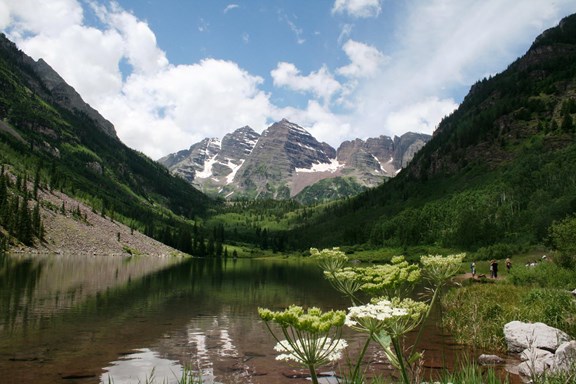 Maroon Bells
An adventure to Aspen, Colorado isn't complete without a visit to its main attraction. The Maroon Bells, a series of distinctively bell-shaped, wine-colored peaks towering 14,000 feet above the pristine, glacial Maroon Valley, remain the most photographed mountains in North America and offer some of the most spectacular natural views in the world. From meadows of vibrant wildflowers, to airy groves of Aspen trees, to summit-based alpine tundra, the Maroon Bells promise a variety of natural habitats and a diverse, vivid representation of the wild Rocky Mountain range.
Local Area Recreation Near Carbondale / Crystal River KOA Holiday