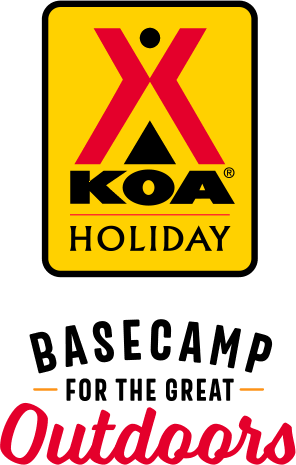 KOA Holiday Campgrounds
Whether you're exploring the local area or hanging out at the campground, KOA Holidays are an ideal place to relax and play. There's plenty to do, with amenities and services to make your stay memorable. Plus, you'll enjoy the outdoor experience with upgraded RV Sites with KOA Patio® and Deluxe Cabins with full baths for camping in comfort. Bring your family, bring your friends, or bring the whole group – there's plenty of ways to stay and explore.
KOA Holidays Feature:
RV Sites with a KOA Patio®
Deluxe Cabins with full baths
Premium Tent Sites
Group meeting facilities
Directions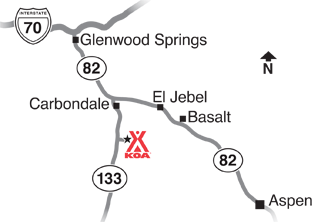 From I-70, exit at Glenwood Springs. Travel Hwy 82 toward Aspen, 12 miles.  Turn right on Hwy 133 at Carbondale. Travel 6.5 miles, turn left into campground.
Get Google Directions
Jul 22, 2021
Friendly staff, clean accommodations. We stayed in the teepee. It was comfortable, clean and fun!! My kids loved the pool and my husband loved fishing the river. The highway noise was loud and the dog park being right next to the teepee was also loud at 6 in the morning, but other than that, it was great!
Jul 20, 2021
Great time. Love the cabins on the river. This is a yearly trip for 10 families
Jul 20, 2021
It was a beautiful setting. The staff were friendly and helpful. The only disappointment was no sewer hookups. We would come back again.
Jul 20, 2021
Beautiful setting, beautiful weather, courteous staff - all around a great weekend. Wish each site had sewer, however.
Jul 20, 2021
The campground was very nice and clean. Our camping spot had ample room and we thoroughly enjoyed our stay throughout the weekend.
Jul 19, 2021
Super friendly staff that are very helpful and keep the park clean and very well kept. On our list of favorite places to stay.
Jul 19, 2021
Very clean park and bathrooms. Nice private tent spot by the river.
Jul 19, 2021
Clean facilities, great campsite by the river. The only campground that has WiFi!
Jul 19, 2021
Outstanding cabin on Crystal River. Friendly staff. Impeccable cleanliness. Couldn't have been more satisfied!
Jul 19, 2021
Everything clean and in working order, very nice Cabin
Jul 19, 2021
It was great
Jul 18, 2021
Lovely location on the Crystal River. Great base camp to explore the area.
Jul 18, 2021
Very nice experience , wonderful river setting , staff was very friendly. Will stay again.
Jul 18, 2021
Check in is always great. The woman at the desk is so kind. She really helpful for a single woman traveling alone. The campground is clean and I just loved being close to the river. I highly recommend this koa.
Jul 17, 2021
Sue was particularly helpful but all the hosts were great!
Jul 17, 2021
It was okay. Wifi was good when it worked.
Jul 17, 2021
Got there via motorcycle during a thunderstorm. Patti was very helpful upgrading my tent site to a cabin. Every one there was super friendly!
Jul 16, 2021
The location of this KOA is wonderful. It's proximity to Glenwood Springs and having the bike trail directly connected was very convenient. Staff was very helpful and informative. We greatly enjoyed our stay!
Jul 15, 2021
The cabin was clean and the staff was very friendly!
Jul 15, 2021
Second time here. We will make this an annual trip. Spacious and clean sites. Nice host. Thanks for a wonderful time!
Jul 15, 2021
Nice location next to the Crystal River and close to Carbondale, Redstone, and Marble. Will definitely be back!
Jul 15, 2021
We stayed for 2 nights and loved it. We had cabin 6 on The river and it was very relaxing and peaceful. Will recommend this place to friends
Jul 14, 2021
Super clean, quiet, and with the pool, showers and office store emergency items, this was one of the best camping trips I've had…and I rarely stay at pay for campsites. Well done!
Jul 14, 2021
Loved the bike trail and the airstream was fun.
Jul 14, 2021
While a very nice and well kept place, I would've liked for the tent sites to be a little further off the road and people staying one night should have the option to use the pool on their departure day till at least 2 PM.
Jul 13, 2021
Very nice location, right on the river. Very clean with large sites, many trees and bushes. Campfire and chairs , 2 tables and bbq!!!
Jul 12, 2021
This beautiful place is highly over rated & over priced. Do not stay there.
Jul 12, 2021
Outstanding! Grounds were spotless staff was great!
Jul 12, 2021
The area of camp is beautiful , the services are good , the cabin can stand minor improvement . We missed cooking outdoors and having a campfire .
Jul 12, 2021
Nice facility
Jul 12, 2021
Third time staying at this campground and each time it s extremely clean, we always have good privacy at our tent site, and the staff is always friendly.
Jul 12, 2021
The cabin by the river were nice. Everything was very clean. Loved to go to sleep with the river in the background. Only wish the pool was open past 7pm.
Jul 12, 2021
Nice place! River close by. Restrooms very clean and roomy
Jul 11, 2021
The facilities and cabins are super clean and just beautiful. The staff couldn't be more friendly and helpful. Loved the pool and playground area as well!
Jul 11, 2021
Delightful cabin. Very comfortable. Easy access to bike trails Had a wonderful stay and look forward to a return trip
Jul 10, 2021
Love the area and campground! We had a spot right on the river but wish some of the vegetation would have been trimmed back so we could have seen it.
Jul 06, 2021
This is a beautiful campground that is right on the river. My husband and I have now stayed here twice and look forward to coming back several more times. Extremely friendly guests. You can tell that they put their profit back into the business.
- Saundra Lubben on Google
Jun 30, 2021
Awesome hosts stayed in airstream will be back
- Don Lee on Google
Jun 23, 2021
This is hands-down the most beautiful KOA I have been to, and the host was super nice. Tent sites along the river are shaded and gorgeous.
- Caroline Corbett on Google