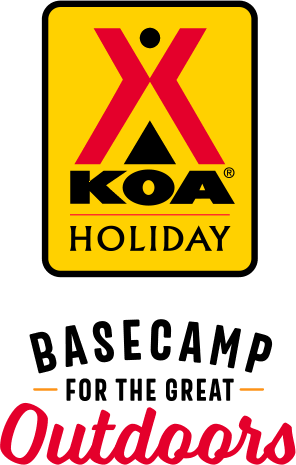 KOA Holiday Campgrounds
Whether you're exploring the local area or hanging out at the campground, KOA Holidays are an ideal place to relax and play. There's plenty to do, with amenities and services to make your stay memorable. Plus, you'll enjoy the outdoor experience with upgraded RV Sites with KOA Patio® and Deluxe Cabins with full baths for camping in comfort. Bring your family, bring your friends, or bring the whole group – there's plenty of ways to stay and explore.
KOA Holidays Feature:
RV Sites with a KOA Patio®
Deluxe Cabins with full baths
Premium Tent Sites
Group meeting facilities
Directions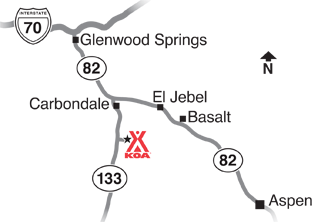 From I-70, exit at Glenwood Springs. Travel Hwy 82 toward Aspen, 12 miles.  Turn right on Hwy 133 at Carbondale. Travel 6.5 miles, turn left into campground.
Get Google Directions
Jan 20, 2021
We had a great stay. The cabin was very clean and the managers were great and stopped by to see if we needed anything. Would definitely stay again
Jan 11, 2021
We had an amazing time! Beautiful location and great cabin! Cabin was super clean when we arrived and it was perfect for our family. The only thing was that the heat would not reach the bedrooms and the space heater did not heat the entire room up so we ended up all sleeping in the living area which was totally fine. we had a great time and look forward to the next time we can stay!
Jan 04, 2021
Clean facilities and awesome staff will definitely come back!
Jan 03, 2021
As always! Excellent stay! This trip was a winter cabin rental. We got #11 and it was perfect for our lil family to celebrate New Years! Wonderful host and just an overall great time. We can't wait to book some summer camping trips and more winter cabins! The best KOA in Colorado.
Jan 03, 2021
This was my second stay in as many months. I love it here and can't wait till I can go back again. I really hope to climb the mountain that overlooks the cabins some time this year.
Jan 03, 2021
Totally loved this place. It was the perfect place for us to end one year and start another. The hosts do a great job and were very welcoming.
Jan 02, 2021
I Had a wonderful time. Cabin was clean and cozy. Bob and Jessica were very helpful and made our stay enjoyable. Will definitely stay here again.
Dec 30, 2020
The cabin was rustic, warm and welcoming. It had everything that we needed. And the Crystal River was right outside our door. The managers we wonderful and super helpful. The location in Carbondale is perfectly located as a great jumping off spot to explore the entire white river forest area, Aspen to GLenwood Springs!!
Dec 30, 2020
Beautiful winter stay! Jessica is the absolute best!! I hope she is with this Koa providing her great hospitality for quite awhile!
Dec 28, 2020
Loved it !!!! We will be back !!!
Dec 01, 2020
Awesome. Great folks. Amazing fishing and location.
Nov 10, 2020
Great kampground !!!
Nov 07, 2020
Great place to camp. Friendly and helpful hosts. Clean shower room. We had a great stay.
Nov 02, 2020
Patti is very brash and rude in how she speaks to people. We didn't get in good when she snapped at us about having a dog in the office (ironically we saw hers in the office as we checked out). Later, we were treated like 5 year olds when she told us about burning in the fire pit. In regards to Patti...#1 she needs to take some classes on customer service and/or #2 she needs to find another job!!!
Nov 02, 2020
Great stay thanks !!
Nov 01, 2020
Fantastic location run by great people
Oct 31, 2020
The host were awesome and very helpful. The problem is that all water was shut off the 2nd night that we were staying. Did not have water for the trailer for the rest of the week.
Oct 29, 2020
Interesting..................the power was out for 4 hrs due to power-loss at a substation ion basalt,but everything was nice. The walls are a bit thinner than i'd liked I could hear conversations in the cabin 3 next to me. I'll stop by to check out the photo next year ,I hope it's hanging in a good location.
Oct 28, 2020
Beautiful location/very well maintained. Special thanks to Monica for her above and beyond customer service. The local area received about a foot of snow the day before our planned departure, with temps dipping below zero. We were unable to depart and couldn't safely retract our slides due to ice. Although the site we stayed in was reserved by another guest, Monica worked it out for us to remai
Oct 27, 2020
Beautiful location on the river. KOA staff is very friendly and helpful with questions. We stayed in a cabin (dog friendly) and it was very clean and kitchen well stocked. We had immediate and easy access to the river.
Oct 26, 2020
The description of cabin 4 does not tell you that it shares a wall with another cabin. This made it a loud late night and early morning (12:30 am and 4:30 am). Also, cabin 4 has the water heater for both cabins. Unfortunately, the water heater is loud and it will sound out a screeching alarm when the water has been on for a bit...not what you want to hear at midnight.
Oct 26, 2020
The campground is so beautiful and the staff make you feel like family.
Oct 25, 2020
We had a wonderful time. Downside is that your camp doesn't have sewer however, the availability of the "honey wagon" did help. After a week, we were able to use the honey wagon once then used your dump station on the way out. The bath house was very nice and help limiting the use of water in the rig. The camp is very clean, big dog play area, people very nice. Highly recommended.
Oct 25, 2020
This place is perfect! Not too crowded - super clean, amazing bathroom facilities and kind staff. Can't wait to come back this summer
Oct 24, 2020
Th staff was so helpful and kind! Monica is a gem. The park was clean, quiet and spacious. Great location. Will be back for sure
Oct 23, 2020
This place is perfect! I didn't want to leave!
Oct 22, 2020
Staff and facilities were wonderful. The staff was super friendly and helpful. The facilities were clean, well maintained, and modern.
Oct 21, 2020
Slightly pricey for a campground but when we got there we were blown away at how nice the cabin was. Plenty of space for everyone as well as clean and newer. Very impressed! We will be back!
Oct 21, 2020
These folks are AMAZING!!!! Randy is Amazing ���
Oct 20, 2020
Wonderful, as usual. The newly remodeled bathrooms are a plus. Now - if you could just provide full hookups with sewer, you would get six stars. Thanks.
Oct 20, 2020
I loved being in Nature and still having the conveniences of kitchen, bath, and a warm bed. The cabin (#3) was perfect! private and safe for my dog and a baby to hang out by the river, enjoy the campfire, and everything provided for a perfect retreat. I will return, and wil recommend the Crystal River KOA. Thanks for your good stewardship, providing re-cycle receptacles. Hot water needs attention.
Oct 19, 2020
This was by far the most beautiful KOA I have ever seen!! Right by the river and mountains - breathtaking scenery. There is a hiking path that starts right at the KOA entrance. I wish I could have stayed here a week. This KOA is a must see!
Oct 19, 2020
Beautiful and peaceful location. Close to a lot of hiking and biking trails. The cabins are well appointed just bring what you want to cook including basics like oil and seasonings, etc... The beds are not very comfortable for adults but overall it was a very good stay.
Oct 19, 2020
Nice place, well kept, and nice folks.
Oct 18, 2020
Well kept up campground and great new bath house. Nice staff. Thanks
Oct 18, 2020
We love the riverside camp spots at Crystal River KOA!
Oct 18, 2020
Got there after office hours. Packet was there with all information per previous phone message. Second time camping there. Beautiful area. Would return again.
Oct 18, 2020
What a find! Most spectacular location right on Chrystal river plenty of bike paths and close to Aspen for day trip. Clean clean clean very well organized would stay there again no problems! A+
Oct 18, 2020
We love it here. It's CLEAN and they are friendly both qualities are important to us.
Jan 02, 2021
Nice well kept campground on the crystal river. Out of town but close to attractions and restaurants.
- Bob Henderson on Google
Oct 20, 2020
Great KOA camp and fishing.
- Tom Fish on Google
Oct 18, 2020
We thoroughly enjoyed our stay at this campground. The woman at the desk was wonderful and the campground is impeccably maintained. The crystal river is gorgeous, the sites are arranged well with trees for shade, and we enjoyed roasting marshmallows in the campfire ring with our kids. There's a bike trail from the campground all the way to Carbondale, it's a lovely ride. We definitely look forward to coming back.
- Jennifer Payne-Ross on Google