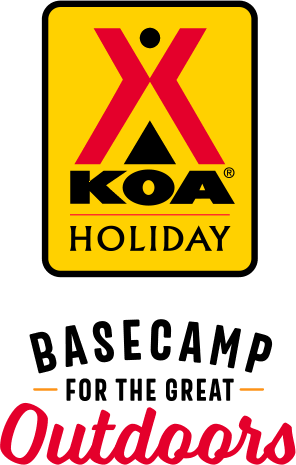 KOA Holiday Campgrounds
Whether you're exploring the local area or hanging out at the campground, KOA Holidays are an ideal place to relax and play. There's plenty to do, with amenities and services to make your stay memorable. Plus, you'll enjoy the outdoor experience with upgraded RV Sites with KOA Patio® and Deluxe Cabins with full baths for camping in comfort. Bring your family, bring your friends, or bring the whole group – there's plenty of ways to stay and explore.
KOA Holidays Feature:
RV Sites with a KOA Patio®
Deluxe Cabins with full baths
Premium Tent Sites
Group meeting facilities
Directions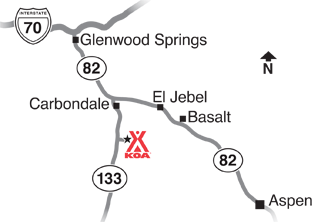 From I-70, exit at Glenwood Springs. Travel Hwy 82 toward Aspen, 12 miles.  Turn right on Hwy 133 at Carbondale. Travel 6.5 miles, turn left into campground.
Get Google Directions
Oct 20, 2021
Great location!
Oct 18, 2021
This KOA is wonderful. This was the fourth time my wife and I stayed in the cabins at the Carbondale/Crystal River KOA and we intend to return. It's like this oasis that we can escape to from our stressful lives. The sound of the river, the smell of nature, and Mount Sopris gazing watching silently over us all lead to this blissful experience. The accommodations are great. Comfortable and clean.
Oct 18, 2021
We will definitely add this KOA to our favorites list.
Oct 16, 2021
My wife and I had an awesome time in Carbondale.The KOA was great, we were right on the river and the campground was great...planning on going back next year.
Oct 16, 2021
Check in was easy. The site was vey nice and the bathrooms were warm and clean.
Oct 14, 2021
One night stay at a spot right on the river. Wished the site had sewer hookup. OTA tv reception was good and WiFi was decent.
Oct 14, 2021
We stayed 3 nights on a tent site on the river. The campground was clean, WIFI worked. It was very busy for October, the weather was beautiful. Perfect location for leaf pepping and a trip up to Crystal.
Oct 12, 2021
No complaints here. The property is clean and quiet. The staff is very friendly, and the price is fair. The WiFi works great too. Since it's very difficult to get a TV signal, it would be nice if there was a cable TV hookup. Also, it bothers me that it's so difficult to get a reservation here, especially given all of the no-shows. Lots of empty spaces. My brother had to camp elsewhere as a result.
Oct 12, 2021
One of the most beautiful KOA's we've stayed at. Very well maintained and the bathroos were clean!
Oct 12, 2021
Patti was very helpful
Oct 11, 2021
Beautiful campground, wonderful stay.
Oct 10, 2021
We had a deluxe campsite that was perfect except our site was across from the dump station. Even with wood burning in our fire pit, we would get a breeze from the dump station.
Oct 10, 2021
We try to return every year and we always enjoy our stays. Minor complaints this time: Not enough utensils, no lids for pots and ... really ... the firewood is just too expensive.
Oct 09, 2021
Good stay. Would have enjoyed it better if sewer hookup was available.
Oct 09, 2021
Clean, friendly staff, Great location - close to McClure pass, redstone and Marble - wonderful foilage fall colors!
Oct 09, 2021
Great KOA! Clean and the riverside campsites were great! Friendly check-in, would recommend staying here!
Oct 08, 2021
Great place to stay.
Oct 08, 2021
Just stayed on night but would recommend staying here. Very nice and clean
Oct 08, 2021
A beautiful facility in a spectacular area! Can't wait to come back!
Oct 06, 2021
The best KOA I have ever stayed. Very clean and quite, staff helpful, great Dog run
Oct 05, 2021
Worker are very friendly. Enjoyed the views the road a little noisy. Did not like not having sewage at your site.
Oct 05, 2021
Great get away with family. We loved the riverside cabins and perfectly timed the tree changing colors to enjoy.
Oct 05, 2021
Great place to stay.
Oct 04, 2021
Overall we enjoyed our stay. The facilities were well maintained and clean. Most of the people working at the resort were extremely helpful and friendly. Some less so.
Oct 04, 2021
Great. Clean and had everything needed for a fun stay. Ther staff was wonderful!
Oct 04, 2021
Beautiful Campground! Very clean and very nice and helpful Camp Hosts! Now one of our favorite campgrounds.
Oct 04, 2021
Beautiful location with everything conveniently located to our camp site. Thanks KOA for the great accommodations and amenities. Can't wait to visit you all again soon!
Oct 03, 2021
It is always a pleasure to stay at Holiday KOA. Sue, the front desk person, is so nice and helpful! Thanks!
Oct 01, 2021
Employees were great. KInd and helpful
Oct 01, 2021
We couldn`t be happier with everything at Carbondale/ Crystal River KOA! We had a great time, can`t way to be back!
Oct 01, 2021
Very nice stay close to the river.
Oct 01, 2021
Absolutely gorgeous spot, super clean KOA and friendly people
Sep 30, 2021
Nice restrooms.
Sep 30, 2021
Nice one night stay, tent site by the river.
Sep 30, 2021
Louise checked us in and was very helpful. This property is well taken care of.
Sep 29, 2021
Site 10 is nothing short of an incredible site! The river, the patio (with furnature), and the pergola put it over the top. I was disappointed that we were only booked for a one night stay. We hope to return again in the near future.
Sep 29, 2021
Wonderful! Clean and lovely, and as a woman camping alone, I felt very safe. Thank you!
Sep 29, 2021
Great place and camp hosts!
Sep 28, 2021
Best KOA location
Sep 28, 2021
It was a perfect girls trip.
Sep 28, 2021
Great setting, especially with the fall colors.
Sep 28, 2021
Very friendly and accommodating
Oct 08, 2021
This is a very nice KOA located off of Hwy 133 at the base of Mt. Sopris giving spectacular views of the mountain here in Carbondale, Colorado. The colors of fall adds to beauty of Carbondale and the cool temperatures prepares you for winter. This campground provides you necessities for RV living, though it it not a complete hookup with no dumping for your RV. You will have to dump at the dump site when you are full or before you leave. Other then that, great place, great location, and great customer service.
- Humphrey Vives on Google
Sep 06, 2021
Great place
- carmen rosa mayta on Google
Oct 02, 2021
Beautiful views on the river. Only negative is spotty internet service
- David Greenwalt on Google