Kite Boarding Cape Hatteras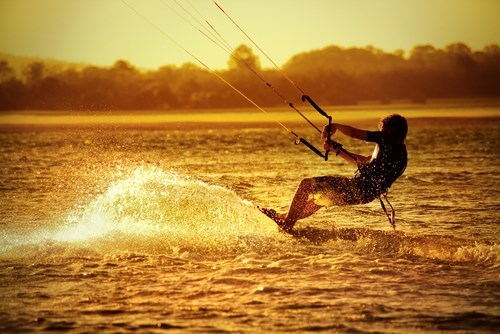 Wether you are a beginner or a pro coming to the island to Kite Board you won't be disappointed. Begginers have lots of options with companies like REAL Watersports where you can take lessons from experts. Pros of Kite Boarding will find the weather agreeable as Cape Hatteras, North Carolina, where it is known around the world as the land of kiteboarding downwinders. Plus, you you can launch off right from Cape Hatteras/Outer Banks KOA Resort sound side.
WHY IT'S PERFECT WEATHER FOR KITE BOARDING
Year round, Cape Hatteras sees winds from around the clock as far as direction is concerned. Seventy miles of unlimited access to the water, both soundside and oceanside, allow riders to pick and choose their perfect-length run. The island bends over its length to create sideshore conditions in almost any wind direction. Combine the fact that it is far off the mainland, and you have the perfect recipe for steady, consistent winds for riding downwinders of any distance.
Spring sees a good mix of SW and NE winds with some NW and northerly winds. Summer sees the NE die out and the SW take all the glory, with a few S and SE showing up in August and September. Fall winds show the SW fading away, replaced by NW, N and NE. Winter sees a pretty even mix of every direction on the compass with northerly winds being cooler and southerly winds being warmer.