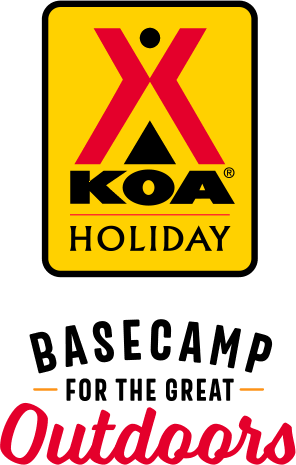 KOA Holiday Campgrounds
Whether you're exploring the local area or hanging out at the campground, KOA Holidays are an ideal place to relax and play. There's plenty to do, with amenities and services to make your stay memorable. Plus, you'll enjoy the outdoor experience with upgraded RV Sites with KOA Patio® and Deluxe Cabins with full baths for camping in comfort. Bring your family, bring your friends, or bring the whole group – there's plenty of ways to stay and explore.
KOA Holidays Feature:
RV Sites with a KOA Patio®
Deluxe Cabins with full baths
Premium Tent Sites
Group meeting facilities
Directions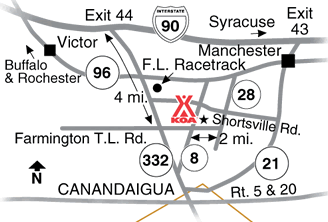 Traveling E on I-90 Exit 44: Go south 4 miles, go left on Farmington TL Road for 1 mile.
Traveling west on I-90 Exit 43: Go Rt 21 S to light, right on Rt 96 2.5 miles to blinking light, left on Rt 28 1.5 miles, right on TL Road 1.7 miles. Just follow KOA signs.
From Rt 5 and 20: Take 332 north through Canandaigua 5 miles, right on Farmington TL Road.
GPS: N42.945476, W77.309180
Get Google Directions
May 04, 2021
Our site was small and our fire pit was under water
CAMPGROUND RESPONSE / COMMENTS:
We hope you got a chance to see all our site types. You may enjoy a larger back-in site or big-rig patio site for your 15' trailer. Unfortunately we can't control the weather, with heavy rains sometimes the firepits can collect water. (we have no pits anywhere that are every 100% under water) We'd be happy to pump them out please just ask the office. Happy Kamping
May 04, 2021
This was our first trip here, and we will be back! Well run campground.
CAMPGROUND RESPONSE / COMMENTS:
Thanks for Kamping with us.
May 04, 2021
Exceptional well I will be back
May 03, 2021
We felt welcomed again. We stay at the Canandaigua KOA every year. Our hosts were great! They were very helpful and made our visit fun. Beautiful campground that can accommodate larger rigs, tents and everything in between. We will come again next year!
May 03, 2021
Very friendly staff. Nice clean campground.
May 03, 2021
We have camped many times at this family owned campground . Everyone is super friendly . They are always adding new things. It's very clean and well kept . We love this area and will definitely come again !
May 03, 2021
Very lovely place with extremely friendly staff! It was very clean and the kids loved the obstacle course.
May 03, 2021
Very clean and well kept campground. All staff very friendly and helpful. Sites are flat and well maintained. Young grandson would have loved to see fish in the pond- maybe consider stocking it with goldfish. Also would recommend drilling airholes in the fire pit ring or placing a grate in at the bottom so that it is easier for fire to get air and keep going without alot of smoke.
May 03, 2021
Very enjoyable stay. The campground was very clean and the staff was very friendly!!
May 03, 2021
Was impressed by the friendly staff. It was nice to be escorted to campsite instead of me trying to figure where to go. Campground was nice and clean. Lots of fun family things to do. I would recommend this place to anyone.
May 03, 2021
Great place. Too many permanent campers and wish add on items (mini golf, paddle boats and pedal cars) where included in the price.
CAMPGROUND RESPONSE / COMMENTS:
We only have about 30% of our sites as seasonal. You will find our pricing very reasonable compared to many local campgrounds. Unfortunately the items you mentioned are very expensive to buy and maintain and can not be included as part of the site rent. Happy Kamping.
May 01, 2021
Friendly and just great
May 01, 2021
They are wonderful folks that run the place, and I appreciate the help and advice I got from them as a newbie in the camping world. The campground is well-kept, clean and has a nice store, laundry and restaurant. I couldn't have asked for more from my first outing.
CAMPGROUND RESPONSE / COMMENTS:
Thank you for Kamping with us! We're always happy to offer a helping hand.
May 01, 2021
The site was very nice with the patio and furniture. The campground in general is very nice and will have a lot to offer once the season really gets on the way. My only problem was that the TV was pixilating a lot. The channel would come in fine but at some point would begin to pixilate. Also, is your area in a "dead zone"? I was unable to use our GPS in a large area surrounding the campgroun
CAMPGROUND RESPONSE / COMMENTS:
Thanks for camping with us. We do not have cable here so you are referring to the over-the-air reception. We do have great WIFI so you can stream a way. We have never had any issues using GPS here before. Safe travels.
Apr 30, 2021
The campground is well kept, and the staff is very friendly and helpful. Great place to stay !
Apr 27, 2021
We had a great time
Apr 27, 2021
Kids had a blast! So much to do!!
Apr 27, 2021
It's the little things that they do at this campground that make it amazing like taking you to your site and helping you back up. Things like that put this campground above all the rest. Thank you guys for your generous hospitality!
CAMPGROUND RESPONSE / COMMENTS:
Our pleasure, thank you for Kamping with us. As a family owned and operated small business, we too appreciate all our awesome Kampers!
Apr 27, 2021
Everything was nice, from all the staff to how clean things were..
Apr 26, 2021
Great stay thank you for a great weekend
Apr 26, 2021
It was amazing! We loved it there so much! The kids had a blast... there was so much for them to do there! We will definitely be going back!
Apr 25, 2021
We've been to lots of KOA's, this is one of my favorites. We've been three times: tent, camper, and cabin. All have gone well. Clean, friendly, large enough that it's not cramped, but not too spread out for bathroom use. Amenities for kids (game room with ski-ball, a couple arcade games, pool table, air hockey). And awesome pedal cars my kids have loved on prior stops.
Apr 25, 2021
People were helpful, peaceful, clean and safe place.
Apr 20, 2021
Well run campground. Nice owners and staff. They run a tight ship and enforce the reasonable rules that thy have. I mean this in a good way. Great for families as well, plenty of things to do.
Apr 20, 2021
Come here often. Always a great campsite/campground. Victor and crew make sure every visitor is well taken care of during their stay!
Apr 20, 2021
Very nice, very clean. Wonderful experience
Apr 19, 2021
Very nice campground. Well kept and actively taken care of. The staff are attentive and very nice.
Apr 19, 2021
Always the best family time! We love the staff and they always make you feel so welcome.
Apr 19, 2021
It was our first trip for the season. We always love coming to your campground!
Apr 19, 2021
Wonderful place! Staff was friendly and helpful. Lots of great activities even on a cold, rainy and muddy weekend. Can not wait to return!
Apr 19, 2021
It was our first time staying at the Koa in canandaigua. We loved it. The cabin was perfect & the staff was awesome. They are very friendly & we felt so welcome. We can't wait to book another cabin!
Apr 18, 2021
One of the best kept KOA's we've stayed at. Been there 2 yrs in a row. Helpful, courteous staff. Meticulously taken care of grounds. Lots of fun things for the kids. Convenient form NYS Thruway but quiet as can be. Near Canandaigua Lake that offers even more things to do. Great fish fries for dinner and hearty breakfasts right at the campground. Would rate it even higher if possible!!!
Apr 17, 2021
Just a short stay to start the season. Quiet and pleasant
Apr 17, 2021
Very accommodating, site was great, level, water and electric was close and it was clean. Easy in and out. Would stay again if in the area.
Apr 15, 2021
Brief overnight, early season stay. Helpful reception and guidance to the site, where everything worked as expected.
Apr 13, 2021
The site was better than I expected and weather was great! Bingo was awesome too! Thanks!
Apr 29, 2021
We loved everything about this place! We had a large group with toddlers and teenagers and they went out of their way to accommodate us. There were so many fun activities!!! I didn't get pics of everything. Even when it was raining we stayed occupied. It was so beautiful there and clean. The cabins were great. The staff were very friendly and wonderful! There weren't very many people there so we stayed covid safe. Overall we just had a great time and look forward to our next visit!
- Shquanebin Lone-Preston on Google
Apr 29, 2021
Beautiful facility with lots of activities. The staff are friendly and welcoming. The decor is very nice (love the lights near the bathroom and throughout the campground to brighten it up a bit as you're walking around at night). The bathrooms are clean and my personal favorite feature are the dish washing sinks! We normally stay at state parks where there are no such things. Although we don't have kids, I would recommend this campground to families, as there is no shortage of things to keep your kids occupied.
- Sydney Steele on Google
Apr 23, 2021
Clean and safe. People are very nice. Recommend visiting Letchworth state park if staying here.
- Aarti Jajoo on Google