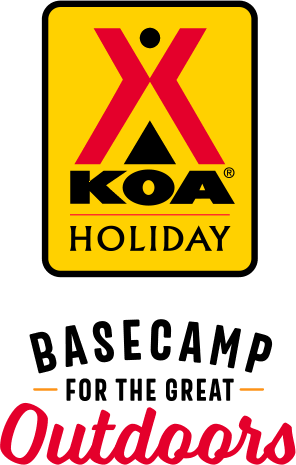 KOA Holiday Campgrounds
Whether you're exploring the local area or hanging out at the campground, KOA Holidays are an ideal place to relax and play. There's plenty to do, with amenities and services to make your stay memorable. Plus, you'll enjoy the outdoor experience with upgraded RV Sites with KOA Patio® and Deluxe Cabins with full baths for camping in comfort. Bring your family, bring your friends, or bring the whole group – there's plenty of ways to stay and explore.
KOA Holidays Feature:
RV Sites with a KOA Patio®
Deluxe Cabins with full baths
Premium Tent Sites
Group meeting facilities
Directions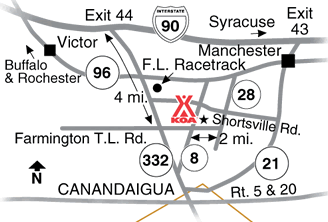 Traveling E on I-90 Exit 44: Go south 4 miles, go left on Farmington TL Road for 1 mile.
Traveling west on I-90 Exit 43: Go Rt 21 S to light, right on Rt 96 2.5 miles to blinking light, left on Rt 28 1.5 miles, right on TL Road 1.7 miles. Just follow KOA signs.
From Rt 5 and 20: Take 332 north through Canandaigua 5 miles, right on Farmington TL Road.
GPS: N42.945476, W77.309180
Get Google Directions
Nov 06, 2020
Management dealings were terrible
CAMPGROUND RESPONSE / COMMENTS:
This camper showed up past 10pm on a Thursday evening and REFUSED to checkout on Friday morning. We had a 100% sold out holiday weekend. He showed no concern whatsoever for the other family who booked that site. Checkout time was 11:30am and this camper refused to moved until after dark that evening.
Nov 04, 2020
Thanks for making the last weekend of the season so relaxing and enjoyable. See you next year!
Nov 03, 2020
This is one our family's favorite place to camp.Vary CLEAN and well managed campground.Cant wait for next season!
Nov 02, 2020
Great Campground, Awesome Staff!!
Nov 02, 2020
Last minute we upgraded to a camping cabin from a tent site because we saw snow in the forecast for our trip. Everyone was so accommodating and friendly to get us all set up and ready to camp. Everything was clean and comfortable. Close to nearby shops and restaurants. The campground is very nice and we would definitely return.
Nov 02, 2020
Loved our stay! Very clean and so easy to get around. Owner stopped by and said hello, which was a nice personal touch. Kids loved the jump pillow and obstacle course! We are already starting to plan a trip for next spring!
Nov 02, 2020
Even though it was cold, we had a great time at your campground. We loved the obstacle course. I also really appreciated when the owner stopped by our campfire Saturday night to see how our stay was. It was that personal touch that meant so much to me. Thanks for a wonderful camping experience!
Nov 02, 2020
We love it here. The staff is great and the facilities are top notch.
Nov 02, 2020
We had a fantastic time .The cabin we stayed in was wonderful and very homey .We will definitely stay again ,we hope it will be available when we decide when we are staying ! Thank you for a great time !
Oct 31, 2020
Very nice campground. Our site was level and the water was good. Wish you were open all November!
Oct 30, 2020
Your site is amazing. Loved all the activities. And everyone was so friendly �
Oct 28, 2020
This is one of our favorite campgrounds to stay at. We go every year for the past 25+ years at the end of October. Vic and the family are outstanding hosts. The park is always beautiful and each year a new project is done to upgrade it. Love it. Lynn Frisch and group
Oct 28, 2020
Great camping experience. Great staff.. Campground is always neat and clean.
Oct 27, 2020
We love the relaxing summers spent at the Canandaigua/Rochester KOA. Looking forward to next season. Dottie, Jon, Victor, & Kathy, plus their great crew, are always there when/if you need them. We thank you! Stephanie & Fred Floer
Oct 27, 2020
The staff and owners are the best, they really take the time to make you feel welcome! Even amongst all this Covid stuff, they still did an excellent job of creating activities, like Bingo, the zip line, arts and crafts and the farmers market, and keeping the AOK Cafe open to serve fantastic breakfast and dinners! And ice cream!! I will recommend this KOA to everyone!
Oct 27, 2020
The folks here are as nice as they get. They made sure our stay was as good as it could be. IT WAS LIKE BEING HOME WITH FAMILY ( THE ONES YOU LIKE). GREAT PLACE!!!
Oct 27, 2020
staff was pleasant and friendly. They escorted you to your site and helped guide us in which you don't see very often anymore. grounds and facilities were well taken care of. park was very nice and you could tell the owners and management took pride in it. TONS of activities for kids highly recommend it. we already have plans to go back in the spring.
Oct 27, 2020
We had a wonderful time on our last minute trip. The staff were helpful and accommodating. The kids loved all of the fun activities, and we loved the clean cabins. BINGO was a blast too! We will definitely be back!
Oct 26, 2020
The owners are the nicest people I have met in quite a while. It is always a pleasure to go to Canandaigua KOA because we always have a great time.
Oct 26, 2020
We stayed overnight in our motorhome. We arrived a little late just before 8pm. It was dark by then so the park staff led us to our site and guided us into our pull through site since the park was pretty full for the last weekend of the season. Everyone was super helpful and friendly. We had a great but brief stay. Wish we could have stayed longer in the area, but we were travelling each day.
Oct 26, 2020
We only stayed for one night, but the cabins were cute and cozy and kept us warm on the cold October night! We had a great time.
Oct 26, 2020
Very friendly staff. Well kept sites and amenities. Lots to do for families!
Oct 26, 2020
There is always so much for the kids to do and it's such a nice safe place to spend a weekend. The staff is always very helpful and quick to offer assistance.
Oct 26, 2020
Very. Nice. Everybody. Was. Very. Helpful. And. Enjoy. Our. Selfs. My. Grandson. Enjoyed. All. The. Stuff. U. Had. To. Do
Oct 26, 2020
Perfect place for Fall Camping����
Oct 25, 2020
This Canandaigua KOA campground is without a doubt one of my favorites. The staff there are the most friendly, caring, kind people! Dottie and John, the owners run a clean, orderly campground. They have numerous amenities and always great activities for the children! In my camping journal, this KOA rates a 10/10/10!! We look forward to spending every year there! Thank you for a great pace to camp!
CAMPGROUND RESPONSE / COMMENTS:
Wow thank you!!
Oct 24, 2020
Great sites. Pleasant staff. Lots to do in the area. Love this KOA!!!
Oct 22, 2020
We had a fabulous time! The weather was great, the people were wonderful and Victor, his Family and Staff were attentive, eager to please, extremely helpful and concerned for the safety and well-being of all at the camp. The children were kept busy and entertained with all the festivities the staff provided for the Halloween celebrations. The camp is clean and cared for meticulously. Great camp!
Oct 22, 2020
Upon our arrival we were greeted by a nice,friendly man and felt at home right away. Short stay, 2 nights and unfortunately it rained the whole visit. Visiting relatives so we were able to get out and see some sites. The campgrounds were very clean, well maintained and we were happy with our site, although we missed being able to sit around a campfire. Definitely will be returning. Thank you.
Oct 21, 2020
As always, a pleasure. The Arsenaults are to be complimented for their proactive handling of the KOA as Covid became an/the issue. RG
Oct 31, 2020
We love camping here. The staff is amazing, and the campground is well run.
- Joshua Souweine on Google
Nov 12, 2020
Moo
- Beverly Erb on Google
Oct 29, 2020
One of best KOAs we've been to. Very friendly and number of activities for kids.
- Ed Frederickson on Google