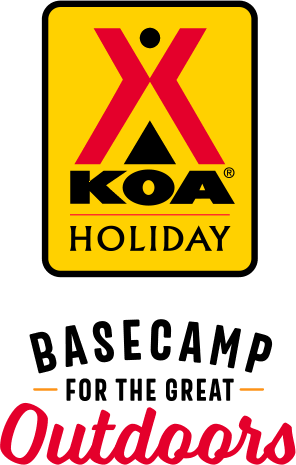 KOA Holiday Campgrounds
Whether you're exploring the local area or hanging out at the campground, KOA Holidays are an ideal place to relax and play. There's plenty to do, with amenities and services to make your stay memorable. Plus, you'll enjoy the outdoor experience with upgraded RV Sites with KOA Patio® and Deluxe Cabins with full baths for camping in comfort. Bring your family, bring your friends, or bring the whole group – there's plenty of ways to stay and explore.
KOA Holidays Feature:
RV Sites with a KOA Patio®
Deluxe Cabins with full baths
Premium Tent Sites
Group meeting facilities
May 04, 2021
Very friendly staff and helpful.
May 04, 2021
SOTF group. Very accommodating to our needs. Any thanks.
May 04, 2021
Facilities were nice however there was no hot water in the showers.
May 04, 2021
This was our first visit to Buckeye lake and we really enjoyed the area and this KOA in particular. The pull thru sites were spacious and roomy. Unfortunately, we did have to deal with some high water the first night which made a fire impossible. The water had mostly receded by the second night. Overall a great stay! Our Labradoodle appreciated the much larger than most K9 bark park.
May 04, 2021
A lot of flooding due to heavy rain. That was understandable, but had a hard time finding a spot because of the puddles. Staff was very helpful though and I appreciated that.
May 04, 2021
Beautiful site
May 03, 2021
Always friendly and courteous. They even refilled my propane tank for me when I asked if they have propane services. They picked it up, refilled it, and returned it to us at our site.
May 03, 2021
I personally would never stay here again. The lots are super close together, most are unpaved, the driveways are unpaved, the property has major construction going on everywhere. The team did bring me some firewood which was nice. The property is frankly just gross from the lots, to the dog parks, to the seemingly abandoned cabins and old bath houses, its not a place I want to be with my family.
May 03, 2021
We had some crazy weather but everyone was wonderful and helpful and did everything they could to make our stay even better. Love that they deliver our firewood right to our site. We will for sure be back!!
May 03, 2021
The campground is well maintained and staffed with friendly and helpful staff. Perfectly situated. My brother-in-law had an issue with the 5th Wheel when leaving. Rhonda bent over backwards to gelp them out! Thanks Rhonda! We'll be back���
May 03, 2021
The showers and bathrooms are very clean. Our dogs loved the dog park. There was plenty of space on our lot. Lots of walking areas. We really enjoyed ourselves!
May 03, 2021
It was very relaxing. Everyone was very friendly. We enjoyed our stay and the site. We just thought the grounds could have stood some sprucing up.
May 03, 2021
Had a great stay! There's so many nice amenities here, even my dogs had a really great time at the fenced in dog area! The creek is so pretty and picturesque. All the staff I interacted with were friendly and helpful. Nice small town vibes here, always felt safe and quiet. Will definitely be back.
May 03, 2021
Place sucks I hated it
May 03, 2021
It was a maiden voyage for our new motor home so we wanted to stay close to where we live to check things. We have stayed there on several occasions and have enjoyed it very much. Only, this time around we were placed near the permanent camp sites and one of them had several guests stop by creating a party environment with loud music. Next time we will request the newer area that we liked better.
May 03, 2021
Great stay!! Great people!! Only small issue was campsites were small for the price!!
May 03, 2021
Had a great time once again staying here. The staff here were very nice and always helpful if you need anything. The cabin was very clean when we arrived and the restroom facility's were always clean and kept that way. It is always a place we look forward to coming to. Thank you Rhonda and everyone else involved.
May 03, 2021
Compared to other KOA experiences, this one was not on par. The staff and their customer service was great. But the layout of the actual campground is extremely disappointing. Not only are spots crammed together, but they are arranged in a way where two spots are sharing a common area. We've been camping heavily the past few years and I've never seen a site packed so tightly.
May 03, 2021
Laid back and fun! Good location to the water and the boat yard bar and grill. Nice bathrooms!
May 03, 2021
Apparently we chose a site online that we could not fit into. Although it knows our length and let us choose it. On arrival this was apparent. The team jumped into action and found us a site we could fit into. They were super busy. Looked fully booked so we were thankful. Side note. The manager did say there would not be an up charge. But we were charged. No complaint here. Was just happy they fou
May 02, 2021
There was pretty heavy rain. A number of sites would have turned you rv into a houseboat. But a very friendly management team and otherwise great facility. Close to restaurants and Grandville as well as Newark, a huge plus!
May 02, 2021
It's a beautiful setting. We had a pull through for our 35 foot trailer. Didn't have to unhitch since we were there for 1 night. Very accommodating staff. I just wish there weren't so many sites squeezed together. It felt too close. Not sure we will go back.
May 02, 2021
Very tight for a 44' 5th wheel.Smelled of bad septic and connections were so dirty I didn't use the one night Pull through sites have zero room. Permanant next door built out so far it was as hard to maneuver In site as it was on their narrow mud/gravel paths. random poles in ground on turns made it more difficult. Sites were mud. Muddy in gravel. no grass' Just more mud. septic smell.
May 02, 2021
Very nice, no problem
Apr 30, 2021
Everyone is so nice and friendly. Always a blast here
Apr 29, 2021
Always a great stop ! Close to Buckeye Lake bike path, friendly staff, bathrooms always clean. We count on a great stop every time. They do not disappoint.
Apr 29, 2021
Great site and friendly staff
Apr 28, 2021
Definitely one of the best places to stay! Nice folks and deep sites!
Apr 28, 2021
We absolutely enjoyed our stay here. It was our first time in the area. I would have liked the kids amenities to have been opened during the week day. I figured it wasn't because it was pre Memorial Day?
Apr 28, 2021
Overnighter. Arrived late and the one staff still working the grounds saw us to our site. Next morning I needed a jump to our "toad". Very accommodating. Nice pull through site and the campground was very clean!
Apr 28, 2021
I liked all the activities they offer. Most koa's don't offer anything. I had trouble with the sewer hookup being too high.
Apr 28, 2021
We had an absolutely fantastic time at Buckeye Lake KOA. The gentlemen who escorted us to our spot were great and really took the time to make sure we were parked correctly and everything worked. The office personnel could have had a little more personality. We will definitely return.
Apr 27, 2021
We had a great time. Your activities were wonderful. Store was neat and clean. The staff was very helpful.
Apr 27, 2021
Clean and convenient to activities
Apr 27, 2021
The cabin was exactly what we needed for our brief stay. Bathrooms were very clean and accessible. Very well lit at night for bathroom trips. Friendly "neighbors" around us. Local attractions were easy to get to and not far away. Staff in the office were very friendly when checking in.
Apr 26, 2021
Always a great time. We got back from exploring little late Saturday night and the office was closed but they opened to give us some wood no problem. We will be back in June!
Apr 26, 2021
Great little weekend getaway to get a change of pace and a break from the norm. Clean overall and you can tell the staff cares.
Apr 26, 2021
The staff was friendly, but I felt the amenities were run down. The park and play areas were over run with weeds. We enjoyed the wine tasting that was offered and our kids liked the craft. If the amenities were taken better care of and updated we would definitely recommend.
Apr 28, 2021
Plans to hit the water
- Hope Brown on Google
Apr 27, 2021
Book here 2-3 times a year for our short trips. Use my ATV to go fishing, since Buckeye Lake is cart friendly. Always an enjoyable stay. Rhonda and staff are always on top of things. Some new upgrades are in progress to an already great camp.
- G4770BXdennisw on Trip Advisor
Apr 27, 2021
A quiet place with many attractions like winery's near by. The cabin we stayed in was simple but was just what we wanted electric and a place to sleep with heat. Reasonable priced on wood for fire pit and a dollar store not far for needs.
- Tina Krick on Google