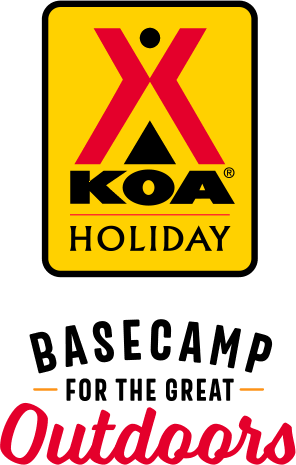 KOA Holiday Campgrounds
Whether you're exploring the local area or hanging out at the campground, KOA Holidays are an ideal place to relax and play. There's plenty to do, with amenities and services to make your stay memorable. Plus, you'll enjoy the outdoor experience with upgraded RV Sites with KOA Patio® and Deluxe Cabins with full baths for camping in comfort. Bring your family, bring your friends, or bring the whole group – there's plenty of ways to stay and explore.
KOA Holidays Feature:
RV Sites with a KOA Patio®
Deluxe Cabins with full baths
Premium Tent Sites
Group meeting facilities
Jul 21, 2021
We've only had short overnight stays, and have not used any of the facilities; however, it would be nice if the store opened before 9:00 so we could grab a coffee and quick breakfast before hitting the road.
Jul 21, 2021
Just a one night star on our way to Colorado. But we love this campground. The mature trees, dog park, restaurant next door that delivers to your campsite!
Jul 21, 2021
Staff was very friendly and accommodate with r sites. But didn't like that activity amenities were not open for kids to have something to do and were only basically open for weekends and not for ppl staying during the wk.
Jul 21, 2021
Very nice campground. Services were great. I received a text message before arriving, after checking in, and after we left. Again. service was great.
Jul 21, 2021
Wonderful Rhonda and her staff were amazing
Jul 21, 2021
Excellent deluxe cabin. Somewhat disorganized, had to find security to get out key. Front office staff forgot to put out paperwork and key for late arrival! The person who came to give us the key and paperwork our was not very professional and did not focus on helping us.
Jul 21, 2021
Location, Location and one of the best kept KOA's I've visited in years.
Jul 20, 2021
Amazing campground with really nice people. We had a patio spot which was beautiful and well worth the extra few dollars. We will definitely be back and thanks for a great weekend!
Jul 20, 2021
I hate that campers are packed in like sardines. The workers on golf carts were circling annoyingly too much. Our site was so tiny that we barely had any grass, we barely had room for 2 chairs, our firepit was under our awning, and we were so close to a very busy driveway that we could almost touch every vehicle that passed us without getting out of our chairs. Not a pleasant stay at all.
Jul 20, 2021
One of the best KOAs out there! Very attentive and numerous staff. Great for kids
Jul 19, 2021
Been going for years, this time was a little different. Still a nice place, but needs some attention. Pool need some repair (steps), overgrown weeds (need barrier from very busy road) and our site was up front so it was busy and loud. Understand the rvs going by but staff go carts were constant back and forth, then they power washed their equipment in the morning. Bathrooms closed at peak times
Jul 19, 2021
Great stay as usual! Staff was all super nice, and helpful!
Jul 19, 2021
Overall, it was a good stay. The camp spots are way too small and everyone is packed in on top of each other. By far the tightest campsite we have had so far. We had 1' past our awning extension before we were touching the other camper. Most KOA camp spots are double the size of this one.
Jul 19, 2021
We stayed one night as we were passing through on our way to KY. The campground is very nice. The laundry room was closed which was very disappointing. Our dryer in our motorhome quit working so I had used our washer to do a load of laundry, but when I went to your laundry room to dry, I found it closed. Lots of standing water on roads from a thunderstorm.
Jul 19, 2021
Stayed for ten days and really enjoyed our patio site. Rained a lot and couldn't keep the firepit empty of water :( Several things like laundry facilities were unavailable for use during our stay. Surrounding area is beautiful and we really enjoyed the lake.
Jul 19, 2021
The campground was great and there is a lot to do. When you arrive someone will lead the way to your site so you don't get lost. Lots of workers cleaning and checking on things. Only complaint is that no one mentioned the nearest bathroom/shower house was under construction so we had to drive to the front bathrooms.
Jul 19, 2021
Lots of activities for the kiddo. And clean shower houses. What more can you ask for!
Jul 19, 2021
The campground is really nice. However, this weekend alot of folks from Legend Valley camped there. It was constant noise day and night, loud music, loud people, alot of traffic noise. Management said they would make them keep their music down but they didnt. Not relaxing at all. I know they had a lot of disappointed regular campers also.
Jul 19, 2021
The guys riding around in the golf carts were nice and helpful. Great customer service. They even opened the jumping pillow and stuff for us for an hour on Friday. We truly appreciate it. The bathrooms and showers were very clean. Our tent site was clean too. Only downside is that the pool seemed small for the size of the campground and was often crowded and the other amenities weren't open.
Jul 19, 2021
A lot of rain over the weekend campground super super muddy besides that nice nice place
Jul 19, 2021
very enjoyable as always
Jul 19, 2021
A lot of rain but great staff to make us feel welcome, there to serve and help with whatever they could. Clean campgrounds and things to do.
Jul 19, 2021
Great weekend and fun family memories. A safe and clean environment to take our 4 year old that is battling health issues during this time. Love the support for cancer camp charities. It really helps kids be kids while making life threatening illness. Thank you again.
Jul 19, 2021
This was an amazing place and what makes it even better is the people who work there! Highly recommend this place to everyone I talk too!
Jul 19, 2021
We were lucky enough to get the last spot that would accommodate our 5th wheel. Everyone was extremely friendly and helpful. Lots of activities for children and adults alike. Didn't use the bath house, but if the other amenities are any indication, they were great too. Thanks for the nice stay - despite the weather and the weird tree/electrical wire thing (not anyone's fault) - it was a great
Jul 17, 2021
Love it there. Our third visit. Only thing I'd like to see is the store open later so we could get ice cream after dinner and some times while cooking you discover you've missed something but during the week the store closes at 6.
Jul 17, 2021
Stay was ok. The deluxe cabin during our stay needs some much needed updates. Outside needs the most work, deck needs to be replaced, alot of rotting wood. As for the inside, was very dusty....hair hanging from the first fan, couch needs replacement....shower needs a very good cleaning or replacement. Thank You
Jul 17, 2021
They treat you like family and attempt to fulfill every need in a timely manner. This time, it was in SPITE of being understaffed. No one ever complained. It was hot. It was humid. They were busy. Extremely. And yet? Smiles all around! Deluxe site was well maintained. Our only concern, which we never mentioned to staff, was the water pressure. It seemed low. But Rhonda and staff made all great!
Jul 17, 2021
The staff were very friendly and helpful. The pool was clean as were the bathrooms. Perfect stay!
Jul 17, 2021
Spacious sites shaded by large trees
Jul 17, 2021
Nice campground.
Jul 17, 2021
called last minute and staff was great , so helpful. It was our first time at a koa and if there all like this one we will be back
Jul 16, 2021
This KOA has one of the most friendly, helpful group of staff members that we have ever encountered. Also liked the amenities. Just make sure you have a LONG sewer hose and water hose for some of the sites.
Jul 16, 2021
Very muddy, not enough gravel to cover roadways, seemed to be more concerned about upcoming IBEW stay than the current campers
Jul 16, 2021
Came in after hours, their after hours setup was fantastic. Even had a gentleman available to show you to your site. As always, friendly staff, and no issues.
Jul 16, 2021
Service is top notch! The site was clean and flat. This is a great spot for a night or two.it is close to the highway though so it's not the quietest I've stayed at but they more than made up for it in my opinion.
Jul 16, 2021
I camp primitive. The sites available were uneven. In the lite to moderate rain we had my site and the ones around me flooded pretty quick. Campfire rings are buried in the ground barely pulled enough air to stay burning. People were friendly. Prices were fair.
Jul 15, 2021
Very nice kampground. Very clean and everyone was very friendly. Wish they had some bingo for adults. Even a food bingo. One canned or boxed food item for a card. Played at other campgrounds and it's fun! Just a suggestion for socializing
Jul 23, 2021
Staff is amazing and extremely helpful. All but one guest was also friendly. We met so many amazing people. I can't wait to go back.
- Ta'Lisha Herrell on Google
Jul 23, 2021
We camped at Buckeye Lake KOA this July. The campground was lovely with lots of shady spots, lots of lovely old trees. We were there with our grandchildren, so we spent a lot of time at the pool which was also very clean and nice. All facilities were spotless and workers were always working on keeping it that way. My only criticism is that the laundry was closed, which was disappointing since we had lots of wet towels. And, also the shuffleboard sticks needed repaired. We will definitely be back.
- scooby8 on Trip Advisor
Jul 22, 2021
I love this place
- Latrina D Bass on Google