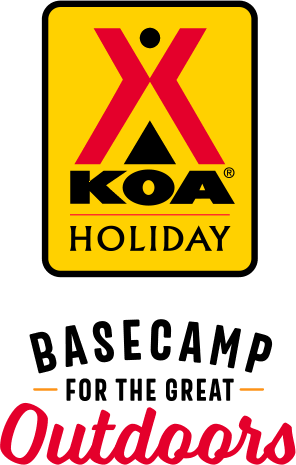 KOA Holiday Campgrounds
Whether you're exploring the local area or hanging out at the campground, KOA Holidays are an ideal place to relax and play. There's plenty to do, with amenities and services to make your stay memorable. Plus, you'll enjoy the outdoor experience with upgraded RV Sites with KOA Patio® and Deluxe Cabins with full baths for camping in comfort. Bring your family, bring your friends, or bring the whole group – there's plenty of ways to stay and explore.
KOA Holidays Feature:
RV Sites with a KOA Patio®
Deluxe Cabins with full baths
Premium Tent Sites
Group meeting facilities
Oct 19, 2021
This was our 1st experience with KOA. The campground is well maintained, everyone was friendly and we enjoyed a perfect weekend. We have already made our reservation for next year.
Oct 19, 2021
While i understand staffing is down due to COVID-19, the campground needs to consider adding a disclaimer on their website that all of the kid's activities may not be available during a stay, such as the jump pillow and such.
Oct 18, 2021
We'll be back! Very clean, lots to do, close to restaurants, the bike path around the lake was wonderful! Thanks!
Oct 18, 2021
It was horrible. We paid for a full hook up premium site and had very little water pressure. Friday, when we checked in, we notified management and they said we will send someone over, they did but they were unable to fix it. Throughout the weekend it just kept getting worse until we had no water at all. Nothing was done to fix it.
Oct 18, 2021
I camped with 3 of my sisters and their spouses and had a great time. We used the putt-putt course and sure it could of used a "spruce up" but who of us couldn't. The only issue i had was not being able to hear the lady behind the plexiglass at check in and had to come back in for a wrong charge to my account. I will be coming back to this KOA and bring the grand kid along.
Oct 18, 2021
Had a great first visit! Can't wait to be back.
Oct 18, 2021
We had a nice time with the grandkids for their Halloween weekend. Nice patio site with glider, table and chairs and firepit. Only issue we had was NO water on Sunday morning. Apparently, we were on the unlucky section that a pump had went out. Made it rough that morning especially not being able to clean up as easily before leaving. Firewood price was one of the highest we have encountered.
Oct 18, 2021
Our stay was really good. One thing that could change is the location of the firepit. When a vehicle checks in, there headlights shine in your eyes when you are sitting by the pit.
Oct 18, 2021
Very friendly staff and great location
Oct 18, 2021
We only camp at KOAs and this place left a lot to be desired. The location of the playground/sports/pool are right next to a two way, busy street. The jump pad was down, the Breakfast Cafe that was advertised has apparently been closed since COVID. The crafts for kids and adults cost money. We woke up Sunday to no water. The camp store needs to improve their food selection.
Oct 18, 2021
The staff are so friendly and helpful. The facilities are great.
Oct 18, 2021
We stayed during a October weekend, If you have kids and want an experience you have to stay on a Oct weekend. Their are crafts ,pumpkin decorating , trick or treating w/costumes and to top it off a night wagon ride are a lot of fun. The staff here are awesome and every thing was perfect. Buckeye Team Thank you.
Oct 18, 2021
Rough start to the weekend was lead to the wrong parking spot. Jumping pad was down. Not to much to offer this weekend besides trick or treat. The person running activity for kids was awesome though.
Oct 18, 2021
It was very well kept! The staff was very courteous and helpful! Plenty of activities for the grand babies!
Oct 18, 2021
Main bathrooms were out of order all weekedn, and other bathrooms are closed from 2-4 every day so i guess they expect you to pee outside. They advertise breakfest but did not have one. Store had barlet any food. Staff was rude. We will never return.
Oct 16, 2021
We had 3 rv sites and 2 cabins. We found the staff friendly and helpful throughout our stay. It was a great week. Lots of fun things to do in and around the park!
Oct 16, 2021
The campgrounds needs updating. The sites are so small and all gravel no grass. The palm ground seems very old and is rather small. The pool wasn't open when we were there but looked small. The staff was great and really friendly. The events were the only thing that made it worth it. We stayed in October and did the Halloween site decorating, trick or treat, crafts and hayride. Fun but very $$$$
Oct 16, 2021
Great stay. KOA does a great job of escorting you to your site and making sure you have all that you need. Nice campground, some space between sites, great location in nature, lots of trees.
Oct 16, 2021
We found this campground so we could come and see our new granddaughter in Pickerington and have our own place to stay. We will be coming often to this area and this will be the campground we use.
Oct 15, 2021
The cabin I stayed in was dirty, and maintenance needed to be done. Subpar for a KOA.
Oct 15, 2021
Very clean. Staff was awesome. What ever we needed all we did was ask and it was done. Can't wait to come back. Just wish there were two bath houses it would be more convenient for those who rent camp. But did noticed that they were working on that situation. We had a great time and will definitely be back.
Oct 15, 2021
Have been staying there for 20 years and have never had a bad experience
Oct 15, 2021
We only stayed overnight and it was acceptable. However, if the oak branch that came down missing our trailer and new bikes by inches, hadn't missed, I would have been very unhappy!
Oct 15, 2021
Very nice and friendly
Oct 15, 2021
It was the most awful experience of my life. My husband took a walk in the campground and someone called the cops. We were escorted out by police for absolutely no reason. I will be contacting my attorney.
Oct 15, 2021
1 night stay in a deluxe patio site. Patio was perfect for our disabled son in a wheelchair as the stairs of the camper rested on the patio and he was able to exit the car next to a walkway to the patio. We had pizza and a cheese ravioli dinner from the Pizza Cottage adj the campground. Both were great and enjoyed. We had breakfast on the patio. Only downer was the on-site laundry was closed.
Oct 14, 2021
The staff was amazing! Had a great time!
Oct 13, 2021
The housekeeper Laurie was very pleasant!!!- she loves her job and you can tell. She appreciates her leadership as well. Good job taking care of your own!
Oct 13, 2021
Nice and quiet campground. We have stayed here several times.
Oct 12, 2021
Friendly staff, clean facilities and grounds.
Oct 12, 2021
Great time great events
Oct 12, 2021
Great campground. Dogs loved the Kamp Kanine park.
Oct 12, 2021
This is a wonderful campground with many well-planned activities to enjoy in addition to all the amenities. It's an award-winning campground for good reason with remarkably helpful and friendly staff members.
Oct 11, 2021
Annual Halloween weekend in 2021 was another overall success.
Oct 11, 2021
Very nice place to camp and we loved the Halloween theme good job
Oct 11, 2021
Overall we had a great stay. The only comment is around the staff on golf carts for check and and possibly security? They seemed very disorganized and more interested in socializing compared to prior stays. We repeatedly saw them speeding, and were generally not up to your standards.
Oct 19, 2021
Great campground and staff! Our dogs loved the Kanine Ksmpground.
- Sandra Hill on Google
Oct 12, 2021
The only unfortunate part of our stay was that we couldn't stay longer. Buckeye is a beautiful and well maintained RV Park.
- Jenny Kemp on Google
Oct 12, 2021
Great level sites; campground well maintained and clean. Efficient and friendly staff. Stayed 4 nights and would again.
- Bruce Smith on Google