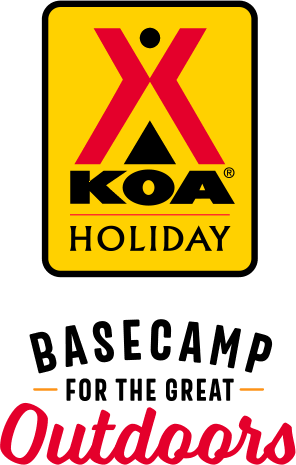 KOA Holiday Campgrounds
Whether you're exploring the local area or hanging out at the campground, KOA Holidays are an ideal place to relax and play. There's plenty to do, with amenities and services to make your stay memorable. Plus, you'll enjoy the outdoor experience with upgraded RV Sites with KOA Patio® and Deluxe Cabins with full baths for camping in comfort. Bring your family, bring your friends, or bring the whole group – there's plenty of ways to stay and explore.
KOA Holidays Feature:
RV Sites with a KOA Patio®
Deluxe Cabins with full baths
Premium Tent Sites
Group meeting facilities
Nov 12, 2020
One of the best campgrounds in Ohio. Great people running it.
Nov 04, 2020
Where are trailer was park the bathroom right near us was closed. Very inconvenient especially since it was rainy day.
Nov 03, 2020
The place is great. The sites are too close to each other, but that's the way it is in most KOA
Nov 03, 2020
What a great weekend! Thank you so much for making us feel right at home. We were very impressed with the very helpful staff. We did not have to wait more than five minutes to get wood. Very impressive on a busy weekend. We can't wait to come back!
Nov 02, 2020
Friendly Staff
Nov 02, 2020
Great Job communicating via text messages during COVID!
Nov 02, 2020
The campground is very nice. Although Friday night, about quiet time. The "camp cop" came to our site and was very rude about telling is to quite down. We are all adults and there was no need to speak to us the way he did. He said " if we didn't be quiet that we would all be pulling out trailers out and leaving" that was very unnecessary. It was 11:02. There is a better way to address!
Nov 02, 2020
great Love Rhonda and the staff. All so nice and helpful.
Nov 02, 2020
Very nice cabins. Lots of activities going on. Staff was very helpful and catered to your needs.
Nov 02, 2020
We we supposed to tent camp and decided last minute to stay in a cabin and the office staff was so nice and made that happen for us! First time i have ever stayed at a KOA and we will be back most definitely! Wish the prices were a tad lower but other than that what an awesome first stay for us!
Nov 02, 2020
Had another great weekend of camping.
Nov 02, 2020
Other than cool weather it was good. We were impress of the Saturday holloween celebration that they had. The weather turn nice and we came back to our unit for the triger treat event for the kids and is was well done. Would look forward to come back again next year in hope to bring our grandkids to the event.
Nov 02, 2020
This is the 4th time in 5 weeks we stayed here and absolutely love it. Can't wait for next year. Thank you so much for memories we made at your campground.
Nov 02, 2020
Booked a deluxe patio site. Thought they were only in the 300 sites but there are some in other sections. We were originally given one in the 100 section, a little tight. I went to the office and was assigned site 321. Best site, imo, in the campground. End space, across from putt-putt and basketball court and next to Pizza Cottage. Great stay.
Oct 31, 2020
We have camped at the Buckeye Lake KOA 3 of the last 4 years for our anniversary weekend, the next the last weekend in October. We always enjoy our stay at this beautiful campground. Friendly staff and very clean facilities. We will be returning. Thank you for a great relaxing stay.
Oct 30, 2020
I had a great time camping here. The bathrooms were really clean and the tent site was perfect among the trees. Joe was helpful and kind.
Oct 30, 2020
going out, I stayed in a camper cabin, and was glad to have that comfortable, clean option. On the way home I had my new trailer camper. it's just a very good location. nice dog play areas. clean. friendly folks. I noted you had propane refill, which is a great and I will use in the future. I do wish there were better recycling options. See you again!
Oct 29, 2020
Just stopped by on the way through town; nice gent handled late arrival with hospitality. Good, level, parking spot. Very quiet and a good night's sleep, which is what I needed most of all. Maybe next time I'll actually see the lake!
Oct 28, 2020
Wonderful. This is our favorite KOA park we stay at ! Rhonda is wonderful with communication especially with their new texting system. Simple and easy and no need to go to leave the RV as everything is delivered to your site. Very clean park!
Oct 28, 2020
Very pleasant from start to finish nice to have somebody care about what's going on when you're on vacation thank you
Oct 28, 2020
Campground is too crowded and sites are way too small.
Oct 28, 2020
This is the second time we have stayed there, we love it!
Oct 27, 2020
Great trick or treat activities.
Oct 27, 2020
Great fun. Friendly employees.
Oct 27, 2020
Things that impressed me: easy check in, communication was superior, events planned were fun! Park is lovely. My spot was pull through and full hookup. My only negative is the price is a bit high ($80 daily) and spots are narrow so your outside social space is very close to your neighbors hookups
Oct 27, 2020
Very clean and well maintained. Lots of fun activities for Halloween. Great communication & service. If you're going with a group the sites are great. If you are not you have no privacy at all. Sitting at the fire at night I could hear conversations clearly from both sides of my site. Even staggering the fire rings would be helpful instead of straight in a line. Very awkward!
Oct 26, 2020
What a great place to stay! The bundles of fire wood were kind of pricy but everything was very clean and people were nice.
Oct 26, 2020
I do like your campground and the amenities, my complaint is not with the grounds itself but who we camped next too. Wile we did not complain to the staff I personally had to ask out neighbors to turn down the music. We were 4 sites away at 11:30PM and still were hearing every bit of music. I did ask them to lower the volume and they did slightly but being directly next to them at 1AM still loud
Oct 26, 2020
It was fun. Stay there alot ....will be back
Oct 26, 2020
Dated facility that could benefit from a bit of TLC. Small spaces for Class A motorhomes.
Oct 26, 2020
Had a GREAT weekend here as always. Thank you.
Oct 26, 2020
It was wonderful. Had a great time participating in the fun activities. Staff is great. Always so friendly.
Oct 26, 2020
Reserved the last spot for a long weekend. When we got there a car was parked in the spot and no owner to be found. We were transferred to a better site (thank you!). The sites are VERY close to one another, hard to back into when the road is narrow and we had a large, unsightly (trashy) building behind us. The sewer had no cap and there was a sewage smell. WiFi worked pretty well. Too Crowded.
Oct 25, 2020
I always like camping there. The staff are very nice.
Oct 25, 2020
We were only here 1 night but would love to come back and stay longer. The grounds were well kept and sites were very nice. The man who showed us to our site was very friendly and helpful.
Oct 24, 2020
As usual, everyone was very accommodating. We were with a small group and they went above and beyond to make our stay an enjoyable one.
Oct 24, 2020
As usual, you treated the Buckeye Bounders like royality��!! We'll be back.The Smiths
Oct 24, 2020
Great campground. Only thing I didn't care for was the fact that lots were too small. Felt like you were in your neighbors area( on top of them) . We will be back but hopefully we can choose the site we want�
Oct 24, 2020
Great staff went beyond what was expected. Rhonda is the best
Oct 24, 2020
Very nice KOA with a great location to explore the Buckeye Lake area. Kampground well maintained with clean restrooms and public areas. Many features closed due to COVID-19, of course, but you can see they are kept up nicely and add value to the place. Staff was friendly and efficient. A little pricey for our off-season stay but we knew that going in. Would definitely camp here during season.
Jan 21, 2021
We had a great weekend!
- Kristin Steele on Google
Jan 20, 2021
Awesome place to stay. We absolutely loved the staff and the campground. Very clean and everyone was so nice. We stayed in October and loved how they did trick or treating and had lots of Halloween activities. Will definitely stay again.
- Karenruth74 on Trip Advisor
Jan 20, 2021
Our group of Bounder RV's have been camping at Buckeye Lake KOA for over 15 years and live the sites and the fantastic staff Planning another year agin in 2021 Clean full hook up and plenty of room for our 36 foot Bounder
- 487chetc on Trip Advisor