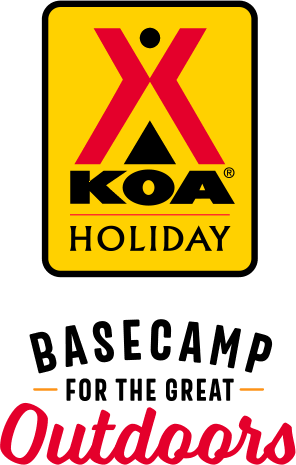 KOA Holiday Campgrounds
Whether you're exploring the local area or hanging out at the campground, KOA Holidays are an ideal place to relax and play. There's plenty to do, with amenities and services to make your stay memorable. Plus, you'll enjoy the outdoor experience with upgraded RV Sites with KOA Patio® and Deluxe Cabins with full baths for camping in comfort. Bring your family, bring your friends, or bring the whole group – there's plenty of ways to stay and explore.
KOA Holidays Feature:
RV Sites with a KOA Patio®
Deluxe Cabins with full baths
Premium Tent Sites
Group meeting facilities
Directions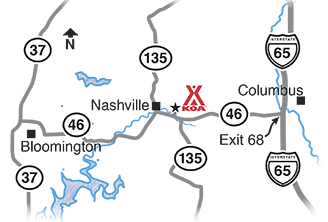 From I-65: Take Exit 68 (Columbus); go west on State Road 46 for 14 miles. You will see a Shell gas station/Circle K on the right. KOA entrance is about 200 yards past the Shell station on the right.
GPS: N39.19577, W86.205112
Get Google Directions
Jun 18, 2021
Owner was very helpful and made sure everything was ok. Nice campground with good amenities. Beautiful area and close to Little Nashville.In. and Brown County State Park.
Jun 17, 2021
Our site was pleasant. Furniture looked new in our deluxe site. Pool was refreshing.
Jun 17, 2021
Very clean showers/restrooms. Nice patio, firepit and patio furniture. Store hours stated 8-8 but were not manned at those hours is my only complaint.
Jun 17, 2021
We had a very nice relaxing stay.
Jun 16, 2021
Associate that assisted us with check in and parking our rig was very helpful and courteous. We really appreciated the quiet calm atmosphere of this KOA.
Jun 16, 2021
Very nice set up, a lot of things to do there, nice folks, will return.
Jun 16, 2021
Our stay was quite good! Other campers were very friendly. The grounds were clean. The surrounding areas were beautiful.
Jun 15, 2021
Great hosts!
Jun 15, 2021
Sadly we were only there for two nights. Our pull through site was spacious and beautifully maintained. The park was quiet and extremely well kept and the staff was wonderful! Will definitely return for a longer stay.
Jun 14, 2021
Great stay! Friendly staff and very clean campground.
Jun 14, 2021
We loved our cabin, the location and the welcoming staff!! It was a home away from home!!
Jun 14, 2021
Owner was super helpful and very friendly
Jun 14, 2021
We have stayed at many different campgrounds and this specific one has to be one of the best maintained and cleanest campgrounds around. Kudos to the ownership!
Jun 12, 2021
Very cozy and friendly helpful
Jun 12, 2021
We had a very pleasant stay. The staff was very friendly and helpful. Everything was very clean and well maintained
Jun 11, 2021
Management very friendly and helpful. Pool, Bathrooms, Grounds very clean.
Jun 10, 2021
Love staying here. Nice staff.
Jun 10, 2021
Quiet and peaceful with all the trees. The spacing felt a bit tight.
Jun 09, 2021
The deluxe tent sites were very nice. The pool was nice and cool. Only complaint was the lack of hot water in the bath house by the tent sites, but the office was aware of the issue and told us when we checked in. Will definitely camp there again!
Jun 09, 2021
Sites are kind of small. Backing in is hard because the driving lane is not very wide either. I have a 32 foot Opposing slide trailer. Sites are not very level. Easy four inch plus slope. Will not stay again. Sorry for the poor review but it's all true. Pool was nice.
Jun 08, 2021
Our family enjoyed their stay Nice Site, cabin very nice and personel was so helpful and on the spot. Thanks
Jun 07, 2021
Staff was helpful and polite. Sites are horribly unlevel, probably due being on a hill. My parents stayed in a can n which was more than adequate and clean. Very nice patio.
Jun 07, 2021
We had a wonderful time! Staff was very friendly and the grounds were clean and spacious. We will be back!
Jun 07, 2021
The hosts were friendly and helpful.
Jun 07, 2021
Good for a one nighter. Nothing special about it. Pretty small. Nothing for kids. Not that it mattered to me as I didn't bring any.
Jun 07, 2021
I reserved a site for a 17ft travel trailer with a slide out. When I arrived I was directed to a site too small for our needs. After setting up my RV , there was no room to park my vehicle. The only way to stay off the main road was to park side by side with my trailer. This left no room to enjoy the fire pit or the picnic table. After tripping over the fire pit I left bruised and disgusted.
Jun 07, 2021
Just stayed one night. Impressed with friendly and helpful staff and cleanliness of bathroom/showers. Lovely setting in the trees away from the traffic.
Jun 05, 2021
Like our site. Very Friendly staff .Campgrounds were good in spite of the rain .Restrooms and laundry were clean
Jun 05, 2021
Very nice park. Lots are narrow on outside sites but private feeling the way they angle. Very disappointed in the internet service. Rained all day one day could not get it to work on tv, phone or laptop. Finally got it to work at 6:00 pm that night then did not work the next night. Beautiful area!
Jun 04, 2021
perfect love to camp here love the patio campsite
Jun 03, 2021
Everyone was very kind and helpful! Even the permanent residents! Looking forward to a July return.
Jun 03, 2021
Lovely peaceful and clean! The porches are beautiful, the bathrooms are clean, and benches are a rocker and my husband now wants one!
Jun 03, 2021
Only 1 night, camp is well taken care of and staff is very helpful.
Jun 02, 2021
The staff was very helpful. The facility was very clean. Restrooms very clean. I would go there again.
Jun 16, 2021
This has got to be the friendliest, quietest RV park we ever stay at. This was our third visit and we will be back again and again
- Dennis Purdy on Google
Jun 13, 2021
Super helpful staff, very well kept campground.
- Ben Nibali on Google
Jun 03, 2021
Great RV site! Staff was super friendly!
- Seth And Jen on Google