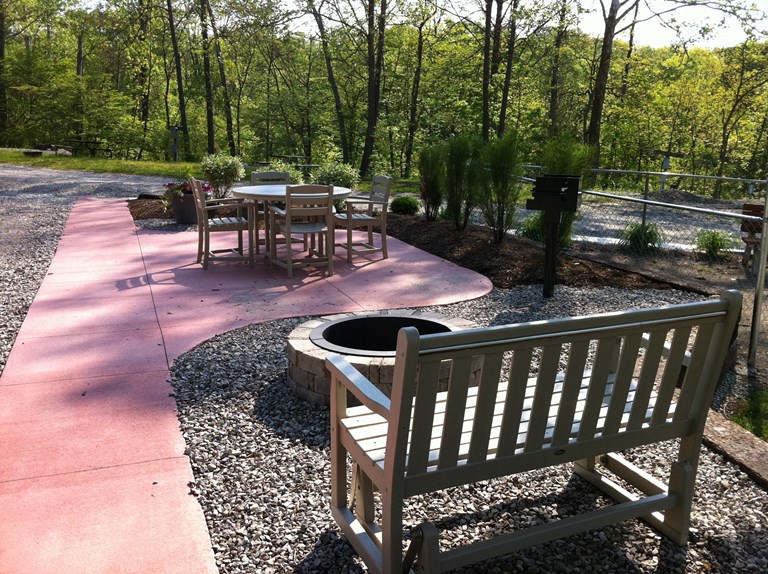 Brown County / Nashville KOA Reviews
Directions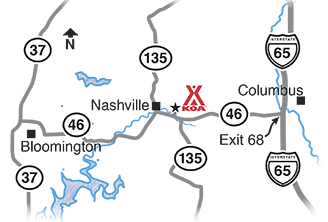 From I-65: Take Exit 68 (Columbus); go west on State Road 46 for 14 miles. You will see a Shell gas station/Circle K on the right. KOA entrance is about 200 yards past the Shell station on the right.
GPS: N39.19577, W86.205112
Get Google Directions
Sep 22, 2020
We had a great weekend and booked two more weekends!
Sep 22, 2020
A very beautiful well maintained kampground! The bathrooms were very clean. That's always a plus in my book. We had a tent site and the bathrooms were right next to our site which was also a plus. Very nice and friendly staff. I'm defiantly book another weekend next summer
Sep 22, 2020
Brown County/Nashville KOA was a pleasant surprise. This is a quaint campground with a short trail and dog park. The kids enjoyed the playground and the pool. The bathrooms were exceptionally clean. The camp store had what we needed and the owners/staff were present. The campground was close to Brown County State Park and downtown Nashville but did not feel that way. Highly recommend this KOA!
Sep 22, 2020
A small and very quant campground. We had a very good time. Would stay there again.
Sep 22, 2020
Wonderful cabin and wonderful area. This place is amazing. The walking trails are breathtaking, with nature abundant
Sep 21, 2020
Paul was a great resource and very helpful.
Sep 21, 2020
We stayed in a,cabin for our anniversary! It was wonderful!
Sep 20, 2020
Great location. Large spots. Very friendly.
Sep 20, 2020
loved our site, we had a patio with fire pit and a grill, pull through, very nice. stayed during the week , was getting more crowded during the weekend. the workers were very nice. It helped that it was a beautiful fall weekend in Brown county
Sep 20, 2020
Nice quiet KOA campground. Excellent dog walk and pet play area. Bath house near tent area excellent!
Sep 19, 2020
We rented the site with the patio and furniture and it was well worth the money. This is a smaller park, but they have all you need. Recommend.
Sep 19, 2020
Went to the state park and walked the trails, went into Nashville when though the shops.
Sep 19, 2020
As first-time campers, we could not have come to a better place. The owners were always ready to help or offer advice, once when viewing us in minor distress hitching up. The campground itself is very restful, away from the highway and surrounded by woods. Everything is nicely maintained and being improved all the time. If all our future campsites are like this, we'll be very happy!
Sep 17, 2020
Always enjoy our stay. Clean,quiet and great location
Sep 17, 2020
We always enjoy our stay at the KOA in Brown Co. They are constantly improving on leveling the outside sites, which is a bit tricky in the hills and hollers of Southern Indiana. Since last year they have put in fence lines along some of the outside sites where it drops off. This provides protection for children as well as seniors.
Sep 14, 2020
We stayed in a deluxe patio site and loved it. This is our 4th stay at this KOA and look forward to many more! We stayed in a 5th wheel.
Sep 14, 2020
The staff are so friendly and helpful! The cabin we stayed in was so clean. We will always stay here whenever we visit the area. �
Sep 14, 2020
The camp hosts were AMAZING!! For a stay with just my husband and myself I would definitely stay here again. If we were coming with our kids and grandkids we would prefer more for them to do.
Sep 14, 2020
The deluxe cabin was absolutely amazing! Everything was nice and clean. I was surprised at some of the amenities, I brought TP just-in case and they had plenty! It was nice and quiet and a short drive into Nashville!
Sep 14, 2020
The camp was very clean and well maintained. The only disappointment was all the rock at the campsite. We prefer gravel and grass
Sep 14, 2020
Staff very nice, pull thru site was long enough for motorhome and tow without disconnecting. Would stay again
Sep 13, 2020
The people were great and a very nice facility!
Sep 13, 2020
Very quiet, clean, friendly
Sep 13, 2020
Very clean and friendly. Only down was no hot water in the showers, only stayed 2 nights and didn't mention it.
Sep 13, 2020
If you are looking for a very chill, low key place to stay this is it. Nice, quiet, and relaxing atmosphere.
Sep 12, 2020
Our first visit was great. Very nice staff with clean facilities and sites. Laundry and camp store prices very reasonable. WiFi was exceptional, we will be back soon!
Sep 11, 2020
Facilities were good. Employees were very friendly. Internet worked well.
Sep 10, 2020
Really pretty. Huge spaces. VERY a helpful staff. WONDERFUL gravel trail through the woods. WiFi a bit slow... but really who cares ? You are on vacation !
Sep 10, 2020
Very nice KOA!
Sep 09, 2020
Friendly staff. Quiet place. Just plain nice!
Sep 09, 2020
We enjoyed our stay at the Nashville Indiana KOA. The owner was very helpful with the check in process and backing into our site. The sites are gravel and are a little shorter than expected but we had a separate site to park our truck. Overall, it was a very nice, clean resort. The bathrooms and laundry area were very clean. The nature hike around the campground with a dog park was great.
Sep 09, 2020
One of the nicest KOA camp sites we have stayed in! Paul was an awesome host. Beautiful site with just the right amount of privacy!
Sep 08, 2020
Loved that the staff helped everyone back in/ park. Very Friendly and super clean.
Sep 08, 2020
Stayed over Labor day weekend. The Campground was full. It was a very quiet and pleasant experience. Covered bridges in the area and the town of Nashville were wonderful attractions in the area. Campground was clean and well maintained.
Sep 08, 2020
Friendly, Clean, great place to camp
Sep 08, 2020
Had a great campsite. It was nice and peaceful. The owners were extremely helpful and friendly. The bathrooms were very clean. We lived the place. Plan on going back.
Sep 08, 2020
Very kind and helpful staff!! Very nice grounds.
Sep 08, 2020
It may not be the same as many KOAs but the location alone makes it worth staying. Loved the dog walk trail but there's not a lot of grass.
Sep 21, 2020
All around nice campground. Bathrooms are clean. Owners are great too.
- David Letro on Google
Sep 19, 2020
Nice and clean.
- Donna Letro on Google
Sep 18, 2020
I LOVE 💘 IT!
- Kandice Mitchell on Google

Brown County / Nashville KOA
Open April 1 - November 1
2248 State Road 46 E
Nashville, IN 47448-9250
Check-In/Check-Out Times
All Sites
Check-in: 1:00 pm, Check-out: 12:00 pm
Brown County / Nashville KOA
Get Google Directions

© 2020 Kampgrounds of America, Inc.