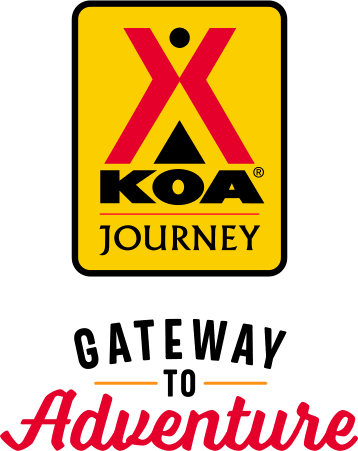 KOA Journey Campgrounds
KOA Journey campgrounds are the perfect oases after a day on the road. Whether it's along the way or a quick getaway, they've got you covered. Located near the highways and byways of North America with long Pull-thru RV Sites, they deliver convenience to the traveling camper. Pull in, ease back and take a load off.
KOA Journeys Feature:
Pull-through RV Sites with 50-amp service
Premium Tent Sites
Well lit after hours check-in service
Directions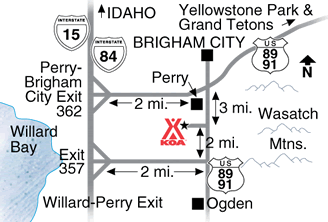 We are off Hwy 89, 4 miles south of Brigham City.
Southbound on I-15 (I-84) Exit 362: Head East (Turn Left), Head South (Turn Right) on HWY 89/Main Street (4th stop light).
Northbound on I-15 (I-84) Exit 357: Head East (Turn Right) at bottom of the exit, Head North (Turn Left) on Hwy 89.
Get Google Directions
Oct 24, 2021
The campground was all ready for us when we arrived. Had bundles of wood for our camp fire that we had asked for. The staff was very friendly and efficient. There was ground bees across the road from where we were and as soon as I told them about it they took care of it immediately. Highly recommend!
Oct 23, 2021
Smaller and older KOA in a gorgeous setting. Kylee and Amber(?) were great! One gentleman was checking electrical near out site and turned our power off and on with no notice but it was fine. (We are past KOA park hosts and always made sure guests knew what MAY happen before we start doing it, shut off water, electricity, etc.) They accommodated us with a long site for motorhome, truck and trlr.
Oct 22, 2021
They have done a lot of improvements in the last couple of years and the place looks grest
Oct 22, 2021
well maintained and friendly staff.
Oct 22, 2021
Great for an overnighter. Bathroom was clean, picked up quite a few channels via antenna. I would stay here again if in the area.
Oct 21, 2021
After staying for a year in this park, I would recommend it highly to anyone. The staff was amazing from the start. The owners have spent a great deal of time and money on many improvements and upgrades. As a single person I felt safe and comfortable and so grateful for Talan who always cane to my rescue whenever I needed help.
Oct 21, 2021
Such a nice staff person checking us in on a rainy night. Thank you
Oct 20, 2021
Clean and easy to get in and out of. Amenities are nice and the internet was awesome.
Oct 20, 2021
The most beautiful KOA location! Right at the base of the mountain. Very well kept, clean, staff were very kind. This is a gem of an Rv park! Would definitely stay here again - or maybe forever! Thank you KOA staff for everything! Denise DeCarbo & Marvin Cratty
Oct 19, 2021
We were there for a vintage trailer rally. We were admonished for putting entry area rugs in front of our trailers because "it will kill the grass." They made an exception for a few hours for the open-house portion of the rally for the rugs. The park is infested with thorny goat head weeds. They should be more concerned about killing thorny weeds than preserving grass. Thorns hurt bare feet!
Oct 19, 2021
Always well run. I didn't like the cabin location
Oct 19, 2021
Electric was hard to hook up/plug was sideways —sites were 10 foot apart close
Oct 18, 2021
Only stayed 1 Night on a Road Trip passing through the area, but the people were very nice; and the entire park was beautiful and well maintained!
Oct 18, 2021
Well taken care of campground with many scenic views of the surrounding area. Will stay again in the future.
Oct 18, 2021
We have stayed here multiple time and have enjoyed it every time. We will definitely be staying her again.
Oct 18, 2021
We enjoy staying here ,quiet clean, and friendly. See you next year!
Oct 18, 2021
My daughters and I have stayed in a cabin here a few years in a row and I can not say enough about how well run this KOA is. They are great at their jobs. I want to thank you all and we will be back. One person in particular has been there each time and always goes out of her way to help, I believe her name was Wendy but she has been there each time and does everything great! See you soon, thanks
Oct 18, 2021
Check-in and welcome was the best I've ever received at KOA. Friendly and helpful. Spacing and corners in park are tight but getting parked with your assistance was wonderful and not the challenge it could have been.
Oct 17, 2021
Very clean campground, from the bathrooms to the dog park. Staff is friendly and helpful.
Oct 17, 2021
This review has been removed by KOA due to profanity.
Oct 16, 2021
We stayed 5 nights and the spot we were given was great. It had lot of space and great internet. The park staff is very friendly and the park is well maintained.
Oct 16, 2021
Best of three KOA sites we used this trip. Quiet location, bolstered by easy entry and exit. Convenient fueling stop at interstate exit/entry ramp. Nice little store and very attentive staff. Facilities were excellent.
Oct 14, 2021
This has to be one of the best KOAs we've stayed at. Level and clean sites, clean and comfortable bathrooms and showers, and friendly staff.
Oct 13, 2021
Nice Park! We had one of the premium spots, patio, gas grill, and a two person wooded swing. What more can you ask for.
Oct 13, 2021
Easy access - in and out. Site was level and big enough to handle the 5th Wheel (32-ft) and disconnected full size pickup. Quiet and comfortable. Would stay again if passing through.
Oct 12, 2021
This the best KOA! We love to go just relax. It's a beautiful, peaceful place. They are always so accommodating to what ever we have requested. Such great owners and workers. Thank you for EVERYTHING! We will be back several times!
Oct 11, 2021
Always a great stay at this KOA, staff is great. Ice cream events are excellent. Beautiful, safe setting
Oct 11, 2021
EASY STAY, BUT A FEMALE EMPLOYEE TURNED HER BACK TO ME WHEN i ENQUIRED ABOUT WHERE i COULD PURCHASE PROPANE, BUT DID TELL ME WHEN i PERSISTED.
Oct 11, 2021
I really appreciated the communication via text asking me if I wanted a fire ring and wood (for purchase in advance) I also arrived after close and was text instructions on how to access my registration information. Otherwise, the cabin was very clean and comfortable! Thank you!!
Oct 11, 2021
Short stay. Pretty area. Close to town. Quiet campground.
Oct 11, 2021
The parking pad was nowhere close to level. We used every block we had but were still not level. The host told us the pavement company had screwed up and were coming to fix it in a couple days, but they still charged us full price for the site.
Oct 10, 2021
Clean, nice view, warm host, great internet speed. Propane supplied. Thank you for the nice experience.
Oct 10, 2021
Staff was super nice and grounds were very clean and nice.
Oct 09, 2021
I don't like the 2 pm check in time.
Oct 09, 2021
Very clean and pleasant stay. We will tell our friends and will return
Oct 08, 2021
The sites were too tight to one another. And we were placed next to a pop-up pull along trailer and the folks were fairly loud in their conversations.
Oct 08, 2021
Excellent service from call in reservations thru checkin. This KOA has been tastefully upgraded. Very neat and clean. Only problem was mosquitoes.
Oct 08, 2021
We think they've done a great job at renovation/clean up of the property
Oct 08, 2021
Amazing staff. Greeted immediately upon arrival. Fantastic store. Clean and well kept KOA. Thank you! We will be back :)
Oct 07, 2021
The park staff was excellent. Easy check-in and Easy out. The pancake breakfast was Great! Very nice park and the bathrooms were spotless.
Oct 08, 2021
I never thought I would give a KOA an excellent review. This place has earned it. Beautiful, clean, upscale, polite even friendly staff. During the day you can hear the traffic but nites are quiet. The sites are large, full hook ups. Tables with umbrellas and seats, a real grill, fire pits and a bench as seen in pics. The store is still well stocked for items you, your kids or even a few parts for your rig if you need. To the owners and their staff, Thank you for your diligence and hard work. To KOA organization or company, you need to hold all your franchises to these standards. Again thank you to all the staff and the owners!
- Darlene King on Google
Oct 06, 2021
Clean, nice view, warm host, great internet. Love it.
- Haw Tan on Google
Sep 26, 2021
The campground has paved roads and somewhat loose gravel campsites - which caused us to take a little longer setting up our Class A coach. We stayed 3 nights in Sep 2021. The employees are helpful and friendly. There's free coffee in the AM, strong WIFI (the best of any KOA we've been across the USA), and the location is excellent. I really liked their stated rule that no political flags can be flown. To me this makes for a friendlier, more positive, more civil, relaxed atmosphere.
- Josh Lucchesi on Google