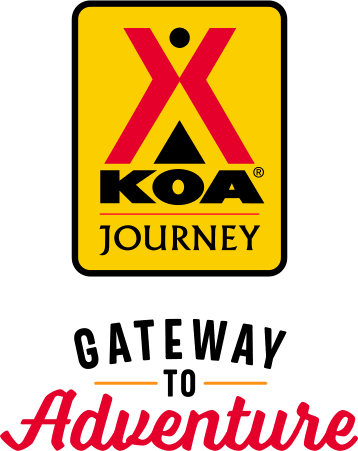 KOA Journey Campgrounds
KOA Journey campgrounds are the perfect oases after a day on the road. Whether it's along the way or a quick getaway, they've got you covered. Located near the highways and byways of North America with long Pull-thru RV Sites, they deliver convenience to the traveling camper. Pull in, ease back and take a load off.
KOA Journeys Feature:
Pull-through RV Sites with 50-amp service
Premium Tent Sites
Well lit after hours check-in service
Directions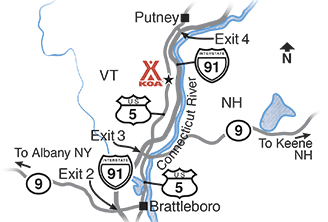 Construction on VT-9
Recommended alternative route coming from Albany, NY is I-90 East to I-91 North.
MANY GPS SYSTEMS TAKE YOU OUT OF YOUR WAY! PLEASE USE OUR EASY DIRECTIONS
From I-91:  Heading north, take Exit 3, take the 3rd exit on the roundabout, turn onto US 5, go north 3.5 miles. KOA is on the right. Look for the KOA sign at the entrance. To avoid the roundabout or if you are heading south on I-91, take Exit 4, turn onto US 5 South and go 2.8 miles. KOA is on the left.
GPS: N42.928179, W72.536973
Get Google Directions
Nov 11, 2022
We always enjoy our visits. Very relaxing. Kat & Alan are very accommodating. We've been coming here almost 20 years.
Nov 07, 2022
Beautiful campground wonderful location. I loved all the different items they had in their store. The staff was wonderful and very helpful with restaurant ideas and places to visit. If we were in the area, we would definitely go back.
Nov 01, 2022
We had a great wonderful stay at the Brattleboro KOA! The owners Kat and Alan where extremely hospitable. Thank you so much for allowing us to camp to the end of your season! Blessings from the McLean Family!
Oct 30, 2022
Koa hosts were most capable, friendly and supportive in all aspects of camping. A sincere pleasure!
Oct 29, 2022
We always feel like we are staying with family when we camp there.
Oct 25, 2022
Clean and quiet place to spend the night. Friendly staff. Pleasant experience.
Oct 24, 2022
Brattleboro KOA is a wonderful campground, it is neat and clean and designed perfectly. The bathrooms are brilliant which makes your visit there much more comfortable. In closing, Kat and Allen run a tight ship. They work very hard at NOT missing any details that are important to their camping guests. They certainly are a credit to KOA. Keep up the great work, see you next year, with pleasure.
Oct 24, 2022
We had a wonderful stay as usual. Live the new sights and work they have done there.
Oct 24, 2022
Great end of season stay, it was our final weekend for the summer, not much going on in the park but that was what we needed.
Oct 21, 2022
Great stay nice campground but the trash situation needs resolved. 3 Household garbage cans in park for roughly 50 sites.
CAMPGROUND RESPONSE / COMMENTS:
After our final Halloween Weekend we move to a skeleton crew and consolidate to a small number of garbage cans in front of the campground. Your experience is not actually how we run the park during peak season.
Oct 20, 2022
BbSites are spacious and well taken care of. Staff/owners are friendly and helpful. Restrooms very clean. Really enjoyed our stay. This is a wonderful campground.
Oct 18, 2022
We had an awesome time. They did a Country and Western theme Halloween weekend. Campsites were decorated up and there was a haunted house too! Can't wait to see what next years Halloween weekend will be! The staff was friendly and helpful and the facilities were very clean.
Oct 18, 2022
Registration was very good and we were given very good information for what to expect during our stay and for the area. Facilities were very clean and the entire campground seemed well maintained. Everyone that worked there was friendly. Recent improvements to some sites to improve hookups were a good idea.
Oct 18, 2022
It was awesome. Loved the Halloween theme and watching the kids in the Halloween parade. The foliage was spectacular. Thanks Kat & Alen, have a great winter vacation. See you in the spring.
Oct 18, 2022
The staff were friendly the bedding in can was very comfortable and bath house clean
Oct 17, 2022
We always enjoy our stays at Brattleboto North KOA. The Burta's are great host and held an excellent Halloween event that the entire family thoroughly enjoyed.
Oct 17, 2022
We stayed in your new upgraded sites in the D section. Very nice to have full hookups, after previous trips without.
Oct 17, 2022
Another great Halloween weekend ! This campground always delivers fun ,the owners and staff are absolutely the best !
Oct 17, 2022
Owners and staff treat Campers like old friends! Friendly and helpful. Activities enjoyable to participants and observers.
Oct 17, 2022
Such a great campground! Everyone is so kind and helpful. This was our second time there this year and both experiences were fantastic. This was a Halloween weekend- decorated sites, trick or treating for the kids, etc. it was such an awesome weekend! Can't wait for next year.
Oct 17, 2022
Very nice owner! remodeled bathhouses look great.
Oct 17, 2022
Friendly and well kept.
Oct 16, 2022
Absolutely great campground
Oct 16, 2022
Awesome place…great operators. On our list to revisit!!!
Oct 16, 2022
Really enjoyed this KOA. It is relatively small and doesn't have many amenities but they do the basics right. Power, water, wifi all worked well. Restrooms were spotless. Good size sites with decent spacing for a KOA. It is located in a rural setting and was quiet and dark at night. Overall, I had the impression of a well run and maintained campground. I will return.
Oct 16, 2022
We were only here for one night, but it was nice and quiet. We were properly greeted and shown where our site was located. Pull thru sites are easy to drive into. Rained all night so we didn't get to explore the grounds much. K9 pen was clean with dog toys. Best of all there is no road noise!
Oct 15, 2022
This campground is outstanding. The staff went above and beyond to accommodate us. Very clean, quiet and great location in Vermont. Would definitely come back.
Oct 15, 2022
This is one of our favorite KOAS. We love the area and the owners and staff are personable and helpful. We also are impressed with the infrastructure and other upgrades made in the past few years.
Oct 14, 2022
very pleasant check in good overnight stop over spot good water pressure and quality electric and sewer hook up well spaced and easy to access/use
Oct 13, 2022
Very nice and clean. Spacious sites.
Oct 12, 2022
Very friendly and helpful staff. Very clean and well kept campground
Oct 12, 2022
We just keep coming back year after year, that should say it all! Great time as always ���
Oct 12, 2022
I stayed in the Shasta retro camper. Has all the amenities needed. I enjoyed the changing leaves. The colors were beautiful. Close to food stores and next to a farm stand. It's a beautiful small campground. They have upgraded the bathrooms this year. I have been coming here for more than twenty years.
Oct 12, 2022
This is our favorite campground.
Oct 12, 2022
Beautiful campground. Friendly staff
Oct 18, 2022
Very nice campground clean restrooms and very dog friendly.
- Gregory Marsh on Google
Oct 07, 2022
Excellent campground, highly recommended! We enjoyed our stay at the Moose cabin. The Moose cabin is well designed, with warm and beautiful wood walls, very clean, very comfortable, master bedroom and another room with bunk beds and its own half bath. The bathrooms are pretty, even better than some hotels! There's heat and AC, a full ref, a microwave, high speed wifi, a TV in each room, and plenty of amenities. We had a relaxing stay. The owners, Kat and Alan, and their staff are professional, helpful, warm, hospitable, and a fount of information about the area, sites and services. Will definitely go back!
- Cristina Neuman on Google
Oct 05, 2022
I loved that the campground was close to town but felt like it was in the woods, very quiet. I loved the farm next door and all the wonderful produce and flowers in their roadside stand. I think Brattleboro North KOA is a perfect base camp for exploring parts of The Green Mountains and we'll definitely return to do just that our next opportunity to travel to the north east.
- Tina Hawley on Google