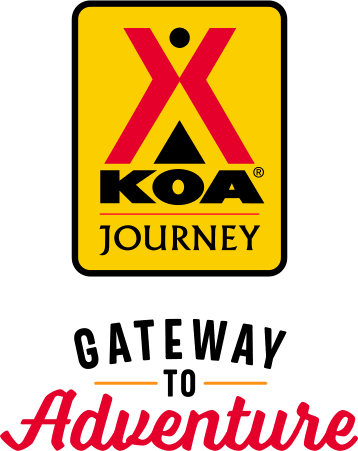 KOA Journey Campgrounds
KOA Journey campgrounds are the perfect oases after a day on the road. Whether it's along the way or a quick getaway, they've got you covered. Located near the highways and byways of North America with long Pull-thru RV Sites, they deliver convenience to the traveling camper. Pull in, ease back and take a load off.
KOA Journeys Feature:
Pull-through RV Sites with 50-amp service
Premium Tent Sites
Well lit after hours check-in service
Directions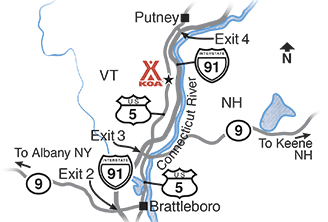 MANY GPS SYSTEMS TAKE YOU OUT OF YOUR WAY! PLEASE USE OUR EASY DIRECTIONS
From I-91:  Heading north, take Exit 3, take the 3rd exit on the roundabout, turn onto US 5, go north 3.5 miles. KOA is on the right. Look for the KOA sign at the entrance. To avoid the roundabout or if you are heading south on I-91, take Exit 4, turn onto US 5 South and go 2.8 miles. KOA is on the left.
GPS: N42.928179, W72.536973
Get Google Directions
Jun 20, 2021
We had a Great !! stay here as always. This is our favorite campground . We really enjoy being here. So far this season we have stayed here 31 nights. We will be back again soon. The Berta's run an excellent campground !
Jun 20, 2021
It was so great, we booked another week while we were there. Lol
Jun 20, 2021
Loved it! Very family friendly and owners totally engaged with all guests. Appreciated the level sites. Will definitely plan to go back.
Jun 19, 2021
We picked the site based on pictures online. Perfect choice for us, plenty of room, quiet, very pet friendly. Owners and employees were extremely helpful. Just walking around with my dog I met several likeminded campers. Park is nestled in between two farms so no noise. Views were nice, lots of amenities. Stay for a night or a week like we did great choice.
Jun 19, 2021
We were only here one night but it was a lovely stay, the staff (and owners) were so friendly. Loved that we could check in online. Amenities were very clean. Shop was well stocked with some cool stuff! Definitely would recommend to others!
Jun 19, 2021
I brought 6 grandchildren,my daughter and son and we stayed in the deluxe cabin. Plenty of room and great time. The parks were amazing as so was the pool. The owners and staff were the most friendly. I would highly recommend staying here. So many things to see and do around the area also. I will be back!
Jun 19, 2021
This is a beautiful park, makes you feel that your truly in Vermont. Great Owners!!!!!!!
Jun 19, 2021
Very nice...........Campground was excellent, owners were very nice and helpful. Other campers were very friendly. Will definitely visit again
Jun 19, 2021
I always like to stay here when I can. The staff is very friendly and the facilities are always clean. A clean shower house and laundry area are key to me. They pass, big time.
Jun 18, 2021
Great place to stay.
Jun 16, 2021
As usual, a wonderful visit! We love all the upgrades, and the site was great - our new favorite! The greenery and amazing trees that are part of the layout of the park are truly astounding - we'll be back!
Jun 16, 2021
BEAUTIFUL setting, Wonderful, friendly and helpful staff!
Jun 16, 2021
Awesome stay...park looks really nice
Jun 15, 2021
Nice stay we enjoyed the pool, WiFi is great as is the cable TV .
Jun 15, 2021
Excellence is the one word that sums up all things at this location. The owners and their staff go out of their way to make you stay enjoyable. Clean facilities, and grounds. Great overall atmosphere. We have already booked again for this year!!! Keep up the great work.
Jun 15, 2021
Staff were extremely helpful and friendly. We enjoyed our stay very much
Jun 14, 2021
Another great stay at a wonderful campground! Facilities are very clean. Campground atmosphere is very laid back and respectful. Customer service is prompt and dependable.
Jun 13, 2021
Everyone was nice and location was off highway. Grounds were well kept. Bathhouse was not clean. Shower was either scalding or freezing cold if you even got water.
Jun 13, 2021
Other than it being hotter than heck our stay was wonderful. Laundry room was very clean and washers and dryers worked great. Staff was very friendly as well as all other campers..
Jun 13, 2021
We enjoyed the friendliness and efficiency of the staff.
Jun 13, 2021
Tree needs to be trimmed by the cottages. Hard to park cars there. One place for all garbage pails is not accessible. In recent years they were put in a lot of places. Might have been in error, couple of rolls of toilet paper in each cottage would be great. Nice place to stay.
Jun 13, 2021
friendly and helpful staff, grounds were well maintained, pool was perfect.....
Jun 10, 2021
Moose mansion was the perfect size for our family. We are a family of 5 and everyone had their own bed. We really enjoyed Pixel Park and the pool. The staff was very friendly and helpful.
Jun 10, 2021
Very nice and clean friendly people the only negative thing is the location of the dumping station..it is at the back of the property instead of your way going out
Jun 10, 2021
Very nice, clean park. Great Wifi! Cottage was wonderful.
Jun 10, 2021
We were having motor home repairs done and not sure if it was going to be finished for us to sleep in that night, KOA told us they would accommodate us staying in one of the cabins if the MH was not finished. Nice park cute store with everything you need!
Jun 08, 2021
Great campground! Mature grounds - mostly shaded sites. Excellent pool - excellent management!
Jun 08, 2021
Easy booking, extremely pleasant, professional staff, clean rest rooms, roomy, shady sites, and fabulous pool.
Jun 08, 2021
Very quaint facility… No too much activity for kids… But for adults a nice relaxing place… Sites are a little too narrow a bit too in unevel When you exit your door
Jun 07, 2021
Our stay was great. Cabin very clean n comfortable. Only problem was a lot of ants...large and sugar ants.
Jun 07, 2021
Awesome camping experience
Jun 07, 2021
Second time staying at Brattleboro KOA. Love the location. Enough to do within the campground, but close enough for other activities. Booked a 2nd trip before we pulled out of the campground!
Jun 07, 2021
The staff were incredibly friendly and helpful. The campground and its facilities were clean and family-friendly. We are definitely planning to return here often!
Jun 05, 2021
The facilities are great and the owners are great. I highly recommend this KOA
Jun 04, 2021
A nice, clean, pleasant little campground run by friendly, helpful folks. We have stayed there many times and plan to return often.
Jun 04, 2021
We had a one night stay, convenient and a friendly staff
Jun 03, 2021
We love this little campground and the area. The staff are super friendly and helpful and it is quiet and relaxing.
Jun 03, 2021
We enjoyed our stay. We really appreciated that the owners had the taps played on Memorial Day. We love all their improvements.
Jun 03, 2021
Stayed one night
Jun 02, 2021
Staff was very friendly and helpful. Grounds were a typical KOA, not much exciting but nothing really negative. Did not use any of the facilities. We used the site as a basis for site seeing. You have to include the historic village of Deerfield in your stay. It's sorta the Williamsburg of NE
Jun 02, 2021
Unfortunately it rained all weekend but we still enjoyed our stay there.
Jun 02, 2021
They are very friendly and helpful. It is a great place to take the whole family and their pet friendly too!
Jun 22, 2021
Cindy was so helpful! Fit me into the back of a full park for the night and helped me with tourist attractions in the morning a check out. Beautiful campground with top notch facilities.
- Matthew Hoelscher on Google
Jun 22, 2021
Very friendly and helpful
- Kandice Brault on Google
Jun 21, 2021
This campground is a wonderful place to stay. We enjoy watching children play in the playground or riding their bikes around the campground. Having the bathrooms passcode protected makes us feel safer since people can't just come off the street and use the bathroom. The owners and staff keep the grounds neat, and keep accommodations, bathrooms, laundry room and arcade clean. Everyday we see staff mowing the lawns, emptying trash, emptying firepits and cleaning the buildings.
- Patricia Perry on Google