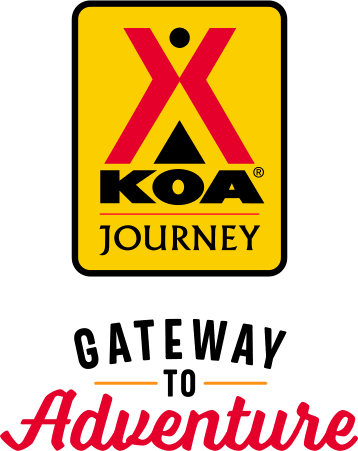 KOA Journey Campgrounds
KOA Journey campgrounds are the perfect oases after a day on the road. Whether it's along the way or a quick getaway, they've got you covered. Located near the highways and byways of North America with long Pull-thru RV Sites, they deliver convenience to the traveling camper. Pull in, ease back and take a load off.
KOA Journeys Feature:
Pull-through RV Sites with 50-amp service
Premium Tent Sites
Well lit after hours check-in service
Directions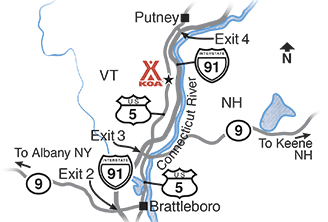 MANY GPS SYSTEMS TAKE YOU OUT OF YOUR WAY! PLEASE USE OUR EASY DIRECTIONS
From I-91:  Heading north, take Exit 3, take the 3rd exit on the roundabout, turn onto US 5, go north 3.5 miles. KOA is on the right. Look for the KOA sign at the entrance. To avoid the roundabout or if you are heading south on I-91, take Exit 4, turn onto US 5 South and go 2.8 miles. KOA is on the left.
GPS: N42.928179, W72.536973
Get Google Directions
Nov 10, 2020
Disappointed to find that this campsite has no campfire rings - how can you go camping and not have a campfire? Also, we were assigned a site where the sewer drain was higher than the surface where our trailer was parked. How does this make sense? Especially since on the weekend we stayed there, there were numerous empty campsites that had full hookups!
CAMPGROUND RESPONSE / COMMENTS:
Sorry you were disappointed in your stay. Fire rings are upon request, ask the front office for one if you come again. Part of our camp is winterized in the off season so not all sites are available due to no water. The sites will be raised in the Spring, COVID made getting work done difficult.
Oct 29, 2020
everything was nice and felt very safe. So happy that you were still open so we could use our new rig for the first time.
Oct 28, 2020
The owners are SO nice and very accommodating which is most appreciated!! The campground and bathrooms are very clean. I'll be back next summer and fall.
Oct 28, 2020
Person at office very helpful and efficient. Need to update bathrooms. Site was good. Cable very spotty most stations break up.
CAMPGROUND RESPONSE / COMMENTS:
Sorry that you had some cable issues. Unfortunately the snow interfered with our satellite and caused some issues with service.
Oct 27, 2020
Very nice. Was happy with our stay. We will be back.
Oct 27, 2020
First time visiting, would definitely recommend and return. Really nice campground, great location, clean, quiet, wonderful hosts and staff!!
Oct 27, 2020
We love coming here. It's small, quiet and everyone is nice without being in your face. We have been here many times...and we will be back again.
Oct 27, 2020
Our hostess, Cat, was outstanding in attending to our needs.
Oct 27, 2020
Very nice well kept and the hosts couldn't of been any nicer!
Oct 27, 2020
Wonderful campground. Great hosts. Using it as a stop to visit relatives in the area.
Oct 26, 2020
Had a great time. Alan and Kat are awesome and do a amazing job
Oct 26, 2020
Great campground! Will definitely come back next year
Oct 26, 2020
Great Stay. Even with offseason, staff was very attentive
Oct 26, 2020
This was my first stay at a KOA and your location is a great ambassador for the brand! Any anxiety was wiped clean during the convenient and safe check-in. Kathryn was helpful and reassuring - she made us feel welcome. The gentleman that lead us to our site was great and eager to answer any questions I had. I will certainly come back many more times; our Great Danes loved it too! Thanks so much!
Oct 26, 2020
The Brattleboro area is beautiful in the fall with lots of great hikes nearby. The campground was quiet and the bathrooms very clean.
Oct 25, 2020
We love the Brattleboro area . This campground is perfect for us. The owners are very pleasant and accommodating.
Oct 24, 2020
The staff did a fantastic job at making the last weekend of the season a fun time. Since we won't be able to enjoy Trick or Treating at home, it was fun seeing the children in the Halloween Parade and Trick or Treating. Thank you for making this spring, summer and fall so special.
Oct 24, 2020
Had a good site no problem
Oct 24, 2020
Nice campground
Oct 23, 2020
We always enjoy our visits here so peaceful & relaxing. It is always very clean & the new owners are very friendly & very accommodating. Can't wait to return next year. Lets pray we will be over the pandemic by then. Stay safe.
Oct 21, 2020
Hosts are fantastic!
Oct 21, 2020
Staff is very friendly and helpful! They have done a great job with Covid safety.
Oct 21, 2020
Very peaceful, nice sized spots, owners and staff are wonderful. Made a great home base for us for a few weeks.
Oct 21, 2020
Sites are packed in, and ours was one of the smaller ones, but the ability to pull through was great. Nice quiet campground. We had a firepit delivered which didn't get cleaned out during our three night stay and firewood was a bit pricey. Clean grounds and friendly staff.
CAMPGROUND RESPONSE / COMMENTS:
Glad you enjoyed our quiet little campground during our Halloween Weekend. If you come to visit us again you can always request the firepit to get cleaned out by calling the front office or waving down staff while they are doing rounds.
Oct 20, 2020
Very relaxed setting really nice people that on the campgrounds. Very accommodating. Can't wait for next year
Oct 20, 2020
Staff were excellent, courteous, helpful, social distanceing and cleaning efforts were in place, felt really safe all weekend with campground people and employees Had a great time on their Halloween Weekend Scare , great New England small town area to visit in the fall with old time amenities to explore!
Oct 20, 2020
Always a great time ! The owners are very involved and the staff is top notch !
Oct 19, 2020
Very friendly and helpful owners. Very clean. Had bins for recyclables! Campsite, a little short for our trailer and no vegetation to separate sites. We would go back.
Oct 19, 2020
our stay was GREAT !!!!!!....kat and allen are exceptional hosts always making sure campers got everything they need... recommend this campground to everyone i see....try it ...i know you will like it..
Oct 19, 2020
We love our weekends at the Dummerston KOA! Kat & Alan and ALL of their staff are ready to help & are always available!! It's a great local hideout for our family. 2020 has been a challenge in their industry but it made us feel so much better making a decision to book because of how they conduct their business with their customers & safety is #1!!
Oct 19, 2020
This was our third time at this site. A good starting point for fall foliage. Just have to get Mother Nature to cooperate. I am certain we will be back next year as well.
Oct 19, 2020
We had such a great time! The staff was very friendly, and the Halloween festivities were perfect! My kids also really enjoyed the playground :-)
Oct 19, 2020
The internet was close to non existent all weekend. As soon as it connected you it disconnected you. We enjoy the owners immensely, but the lady at the front desk(Tenley Berta) at check in was quite rude to me. Not someone you want as your first point of contact, even though we have been going there for about 5 years now.
CAMPGROUND RESPONSE / COMMENTS:
We are sorry you had a negative experience while you were here. Please let management know of any problems while you are here so we can address them during your stay.
Oct 18, 2020
Great place to stay. Very clean and the campers and staff were all friendly. We will be back!
Oct 18, 2020
We enjoyed our stay very much. The site was nice, the campground quiet and friendly. Our only real complaint was the WiFi was really rough. It was hard to connect to and kicked you off if you did connect.
CAMPGROUND RESPONSE / COMMENTS:
We have figured out that there was bad hardware by your site that effected your WiFi connectivity. Hopefully the next time you come visit us you will have a better experience.
Oct 17, 2020
Short stay so a lot of the amenities I could not even use, but beautiful location, well maintained and enjoyed our time here. Touring Southern Vermont from here was a breeze.
Oct 16, 2020
The owners are the nicest you will meet. Large sites, GREAT WiFi, cable and hospitality. We added another night. A must stay place!
Oct 16, 2020
We love Brattleboro KOA. We have been going there for many years. We think the new owners are great and are looking forward to next year. One request to make is to have the ashes cleaned out of the fire pit daily as was done in the past. We love our campfires.
CAMPGROUND RESPONSE / COMMENTS:
Thank you for your feedback, we were running a smaller staff this year due to COVID. You can always request it by calling the store or waving down staff when they are doing rounds. See you next year!
Oct 15, 2020
Great family campground
Oct 15, 2020
Staff friendly , courteous and very helpful with our camping needs.Site clean and quiet !
Oct 14, 2020
Thank you to Alan & Kat and staff for making our camping season wonderful. It was a rocky start with everything going on this year but the season turned out good. We love coming here and are looking forward to next year.
Oct 29, 2020
Good location. Not busy this time of year. Very nice bathrooms, but the showers are either Hot or Freezing.
- Alison Weber on Google
Oct 25, 2020
We had a great time the oners are great.the sites are clean.
- Donna Peer on Google
Oct 17, 2020
Easy access to many things. Office staff is very helpful.
- Cathy Rollinitis on Google