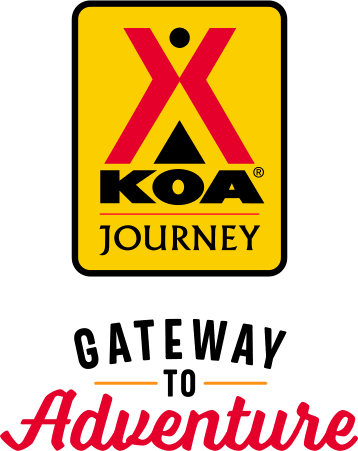 KOA Journey Campgrounds
KOA Journey campgrounds are the perfect oases after a day on the road. Whether it's along the way or a quick getaway, they've got you covered. Located near the highways and byways of North America with long Pull-thru RV Sites, they deliver convenience to the traveling camper. Pull in, ease back and take a load off.
KOA Journeys Feature:
Pull-through RV Sites with 50-amp service
Premium Tent Sites
Well lit after hours check-in service
Directions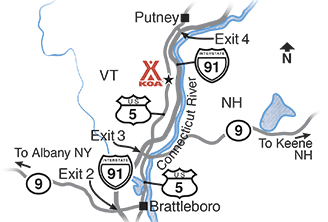 MANY GPS SYSTEMS TAKE YOU OUT OF YOUR WAY! PLEASE USE OUR EASY DIRECTIONS
From I-91:  Heading north, take Exit 3, take the 3rd exit on the roundabout, turn onto US 5, go north 3.5 miles. KOA is on the right. Look for the KOA sign at the entrance. To avoid the roundabout or if you are heading south on I-91, take Exit 4, turn onto US 5 South and go 2.8 miles. KOA is on the left.
GPS: N42.928179, W72.536973
Get Google Directions
Sep 15, 2021
Had a very nice stay, could use a new mattress in cabin number one.
Sep 15, 2021
Good clean campground, utilities worked well and staff were super friendly.
Sep 14, 2021
Brattleboro KOA is in a fantastic location. Its close proximity to all the town and surrounding area has to offer is really perfect. It's a small campground where you can experience quiet Vermont camping. The owners and staff are wonderful and always accommodating.
Sep 14, 2021
Had a great time camping at brattelboro koa, cable t.v. Worked great, wifi worked great also. See you in the spring
Sep 14, 2021
This campground is one of our favorites!! Always clean and neat! Owners are the best! We can't wait to go back.
Sep 14, 2021
We had a great time and we enjoyed staying there everyone was really friendly and I thank you very much for being pet friendly
Sep 14, 2021
great place to stay. quiet and relaxing after a long week of work. friendly campers and staff and workers willing to help with anything you need.
Sep 13, 2021
Vintage weekend was great , always enjoy our stay
Sep 13, 2021
Was part of a VINTAGE CAMPER group ,,,,, Kat and Allen couldn't have been better host,,,, made reservations for next year ,,,, before i left !!!!!
Sep 13, 2021
Kat, Alan and the entire KOA staff are always ensuring for a wonderful camping experience! I can't wait for next year!
Sep 13, 2021
We had a great weekend and enjoyed our stay. We will be back in October
Sep 13, 2021
Staff very friendly and helpful. Grounds well kept. Facilities clean.
Sep 13, 2021
Very friendly helpful people. The campground is fairly small--just the way we like it. We came to see the Vintage Campers scheduled for the weekend and enjoyed seeing the campers and the wonderful people who came with their setups. Very relaxing KOA!! We will be back again.
Sep 12, 2021
Awesome as always. We will be back!!!
Sep 12, 2021
We were given a camp site away from everyone and it had a lean to
Sep 12, 2021
This campground is smaller but the sites are more spacious than other KOA's I've stayed at. It was beautiful, clean, comfortable & accommodating. The pool was wonderful & very clean. There were a lot of things for the kids to do and the staff was very friendly & helpful. I would definitely both recommend & return to this campground.
Sep 12, 2021
Wonderful staff. Clean accommodations. Great location not to mention a beautiful area.
Sep 10, 2021
Very nice campground.. staff was awesome. Sites with very nice one on top of each other and they were clean.
Sep 09, 2021
Very friendly staff and owner. Well kept areas. Level sites. Will return if in the area.
Sep 08, 2021
Our stay was very pleasant. Owners are always helpful and friendly. We enjoyed making a nice craft for the fall.
Sep 08, 2021
The campground is well maintained and the staff was very friendly and helpful.
Sep 08, 2021
The owners at this campground are awesome. My wife and I really enjoyed our stay. The bathrooms were well kept and the campground was spotless. They really pay attention to detail from the real toilet paper in the bathrooms to how they help their guests. We cant wait to come back again. Outstanding!!!!
Sep 07, 2021
I love the Brattleboro North KOA, love the owners, love the campers, love the campsite ... and love the safe feel of this awesome campground ... oh, and love the trees, the trees make the campground so enjoyable!!!!! Till next year Kat, Allan and Rosalina!!
Sep 07, 2021
Always have a nice time here.
Sep 07, 2021
Another GREAT weekend spent at the Brattleboro North KOA! We'll be back soon.
Sep 07, 2021
Super clean, great flat sites, friendly helpful staff
Sep 07, 2021
This is one of the nicest KOA's we have stayed at. Super quiet, sites are plenty big enough, the WIFI was super fast (streamed NETFLIX) and the bathrooms are clean. Our kids are no longer interested in camping with us so we do not need the resort type campgrounds anymore and this Journey fit the bill perfectly. Kat and Alan were super helpful with local information, We will definitely be back soon
Sep 07, 2021
Stayed in one of the cabins over the Labor Day weekend, the staff were friendly and attentiative. The grounds were well kept, ed really enjoyed our stay. We already booked again for next year!
Sep 07, 2021
The campground was very clean and the sites were spaced nicely apart. The staff were very nice and friendly as well. My family and I would definitely stay here again!
Sep 07, 2021
Another fantastic relaxing weekend at our favorite campground. The hosts are fantastic, the campground is clean and relaxing, and the location is convenient to ask the quintessential Vermont locales.
Sep 07, 2021
Nice sites. Well maintained campground including pretty flower garden. Friendly people and staff.
Sep 07, 2021
Popped in for an overnight after closing. Called to reserve just before they closed. Very friendly and accommodating .
Sep 04, 2021
Wonderful pull through site for our 44' tag axle. Very friendly staff. Made sure everything was ok throughout the week. Great location to see the area. We will be back!
Sep 04, 2021
Unfortunately our class A refused to start and we were unable to leave. Labor Day weekend and the camp is completely booked; thanks to some amazing owners they were able to find a spot we could "limp"to and stay until Tues to have our rv checked, what angels!
Sep 04, 2021
Well-maintained sites; lovely clean pool; friendly staff.
Sep 02, 2021
Very reasonable and very friendly helpful staff. Noisy on busy highway and not much privacy Cottage was clean
Sep 02, 2021
My wife and I rented the Shasta, a retro but modern RV camper, installed in place for just the kind of people we are. We don't have (or want) a big truck and we can't tow a camper with our Honda Fit. The Shasta was cozy and just right fir late summer camping. We ate meals outside by the table with umbrella or inside in the diner booth. The staff were really nice and helpful.
Sep 01, 2021
just had a very relaxing weekend ,staff was ,and is awesome.
Sep 01, 2021
Very nice stop with full hookups available in Brattleboro, VT. Sites are level and the campground is well maintained. Rates are very reasonable.
Sep 19, 2021
Beautiful campground. Super quiet. Perfect size spaces. Large game room for the kids. 2 playgrounds. Owners were great! Will be back again
- Lauren Foschino on Google
Sep 07, 2021
First time here, the owners are wonderful. Campground was excellently kept. Quiet and very friendly. Definitely making this campground a regular place to come visit. Plenty to see and do nearby in this part of Vermont.
- C.Jameson Bradley on Google
Sep 07, 2021
What a wonderful KOA! The campground was very clean and well maintained. The staff was extremely helpful and friendly. Any issue we or other nearby campers had was addressed in a timely manner. Our Cabin #5 was so quaint, but had everything we needed to make us comfortable. Would highly recommend this campground to anyone wanting a restful and relaxing stay in Vermont.
- M Pav on Google