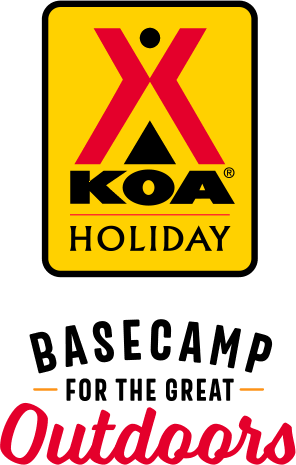 KOA Holiday Campgrounds
Whether you're exploring the local area or hanging out at the campground, KOA Holidays are an ideal place to relax and play. There's plenty to do, with amenities and services to make your stay memorable. Plus, you'll enjoy the outdoor experience with upgraded RV Sites with KOA Patio® and Deluxe Cabins with full baths for camping in comfort. Bring your family, bring your friends, or bring the whole group – there's plenty of ways to stay and explore.
KOA Holidays Feature:
RV Sites with a KOA Patio®
Deluxe Cabins with full baths
Premium Tent Sites
Group meeting facilities
Directions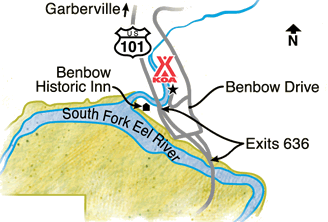 Benbow KOA is located in Garberville, California: 200 miles north of San Francisco; 70 miles south of Eureka. Take Exit #636 from Scenic HWY 101 Benbow Exit.
Traveling South: turn left onto Benbow Drive Exit 636 and follow the signs to RV Park and Golf Course.
Traveling North: turn right onto Benbow Drive Exit 636 and follow the sign to RV Park and Golf Course.
Get Google Directions
Oct 19, 2021
AlwAys a friendly staff. Really dislike how fast people drive through the grounds and seems to be others than just registered guest. Ever thought of a gate to keep others out? Disappointed about splash pad still being closed yet the grounds water sprinklers are still being used.
Oct 17, 2021
WiFi is unusable outside of the office area. WiFi to purchase $20 for 5gb also was unusable with signal too weak. Customers need WiFi. Do better. Next time I will remove rating stars.
Oct 17, 2021
One night visit, in mid October. Park was not busy which made it nice. Biggest noise came from the highway. Would stay again when the opportunity presents itself.
Oct 17, 2021
Why aren't there recycle bins? Why are the 30 amp plugs upside down in some sites, making it next to impossible to plug in surge protector? Staff is very nice, though. Campground clean.
Oct 16, 2021
Had a good time was wrong was running late and just whipped in there and they had accommodations friendly staff daff clean campground would definitely stayed again
CAMPGROUND RESPONSE / COMMENTS:
Thank you, we appreciate the comment. We will see you on your next visit to the Redwoods!
Oct 13, 2021
staff very helpful----the park is beginnig to show its age---drought conditions doesnt help ---sites could use additional gravel and leveling---hopefully some rain will give the grounds much need help---stayed twice and would return---
CAMPGROUND RESPONSE / COMMENTS:
Thank you for visiting. This years historic drought was tough on our golf course and lawns. We hope for a nice refreshing wet winter! We hope you can come for another visit someday again to the Redwoods and Benbow!
Oct 13, 2021
I arrived a few minutes before the office closed and it was dark which made it difficult to find my assigned spot - it would've been nice if the person hopped into a golf cart and allowed me to follow her directly to the site but instead I drove around for about 45 minutes. The sites were very close together but fortunately I had very considerate neighbors. The bathrooms were beautiful!
CAMPGROUND RESPONSE / COMMENTS:
Thank you for visiting. We appreciate the feedback. We designate each row with a Reflective Sign, and Each Site with a Reflective Number for travelers arriving after the sun goes down. We are glad you found our facilities were beautiful and hope you can return again!
Oct 10, 2021
Your Park was very clean as usual nice Neighbors nice team my husband just wishes that you would put be key box in another place so when we leave he doesn't have to stop and get out of the coach haha thanks for the stay Dave and Marie Hilber
CAMPGROUND RESPONSE / COMMENTS:
Thank you for visiting with us again. We appreciate the feedback and suggestion. We will look into adding an alternative Key Drop to make it more convenient for guests checking out. Hope you can visit us again!
Oct 07, 2021
It was exceptional. The staff went out of their way to make our stay something to remember. Thank you
CAMPGROUND RESPONSE / COMMENTS:
Thank you for visiting! Appreciate the feedback. It is our pleasure to help our guests have a great time at the Benbow KOA in the heart of the Humboldt Redwoods!
Oct 06, 2021
Clean and friendly. Wanted to stay here for a long time. I will be back
Oct 06, 2021
We had a great one-night stay at the Benbow KOA. It was our first stay at a KOA campground and we were impressed by the amenities. We didn't use the pool or anything, but I'm sure had we stopped in after a longer time on the road or dry camping that the campground would have been a welcome respite. We will definitely be back and have already started recommending it to fellow campers we know.
CAMPGROUND RESPONSE / COMMENTS:
Thank you for visiting. We hope you can visit again during our warm summer months for a relaxing day by the pool!
Oct 05, 2021
The power pedestal was not working for my 30 amp service. I called the night manager and he came to check it out and said he was not an electrician and was not able to fix the problem, He offered another site but as you know once you are set up you do not want too move your motor home.. We left earlier the next morning so I was not able to speak to managements about a prorate price on my site.
CAMPGROUND RESPONSE / COMMENTS:
Thank you for your feedback. We understand it is not desirable to change sites after arrival. We appreciate your understanding in not being able to get an electrician out that night. We wanted to at least offer an option to move. Please reach out to us so we can offer a discounted stay next time.
Oct 04, 2021
You have to pay for Internet access???? This was a first on our trip. Unheard of in this day and age!!
CAMPGROUND RESPONSE / COMMENTS:
Our Free Wifi Network is offered to our guests at check in, and listed on your CampSite Map. There is a Paid Premium service also available for those that want a faster connection. Here in the Redwoods, our WiFi speeds are not as fast as in the developed areas.
Oct 04, 2021
The park was very clean and seemed like a lot to do.
CAMPGROUND RESPONSE / COMMENTS:
Thank you for visiting! We have a Pool, Hot Tub, Kids Splash Park, Playground Area, Game Room, General Store, and oh so much more here along the Eel River in the Humboldt Redwoods! Hope you can visit again!
Oct 03, 2021
T try his campground is fine just looks tired . Could do with some maintenance ,lite fixtures need to be replaced or fixed ( hanging on the post) ,directions on which direction and site numbers are. Sites are very close together and roads .
CAMPGROUND RESPONSE / COMMENTS:
We appreciate the feedback. We are always working on our Benbow KOA, thank you for bringing the broken Light Post to our attention. Hope you can visit again.
Oct 02, 2021
We stopped in and got a space without a reservation nice clean friendly place.
Oct 02, 2021
No internet included in the nightly fee, pathedic.
CAMPGROUND RESPONSE / COMMENTS:
Our Free Wifi Network is offered to our guests at check in, and listed on your CampSite Map. There is a Paid Premium service also available for those that want a faster connection. Here in the Redwoods, our WiFi speeds are not as fast as in the developed areas.
Oct 01, 2021
Nice, clean and peaceful.
Oct 01, 2021
It is a beautiful, safe, clean campground. We had reservations at a "resort" 6 miles north and when we showed up there we were afraid to get out of our RV. We drove to Benbow and walked into the KOA office and they got us in immediately and gave us a reduced rate to make up for our bad experience up the road! The Kamp K9 was exactly what my dogs wanted and needed! This place is WONDERFUL!
Sep 29, 2021
Nice place to stay.
Sep 28, 2021
Site was littered with trash. Electric box cover was torn off a long time ago. All asphalt was seriously degraded and in need of repair. Our site did not have any tv çable connection. No one has invested any money in this park for a lot of years and it really shows. Charging $70 a night is overpriced. Trash was picked up. Refunded $20 for no cable tv.
Sep 28, 2021
This is a nice KOA. Well maintained, pool and spa are nice, and the people are friendly and helpful. We come here at least a couple of times a year and It's good.
Sep 28, 2021
Beautiful setting. Courteous and efficient staff.
Sep 27, 2021
It was fine. We have stayed at Benbow many times over the years - beginning back some thirty-five years when we had young children. It was beautiful, a lovely place to be. It has gone downhill over the years. We stayed in a prime site this time. It was spacious and comfortable, but everything seemed worn and uncared for. Broken lamp posts, tired or dead landscaping. They need to up their game.
Sep 27, 2021
Nice open and well kept camp ground. Staff were very friendly and helpful. Definitely will go back
Sep 26, 2021
We are a little too big for space but made it work. We are 43 ft. Plus truck and compact car
Sep 23, 2021
A bit of noise from the highway. More than we remember from prior visits. May be back for an overnight when we pass through.
Sep 22, 2021
Very nice, well kept KOA. Cable TV not working. They promised twice they would check it. They never did. No WiFi reception even though our site was very close to the office. They offered to sell us data by a local provider.
Sep 22, 2021
They put us on a site that was too short to accommodate our vehicle and trailer. Overflow parking was at opposite end of campground. We have disabilities and this was not convenient. Offered to move us after we were completely set up and only staying one night. Should have had propper site size at start. .
Sep 21, 2021
Everyone was pleasant, but the men's showers had 3 out of 5 stalls with issues. Handicapped was closed outright, one stall had the shower head broken and one stall had the bench broken from the wall mounts. Pretty poor when charged $75 a night…
Sep 20, 2021
Very helpful and friendly staff. Unfortunately the infrastructure, grounds, and golf course are in desperate need of repair and irrigation. The sprinkler system in the sites sprayed more water on my vehicles rather than the dead lawn. Now I have to wax and rub the water spots out. Ouch! It's a shame to see this beautiful park and area deteriorate so rapidly over time and neglect.
Sep 20, 2021
Nice facility and very friendly staff. Could use better lighting within the park (several broken lights) and better lighting on the walkway to / from the Benbow Inn.
Sep 20, 2021
Very nice-we enjoyed it there. Clean bathrooms, helpful staff, nice to walk to the Benbow Inn. Only disappointment was the golf course was not green and I believe this was necessary because of water rationing.
Sep 20, 2021
Beautiful place. Employees were super friendly. All dogs were quiet all night. Great stay. On site Propane was awesome. I saw that the staff delivered a tank to another guest once it was filled. Rob Luis
Oct 16, 2021
Nice chill spot. Clean park and bathrooms.
- Sebastian Wszolek on Google
Oct 15, 2021
I wasn't sure what to expect in the one-bedroom full cabins by the River but found them to be extremely accommodating. There's a dishwasher, microwave, coffee maker, and toaster in addition to the fridge and oven/stove. Basic utensils, dinner ware, and pots and pans are also provided. There are two televisions with cable - one in the bedroom and one in the living room area with the sofa bed. The bathroom has towels and soap. It was clean and people were friendly. People mostly kept their dogs on leashes (as required) unless using the dog park. I saw a puma on a low tree branch one day while walking my dog near the golf course area and it immediately ran into the brush away from us. If you love your dog - keeping them on a leash protects them from deadly encounters with wild life like coyotes, bobcats, and mountain lions. Demographically, it's not a diverse area of CA. Our family pretty much brought the only diversity.
- Melissa Marini Švigelj on Google
Sep 13, 2021
The staff was really helpful and the place was very clean and easy to get around. The pool and laundry facilities were really nice and together so we could hang out at the pool while doing laundry. Also awesome that everyone was masked very friendly.
- Tawnya Crowe on Google