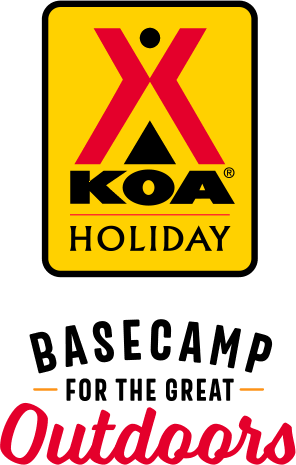 KOA Holiday Campgrounds
Whether you're exploring the local area or hanging out at the campground, KOA Holidays are an ideal place to relax and play. There's plenty to do, with amenities and services to make your stay memorable. Plus, you'll enjoy the outdoor experience with upgraded RV Sites with KOA Patio® and Deluxe Cabins with full baths for camping in comfort. Bring your family, bring your friends, or bring the whole group – there's plenty of ways to stay and explore.
KOA Holidays Feature:
RV Sites with a KOA Patio®
Deluxe Cabins with full baths
Premium Tent Sites
Group meeting facilities
Directions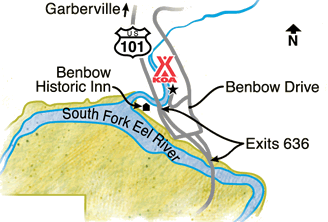 Benbow KOA is located in Garberville, California: 200 miles north of San Francisco; 70 miles south of Eureka. Take Exit #636 from Scenic HWY 101 Benbow Exit.
Traveling South: turn left onto Benbow Drive Exit 636 and follow the signs to RV Park and Golf Course.
Traveling North: turn right onto Benbow Drive Exit 636 and follow the sign to RV Park and Golf Course.
Get Google Directions
Jul 27, 2021
Very nice place with all the amenities. A bit pricy. We just stayed one night.
Jul 26, 2021
Don went over and beyond making sure he was doing everything possible for us to have a nice stay. However the golf course is not in good shape and the check in process was very slow. Seems like Don was the only person who was really trying to make sure guests got what they needed. Everyone else seems to have a "not my job" attitude.
Jul 26, 2021
There were 20 or more teenagers on the playground screaming profanities until past midnight. I called the "Night Manager" multiple times with no answer. After a restless night sleep I told the man behind the counter about our problem. He just stared at me blinking slowly like he couldn't be bothered. After a long silence he looked at me and shrugged said "…ok…sorry?". Absolutely terr
Jul 25, 2021
I would not recommend this KOA. It is run down, the grass is dead, the cabins were not very clean and the campground was not allowed to run the splash zone for kids on a hot day. The pool was too cold. A one night stay is ok but to stay any longer is a waste of money.
Jul 25, 2021
Got treated so well at Benbow KOA our Spot was Very Clean Grounds were Nice I will definitely be back Thank You Staff
Jul 25, 2021
It was a short stay before getting home. Very relaxing stay, we have vacationed here few times now and the service is great. We will be back very soon. Thanks Benbow KOA
Jul 25, 2021
stayed their many times. its always a good spot. the office people are very nice.
Jul 25, 2021
Nice location. Sites dusty, but I'll attribute that to the drought. Grass was dead. Decent laundry room. Bathrooms were why I give this KOA a low rating. The ventilation only worked when someone was in there and it smelled moldy. Floors and showers looked like they had done had a good cleaning in ages. The shower was really moldy. Pool looked nice although we left early and did t use it.
Jul 23, 2021
Unfortunately it was not what we expected from a KOA experience. The staff was very nice and friendly but the overall campground was lacking in activities. The playground was rundown, the pool was cold, there was no snack bar or casual food option and the overall experience left us underwhelmed. We ended up cutting our trip short and going somewhere else. It did not live up to the KOA name.
Jul 23, 2021
Spent 4 days at the Benbow KOA. This place is clean and the staff is so kind and helpful. My family and I had the best time.
Jul 23, 2021
Easy in and out!
Jul 23, 2021
We were really happy with the swimming pool area. The bathrooms by the tent area were not super clean and pretty smelly. We stayed in a tent spot and our neighbors warned us of the booming skunk population and once it got dark we experienced it as well. Nobody was sprayed, but the skunks were definitely comfortable around people and it added a little extra "excitement" to our night.
Jul 23, 2021
3rd time there and planning to go there again - clean, accessible, plenty of space - good stop if you traveling between Oregon and California
Jul 22, 2021
Enjoyed our stay. Staff was friendly and helpful. Pool was nice but hot tub didn't work properly.
Jul 22, 2021
nice size spaces with shade trees; the patios are great.
Jul 22, 2021
Staff are super helpful and friendly. The KOA is clean and the pool is fabulous. Would recommend to anyone.
Jul 21, 2021
We were disappointed as this was advertised as a KOA Holiday. Activities were scarce-no movie, no BINGO-things that were on the website when booked. In addition, staff gave us differing answers when it came to activities (one told me that there was no community campfire...I asked another and found out where the campfire pit was but was told that we would need to take care of the fire ourselves).
Jul 21, 2021
We love the large campsites and redwoods at Benbow-- we had workers from hotel/campground living in a cabin by us, and they played music and partied on porch until three am, It was also disappointing that the movie night and bingo were on website, but did not actually happen (my guess is website was out of date). The metal vent pole by our hookups actually fell over...be careful!
Jul 21, 2021
Beautiful grounds, pleasant staff, we loved it!
Jul 20, 2021
Ants everywhere in cabin. Couch is extremely dirty. Bathroom always smell like urine.
Jul 20, 2021
OK for stopover. Staff friendly and helpful. Loose wiring at pedestal. Vehicles parked on dead grass area.
Jul 20, 2021
We enjoyed our stay at Benbow KOA, very relaxing, enjoyed the pool.
Jul 20, 2021
Had a nice stay in a 20' travel trailer. Nice and close to the redwoods. The staff were kind and attentive.
Jul 20, 2021
The a/c where running continuously the whole time we were there and no one where staying in them. What a waste of money. Other than that It was a good stay.
Jul 20, 2021
We were in a premium space and the table was dirty, cigarette butts, and even dog poo in our spot. Needless to say, I was very disappointed. I asked one of the workers to please at least clean the table, but he said they were to busy. Enough said. I cleaned it myself, you know, covid and all.
Jul 19, 2021
This RV park is in bad need of repair. The sites are not level, the asphalt has badly eroded, the landscaping is not maintained and the roads need to be resurfaced. The golf course is all but forgotten. The rules are not enforced: saw several pit bulls in camp, campers did not necessarily clean up after their pets. Quiet time was not enforced.
Jul 19, 2021
Wi-fi was inaccessible at our site. Otherwise, it was great.
Jul 19, 2021
We met up with a group there and had a great time! Easy access park, great amenities, beautiful location
Jul 19, 2021
We had a very good stay. The cabin we rented was nice, clean, and with more than enough space for the weekend we stayed. Looking forward to the next time we come up and stay!
Jul 19, 2021
We only stayed one night on our way home. . Try to add a night, but you were full.
Jul 18, 2021
Activities for the kids were excellent! Campsites under the big trees were amazing! Campsites not under the big trees out by the cows and open field are less than wonderful. We were only there for one night but the grass doesn't appear to be watered much, while the grass under the big trees is bright green. The baths in this area are clean but shower itself doesn't have much pressure and too h
Jul 18, 2021
The campground was clean, these were the nicest bathrooms I've seen at a KOA and the dog park was nice.
Jul 18, 2021
Clean,quiet,and great staff! Fun activities for kids. Level sites, tree shaded and Nice camping neighbors.
Jul 18, 2021
Very nice campground we enjoyed our stay
Jul 16, 2021
We enjoyed our stay very much. The park was clean and well maintained. And staff was friendly and helpful. We discovered our water pressure regulator wasn't working and a kind KOA employee named Dan came to our rescue. He provided us with a regulator that worked! Thanks so much we really appreciated his kindness.
Jul 15, 2021
Nice spot and amenities with the Premium Site, but very pricey. Pool is small, very few lounge chairs and many are broken, and concrete around the pool is very rough on the feet! Enjoyed the fire ring for a fire at our site and the people there were friendly and nice. Laundry was clean.
Jul 15, 2021
Second time at Benbow and will comeback again
Jul 14, 2021
Our RV site was clean and spacious; perfect for our stay/
Jul 20, 2021
Great campground and great lodges
- Jeffrey Eucher on Google
Jul 17, 2021
Great place to make Awesome memories
- N Chavez on Google
Jul 01, 2021
Great staff. Super helpful. My battery ran down in my tow vehicle. They loaned me a jump start box. Great customer service.
- erick armeson on Google