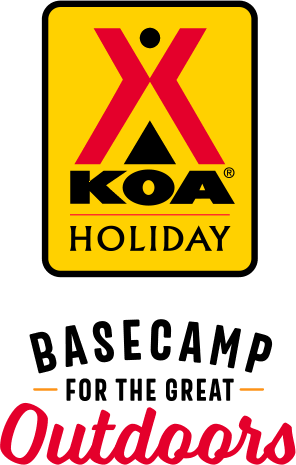 KOA Holiday Campgrounds
Whether you're exploring the local area or hanging out at the campground, KOA Holidays are an ideal place to relax and play. There's plenty to do, with amenities and services to make your stay memorable. Plus, you'll enjoy the outdoor experience with upgraded RV Sites with KOA Patio® and Deluxe Cabins with full baths for camping in comfort. Bring your family, bring your friends, or bring the whole group – there's plenty of ways to stay and explore.
KOA Holidays Feature:
RV Sites with a KOA Patio®
Deluxe Cabins with full baths
Premium Tent Sites
Group meeting facilities
Directions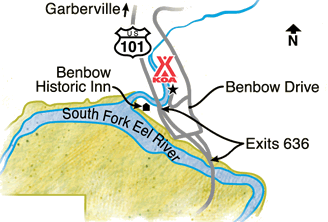 Benbow KOA is located in Garberville, California: 200 miles north of San Francisco; 70 miles south of Eureka. Take Exit #636 from Scenic HWY 101 Benbow Exit.
Traveling South: turn left onto Benbow Drive Exit 636 and follow the signs to RV Park and Golf Course.
Traveling North: turn right onto Benbow Drive Exit 636 and follow the sign to RV Park and Golf Course.
Get Google Directions
Jan 18, 2021
Awesome staff only concern is how fast some guests drive through the campground.
Jan 17, 2021
Our stay was fine; quiet, very clean bathrooms and showers, a water and power hookup station that we did not have to share (crowded) with another party. The fact that our campsite had a dedicated sewer dump pipe was a surprise and very much appreciated. Staff were pleasant and efficient. We love the area surrounding Benbow KOA, we'll be back... Please correct the spelling of my first name- Lar
Jan 14, 2021
Great people great everything. Just a little traffic noise.
Jan 08, 2021
The campground is beautiful, love it. We were checking in family cabin, and unfortunately the cabin was used by someone smoking before. We came at Christmas Eve and there was no other vacant cabin that they can assign us. The manager onsite was very understanding, offered us a free night and invited us to Christmas dinner onsite next day, but we drove back the next morning. Good service!!!
Jan 06, 2021
pristine, clean and comfortable. Dog run was very small. Everyday(we stayed 6 nights) about 2-4 in the afternoon there was a very shrill screeching, loud noise. The 1st day we thought it was an alarmWe walked around the park until we found where it was coming from. Someone put their parrot out on a cottage front porch everyday! Very annoying at nap time.
Jan 05, 2021
The staff were not real welcoming at check in but over all it is a beautiful place to stay. We have stayed a few times and will definitely stay again.
Jan 04, 2021
Front office staff was very nice and helpful. Plan on coming again soon. Great fireworks. A suggestion: to have the full timers/employees be in one area together. Very loud parrot outside on deck made it hard to take naps :) in the afternoons. Also, honking golf carts.
Jan 04, 2021
Well-kept campground with easy access and the hosts are great
Jan 03, 2021
Super clean and extremely quiet.
Jan 01, 2021
We were pleased mostly, except discouraged at what appeared to be several permanent residents. Our neighbor didn't keep his dog messes cleaned up very well. One morning our gas cap had been removed. Luckily no gas seemed to be missing.
Dec 29, 2020
Very nice check in beautiful area
Dec 28, 2020
Nice KOA. Friendly staff. Nice clean patio sites. It was wintertime during a pandemic, so it wasn't crowded. Nice game room and swimming pool. We didn't use them, but would in the future under different circumstances.
Dec 27, 2020
It was horrible. Not only did they give us the wrong, smaller cabin for 3 people but there was no bedding for the sofa bed. I called to speak to a manager went back into the office, and all I was offered was a half price triplex room, similar to a jail cell. On top of that, the manager never called me back. Upon arrival, late at night, the cabin was 48 degrees and not warm til 1am. Don't stay he
Dec 22, 2020
Krissy was an absolute sweetheart! She check us in quickly and was very helpful of information around the area for our next day outing. Thank you Krissy for everything! She made out stay there special.
Dec 21, 2020
Our 6th trip this year to Benbow. KOA staff are great. Nice to see green grass again. Park looks great. Our spot, number 92 is a great spot but could use a little work. The asphalt is too low next to the curb. Filling it in would be good. There is a significant underground water leak between 92 and 93. The internet was better, but still not good, this trip. Hope to be back soon
Dec 20, 2020
I was told about your strict check-in and cofid measures in place. I was super happy about this because we are careful as well. But I was really disappointed with the one office staff that did not wear her mask correctly. The mask is not a chin strap. I filled out your forms at the far end of the counter to stay away. When I asked it was pulled up but with attitude endangering us and your crew.
Dec 19, 2020
Everything was great. Cable did not work, even when the cord was connected to another site.
Dec 19, 2020
Beautiful park, well maintained and very friendly staff.
Dec 09, 2020
Our 1st RV experience. Joyed
Dec 08, 2020
Friendly staff, clean park, reasonable prices. Plenty of pet areas, river access, pathway to the Historic Benbow Inn and stone bridge. Beautiful region of Northern CA.
Dec 08, 2020
Low branches throughout the driveways in the parks scratching side of rig. Very poor or no WiFi. No garbage cans near the RV sites at all. Too many cottages. This is an RV park not a housing development. Very disappointed with what KOA did to the park. Will not return to Benbow KOA.
Dec 03, 2020
Stayed 5 nights over Thanksgiving with family and friends in RV's in the 400 portion of the camp. Nice, clean, quiet, and located close to the areas we wanted to visit. Thank you, Gary Graham
Dec 01, 2020
Everything was easy and friendly about check in and we had a great time over all. We have two small girls and they loved being right next to the river and the playground. The cabin was smaller than expected but for our family it was fine. Some improvements needed: 1) the floor of the cabin was extremely filthy - our bare feet were black with dirt! 2) the bathroom light/heat lamp was too loud!
Dec 01, 2020
Had a super experience here! The check-in process was really friendly and easy - and we got complimentary koozies! The sites were large and clean. Didn't know that you had to bring your own fire ring, but would have been an ideal setting for a fire. We also got a delicious meal at the Inn next door (they are affiliated/have some kind of reciprocal relationship). Looking forward to visiting again!
Nov 30, 2020
wish the wifi signal was stronger, had more dog run areas. site was littered with pieces of chicken bones when we arrived. it was after dark. we had to clean the area before we could set up camp since the dogs were trying to eat the bones.
Nov 30, 2020
It would be better if an investment in the WiFi reception was improved.
Nov 30, 2020
We were just traveling through, and it's COVID time, so we didn't use facilities or entertainment, but it looked nice. Campground was pleasant, safe & comfortable. Sewage hookup challenging. We hope to go back when we can stay & enjoy. Looks good for family reunions.
Nov 29, 2020
We set up in site B52 and had no power. We tracked it to your box not our trailer. You had us switch spots the next day(thank you for that) but then you repeatedly rented out that same spot Let people set up their whole camp only to realize they had no power. That's so wrong. The showers were so disgusting with huge clumps of hair all over the ground and walls. There were no dog poop bags.
Nov 29, 2020
Loved it. The kabins are great. The area is beautiful. My family really enjoyed our stay.
Nov 29, 2020
The thing I would improve....the cabin could have been cleaner. I did feel all the bedding looked clean and inviting. Thank you for supplying the towels they were soft and absorbing.
Nov 29, 2020
The employees at the KOA were friendly and helpful.
Nov 26, 2020
Cute cabin, lots of things to do where it not a pandemic. Helpful staff.
Nov 24, 2020
We love Benbow. Friendly and helpful employees, beautiful setting, well kept grounds. It was a beautiful birthday weekend!
Nov 20, 2020
Horrible WIFI service. Noisy next to highway. Too many full time residents! They should put the full time RV residents in a secluded section. Very messy looking!
Nov 19, 2020
Fantastic place. Every detail you'd want is here. The Premium sites are unbelievable. 78 Cable Channels!
Jan 14, 2021
Nice cabins! Great customer service! People in the office are really nice!!
- Linda Browning on Google
Dec 31, 2016
Great place great staff what more can you ask for nice the river has water in it
- Jay Weltzheimer on Google
Dec 02, 2020
We stayed here one night on our way to Golden Beach. The place seemed good. 2 of us slept in a small cabin. It had its own bathroom and shower. Hot water and good heater. There was not even one hook to hang something. Also there were ants around the sink. Glad we had spray bug killer. Anyways it is good as a campsite.
- Anoosh Megerian on Google