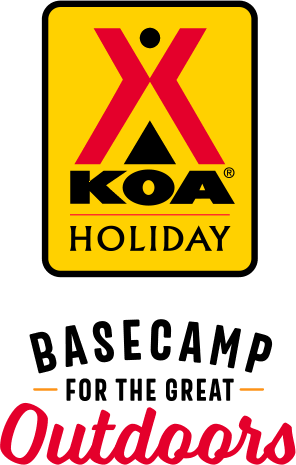 KOA Holiday Campgrounds
Whether you're exploring the local area or hanging out at the campground, KOA Holidays are an ideal place to relax and play. There's plenty to do, with amenities and services to make your stay memorable. Plus, you'll enjoy the outdoor experience with upgraded RV Sites with KOA Patio® and Deluxe Cabins with full baths for camping in comfort. Bring your family, bring your friends, or bring the whole group – there's plenty of ways to stay and explore.
KOA Holidays Feature:
RV Sites with a KOA Patio®
Deluxe Cabins with full baths
Premium Tent Sites
Group meeting facilities
Directions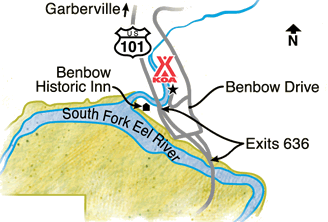 Benbow KOA is located in Garberville, California: 200 miles north of San Francisco; 70 miles south of Eureka. Take Exit #636 from Scenic HWY 101 Benbow Exit.
Traveling South: turn left onto Benbow Drive Exit 636 and follow the signs to RV Park and Golf Course.
Traveling North: turn right onto Benbow Drive Exit 636 and follow the sign to RV Park and Golf Course.
Get Google Directions
Apr 06, 2021
Very helpful staff.
Apr 05, 2021
I will be calling and writing corporate. Our stay was unacceptable.
Apr 05, 2021
Easy in and out. Staff was friendly and helpful.
Apr 03, 2021
Beautiful area with River access and ability to walk to the Benbow Inn. Close proximity to Richardson Grove. About an hour to Ferndale which is a nice day trip. Grounds are clean & feel safe but equipment/bathrooms dated and worn. Power supply unstable, staff responsive but unable to correct problem. Appears to have some long term residents even though there is a 21 day limit.
Apr 02, 2021
Krissy was especially helpful. Internet really needs an upgrade.
Apr 01, 2021
Customer service was great! When we asked or needed anything it was addressed. Our cabin was clean and our needs were met. We will be coming back without a doubt!
Mar 31, 2021
WiFi is sketchy. Park seems to be rundown. Many permanent residents in cabins and TVs. Lots of freeway noise.
Mar 31, 2021
Used the park as a stopping/starting spot for the Ave of giants
Mar 31, 2021
Excellent service as usual! Krissy was awesome and very helpful! Can't wait until we can come back!
Mar 27, 2021
Worked well for what we needed.
Mar 27, 2021
We like this campground a lot with a few exceptions. Too many live ins, cute little street lights burned out, with everyone bringing pets no poop bags and a water leak. Also the front desk kids are kinda clueless. But overall a nice and clean campground
Mar 26, 2021
Good. Nice staff. Enjoyed the stay and proximity to the Avenue of the Giants. The stream was nice and fishing was convenient.
Mar 25, 2021
Our RV was really too big for most of the spots. Spots were very narrow. No where to park truck that pulls our 5th wheel. The phone wasn't always answered. Pretty spot, nice people. Good location for touring the Avenue of the Giants. Shower house was very sandy.
Mar 22, 2021
Great park for the kids. Nice stay while visiting the Avenue of the Giants.
Mar 22, 2021
Perfect for what I needed. Staff was helpful.
Mar 22, 2021
Our cabins heater cover was missing and the heater was so loud we had to turn it off to sleep. It was cold and only one blanket was provided.. The front room hide a bed mattress was so worn down that all you could feel were the springs. We stay at KOAs all the time, but this was very disappointing and not what we expected for the price we paid for the night.
Mar 21, 2021
Arrived with no reservation and was still given a peaceful site. Very quiet with little to no road noise. High water pressure. Cable TV with 70 channels if you are into that. We will return.
Mar 20, 2021
Lots of long term campers at this KOA. Maybe due to time of year??? Nice campground along the river. Bathhouse was nice. Heated. Showers could be deep cleaned. Restaurant within walking distance was nice but quite expensive! Definitely hear road noise.
Mar 20, 2021
I have stayed at many KOAs on the west coast; Ca. Nev. Oregon, Wa. Thought the Benbow was over priced and the triplex cabins were terrible. We upgraded to a single cabin and were happy with that but the bed was really mushy. Need new mattresses.
Mar 19, 2021
Loved our cabin location! Staff were friendly and helpful when we had a problem with our key. So nice to be close to the redwoods!
Mar 15, 2021
Beautiful place, very nice little cabins, and everything worked well. Staff was very nice , and helpful. Would definitely stay again.
Mar 10, 2021
It's a GREAT Place and have been going since !976 . One of the most Important points is across the street is the Benbow Historic Inn a must stay , go, eat, and Enjoy. Everyone at the RV park and Inn are Always GREAT!!!!! Bob and Linda Fitzgerald
Mar 07, 2021
Very pleasant. Nice having it close to the Benbow Inn.
Mar 06, 2021
Very Peaceful
Mar 06, 2021
This was our first time in an RV. We loved it there. Krissy was delightful . She made me feel welcome and took good care of me. We will definitely be back.
Mar 04, 2021
Only issue was ants in the woman's bathroom.
Mar 01, 2021
They really have cleaned up the place. The staff are friendly and very helpful. A little costly towards summer but love the off seaso
Feb 26, 2021
Lawn very soggy. The spaces seem very small. Had difficulty getting our 35 ft Trailer into the first site; tail swing near the building behind the space. Sewer connection 6 inches above ground; difficult to empty sewer hoses.
Feb 25, 2021
Golf course was closed. No notifications... very nice campground
Feb 25, 2021
The cabin I had was extremely dirty. Wall not painted since long time, mold in the dishwasher, plates super dirty, some lights not working. The worst was the heat system making noise of a carpenter workshop and the door covering it missing, I slept 2h that night. Horrible!! The manager came over casually and was very kind, recognize it all and discount. But there is a serious engineering issue!
Feb 25, 2021
very clean friendly and helpful
Feb 24, 2021
Was better than expected. I was hesitant reading some of the reviews, but the studio deluxe cabin that we stayed at next to the river was nice, clean and newly renovated inside. The staff was also very helpful and answered all of my questions. We will be back in the future.
Feb 24, 2021
Loved it and the Inn nearby was a real plus.
Feb 20, 2021
Cold , rainy and very quiet .. Just the way we like it.. Fishing was good as was bbq.. We will be back soon
Feb 18, 2021
It felt odd sleeping in an RV in a spread of cabins that resembled a cuter version of emergency lodging following a wildfire. And we seemed to have permanent neighbors in just that situation, so it felt like camping in their parking lot. And coffee wasn't on at 9am as promised. The showers were hot and nice.
Feb 17, 2021
Clean and with nice large sites.
Feb 17, 2021
All our requests were met with satisfaction. Staff was professional as expected at a KOA. Sites were easily accessed and near services, as well as well up-kept.
Feb 16, 2021
Very clean campsites. Bathrooms and showers clean. Great Basecamp to begin your adventures. The river as your backyard. Most importantly, inexpensive for all amenities you get.
Feb 15, 2021
We enjoyed our stay. Restroom and shower were very clean. The grounds were very well kept and very quiet.
Feb 15, 2021
Nice place for a stop over. Clean. Nice walks along the Eel River.
Apr 13, 2021
Always the best experiences here
- Xadra Rettew on Google
Mar 08, 2021
Just breathe taking beautiful scenery great place to relax with your families n pets
- Jennifer Calderon on Google
Mar 29, 2021
Always clean
- Frank Pratt on Google