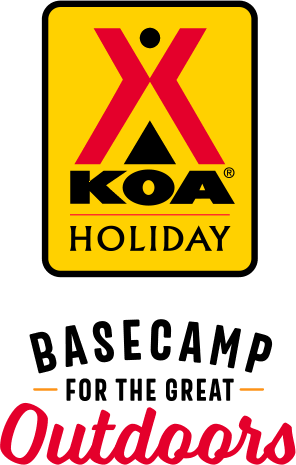 KOA Holiday Campgrounds
Whether you're exploring the local area or hanging out at the campground, KOA Holidays are an ideal place to relax and play. There's plenty to do, with amenities and services to make your stay memorable. Plus, you'll enjoy the outdoor experience with upgraded RV Sites with KOA Patio® and Deluxe Cabins with full baths for camping in comfort. Bring your family, bring your friends, or bring the whole group – there's plenty of ways to stay and explore.
KOA Holidays Feature:
RV Sites with a KOA Patio®
Deluxe Cabins with full baths
Premium Tent Sites
Group meeting facilities
Directions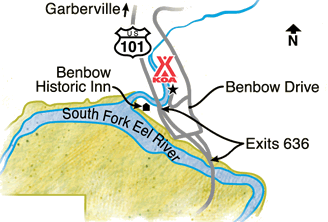 Benbow KOA is located in Garberville, California: 200 miles north of San Francisco; 70 miles south of Eureka. Take Exit #636 from Scenic HWY 101 Benbow Exit.
Traveling South: turn left onto Benbow Drive Exit 636 and follow the signs to RV Park and Golf Course.
Traveling North: turn right onto Benbow Drive Exit 636 and follow the sign to RV Park and Golf Course.
Get Google Directions
Jul 25, 2021
Got treated so well at Benbow KOA our Spot was Very Clean Grounds were Nice I will definitely be back Thank You Staff
Jul 22, 2021
Staff are super helpful and friendly. The KOA is clean and the pool is fabulous. Would recommend to anyone.
Jul 20, 2021
Ants everywhere in cabin. Couch is extremely dirty. Bathroom always smell like urine.
Jul 19, 2021
We had a very good stay. The cabin we rented was nice, clean, and with more than enough space for the weekend we stayed. Looking forward to the next time we come up and stay!
Jul 13, 2021
We had a horrible ant infestation ants crawling all over us as we attempted to sleep. Dirty dishes, rusty pots and pans. Disgustingly filthy couch. Told staff at the camp. They didn't care. Will never stay at KOA again. Want a full refund.
Jul 12, 2021
dishwasher and toilet seat broken. no screen on sliding door. across from playground which stated it closed at dusk. 10:30 still teenagers playing loudly. 2 of us had backaches from too soft mattresses. pool was lovely.
Jul 11, 2021
Neat place, friendly staff.
Jul 09, 2021
Unbelievable has everything you can want. A pool, a playground, craft center, very friendly and super clean. The cabins are amazing.
Jul 04, 2021
Its a nice campground but way over priced, especially the deluxe cabin we had. There were multiple maintenance issues in our cabin, The doors didn't latch, the window blinds were missing wands, the sliding door didn't lock and the screen door didn't slide and it was ripped. The kitchen pans were well used and the handles were falling off. Many employees speeding around in golf carts. refunds?
Jun 30, 2021
Pool area had broken furniture, Cabin 45 had damaged flooring, a missing drawer and damaged cabinetry. Not a good value for the quality of the pool space and the cabin I rented.
Jun 29, 2021
Epic. Great time with family. Will be back. Expensive for a cabin considering there are no included services (cleaning, making bed, etc) but still a good time.
Jun 28, 2021
I like the little cabin and hot tub. The need to empty the overflowing dumpster that sit right outside the cabin before a busy weekend it stunk like dead fish. P s. The hardworking maids were awesome. I left a clean room and a tip
Jun 24, 2021
We thought the property was very nicely laid out and our kids loved the pool and basketball court. We loved how beautiful the cabins were but the only reason it gets a 4 star rating is because we were invaded by ants during this season. The lesson we learned is to let the staff office know before you're settled and ready for relaxing for the evening with family.
Jun 23, 2021
Cute cabin! Nice to have a kitchen and air conditioning!! We will be back!!!
Jun 19, 2021
First time using Koa. We loved it! We will be using koa again!
Jun 18, 2021
Lovely relaxing time
Jun 17, 2021
Staff were the best! Everything was in Much better condition than previous stays and especially clean. Staff was Very helpful. Rates are higher than usual, but we will be coming back at least one more time. Thank you for a fun relaxing visit!
Jun 16, 2021
Great cabins! Staff friendly. Nice pool and hot tub
Jun 14, 2021
Friendly helpful staff. Our cabin was very clean. The bed was a little too soft for us but we slept! Clean campground. Great amenities.
Jun 14, 2021
The Staff were very professional and friendly, we Reserved a small cabin for a motorcycle trip, the cabin itself was clean and nice though it lacked anyplace to hang jackets or even towels and there was no night stand either. Overall it was a nice accommodation just very small. We were disappointed that the Hot tub was closed after 8pm even though posted signs showed a later time.
Jun 08, 2021
The young woman who did the kids arts and crafts was amazing!
Jun 08, 2021
Beautiful place to stay, our kids had a lot of fun. Ann at the front desk was very friendly and helpful.
Jun 02, 2021
Benbow KOA staff were very kind and accomodating. Love the extras provided like billiard room, coloring corner for kids, video game room, dog park, common areas, etc... will definitely be back!!! Thank you for caring about our camping experience!
Jun 01, 2021
Shelia and Joy were SO lovely! They made our stay so fun. Super friendly and helpful. We can't wait to come back!
May 28, 2021
I stayed in the Studio Cabin #44. It was nice and comfortable and next to the river inlet. The grounds were clean and well cared for. All staff was courteous. I will definitely stay there again.
May 21, 2021
Very expensive for the quality of the room. The furniture was awful and the table was falling apart. There were dirty dishes in the dishwasher. Did not have enough towels, and the housekeeper ignored me when I tried to get her attention several times driving past on a golf cart. The pool and hot tub closed at 8 and the website says 10 and signs posted said 9:45 pm. Basically way overpriced!
May 17, 2021
We love this KOA however every time we have stayed our cabin is filthy. This time not only was it filthy it smelled of cigarette smoke very badly.
May 13, 2021
Better then expected. Any need I had was addressed by staff.
May 10, 2021
My son and I enjoyed a cozy stay in cabin 44. I appreciated that there were bed linens and towels, and it was clean. One rung on the bunk bed ladder was loose, and the office was responsive when we reported it. Some RV neighbors were a bit loud, but it was quiet enough in the cabin with the windows closed to get a good night of rest. Loved the view of the river!
May 06, 2021
At the time of booking it should be disclosed that the golf course is closed. Everyone in our group which consisted of 4 full hook up sites and 1 cabin rental, booked this campground specifically to play golf and were greatly disappointed to find out it was closed when we checked in. Had the course been open this would have been a 5 star experience.
May 03, 2021
Lovely to see kids and families enjoying each other and the outdoors! I would appreciate a bit more attention spent on the cleanliness of the cabins. Staff is quite responsive to any missing items that are required.
Apr 27, 2021
Our site #57 was flooded due to a broken sprinkler line (which I heard has been leaking for over a year). We ended up leaving a day early because of standing water and mud.
Apr 24, 2021
Arrived to our room to find it had not been cleaned from prior stay, urine on toilet seat, hair in shower. The manager promptly upgraded us to a nicer more expensive cabin which was appreciated. But even this place was not properly cleaned. The window in the shower was broken, there was a banana peel left at the picnic table, the bedside light didnt work, there was toothpaste "spray" on wood
Apr 23, 2021
WiFi didn't work, cabin wasn't very clear. Trash under the bed and in the bathroom.
Apr 18, 2021
The door wouldn't fully close/lock but the cabin I stayed at was cute and clean. Didn't get to see Turbo the cat this time ): . It was a fun trip with my dog thank you.
Apr 14, 2021
Loved being on the River! The bed in the triplex wasn't very comfortable and the sheets seemed too small for the bed though
Apr 11, 2021
I love this KOA. I usually stay in the deluxe cabins which are much more affordable than anything else in town with that many amenities. Will keep coming back for sure.
Apr 07, 2021
Two disappointing issues: Oven in kitchen could not be used as it was very dirty with built up burnt food, it kept smoking the cabin out. Gas BBQ was also dirty and had spoiled food all over it.
Apr 05, 2021
I will be calling and writing corporate. Our stay was unacceptable.
Apr 01, 2021
Customer service was great! When we asked or needed anything it was addressed. Our cabin was clean and our needs were met. We will be coming back without a doubt!
Mar 22, 2021
Our cabins heater cover was missing and the heater was so loud we had to turn it off to sleep. It was cold and only one blanket was provided.. The front room hide a bed mattress was so worn down that all you could feel were the springs. We stay at KOAs all the time, but this was very disappointing and not what we expected for the price we paid for the night.
Mar 20, 2021
I have stayed at many KOAs on the west coast; Ca. Nev. Oregon, Wa. Thought the Benbow was over priced and the triplex cabins were terrible. We upgraded to a single cabin and were happy with that but the bed was really mushy. Need new mattresses.
Mar 19, 2021
Loved our cabin location! Staff were friendly and helpful when we had a problem with our key. So nice to be close to the redwoods!
Mar 15, 2021
Beautiful place, very nice little cabins, and everything worked well. Staff was very nice , and helpful. Would definitely stay again.
Feb 25, 2021
The cabin I had was extremely dirty. Wall not painted since long time, mold in the dishwasher, plates super dirty, some lights not working. The worst was the heat system making noise of a carpenter workshop and the door covering it missing, I slept 2h that night. Horrible!! The manager came over casually and was very kind, recognize it all and discount. But there is a serious engineering issue!
Feb 24, 2021
Was better than expected. I was hesitant reading some of the reviews, but the studio deluxe cabin that we stayed at next to the river was nice, clean and newly renovated inside. The staff was also very helpful and answered all of my questions. We will be back in the future.
Jul 20, 2021
Great campground and great lodges
- Jeffrey Eucher on Google
Jul 17, 2021
Great place to make Awesome memories
- N Chavez on Google
Jul 01, 2021
Great staff. Super helpful. My battery ran down in my tow vehicle. They loaned me a jump start box. Great customer service.
- erick armeson on Google