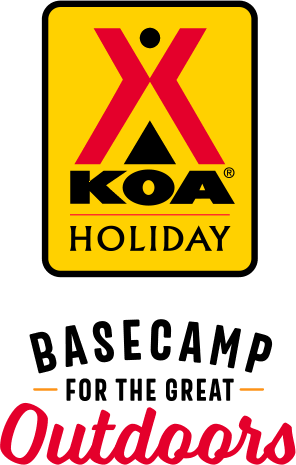 KOA Holiday Campgrounds
Whether you're exploring the local area or hanging out at the campground, KOA Holidays are an ideal place to relax and play. There's plenty to do, with amenities and services to make your stay memorable. Plus, you'll enjoy the outdoor experience with upgraded RV Sites with KOA Patio® and Deluxe Cabins with full baths for camping in comfort. Bring your family, bring your friends, or bring the whole group – there's plenty of ways to stay and explore.
KOA Holidays Feature:
RV Sites with a KOA Patio®
Deluxe Cabins with full baths
Premium Tent Sites
Group meeting facilities
Directions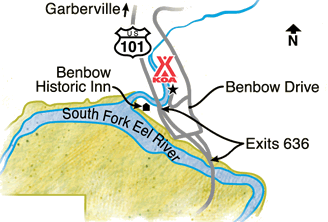 Benbow KOA is located in Garberville, California: 200 miles north of San Francisco; 70 miles south of Eureka. Take Exit #636 from Scenic HWY 101 Benbow Exit.
Traveling South: turn left onto Benbow Drive Exit 636 and follow the signs to RV Park and Golf Course.
Traveling North: turn right onto Benbow Drive Exit 636 and follow the sign to RV Park and Golf Course.
Get Google Directions
Jun 09, 2021
Benbow KOA is a nice place to stay in the Redwoods. Nice place for kids to play. It doesn't have a pickleball court, shuffleboard and they are short on horseshoes as advertised. The downside are the cabins where employees stay. They have pets and you hear the domestic birds and dog barking (especially at night.) The employees talk loud and have loud cars and music until after midnight.
Jun 09, 2021
We stayed for 3 nights in a back in spot. This was our first time at this location. The park was very clean and the staff was friendly. The bathrooms and showers were roomy and hot water pressure was excellent. The laundry facilities were great to have on site. There was a walking path to the historic inn where we had drinks and dinner. The KOA is easy access off 101 & close to attractions.
Jun 08, 2021
The young woman who did the kids arts and crafts was amazing!
Jun 08, 2021
Beautiful place to stay, our kids had a lot of fun. Ann at the front desk was very friendly and helpful.
Jun 08, 2021
The sires need to be a little wider for the new wider trailers with all the slideouts
Jun 07, 2021
Prices in two years have doubled, while they no longer have a golf course. The front desk didn't give us the code for the bathrooms. We were told our site had a patio, but the site next to us had a patio table and chairs we didn't. For the money your now paying per night at even a worse value than before. Not much else to say about it.
Jun 07, 2021
wonderful park in very clean and almost new condition
Jun 06, 2021
Had a great time at Benbow KOA. Easy check in. I do my homework before going anywhere so there were no surprises except that the pool was open. It was a treat since it was pretty hot when we arrived. My friend that was camping with us had a problem with the electric on his trailer and the grounds keeper was able to help him immediately. Every one was very helpful and nice. Definitely will be back
Jun 03, 2021
The staff was very welcoming and facilities were very well kept. We were a bit disappointed that the golf course wasn't open yet but happy to see they were working hard to get it open. The site was very accommodating for the needs we requested. Was our 2nd time staying here and will not be the last!
Jun 03, 2021
We were looking for a spot to stay on our way down the 101. Nothing was available. We saw a KOA sign, Pulled in..they had a spot by moving thing around. Ann the Manager was amazing! Her husband Don was equally helpful...a overnite became 3 miles....didnt want to leave..Thx you 2! We'll be back!
Jun 02, 2021
Benbow KOA staff were very kind and accomodating. Love the extras provided like billiard room, coloring corner for kids, video game room, dog park, common areas, etc... will definitely be back!!! Thank you for caring about our camping experience!
Jun 02, 2021
My only disappointment was that the phone message stated all amenities were avail. Pool was great. Staff was great. No Golf WAS A REAL BUMMER
Jun 02, 2021
Staff were great!! Park was too congested, felt like camping in a trailer park.
Jun 01, 2021
Shelia and Joy were SO lovely! They made our stay so fun. Super friendly and helpful. We can't wait to come back!
Jun 01, 2021
We love Benbow! River is great, staff is wonderful, just all around a great place to camp. 4th trip in the last year and will be planning another.
May 31, 2021
Early confusion with registrations, but Management graciously helped on arrival. One site, (Ramsey), had intermittent elecrical issues at the pedestal and Office was advised, and sought out an Electrician to repair several Pedestals.
May 30, 2021
Was disappointing at the least. No golf, which we were very disappointed in. And our space that we had reservations for was unavailable because of the sprinkler system (inadequate maintenance) The only highlight we had was very clean bathrooms, The manager was very weak with dealing with public problems.
May 30, 2021
have stayed at inn many times, due to covid concerns (may 2021) we stayed at benbow KOA and walked to inn for dinner. WE ENJOYED OUR STAY so much that we will do benbow this way from now on ! only complaint asphalt in premium spots uneven and patches missing making leveling impossible. we will try again
May 29, 2021
Check in on a Sunday about 1 pm went quickly. Back in trailer site was flat and almost level pavement. Approx 20 feet laterally to next trailer pad. Mowed green weeds covering the dirt between spaces. At least 50% of sites had a shade tree. Near by Benbow day use area does not allow dogs. Noise from 101 freeway from about 7 am til about 9 pm. Ask for fire ring campsite if you want a campfire.
May 28, 2021
I stayed in the Studio Cabin #44. It was nice and comfortable and next to the river inlet. The grounds were clean and well cared for. All staff was courteous. I will definitely stay there again.
May 27, 2021
The staff was very considerate and helpful and the grounds were very clean. Upon arrival we had a back in site and it was poor. The sites are right on top of each other and the FULL-TIMERS are placed here, NOT GOOD. We were moved to the Pull-thru sitesand these were very well maintained and clean. The grounds are well kept with lawns and flowers. "Except for the full-timers"very nice.
May 25, 2021
Such a beautiful, quiet park. We will definitely be staying there again.
May 25, 2021
Spot was a little tight to get into but otherwise was good.
May 24, 2021
According to my wife the ladies restrooms were poorly maintained. The shower regulators were broken. There was a lot of trash and discarded clothing on the floor.
May 24, 2021
Everything was great! The people were very courteous and kind.
May 23, 2021
Very clean. Nice vegetation. Beautiful and quiet.
May 21, 2021
Very expensive for the quality of the room. The furniture was awful and the table was falling apart. There were dirty dishes in the dishwasher. Did not have enough towels, and the housekeeper ignored me when I tried to get her attention several times driving past on a golf cart. The pool and hot tub closed at 8 and the website says 10 and signs posted said 9:45 pm. Basically way overpriced!
May 19, 2021
At check in we were given the wrong bathroom code and the golf course was closed.
May 19, 2021
Great environment! We thoroughly enjoyed our stay at the BenbowKOA!!!
May 18, 2021
We had a great time here, clean and comfortable. Site 58 we stayed at had a broke 30 amp plug and bad circuit breaker, would cut out every couple hours. Plugged into a 110 outlet with our adapter and had no problems, hope they fix this.
May 18, 2021
We kept losing power last two nights. They said the box we were plugged into needed to be replaced. But were never offered compensation for not being able to use our AC it kept knocking our power out They admitted the box was not giving us enough juice. We could move to another site last night but we are 70 years old and can't do that. Not happy with this KOA
May 18, 2021
Second time staying. We loved it. Beautiful place. Will return for sure. Thanks
May 18, 2021
Very nice facility and grounds. Helpful and friendly staff. Hope they open the golf course soon.
May 17, 2021
We've camped here many times before - mainly for the golf so very disappointed the golf course was closed . However the people who are running this KOA are trying very hard to make up for it and doing their best to get the course up and running. Very friendly staff . Beautiful area !
May 17, 2021
Quite pleasant
May 17, 2021
We love this KOA however every time we have stayed our cabin is filthy. This time not only was it filthy it smelled of cigarette smoke very badly.
May 17, 2021
It was short but the grounds were beautiful
May 15, 2021
Very nice, well maintained campground. We didn't use the facilities onsite, but I would presume they were clean. Wi-fi service was very sketchy.
May 14, 2021
Quiet, disappointed that pool only open evenings
Sep 13, 2021
The staff was really helpful and the place was very clean and easy to get around. The pool and laundry facilities were really nice and together so we could hang out at the pool while doing laundry. Also awesome that everyone was masked very friendly.
- Tawnya Crowe on Google
Aug 31, 2021
Absolutely Beautiful!!! Also, my new home 💚🏡
- Dawn Derner on Google
Aug 30, 2021
We truly enjoyed our stay here...the campground was full, but the people in the campground were respectful and it felt a family get together! The staff worked hard to accommodate our changing schedule to get us on our way...hey, golf, camping and fun...what more can you ask for?
- Scott Joss on Google