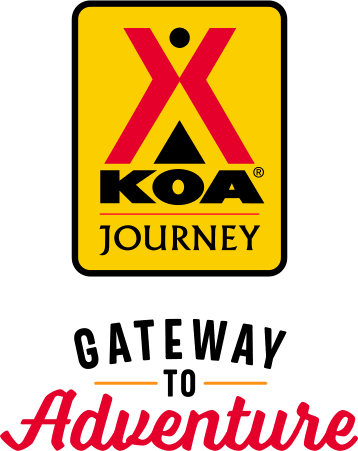 KOA Journey Campgrounds
KOA Journey campgrounds are the perfect oases after a day on the road. Whether it's along the way or a quick getaway, they've got you covered. Located near the highways and byways of North America with long Pull-thru RV Sites, they deliver convenience to the traveling camper. Pull in, ease back and take a load off.
KOA Journeys Feature:
Pull-through RV Sites with 50-amp service
Premium Tent Sites
Well lit after hours check-in service
Directions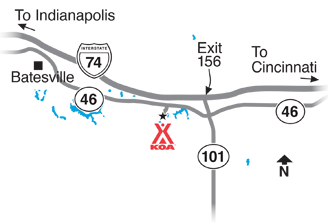 From Cincinnati, OH: Take I-74 West to exit 156 for IN-101 toward Sunman/Milan. Turn left onto IN-101 S/State Rte 101 S. Turn right onto State Rd 46 W.  The Batesville KOA is approximately 2 miles on left.
From Louisville, KY: Take I-65 North to exit 50A to merge onto US-50 E/Indiana's Historic Pathways - North Spur toward N Vernon (9.3 miles). At the traffic circle, take the 1st exit onto Indiana's Historic Pathways - North Spur(3.8 miles. Turn right onto Buckeye St/Indiana's Historic Pathways - North Spur (1.4 miles). At the traffic circle, take the 1st exit onto US-50/Indiana's Historic Pathways - North Spur (23.8 miles).  Turn left onto IN-129 N (16.2 miles). Turn right onto State Rd 46 E.  The Batesville KOA is approximately 4 miles on Right.
From Indianapolis, IN: Take I-74 East to exit 156 for IN-101 toward Sunman/Milan. Turn right onto IN-101 S/State Rte 101 S. Turn right onto State Rd 46 W.  The Batesville KOA is approximately 2 miles on left.
GPS: N 39 degrees 16'40.29", W 85 degrees 7'40.48"
Get Google Directions
Sep 17, 2021
Great people that run the campground. Very good fishing, lots of pan fish bass and catfish. Can't wait to return.
Sep 15, 2021
Can not fault it. Will come back
Sep 14, 2021
Very nice stay. Enjoyed the pool. Very clean! I wish we could have stayed longer.
Sep 13, 2021
Nice stay. Lost money in 2 of the dryers at the laundry mat.
Sep 13, 2021
We enjoyed our stay! Everyone was very friendly! Very clean campground! Would recommend this campground
Sep 13, 2021
Very nice but need sewer connections
Sep 13, 2021
Always a hoot.
Sep 12, 2021
Well maintained campground! There's a firewood vendor- price is good, the wood is dry, and quantity generous. This is within a massive RV resort and shares a camp store. The store is nice, but no Covid precautions are in place. After the store closes you can buy ice from the entrance gatehouse. This campground has a personality… at dusk a massive golf cart parade made the rounds!
Sep 11, 2021
Ok for a overnight.
Sep 11, 2021
The staff was friendly & helpful during our quiet and relaxing visit in the middle of the week. It was easy & enjoyable to ride our bikes around this campground. We also enjoyed the new pool area that was very nice & clean.
Sep 09, 2021
Nice campground. Staff was very nice and welcoming
Sep 08, 2021
Great stay. Gate system came down damaging our camper when pulling in. Both gates lifted at same time. Another vehicle was blocking the path so the other car came into my side. I couldn't get completely through causing the gate to come down on my camper. Still waiting for Brian to get in touch.
Sep 08, 2021
Well run, very clean and safe. Michele did an awesome job on a busy weekend. My only negative, I was told the site would have sewer and it didn't.
Sep 08, 2021
We have always enjoyed our stay. Staff are great, but you always have those ones that camp that can be very rude and disrespectful. But we always have a good time.
Sep 08, 2021
Not the best weekend to enjoy our stay, (labor day) it looks like a great place but part of a much larger complex which abuts to a thousand trails. Corporate is maybe acquiring/expanding but it was packed and understaffed when we were there. once a day cleaning of the bathrooms was woefully inadequate and the single 1950s block structure should be replace.
Sep 07, 2021
KOA staff is always great!
Sep 07, 2021
Jodi and Michelle, as always, made us feel right at home! We love staying here and love the staff!!
Sep 07, 2021
Had a wonderful time, was impressed the manager went site to site checking to see if everything was ok and we were enjoying our stay.
Sep 07, 2021
The KOA was clean and everyone was nice. The activities were fun for the kids. However, our campsite was very small compared to other sites. We noticed there were many sites available/empty that were much nicer that we would have taken if we had been made aware. The lakes were also not stocked with fish.
Sep 07, 2021
This was are family's very first time at Batesville. We enjoyed are stay. Michelle at the front desk greeted us and took us to a fantastic stop. Michelle even checked on us to make sure if we needed anything. We felt so at home. We will be coming back. Thank you for having us!
Sep 07, 2021
Jody and staff were wonderful. Jody stopped by our site and made sure my husband and I were enjoying our stay. She is the definition of outstanding customer service. Keep up the great work!
Sep 07, 2021
glad to see all of the new ammenities!
Sep 07, 2021
Wifi is horrible.
Sep 04, 2021
Very nice campground. A lot larger than I'd thought. Plenty of campsites, large and small. I showed up at 6:00 and they were very accommodating. Got a nice site with a lake backdrop. Wished I'd brought my fishing pole. Would definitely come back here again.
Aug 30, 2021
we love coming to this camp ground we always have such a good time. cant wait to go back
Aug 30, 2021
First time there. Store could use some upgrade. New pool looked very nice
Aug 30, 2021
Campground is clean and staff was very helpful and friendly. Both pools were very nice. May want to clean up the bathrooms in the older pool. Bath houses were clean and very nice. Overall, very nice campground and we will visit again.
Aug 29, 2021
Camp site are always clean and ready. The new pool is awesome! The people are the icing on the cake! They are always smiling and happy to help.
Aug 27, 2021
Great Time and the ladies in charge were great! We will becoming back .
Aug 26, 2021
Short overnight stay, wasn't able to take advantage of the amenities though. Only concern that I had was on site 99 (pull-through) the sewage receiver was higher than my trailer connection so I wasn't able to dump my tanks at the site. Thankfully your dump site was easy to use.
Aug 25, 2021
The stay was excellent love everything,Especially the hospitality from the employees keep up the good work will be back soon,I love the KOA campsites thanks for everything
Aug 24, 2021
We always a great time there the staff is great and they come by to check on you to see if you need anything it's our got to place just to relax and unplug for a while
Aug 23, 2021
Nice and shady, level, good facilities and a fantastic host in Michelle!
Aug 23, 2021
Very nice place
Aug 23, 2021
Michelle and Jodi are the reason we stay here! Super friendly staff. We enjoy our stay here every time.
Aug 17, 2021
Staff very helpful New pool wonderful
Aug 17, 2021
I did have wood taken from my site during the nighttime. Also was asked kindly to move my vehicle from the grass which I understand but on Saturday there were many visitors at sites that was also parked in the grass and there were many times the staff drove by but nothing was said. Just be consistent. Overall a great place to camp.
Aug 17, 2021
Nice campground with clean facilities and ample things to do.
Aug 17, 2021
Excellent people and more than helpful
Sep 06, 2021
Our stay is always enjoyable, stuff is very helpful also, could use more full hookups in area 1, we have a 40ft fifth wheel and need full hookup and 50amp. Looking forward for the new part to be finished,also pool area is very nice, we always enjoy the stay and stuff members are always helpful.
- shengliki on Trip Advisor
Aug 22, 2021
It was so fun! My favorite part was the splash pad and the swimming pools!!!!!!!!!!!!!!
- Brennan Barrett on Google
Aug 18, 2021
Beautiful campground right off I-75. Jody was extremely helpful and a delight to meet at the end of a very long day.
- Molly Atkins on Google