Alert
We are open for camping at Barstow Calico KOA. We have implemented enhanced cleaning procedures. We hope to see you soon!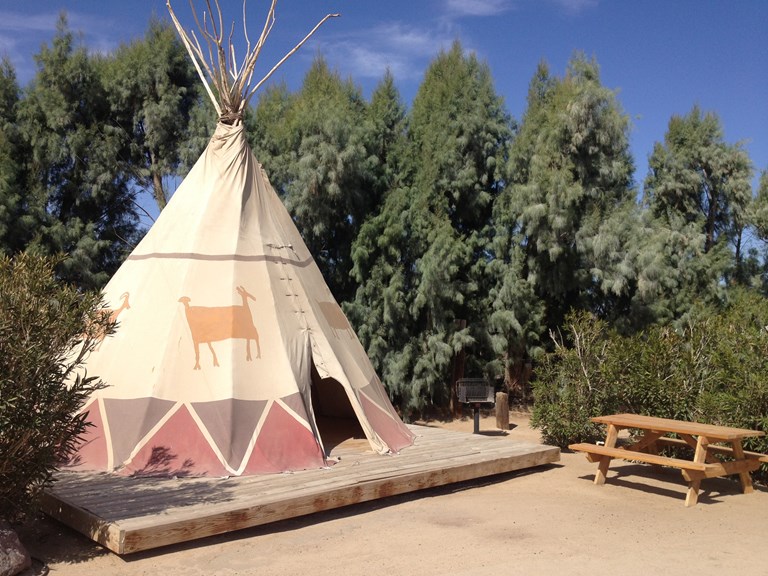 Barstow / Calico KOA Reviews
Directions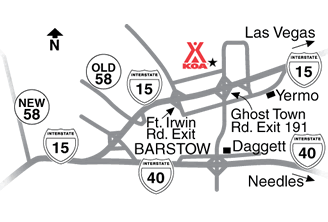 DO NOT FOLLOW GPS  ADDRESS - USE THE DIRECTIONS GIVEN BELOW. 
Northbound: I-15 Exit 191 (Ghost Town Rd), left under freeway to service station, left 1/4 mile.
Southbound: I-15 Exit 191 (R), then left at service station, 1/4 mile.
Eastbound: I-40, Exit 7 (Dagget Rd), left, 3.5 miles under I-15, left at service station, 1/4 mile.
Westbound: I-40 Exit 7, right, 3.5 miles under I-15, left at service station, 1/4 mile.
Get Google Directions
Jul 15, 2020
The person who checked us in did not wear a mask to check us in or to do the inventory in our cabin. We had experienced at all other KOA campgrounds the staff to be very careful. The person in the evening did wear a mask and was very nice. She even cooked a pizza for us. The campgrounds are very much in need of repair. It was the worse KOA we stayed in during our two week trip.
Jul 03, 2020
Cross country trip, wanted different view than a hotel. Enjoy the placing of the cabins and the choice of enjoying the outdoors. Cabin was nice and comfortable.
Jun 18, 2020
Short stay but sweet !
Jun 11, 2020
Beautiful dessert sunset. Cabin was older and well used. Close to Route 66 and ghost town
Jun 09, 2020
I couldn't of been happier this is my new getaway. Friendly staff an clean environment.
Jun 06, 2020
The sunset behind the cabin was beautiful and the picnic tables were covered which was nice. However, The AC did not cool the cabin until about 2 am. The swing was broken, the bathroom door was broken and the sheets on the bed had hair on them indicating they had not been changed. We used our own sleeping bags. Not impressed. We've been to two more KOAs since and they were way better. Overpriced.
May 27, 2020
Nice campground. Our cabin was clean and in good condition. The only issue we had was with the operation of the water heater. We could only obtain hot water for the shower when the temperature control was set to full hot which was too hot use. The most likely cause is the tankless water heater and the minimum flow rate required for it to turn on.
May 19, 2020
It was Amazing very cozy. Definitely would be back.
May 18, 2020
Great time as usual. Roberto and his staff are amazing!!!!
May 18, 2020
Always a wonderful time and relaxing.
May 05, 2020
This is my second time staying there I love it, it's very relaxing and very clean. I will definitely be there again soon.
May 02, 2020
Clean campground. Very friendly staff. The cabin was in excellent condition and very clean.
Apr 28, 2020
Clean, beautiful, serene, great customer service... What is not to like?! Thank you!
Apr 27, 2020
We really enjoyed the overall campground layout and the different type of camping options available. We usually tent camp, but the cabin we stayed in was excellent and we would do that again anytime. Loved the coveted picnic area especially. Beautiful area and great amenities.
Apr 21, 2020
Wow what can I say, we have been staying at this KOA for more than 8 years. We never have a complaint. The Staff and the Owner are amazing. They make you feel at home. We stood in cabin 4. We really enjoyed.
Apr 21, 2020
awesome place to get away to..... Especially in times like these... Very clean and well kept grounds... Cabin is the way to go..
Apr 20, 2020
Stayed in a cabin, hardly any hot water, other than that the cabin was perfect. Check in, lady was very unpleasant, had it not been for the gentleman that checked us into the cabin we would have said bye, but he was very nice. Not much there at all, if you have bikes or stuff like that would be better
Apr 10, 2020
We loved our cabin it was very nice and cozy!! We can't wait to stay again!! The staff was very friendly. It was a very nice quite park. Thanks for being open during the crazy pandemic!!
Mar 02, 2020
Good place to stop by while on the way to Vegas. Friendly staff.
Feb 21, 2020
The manager was excellent, very helpful. walked us thru the cabin and check sheet. helped us with extra linens. we stayed about 2 years ago in a tent, this cabin experience is so much better. we will be back.
Feb 18, 2020
Hospitality was awesome. We used the game room and all worked great. Cabins in terrific shape. This is our second stay and we will be back. Thank you.
Feb 13, 2020
We were in a cabin. We had hot water for one shower and then no hot water the rest of that night or the next day. At $100 a night that is pathetic really pathetic. We deserve a discount or refund. All the dishes had to be washed in cold water. The next morning no hot water anywhere. You know you got those.
Feb 10, 2020
We love the place!
Jan 27, 2020
We were upgraded to a larger cabin at no cost.
Jan 21, 2020
the staffs are very kind and professional. I will visit here very soon. I like this place.
Jan 07, 2020
Friendly staff. Clean bathrooms. One of the best KOA's I have stayed at. Comfortable cabins.
Jan 07, 2020
Good location. Clean cabin. Friendly staff. Beautiful view of Calico and space to walk around desert.
Jan 06, 2020
Cabins are great!! Staff very friendly. Can't wait to stay again..
Nov 25, 2019
Lacy at the front desk was awesome! She was super helpful and welcoming.
Oct 28, 2019
My Family and I really enjoyed our stay the amenities are great my kids loved the activities and I love that its pet friendly as well.
Oct 15, 2019
Staff was great! Kari, Amanda, Lacey and Anthony we're amazing!
Oct 14, 2019
Camping experience fine, but cabin was aweful. It was old and tiny compared to my sister. Hers was new and more spacious. Water pressure is terrible.
Oct 14, 2019
Cable TV was so snowy we could not watch it.
Sep 19, 2019
I've been going to KOA across the country since 1983. I've always had the greatest experiences, and even talked family & friends to get a membership & head out to Calico. They loved it!!! Anthony is the best of the best as far as hosts go & the rest of the staff was wonderful as well. Thank you for a great time with family & friends, see you soon!
Sep 02, 2019
Perfect place to spend the holiday weekend! Staff is very friendly, lots of shaded sites and premises well taken care of. Definitely coming back soon!
Jul 17, 2019
Friendly and clean. Easy in and out.
Jun 16, 2019
Thank you, we have stayed in the past and we will be back in the future.
Jun 02, 2019
I loved the cabin it was very clean. It makes u feel at home. The bed was like heaven. Would definitely stay again!!
May 27, 2019
This was the most unpleasant experience during our 15 plus years with KOA. Upper management needs to get involved and teach common sense customer service skills to office staff.
May 26, 2019
EXCELLENT CABIN! Slept like a baby in bed that evening!
May 13, 2019
Great cabin GREAT STAFF

Barstow / Calico KOA
Open All Year
35250 Outer Highway 15 North
Yermo, CA 92398
Check-In/Check-Out Times
All Sites
Check-in: 2:00 pm, Check-out: 11:00 am
Get Google Directions

© 2020 Kampgrounds of America, Inc.