Directions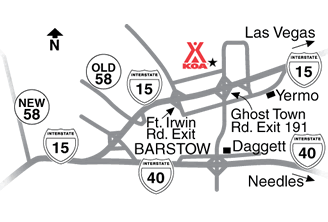 DO NOT FOLLOW GPS  ADDRESS - USE THE DIRECTIONS GIVEN BELOW. 
Northbound: I-15 Exit 191 (Ghost Town Rd), left under freeway to service station, left 1/4 mile.
Southbound: I-15 Exit 191 (R), then left at service station, 1/4 mile.
Eastbound: I-40, Exit 7 (Dagget Rd), left, 3.5 miles under I-15, left at service station, 1/4 mile.
Westbound: I-40 Exit 7, right, 3.5 miles under I-15, left at service station, 1/4 mile.
Get Google Directions
Jan 20, 2021
Only stayed for a night. clean camp grounds and quiet. Nice place.
Jan 20, 2021
Great friendly staff. Nice spaces. The only thing that did not work was the cable in space 15 and sorry we forgot to tell the office.
Jan 17, 2021
Lots of people there. Booked me for the wrong day. Got accidentally hung up on. Otherwise nice folks.
Jan 17, 2021
Way too loud. Constant off-road vehicle traffic that don't use mufflers.
Jan 16, 2021
stayed one night passing thru..
Jan 15, 2021
Clean and quiet campground. The WiFi has been improved since we were there last year it worked great! Friendly staff when we checked in. Decent laundry facility. We will use this campground again.
Jan 14, 2021
We visited the campground for one night. We learned in the campground information provided that there were poisonous plants in the campground. We have an 8 month old puppy and were extremely concerned, especially when we found the plants right next to our site. The plants were oleanders. I can't believe that a campground was designed with these deadly plants!
Jan 13, 2021
Very nice pull through spaces, wish we could have stayed longer but it was a one night stay. Nice fire pits, and picnic tables and nice room
Jan 13, 2021
We always enjoy staying at Barstow Calico KOA
Jan 12, 2021
It was a nice campground But there was dog poo in the KampK9 area and around the grounds. It could have been picked up by the staff And when I went to ask for change for the clothes dryer they had no quarters so my clothes didn't get dried. And only one large dryer was working.
Jan 12, 2021
The bathrooms were dirty an not maintained.
Jan 11, 2021
Happy that your cabins allowed dogs. Excellent setting, clean, nice separation of sites, cute picnic shelters, great views, convenient to lots of things to do. Wish you had the cheaper basic Kamping Kabins. Deluxe cabin very nice, although a little expensive, especially with dog fee. Shower temperature difficult to adjust between scalding hot and cold. Could not get stove to work.
Jan 11, 2021
This is our get away close to home. Staff very nice, campground always clean. This is a great place just to relax and enjoy the outdoors. See you again soon!
Jan 11, 2021
Great campground. Very well maintained with plenty of space and activities for the kids (even during COVID). The staffing with very helpful and nice. My family and I will be back!
Jan 10, 2021
Great place for long dog walks
Jan 10, 2021
Polite staff. Clean grounds. Very nice.
Jan 09, 2021
We've stayed twice in a years time, its a nice stopover out in the middle of nowhere. Everything is always clean and all of the staff is very nice too. They have a big laundry room with lots of W & D but sadly this time only about half were working on the day I was there, otherwise everything thing else was GREAT
Jan 08, 2021
Totally enjoyed our stay! clean facilities, well lit at night. Person manning the desk, very friendly and helpful. Would definitely stay here again. Very convenient to Calico Ghost town.
Jan 08, 2021
Friendly and helpful staff. Clean restrooms and showers.
Jan 04, 2021
It was New Year's Eve an many campers were playing loud music and partying, which is to be expected, but one large group staying in the cabins played loud music until 2am and no one from the camp asked them to stop. That was a big negative. The camp needs some TLC but its convenient for hiking, rockhounding and off-roading in the Calico area.
Jan 03, 2021
Great stay and the staff was friendly
Jan 02, 2021
Great staff. Nice place to stay.
Jan 02, 2021
Our initial site had over-hanging branches and the staff at the KOA Office were very accommodating to find us another spot. On New Years Eve! They were great
Dec 30, 2020
We stayed for 4 nights the lady that checked us in Christmas Eve didn't make us feel welcome at all. 1. The water pressure was very low 2. Every morning there was a man that would run a leaf blower it kicked up dust and dirt that ended up all over our truck and trailer. 3. There was a dog that barked all night The lady that was in the office the day we left was really nice
Dec 30, 2020
We really enjoyed our stay. What an improvement to your park since our last stay. The office staff was excellent and very helpful. We can't wait to come back for a longer stay. Thank you again.
Dec 30, 2020
lot of road noise.
Dec 30, 2020
The site info was left at the night checkin was requested, everything worked as it should, and the sites were large and level. We only used the bathroom in the RV so can't rate the RV park bathrooms.
Dec 29, 2020
Only stayed one night. Lovely park. Will go back again.
Dec 29, 2020
It was great, staff was very helpful :)
Dec 29, 2020
We have stayed here a few times. The staff is always helpful and courteous. My only complaint is that no matter what site we are in, we only get a couple of channels through the cable. Other than that, great place to stay.
Dec 28, 2020
We all had so much fun there and the staff was awesome
Dec 26, 2020
Friendly staff, clean park.
Dec 25, 2020
We loved the location be the campground. Great stay. Thank you!
Dec 24, 2020
It is a nice campground. It is peaceful and quiet with a few scenic areas to visit.
Dec 17, 2020
(Translated by Google) Very good place (Original) Muy buen lugar
- Leonel Pinto on Google
Dec 11, 2020
We had a great visit. Its close to calico ghost town. Its 30 minutes from barstow if you need grocery.
- Kimberly Clark on Google
Aug 16, 2017
(Translated by Google) Great service (Original) Buen servicio
- Lourdes Mendoza on Google