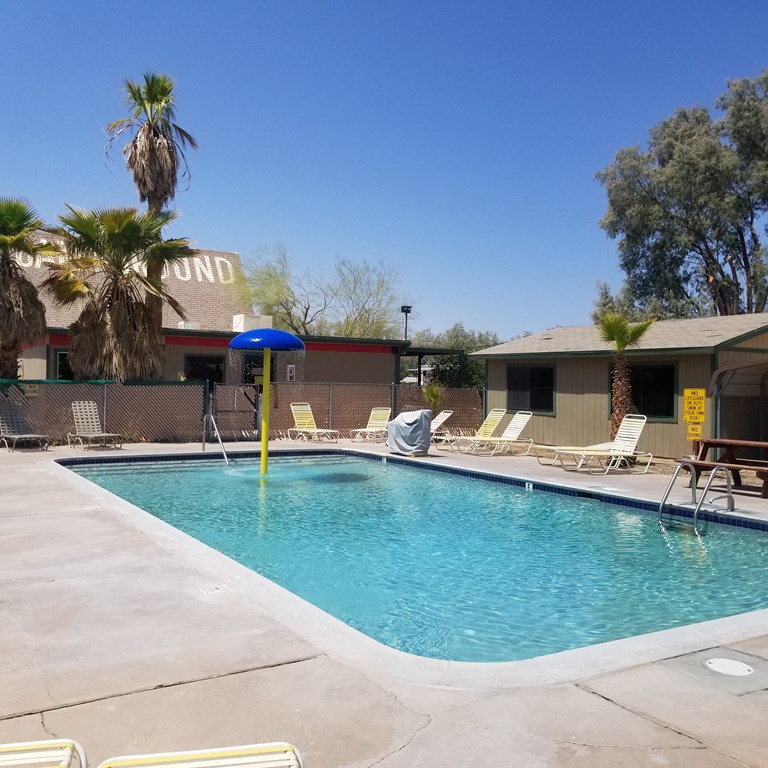 Barstow / Calico KOA Reviews
Directions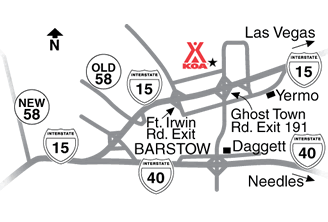 DO NOT FOLLOW GPS  ADDRESS - USE THE DIRECTIONS GIVEN BELOW. 
Northbound: I-15 Exit 191 (Ghost Town Rd), left under freeway to service station, left 1/4 mile.
Southbound: I-15 Exit 191 (R), then left at service station, 1/4 mile.
Eastbound: I-40, Exit 7 (Dagget Rd), left, 3.5 miles under I-15, left at service station, 1/4 mile.
Westbound: I-40 Exit 7, right, 3.5 miles under I-15, left at service station, 1/4 mile.
Get Google Directions
Oct 20, 2020
Great place to stay! My kids loved it.
Oct 20, 2020
Helpful staff and just what we needed for a night on the road
Oct 19, 2020
The playground is on the edge of falling apart, beer and soda cans littered the property, and masks are apparently optional, an option few choose.
Oct 19, 2020
Everything was just fine, clean and everything worked. This KOA is in the desert and caters to the off road crowd and does a very good job of providing needs, rebuilt pool, games for the younger kids. Well stocked store, etc. Good place to stop for the night as well, easy in and out.
Oct 19, 2020
We always enjoy staying here. All the staff are awesome. Shout out to Kari who was so polite every time we saw her whether talking to a guest in the store or on the phone. She even let us have an extra hour to checkout so we could get a morning Jeep ride in before we had to head home. Thank you Kari� We will be back!
Oct 19, 2020
Owner Roberto was extremely nice and accommodating for our group during booking. Went above and beyond. I wish he was more present while we were camping because the GM was not very friendly to the group. Seemed like we were inconveniencing her and just about everyone got a bad vibe from her. Maybe just a bad weekend?
Oct 19, 2020
The KOA was nice clean and perfect. The staff on the other hand were a different story. The gentleman who brought us into our site was nice and helpful as was the young man who cleaned the restrooms. The remaining staff in the the 2 women who were sisters possibly think about having them take customer service course. They were rude, short, and demeaning when we asked questions.
Oct 19, 2020
One night stay. That park is very clean and well laid out. Staff was pleasant and professional. The only drawback is the park's proximity to the freeway noise. We enjoyed our time.
Oct 19, 2020
Great stop #29. Nice shade, patio and bench.
Oct 19, 2020
Glad to find a spot at the end of a long day of travel. The electrical in our site had reverse polarity for the 30a plug so used our 50/30 cord and we were fine. The staff was friendly and the store quite well stocked.
Oct 18, 2020
Very nice camp site, good for one night or a few days.
Oct 17, 2020
We usually stay there once a year and noticed a lot of improvements!!! We did not use the amenities because of COVID-19 but looks like the whole area has had some TLC! Not as impressed with woman who took our reservations. Maybe she has a bad day!!!
Oct 16, 2020
Place was really run down. 2 washers/dryers working. All others broken. Pool was dirty. With that said, the store had a lot of product.
Oct 16, 2020
The site was fine.We came in after calling to make sure a spot would be available. Was told $66 - for full hook up. Asked what they considered "full" & included shade. Cable was extra ALSO. Opted for cable - no shade.Cable channel wanted was scrambled... picture of one channel with sound from next.Was told it was their cable company. No Offer of refund. & price more due to call in ?
Oct 15, 2020
My trip was booked a year in advance. I was drawn to this KOA because it says they have a free shuttle to the Ghost Town in Calico. I asked Amanda the manager so she says and she said they dont do that. I told her in their ad it says she does. Again she said no and besides the van diesnt work. Not my problem. She the said the ghost town was closed. If the amenities arent avail a call would be nice
Oct 15, 2020
Big shout out to the lady who checked us in. She was friendly, efficient and just really cared. You have a great employee in her.
Oct 15, 2020
It looked like this was once a great place based on the amenities and layout. It would be a one-nighter for us if we did return, just to get sleep. Staff appear inconvenienced by customers. Pool garbage was overflowing, pavement around pool not swept (dead bird both days we went), we have to wonder if pool was cleaned. 50% of dryers out of order. Site had water coming out of ground (not at hookup)
Oct 14, 2020
Nice campground. Well maintained.
Oct 14, 2020
Nice large pull through sites with privacy.
Oct 14, 2020
Park needs some work. Site 36 electric panel needed repair and needed a little cleaning up.
Oct 13, 2020
Only had one night, but service and site were great. Will continue to stay there on future trips.
Oct 13, 2020
Very clean, but a LOT of traffic noise. Friendly people.
Oct 12, 2020
Check in was seamless. Staff was very friendly and accommodating. Clean location, nice site. No complaints. Will stay again for a stop over.
Oct 12, 2020
The trees need to be trimmed back at pull-thru spots. We had a space with water & electric only. Dump site not listed on site map and not pointed out to us by the office. We discovered it by chance. Covid makes it hard to keep. Going into the office.
Oct 12, 2020
You shouldn't charge someone $10 to change their reservation date, especially in these times.
Oct 11, 2020
Great location when heading East for us. Dog area was perfect, big rig friendly, 70 foot site, didn't need to unhook the tow vehicle.
Oct 11, 2020
We got a full service pull through but were giving a pull through that had the sewer hook up to the front of our space so we had to use that when we were leaving to empty...not a big deal but maybe something to keep in mind when assigning spaces to others with travel trailers. Mike
Oct 11, 2020
Nice quiet campground, clean and well organized
Oct 09, 2020
Beautiful site, clean restrooms. Loved the playground and the pool. This campground had the best stocked store.
Oct 09, 2020
Only 1 shower out of 3 working in mens.
Oct 09, 2020
It was very clean and the staff was very friendly. We had plenty of space for our RV
Oct 09, 2020
It was a great stopping point for us between San Diego and Las Vegas when we couldn't drive too far the 1st day. Site was well maintained and had some nice views out the back where our site was. I wish the bathrooms were a bit cleaner but overall I'd highly recommend! RV Camper
Oct 08, 2020
The Barstow KOA staff are very nice and the location has beautiful views of the surrounding mountains and desert. We drove a 37 foot class A with a tow vehicle and had no trouble getting in or out. It was very peaceful. We plan on staying there again.
Oct 07, 2020
Perfect overnight stop. Easy freeway access, handy gas right next door. We'll definitely stay again on our way southwest!
Oct 07, 2020
We just did an overnight stay as we were traveling through to Arizona. We didn't really get a chance to check out the area, but the KOA was clean and convenient.
Oct 07, 2020
Service was great. Our cable tv was very fuzzy on most of the channels. We were told that it was the fault of the cable company. Seems a bit expensive to stay there.
Oct 06, 2020
This is our first stop on any trip headed east. We love the open desert behind the KOA.
Oct 06, 2020
This should not even be called a KOA. The facility is dumpy, not well taken care of. The bathrooms have a lot to be desired. The air conditioning units hanging outside the building is corroded. Unfortunately, my last night of a 5 week vacation was at a dumpy place. So disappointed!
Oct 06, 2020
It was a good stay had a Pull through nice and easy.
Oct 20, 2020
We got good night sleep. It was not noisy and there was enough space! Clean and priced well.
- Michelle Kelly on Google
Oct 10, 2020
Just a quick overnight stay on the way to another destination. It was very clean and in close proximity to many cool sites. Bathrooms have codes. Fun looking cabins and tent sites.
- Tera Lynn Gray on Google

Barstow / Calico KOA
Open All Year
35250 Outer Highway 15 North
Yermo, CA 92398
Check-In/Check-Out Times
All Sites
Check-in: 2:00 pm, Check-out: 11:00 am
Get Google Directions

© 2020 Kampgrounds of America, Inc.