Latest Information related to COVID-19 Compliance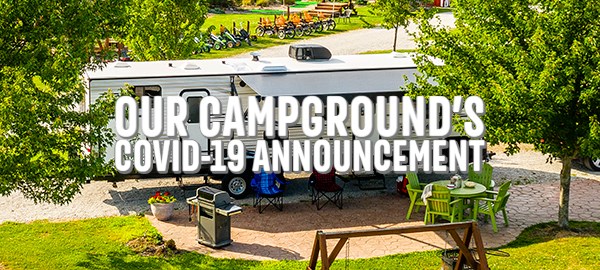 October 20, 2020
We are now closed for the 2020 season. Although we cannot predict what 2021 will allow, we are excited to open again and celebrate 35 years at the Barrie KOA. We will update all current policies and changes here.
In 2020 we were able to open for self-contained RV units as well as Deluxe Cabin rentals (with washrooms) and Camping Cabins. Our tenting sites remained closed for new reservations. The main restrooms were open for those who need them, however the showers remained closed. There are no day visitors at this time, all campers on a site must be pre-registered.
You can now text us with your name to get quick information on updates, or to make a reservation. Be sure to update or add your cell phone to your reservation to receive information on important news direct to your phone! As always, we will do our best to get back to you as soon as possible - reach out today at 705-726-6128.
We will continue to evaluate and adapt precautions as provincial mandates evolve. We remain committed to delivering the services you need, while helping protect the health of our community. Thank you for your cooperation with these guidelines as they are for everyone's safety. We hope that you can use this time to enjoy the outdoors, your family and your site to the benefit of your physical & mental well-being.
Stay safe and healthy!