Latest Information related to COVID-19 Compliance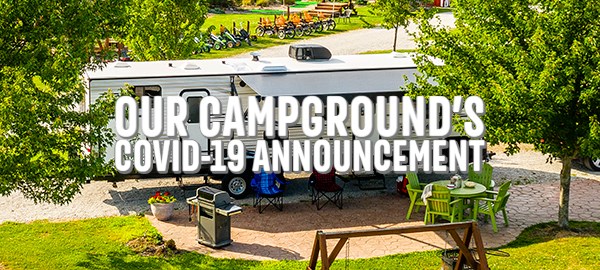 MAY 25, 2020 -
Barrie KOA Holiday is open to enable preparation for the season. Access for trailers and RVs whose owners have a full season contract is permitted, however, recreational camping is not allowed at this time.
Status of campground amenities may change by your arrival date, but the following is the status as of today.
The office remains open with restricted access. Public health measures outlined in the Declaration of Emergency will need to be adhered to. We are following Township and local public health directives as it relates to COVID-19, which requires that many of our amenities and facilities remain closed. We are taking extra precautions to keep you and our staff safe. We have introduced additional cleaning standards, beyond our normal procedures, in order to provide our guests with a safe and enjoyable stay as the outdoors opens for business.
GUEST REGISTRATION WINDOW AND STORE HOURS:
Tuesday - Saturday: 10:00 am – 3:00 pm
Kamp K-9 Dog Parks remain open.
CLOSED:
BUSTERS
Bathrooms
Swimming Pools
Playgrounds
Jumping Pad
Mining Centre
Prentice Hall Recreation Hall
Cedarwood Hall
OUTSIDE VISITORS are not permitted into the campground.
Text us your name and/or reservation number to get quick information on opening day updates, or to check on your reservation. Be sure to update or add your cell phone to your reservation to receive information on important news direct to your phone! As always, we will do our best to get back to you as soon as possible - reach out today 705-726-6128.