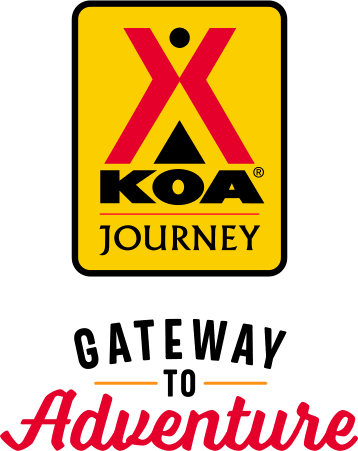 KOA Journey Campgrounds
KOA Journey campgrounds are the perfect oases after a day on the road. Whether it's along the way or a quick getaway, they've got you covered. Located near the highways and byways of North America with long Pull-thru RV Sites, they deliver convenience to the traveling camper. Pull in, ease back and take a load off.
KOA Journeys Feature:
Pull-through RV Sites with 50-amp service
Premium Tent Sites
Well lit after hours check-in service
Directions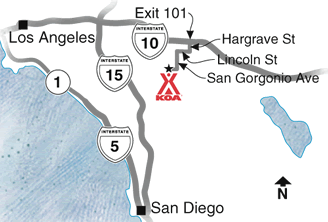 (Heading West towards L.A.) Take the I-10 West to Exit 101 (Hargrave St.), turn left off the freeway ramp onto Hargrave St. Take Hargrave to Lincoln (first stop sign), make a right onto Lincoln. Take Lincoln to S. San Gorgonio (next stop sign,) make a left onto S. San Gorgonio. We are located on the right at the base of the 243 Hwy.
(Heading East towards Indio) Take the I-10 East to Exit 101 (Hargrave St.), turn right off the freeway ramp onto Hargrave St. Take Hargrave to Lincoln (first stop sign), make a right onto Lincoln. Take Lincoln to S. San Gorgonio (first stop sign,) make a left onto S. San Gorgonio. We are located on the right at the base of the 243 Hwy.
Get Google Directions
Mar 06, 2020
Judith was very helpful. The grounds are well maintained. The bathrooms were clean. Traveling alone, I felt safe. I would recommend Banning Stagecoach for anyone needing a respite away.
Mar 02, 2020
Nice campground, good aminities, for one night it was great.
Feb 25, 2020
pros: the shower was hot and there is limited wifi cons: wifi access was intermittent, tooting freight-trains in the distance (I was tenting) Ok for a one-night stay (tent) or longer (RV).
Dec 10, 2019
Pleasant staff. The bathroom was clean.
Aug 20, 2019
There was an overwhelming number of wasps near the pool.We told the office & they told us they couldn't do anything without a nest.We found it FOR THEM & they came out and sprayed right away which was great,but didn't even care enough to look for it themselves.There was also only 1 firepit for all tent sites to use & the website made it said that each site had one.We were very disappointed in that
Aug 19, 2019
Arrived at 5:40 on a Friday for an overnight stay and found the office closed; with only two of the 6 tent sites occupied, I would have appreciated a spot away from my neighbor as we were assigned spot 1 and 2, very tight. Trash was left all over my site, the table was moved off the concrete block and had tools left on it. This made me feel like no one cared about my reservation or experience.
Jul 26, 2019
I enjoy staying here. Because of the nature of my trips, I always arrive late, but my packet has always been ready for me upon arrival. The restrooms are clean, and the rates are excellent.
Jul 09, 2019
We stayed for 3 days and it was a nice location except for the lack of trees around the tent sites. It was too windy because of that. The staff members are friendly but the only thing we are not happy about is the water faucet from the tent site was not available. During our stay, the water faucet was shut off and it was very inconvenient. Also, the firepit wasn't enough for each tent site.
Jul 08, 2019
Bathrooms and showers were clean! The tent sites were perfect for a family of 11. Children ages 16- 7 were well entertained with the activities provided there. Staff was polite, professional, and courteous. Definitely will return for another stay.
May 30, 2019
I stayed overnight and it was good. A nice quite place to stay and relax.
May 29, 2019
One of the main reasons we choose this location is because of the pool. We were extremely disappointed when we arrived to find that it was closed and being refilled. It did open back up the next day but the water was freezing since it was just filled with hose water. This should have been on your website.....very disappointing!
May 27, 2019
Was not informed of process upon arrival after 5 pm. The tent sites are small, few and crammed. The tent sites share one fire pit for all which is ridiculous. One bathroom a distance away. Provides illusion of camping without really camping. Terrible next door neighbors started out with five people and grew to 12. They had a generator for one light. No one to report this too, terrible service.
May 27, 2019
Nice stay. Excellent customer service.
May 20, 2019
Campground was clean and the bathrooms were nice. The tent sites were small and practically on top of one another. The people next to us spread out over 2 sites and when one of the men started coughing up a lung at 5 a.m., nobody got anymore sleep. KOA seems to really be catering to the motel on wheels crowd and relegating the actual campers (tenters) to second class status.
May 20, 2019
Amazing place, facility and staff!!!
Apr 22, 2019
Stay was great. Tent area needs to have lawn mowed.
Apr 10, 2019
The grassy tent area was nice and the bathrooms we're clean.
Mar 24, 2019
Bicyclist cold and wet very supportive
Jul 21, 2021
Stayed for 2 months in my travel trailer and loved everything about it! The only thing I wished for was more shade and better WiFi (both of which probably depend on which site you stay in). We'll definitely be back soon!!
- Michelle Potter on Google
Jul 03, 2021
We overnighted here in a class A towing a car. Arrived after hours and our site information was on the office door. Gravel sites and paced roads. Looked to be picnic tables at each site. Pull through site #38 was easily accessible, good width, level and long enough to leave the car hooked up. Park isn't far off the interstate but didn't notice the traffic noise. Did hear the train whistle once in the night but that was the only time I noticed it at all. Didn't use the amenities but all looked to be in good shape. The only negative is that when we left, the back in sites at the end of the road where we needed to turn had several cars parked in front of their sites making for a tight turn. A 40' rig towing might not have made it. Would stay again.
- Nancy Ahsmuhs on Google
Jul 29, 2021
Awesome showers
- Matthew Robinson on Google