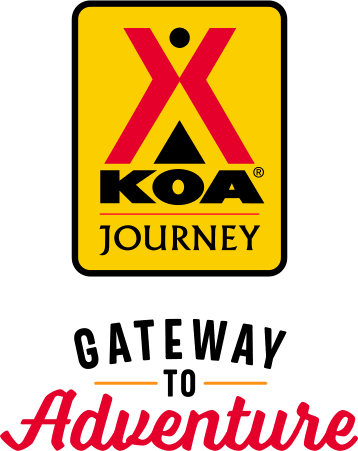 KOA Journey Campgrounds
KOA Journey campgrounds are the perfect oases after a day on the road. Whether it's along the way or a quick getaway, they've got you covered. Located near the highways and byways of North America with long Pull-thru RV Sites, they deliver convenience to the traveling camper. Pull in, ease back and take a load off.
KOA Journeys Feature:
Pull-through RV Sites with 50-amp service
Premium Tent Sites
Well lit after hours check-in service
Directions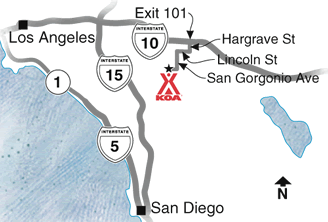 (Heading West towards L.A.) Take the I-10 West to Exit 101 (Hargrave St.), turn left off the freeway ramp onto Hargrave St. Take Hargrave to Lincoln (first stop sign), make a right onto Lincoln. Take Lincoln to S. San Gorgonio (next stop sign,) make a left onto S. San Gorgonio. We are located on the right at the base of the 243 Hwy.
(Heading East towards Indio) Take the I-10 East to Exit 101 (Hargrave St.), turn right off the freeway ramp onto Hargrave St. Take Hargrave to Lincoln (first stop sign), make a right onto Lincoln. Take Lincoln to S. San Gorgonio (first stop sign,) make a left onto S. San Gorgonio. We are located on the right at the base of the 243 Hwy.
Get Google Directions
Sep 21, 2021
Very nice stay. Friendly staff. Beautifully remodeled bathrooms. Clean grounds. One thing though, I didn't see any signs posted regarding rattlesnakes. We removed one from our campsite, someone else removed one about 50 yards from us and another camper stated he saw one the previous evening. Just a thought. Maybe it is posted somewhere and we just didn't see anything.
Sep 19, 2021
very friendly people. Restrooms have been redone, and are awesome. Sites are nice and easy to pull in. All hook-ups worked and had no problems. Will return for sure.
Sep 18, 2021
Wow! Kind & considerate staff. KOA camps are super organized & this one is also. Clean, well maintained and fun. The pool & playground were wonderfully located to our RV & we were next to another family with children so our kids had peers to play with. If I'm not mistaken, they used the info I used for reserving our days to appropriately place us in the camp. That's just thoughtful. Thanks so
Sep 17, 2021
Not big rig friendly! We have a 42 foot with a tow. Barely made it coming into the place without hitting their fence. Almost took our their sprinklers trying to get down the lanes and once we were in our site, it was so tight we could only open up 2 of the 4 slides. Then we had to disconnect and back the rig up in order to get out. Very well maintained park, nice to have an off leash dog park too.
Sep 13, 2021
Our only problem with our stay was that the smell of smoke was so strong that we couldn't spend time outside in our spot. But that was not your fault.
Sep 11, 2021
Stagecoach is a great campground. I love it and will be going back..The staff is very helpful, the shower/restrooms are clean and roomy. Thank You !
Sep 10, 2021
We stayed overnight but decided if we were ever in the area again we will definitely stay at Banning KOA again!
Sep 09, 2021
The office staff is friendly and professional. Trees surround the park, providing a cool and shaded atmosphere. Nice pool and facilities. Hookups accommodate multiple applications.
Sep 07, 2021
I'm making this my home KOA! Great little campground with a big heart of hospitality. The staff is wonderfully friendly, the views and the night sky is magnificent, and the pull thru sites throughout the campground make pulling in a breeze. Thank you Stagecoach!
Sep 07, 2021
It was vary relaxing staff was vary friendly they kept a clean campground will be back
Sep 05, 2021
We only pulled in for one night on our travels. The park was clean spaces are a little small. We would stay here again for an over night.
Sep 02, 2021
The pool water was black for the better half of six months and the unmaintained dead trees swaying in the wind were scary knowing that the KOA wasn't going to pay for damages due to their lack of maintenance.. quite park though..
Aug 31, 2021
All good. Thanks
Aug 30, 2021
Love the campsite and will recommend and stay again.
Aug 27, 2021
I was pleased to see the site we were in was clean and free of shrubs made nice for opening the slides. Compared to last time we had stayed. I am so grateful for the office lady to let us in early since the person who was in out original site wasn't leaving until much later than check in time , and didn't leave that day either. We were there the day it was evacuated.
Aug 26, 2021
Park Manager not very friendly.
Aug 24, 2021
Quite nice setting. RVs seemed parked really close together.
Aug 21, 2021
Clean bathrooms, nice staff, convenient location to Redlands
Aug 19, 2021
We just stopped for an overnight stay but it was a beautiful place and had a great pool! Will definitely stop again.
Aug 18, 2021
Manager Teresa and her staff are great. Always ready to help and answer questions. The guys who work the outside keep all areas of the park very clean. The park could use some remodeling. Not the fault of anyone who works there.
Aug 17, 2021
Site was a little narrow for our rig.
Aug 15, 2021
Always a warm welcome and a pleasure to stay at Banning KOA! Quiet, clean, and the perfect overnight stop when traveling between the Phoenix area and tourist destinations across Southern California.
Aug 15, 2021
although a short stay, we loved the location, site, cleanliness, and quiet.
Aug 13, 2021
We came in late and our check-in info was in a sealed envelope on the office door. Bathrooms really nice; space was a bit small for a class A with a tow. We were sticking out in the front and in the back, don't understand why you would ask for length and tow if the assigned space is not adequate to accommodate both. Other than that issue, we would definitely stay here again.
Aug 12, 2021
Stayed two nights just to relax and unwind. Park was clean quiet and the staff was great!
Aug 08, 2021
Pleasant grounds/pool/facilities & staff, well off the freeway & railroad; we appreciated the quiet. Our 35' MH fit the assigned space just fine but left little room for the toad. Entry street was wide enough, but streets within the park were a bit snug and had low-hanging tree branches to avoid. Shrubbery was well-watered (maybe too well as a lot of water pooled in our space). I'd stay again.
Aug 08, 2021
Just a stop over but the park was very clean and quiet. Easy to get in and out.
Aug 08, 2021
Very nice group of people running the place
Aug 07, 2021
The employees are very helpful and friendly. The park itself is nice, but nothing special. Pool is small. I really liked the new updated restrooms by the pool, a perfect area to shower my family.
Aug 04, 2021
The staff was very friendly. The sites are very nice. Everything was clean. We enjoyed our visit.
Aug 04, 2021
Wonderful clean bathrooms and shower area great dog park nice and clean, our dog loved it! Lovely trees, good neighbors and polite staff. Thank you
Aug 02, 2021
All around the campground is clean and well kept. Staff was friendly and helpful.
Jul 30, 2021
Park was clean, but the grounds were a bit overgrown. Not a bad place, just sort of average.
Jul 29, 2021
Very nice my grandkids enjoyed them selfs. They did not like the flying ants
Aug 02, 2021
I stayed there with my son and the amenities were nice. The weather was cool for the summer time. I enjoyed the surroundings and the facilities were clean. I would definitely recommend and if I ever find myself in southern California again I'll definitely stay there.
- Chris Ferguson on Google
Sep 12, 2021
Very nice people working there. Good spaces. Pool was cold as all get out, I thought I was back in college in an ice bath therpy. Up against mountains and a nice drive to Idyllwild
- Raelene & Becky Bloom on Google
Aug 27, 2021
was a difficult choice on how many stars. Last time we stayed there they got a 1 star only because it was horrible. this time it was cleaned up the site we were in had fresh gravel and not full of ant nests everywhere you walked. had a nice shade tree on each side and wide enough to open slides without worrying about hitting branches. We would stay there again.
- Jo Little on Google